Modern interior décor has been a highly desired décor style for the past decade. While we see the majority of homeowners and interior decorators steering towards a more minimalistic modern style of décor, we are starting to see traditional components making its way into modern designs. Having a mix of both interior styles is the perfect mix of modern and traditional interior décor. Continue reading this blog to see how traditional features are now being incorporated in modern home designs.
Modern Trim vs Traditional Trim
Home features such as traditional millwork and trim often have more detail, grooves and more of a design feature compared to modern millwork and modern trim. Modern trim profiles are very minimal with little detail keeping a simple sleek appearance.
In contrast, below is an image of one of our more traditional baseboard profiles, we call this popular trim profile, Colonial. You can see how the top of the baseboard, closest to the ceiling, has many grooves and details to it. This homeowner chose to include colonial shoe moulding that was installed where the baseboard meets the flooring. This gives additional design feature to the overall trim aesthetic. The column wraps also add unique design features creating a beautiful traditional trim demonstration. The amount of millwork detailing in this one photo is stunning!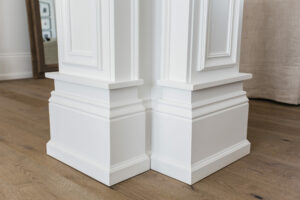 Below is an image of one of our popular contemporary or modern trim profiles, this trim profile we call, Eased One Edge. Exactly how it sounds, there is one eased edge on this baseboard, keeping a very minimal appearance. This image also displays another great example of mixing and matching with home design, the casing is painted black, to match the matte black door while the baseboard is painted white to match the crisp white walls.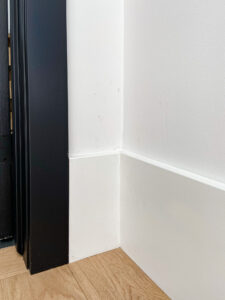 Below is another image of a modern baseboard profile, this one is called, Contemporary. Again, it is a very simple profile, maintaining that minimalistic look. This image and baseboard, unlike the image above, has shoe moulding installed. This shoe moulding, matches the baseboard profile and is also called, Contemporary. Adding the shoe moulding to the baseboard adds dimension to the profile.
Mixing Traditional Trim with Modern Design
The older, more traditional trim profiles have now been started showing up more often incorporated with modern homes. Interior designers and interior decorators are mixing modern furniture selections with traditional trim and millwork. See some images below of this display that we absolutely love.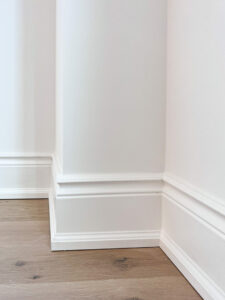 The image above is our classic colonial baseboard trim profile with colonial shoe mould installed. While this is a traditional style of trim, the rest of the house features modern designs, see images below.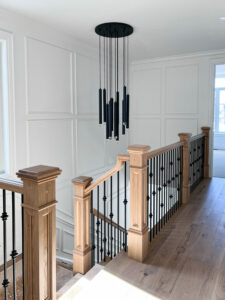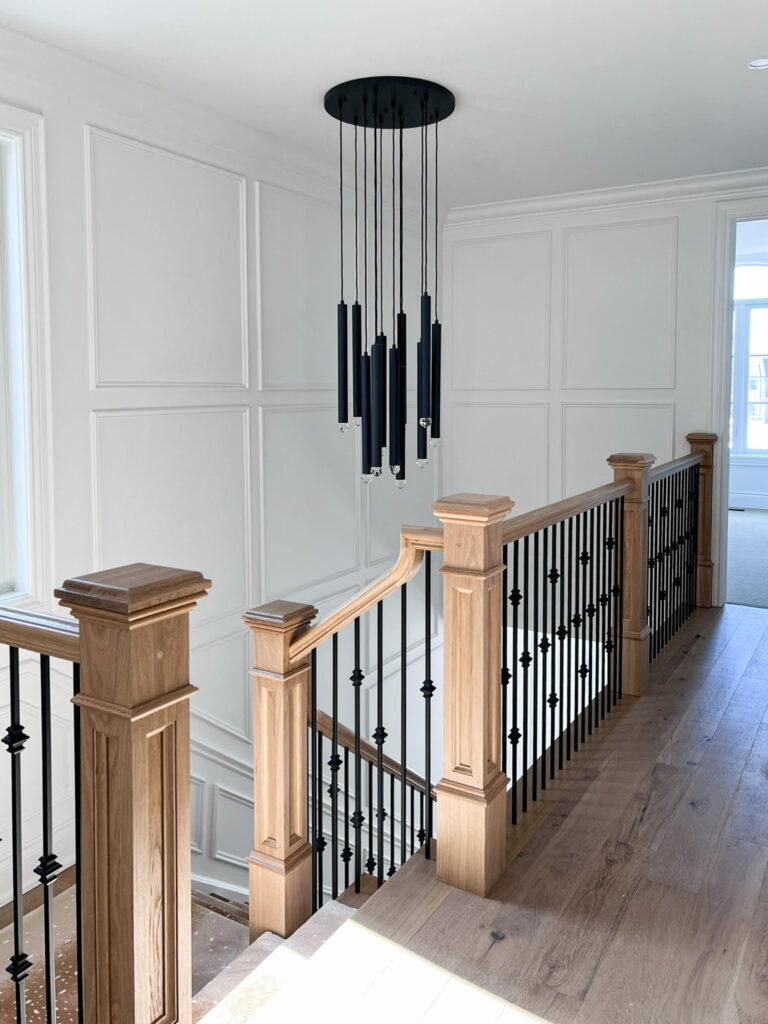 You can see that wall paneling is essentially installed throughout this entire home, but with the white colour and wood tones, this creates a more modern style while still featuring traditional trim seen in the baseboards, walls and casing.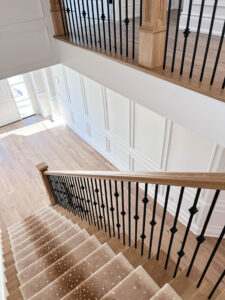 The wall paneling continues to be featured as you walk down the stairs into the entryway of this stunning home.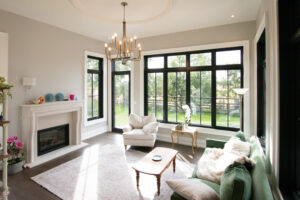 Here is an image of an old farmhouse that has recently been renovated. The homeowner wanted to keep some of the traditional charm while incorporating modern features as well. The fireplace mantel and furniture displays traditional components while the windows and trim offer the modern touch.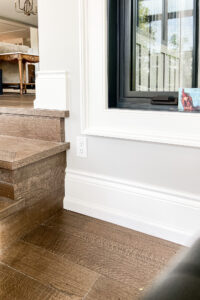 You can see in the image above the homeowner chose a traditional baseboard and shoe mould which is our Colonial trim, you may be familiar with it by now. Although the baseboard is a traditional style, the casing around the door frames and windows are a modern style. By adding the backband on the casing, it adds depth and creates a better transition between the traditional baseboard and modern casing.
Mixing and matching has become a popular trend and we are only seeing it grow as the years go by. Check out our recent blog "Interior Design Trend: Mixing and Matching your Trim and Interior Doors" to see what other ways you can mix and match designs and features in your home. You don't always have to stick to one colour, one design, and one style. Incorporating multiple designs and features can only help amplify your design and layout of your space.
Visit one of our three showrooms in Southwestern Ontario in Waterloo, Stoney Creek or London, to speak with a trained Technical Sales Representative to help improve your living space and enhance the design.