Are you in the process of redesigning your home office or contemplating a full-fledged workspace makeover? Regardless of the size or shape of your room, one central aspect is crucial – your desk. A functional and stylish desk can indeed make or break your productivity.
Today, we bring you seven creative built-in desk ideas that can seamlessly blend with your home decor while offering high functionality. The charm of built-in desks lies in their ability to create a professional workspace that is both efficient and aesthetically pleasing.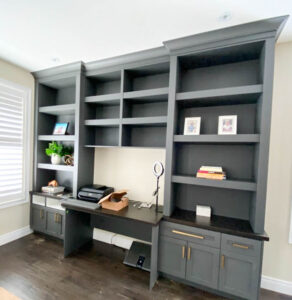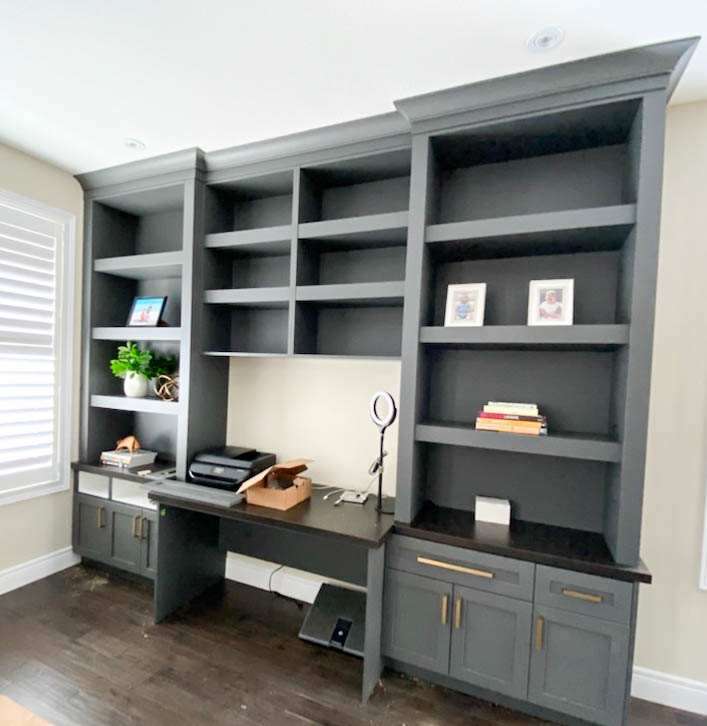 The Classic Built-In Office Desk
This idea marries practicality with a time-honored appeal. A built-in office desk with sleek lines and a traditional design lends an air of elegance to your home office. Paired with comfortable seating and natural lighting, it offers the perfect setting for hours of focused work.
In addition to looking great, these built in office solutions can provide additional storage, without taking up the same square footage that additional furniture in a room tends to.
The Wall-Mounted Desk
Perfect for small spaces, a wall-mounted built-in desk could be the solution to your space concerns. This design features a desk attached directly to the wall, freeing up valuable floor space. Besides, these desks often come with built-in storage, making organization a breeze.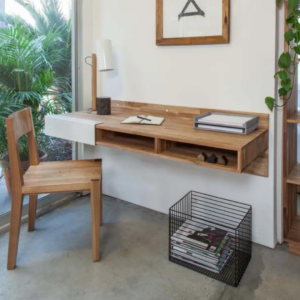 image source: apartmenttherapy.com
Corner Desk with Built-In Storage
Corner built-in desks are an ingenious use of space, especially in awkwardly shaped rooms or small areas. These desks can offer plenty of workspace and storage options without encroaching on your room's space. Often when we give purpose to these corners in our rooms we not only make the space work more for us, but we make the room appear larger.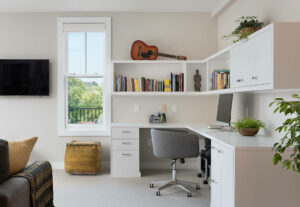 image source: diys.com
Floating Built-In Desk
For a modern and minimalist look, consider a floating built-in desk. This desk appears to 'float' against the wall with no visible supports, giving your office a clean, contemporary feel. This can be great for households that rely on their Roomba to pick up after life's daily messes, without the confined space below your Roomba will continue on it's path!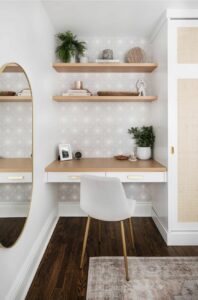 image source: thespruce.com
Built-In Desk and Bookcase Combo
What's better than a built-in desk? A built-in desk paired with a bookcase! This configuration allows you to have your books, documents, and other resources at arm's reach while working. Many of us would also argue that the books make for great home décor to round out the ideal office design.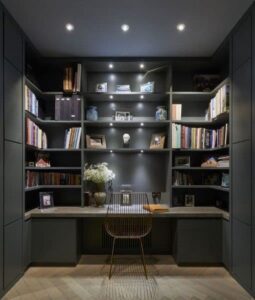 image source: nextluxury.com
Window-side Built-In Desk
If you've got a window with a view, why not position your built-in desk to face it? A desk with built-in storage by the window can offer a beautiful and inspiring workstation, boosting your mood and creativity. Not only can the sunshine make a positive difference on your mood, but the lighting from the natural light being in front of you and not behind, is the ideal lighting for those of us who are frequently taking video calls from the home office.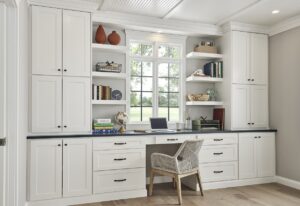 image source: wolfhomeproducts.com
Built-In Desk with Overhead Cabinets
A built-in desk with overhead cabinets offers ample storage space for your documents, stationery, and other office supplies. By having the overhead cabinets covered, you can store away anything you don't want on display when hosting guests. Making it a great solution when designing a built-in desk that is going to reside in a high traffic dual functioning space of the home. Not only does it help keep your workspace neat and tidy, but it also ensures everything you need is within reach.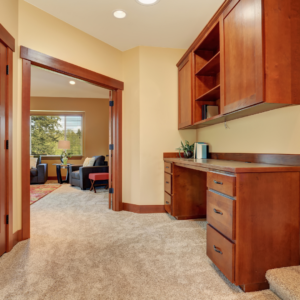 image source: woodworkcreations.com
Built-in desks can truly revolutionize your workspace by combining aesthetics and functionality. Regardless of the size of your home office, there is a built-in desk idea that can meet your specific needs. So, are you ready to embrace the world of built-in desk and storage solutions?
If you're looking for a new desk solution that can be built into the home, contact Riverside Millwork Group today and we'll set you up with a design specialist who will help you create your ideal built-in desk!