Are you worried about renewing your mortgage in the next couple of months? Not ready to take on a bigger house, but not ready to settle in the space you're in? The rising interest rates have many homeowners stressed, tight on money, and wondering what they are going to do for their future. The increase in interest rates are not only affecting current home owners but it is also affecting all of the first time home buyers attempting to get into the market and getting approved for a mortgage. Some people who may have originally been planning on making a move to a different home, may have had to rethink their options. The other option is staying where you are and renovating by upgrading your current home. There is nothing wrong with that and in the long run, when the housing market settles down, the renovations will only help you sell your home faster and for more money!
Here are 5 ways you can renovate the finishing touches in your home to have a major impact on living in the home today and increasing it's value for future years when you're ready to sell.
Replacing Your Closet Doors
There are so many different closet door options and it can be overwhelming trying to decide what one is the best option for you and your space. Bifold doors used to be popular and a great way to save space… although now they seem to be a hazard especially for kids in the home, and they can sometimes come with problems. One of the first things you could potentially renovate to improve the function and appearance of your home is upgrading your closet doors to something more practical, efficient, and safe! To learn more about the Different Types of Closet Doors, visit our blog The Different Types of Closet Doors and Which ones you Should Get
Below is an image of a bifold door. A bifold door is a door that is capable of being folded into two parts, they are hinged together in the middle of the door allowing the door to fold in a vertical half. The door slides open by folding back against the wall.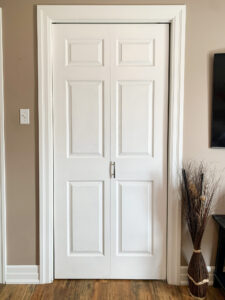 Below is an image of a pocket door. A pocket door could be a great option for somewhere that does not have wall space for a barn door or maybe you don't want to take up too much floor space. so this is something to consider, do you want your closet to be open for everyone to see?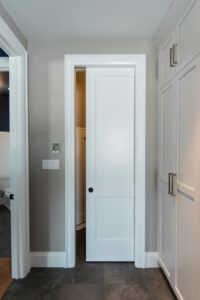 Below is an image of a barn door. Closet Barn doors have been very trendy for the last 5 years and many people are choosing the barn door as an accent and décor piece more than just a door solution for their space. Barn doors can be great for closets as long as there is space on the wall with no outlets or plugs so nothing interferes with the function of opening and closing.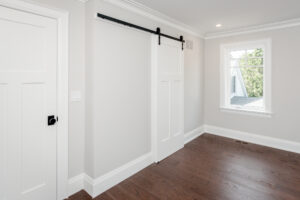 Consider The Height and Style Of Your Baseboard
The general rule of thumb for height of your baseboard on a floor with 9ft ceilings should be about 7" to make the ceilings looks taller. However going above the 7" in a 9ft tall ceiling room can actually create the illusion that your ceilings are shorter than they are. If you are redoing baseboards in a basement with less than 9ft tall ceilings, you should consider opting for a 5" tall baseboard instead.
If your current baseboards are shorter than these heights, you may want to consider upgrading your baseboard and utilize the opportunity to give the illusion of larger ceiling by simply replacing your baseboards with taller baseboards. In addition to helping with the appearance of room height, replacing baseboard often gives a much more polished appearance to the space. It is no secret that when real estate agents make suggestions on tweaks to make to help your home sell for more that touching up your baseboard is always at the top of the list.
Below are some images of some of our popular baseboard profiles.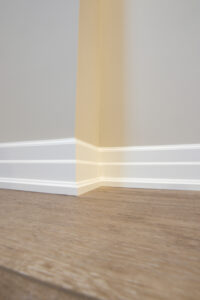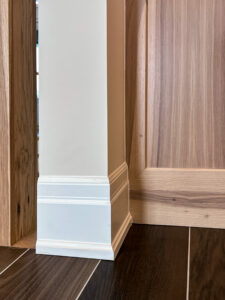 Above are two images of our Step baseboard with shoe moulding.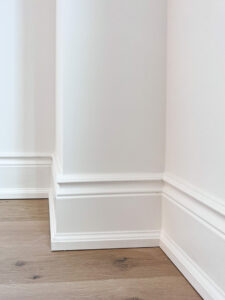 Above is one of our more traditional styles of baseboard, we call this our Colonial baseboard.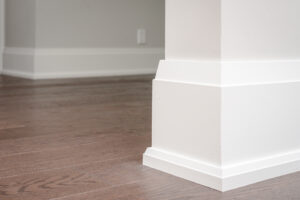 Here is a modern style that we call Contemporary, it is a very popular style of baseboard and we offer it in a number of different materials and sizes.
Kitchen Cabinetry Upgrade
Enjoying the kitchen layout but the cabinets are no longer cutting it? Perfect example of an upgrade that can be made to improve the design of the home is swapping out the cabinetry. Riverside Millwork Group has entered the world of Kitchen Cabinets and we are excited to work with you on your kitchen renovation. The kitchen is the heart of a home so we know how important it is to choose the right products and for everything to turn out exactly how you want while being durable and efficient. We offer a selection of basic and standard kitchen designs with different colour options and cabinet door styles.
Below is an image of one of our Slab door kitchen cabinets. Slab door kitchen cabinets have a very modern look since the drawers and cabinets are completely flat and flush. These kitchen cabinets are affordable and start from just $5,000!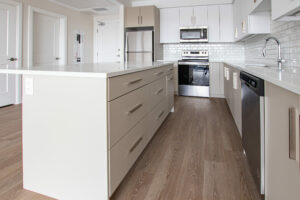 Below is an image of our Shaker style kitchen cabinets. Shaker cabinets also display a modern look featuring a flat centre panel and square edges, they have minimal profiling involved.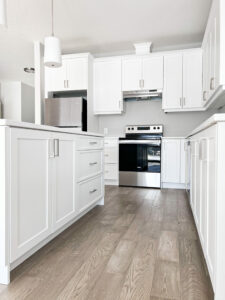 Contact us to connect with one of our Kitchen design specialist who can work with you in helping design and create the kitchen of your dreams!
Built Ins – They're Great Until They're Outdated
Could your built-ins use some love? Built-ins are great for organization and a design element in your space but often homeowners, in places that have not been redecorated for over 20 years, feel their version of built in is out of style and doing more design harm than good to the space.  Often seen in living rooms around fireplace mantels or where your TV lives, built-ins have made a come back and so revisiting how yours could be improved may be the best solution for you!
Below is an image of a fireplace mantel in a basement that has some shelving and built-ins installed. This helps anyone stay organized and makes it much easier to find things. These built ins would be the perfect spot to store books, board games, toys, gadgets, and essentially anything that you need a home for!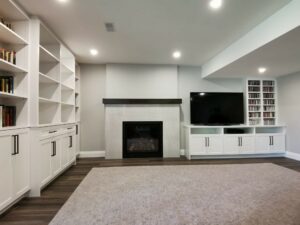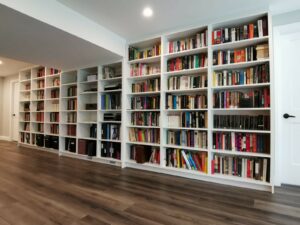 Below is an image that displays built-in shelves in a home office. A home office is a space that you need to focus and be productive. Living and working in a disorganized working space truly effects the quality and efficiency of your productivity. Treat yourself to some built-in shelves in your home office so this can stay a calm and organized space for you. Built ins would add value to your home as they are a piece of functional furniture in the home that stays a part of the home.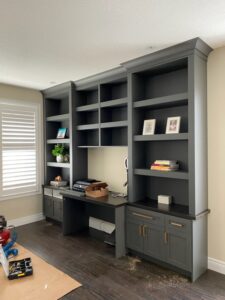 Door Hardware
Maybe your doors are of great quality, but the hardware could use updating – hardware alone can have a massive impact on the design of your home. If you are making a move and moving into a home that has a different type of hardware or a different finish of hardware on every door, I think it's safe to say you can make the upgrade on matching hardware on all doors and it will make a huge impact that can not only look amazing but can be affordable! We have hundred of hardware options available and some that we can fit into your budget!
One of the most popular hardware finishes right now is black. It gives a crisp clean look especially against a white door.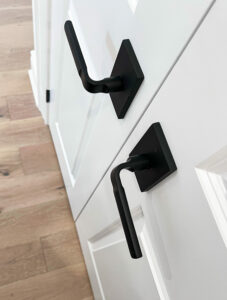 We carry unique hardware options like crystal knobs.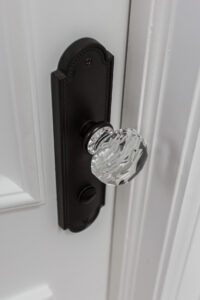 We have so many door hardware options to view, we encourage you to visit one of our showrooms to browse our selection.
520 Conestoga Road, Waterloo
1275 Hubrey Road, London
563 Barton Street, Stoney Creek