A new interior design trend that we have been witnessing creeping up into the top design trends of the year is mixing and matching… just about anything! And at Riverside, we specifically love the mixing and matching of trim styles, sizes, designs, as well as interior doors. We have seen many homes or buildings use more than one interior door design or style, some doors are glass doors, while others are shaker doors and they even throw in some unique wood barn doors! We have seen some trim painted one colour while a different room or different level is painted a different colour. You may think you want to stick with the same style throughout the entire space, although you would be surprised that using different designs, styles and even colours can truly make your space more unique and keeps you and your guests on your toes waiting to see the next unique and different design feature in the next room or floor.
In this blog we will outline some of our favourite home design projects where we have seen interior doors or trim go outside of the norm and use multiple styles throughout the same home.
Interior Doors
There are many different types of interior doors including: moulded panel doors, shaker doors, router carved doors, stile and rail doors, barn doors and French doors. Not sure what these doors are and what the true definition is? Check out our blog Interior Door Types and How they Elevate your Space to learn more about some of our interior doors styles.
Barn doors are a great way to save space as the doors are on a sliding track installed directly on the wall rather than swinging the door to open and close it which takes on floor space. In the two images below you can see this home used 5 panel interior doors but chose a unique custom barn door as well. It should be noted that any swing door style can be made into a barn door, but this client chose to make the barn door a different style all together. They stuck with the same interior door colour, white, but enhanced the design features in the barn door. By choosing something unique like this it turns the door, which has a functional purpose, into a unique design feature in the space.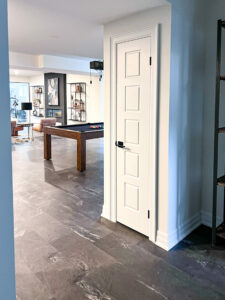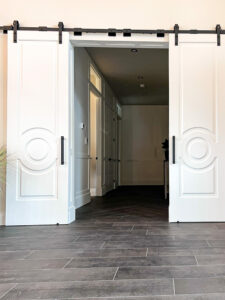 Another option we frequently see used in homes are glass doors, often called French doors. In the image below, this homeowner decided to use a glass door as the office door. This gives the office space some privacy without being completely closed off from the rest of the house. It also adds more dimension to an otherwise functional hallways adding another layer of interior design to the space.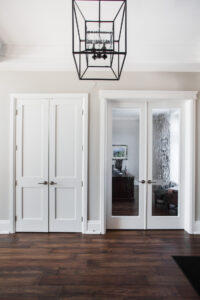 A combination door that contains both glass and panels is another style of door we love. This style of door is easy to mix and match with other doors since it contains two panels, one being glass. In the images below you can see this designer chose to include a combination door with glass and a one panel shaker style door for the rest of the house. The combination doors are seen as closet doors and for the home office, similar to the home mentioned above.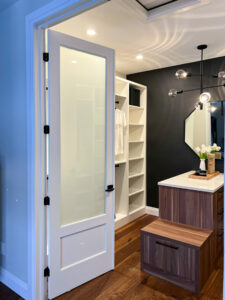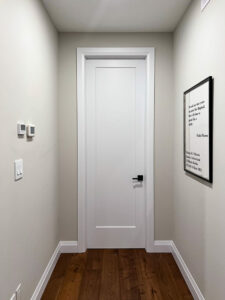 A pocket door is a door that slides into the inside of the drywall, and is often the best option to save space. A pocket door is a bit trickier to install and is often installed for a new build home. In the same home as the images above, they used pocket doors for the bathrooms, see images below. The pocket doors are both another style (going from 1 panel to 2) and feature a glass panel.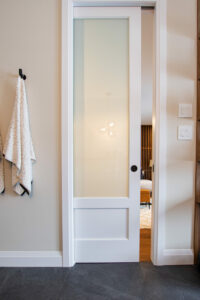 Below are photos from another single project, in the same house, that display three variations of doors: a three panel French door, a two panel white shaker door, and a two panel grey shaker door. This home is very unique as they use the wood French doors as a design feature throughout the home, while they have the exact same two panel shaker door with one side painted white and the other painted grey. I bet you have never thought about that as an option, one door but different colours per side? Well, based on the images and the home, we can now confirm that this is something that looks amazing!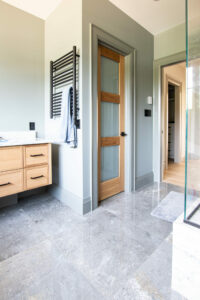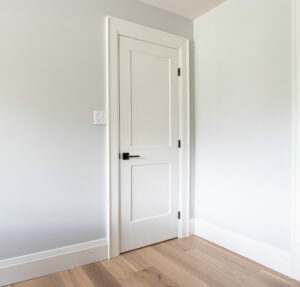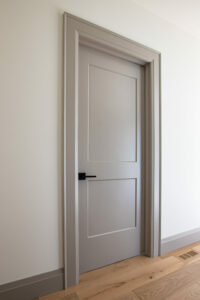 Trim & Moulding
Now that we know mixing and matching interior doors looks beautiful, lets dive into some trim and moulding designs. Trim, just like interior doors, can use different styles and colours under one roof, and we have some photos to prove it!
The images below display one exterior glass door with grey baseboard and wood stained casing, while the second image shows grey contemporary baseboard with grey contemporary casing with backband surrounding the window. Both of these images are from the same home as showcased with the 3 doors above. Showing us again that sometimes it's hard to picture different colours and tones in the same space, but these images prove that mixing and matching the colour of your trim can work!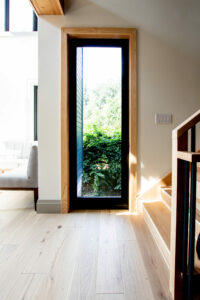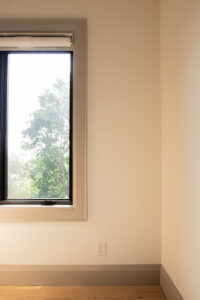 Now that we know grey and wood are a great combo to use for your trim in your home, lets take a look at some other colour combinations we love. Below is an image of two matte black doors with matching matte black door handles. Did you notice the casing versus the baseboard? You got it, they are two very different colours. The baseboard is an eased edge all white while the casing, also eased edge is painted black to match the door and the door hardware. This combination looks amazing together because by quickly glancing over the image you can barely tell that the baseboard and casing are different colours. This technique is unique and allows the focal point to be the interior doors since these one panel shaker doors are bold and sturdy, why not use them as a design feature in the home too.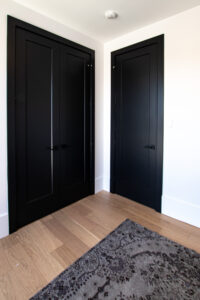 Below is another image displaying the casing painted black with all white baseboard.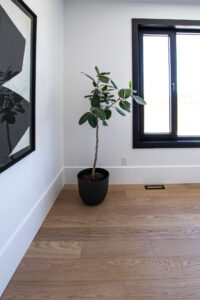 We've got another trim colour combo you are going to fall in love with, we sure did! The Beach Motel in Southampton Ontario has such a unique design element throughout the entire motel. They display rustic but modern décor and really took advantage of the millwork and trim that we could help bring to life. Below is an image of a wood interior door with wood casing and white baseboard. Throughout this motel, similar to the images above, they chose to have the casing one colour, in this case a wood tone, and the baseboard a different colour, which they chose to be white. We also love how the wood tones are different in the slab door and the casing, it adds dimension.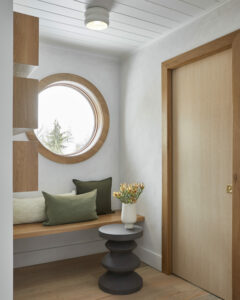 Yes, the Beach Motel used different colours of trim, but they also used different door styles. Below is an image of a large glass French door leading into a common area. The door is a beautiful wood tone and the baseboard is white, painted to match the walls and tongue and groove ceiling.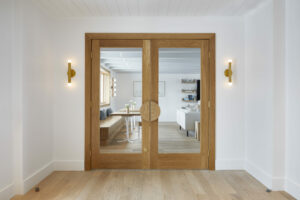 After reading this blog we hope you are more confident in your decision on mixing and matching your interior doors or your trim in your home or building. We have seen some combinations that we weren't sure if it would turn out looking good, although after installation is complete we are reassured that the combo is perfect and as beautiful as ever.