Hey there, Builders and Construction Managers! We're here to talk about a game-changing concept that can take your construction projects to the next level. Picture this; a stress-free, streamlined experience where all your finished carpentry needs are met under one roof. That's right, we're talking about the incredible advantages of partnering with Riverside Millwork Group, your ultimate one-stop-shop solution when you're building a high rise in Southwestern Ontario!  
Streamlining Complexity for Improved Progress
Building a successful construction project is like conducting an orchestra. It requires careful coordination and harmonious collaboration between various elements. We recognize that as a high rise is being constructed and the progress is building, it is often that delays are adding up and costing you or the developer, more money.  
We saw as we grew our closet division, that our production capabilities in this millwork department could be ramped up to extend our offering of services here at Riverside. Thus, if we controlled more of the services, we could control more elements of the scheduling and installation. Leading you to have a main contact for many services and one installation crew installing a handful of elements in each suite. At Riverside Millwork Group, we aim to excel at streamlining high-volume construction projects, offering you a cohesive and coordinated service that ensures a smooth ride from start to finish. 
A Look at 460 Columbia in Kitchener, Ontario
Our latest collaboration with Lexington Park Real Estate perfectly showcases the power of our approach. Together, we've achieved remarkable results, and we're excited to give you a glimpse of what we've accomplished. 
Building Lobby Millwork
The goal at 460 Columbia was to create a warm inviting lobby that would boast inspiration from European design into a lobby that would exude elegance and grace for the many years to come. In working with the drawings and the vision of the designer, we helped to add millwork features, that at first glance you may not recognize, but when you pull together why the lobby looks so elegant with well curated lighting and art selection.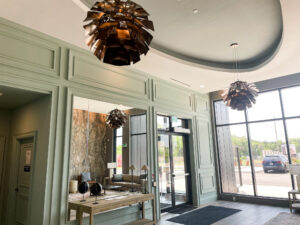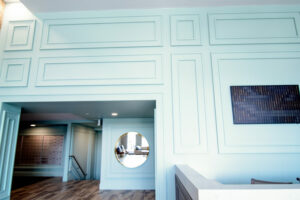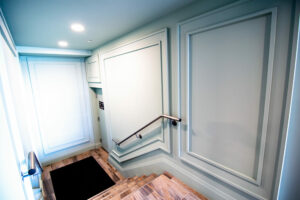 Kitchen Cabinetry Millwork
In each suite they needed kitchen cabinets of course. The goal here to provide a lean product to manage costs on the development, without compromising the shelf life of the product. By specializing in volume production of kitchens we were able to offer economies of scale and install at a consistent rate to ensure delays were minimal. Which at the end of a project, we know can make all the difference.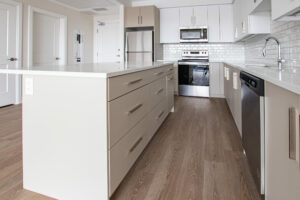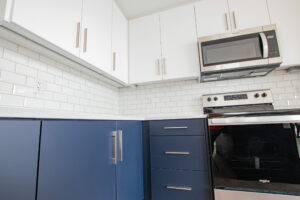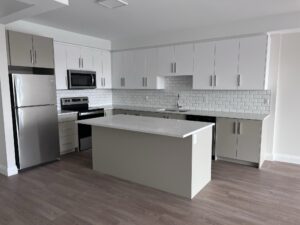 45-Minute Fire Rated Doors 
In any building exceeding 3 storeys with multiple units, fire rated doors, of a 45-minute rating or higher, are required. In this building we wanted to build our in-house produced, fire rated doors, with a design that would not take away from the hallway décor that had been selected. Therefore, to have a continuous design throughout the building, these doors required a moulding to be applied on top of the door to keep with that more traditional 2 panel design.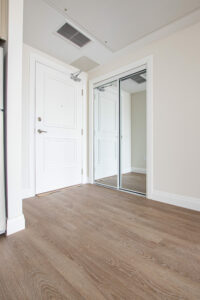 Trim and Door Supplier 
Lastly, where we built our roots, we can execute on supplying and installing the trim and doors throughout the interior of the suite. While you're likely used to your trim and door company on your last project taking this section of work on, if you had the same company executing on the suite's fire-rated door, the kitchen cabinet, the vanity, and the front lobby millwork – your site super may have had a much nicer time completing the project.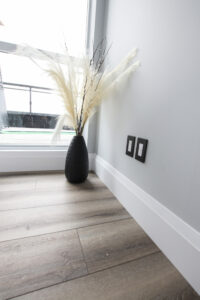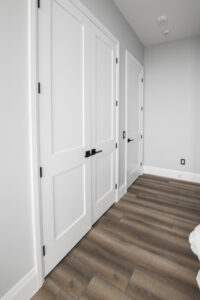 The Closets 
While most high-rise closets boast simple wire shelving in the closets, we have been no stranger to creating alternative options such as wardrobes when the plans to incorporate a reach-in closet do not line up. So from reach into wardrobe, wire shelving to melamine solutions the team at Riverside can not only supply but also install this for your project.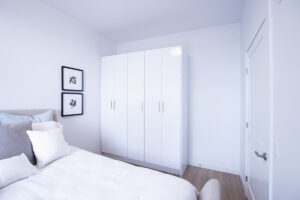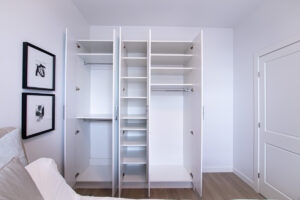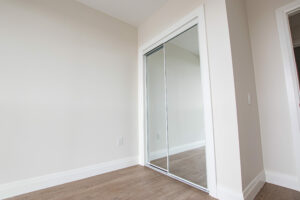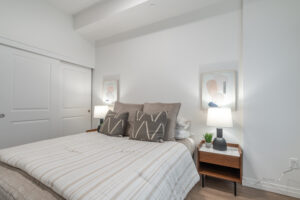 In summary, why juggle multiple vendors? We know that managing multiple vendors can be a logistical nightmare trying to schedule everyone at the right time without having people complaining they're. That's why Riverside Millwork Group is your go-to partner for quality, consistency, and efficiency. Why settle for mediocrity when you can rely on a trusted one-stop shop for all your project needs?