When it comes to renovating or building new spaces, oftentimes the design elements come together once the main elements such as layout, flooring, wall colour, and furniture are envisioned. In our experience, when it comes down to the details like the door hardware, interior designers know best that the devil is in the details and if you want your project to be one to admire for years to come, it's important to put the same energy into those details as you do the wall colour.  
So as you can expect, with a door in our logo, we know doors, and therefore we know door hardware really well. So, we're going to break down our top door hardware picks that we're seeing in 2023 that we are confident are going to stick around in 2024 and beyond!  
Matte Black Levers 
Without question, our most requested door hardware these days is the matte black level. Whether it is a round rosette or a square one, the black level is popular as it matches well with any other metal tones used throughout the home. Allowing you to continue using the same lever throughout the home without having to commit to the same tones for every sink faucet or various cabinets and vanities you have in different rooms.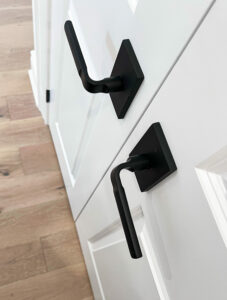 Polished Chrome Levers
Well many of you may be shocked to see this trending again after having lived through the 90's and early 2000's with polished chrome in every piece of hardware in the home, we are excited to show you how you can make it better than we have seen it in the past. We know in the past, when designed poorly polished chrome can often be remembered as scratch prone and often covered in watermarks at all times.  
When it comes to the door levers being polished chrome you can see the part of the handle that is going to be touched and used most frequently is etched in with a design to avoid thumbprints and scratches from rings while giving you a crisp finish to your door hardware leaving the design light in tones.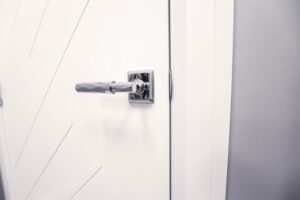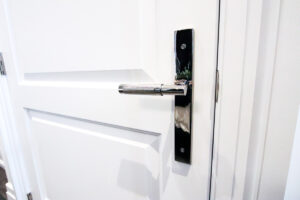 Brushed Gold Levers and Knobs
While this has been trending for a while now, we still suspect that it will continue to stick around well through 2024. The brushed gold offers a great solution to homes incorporating warm tones in hardwood flooring, many light linen colours used in furniture and in some cases those who either want the hardware to stand out against black accented doors and trim or those who want the hardware to be a warm less contrasted tone against white doors.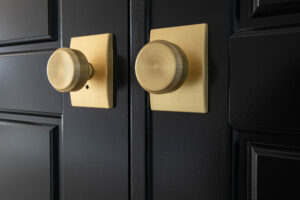 The Modern Brushed Nickel Lever
This is one style that has stood the test of time. Its versatility and ability to effortlessly complement various cabinet colors and stainless-steel appliances have made it a perennial favorite among homeowners. While brushed nickel has been in the game for years now, the shape in which it's taking on, in door hardware for 2023/2024 is going to be packed with modern edges and lines that keep you confident in your selection for years to come.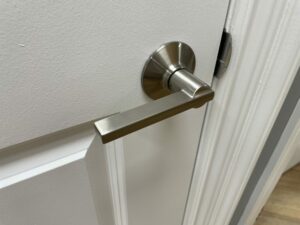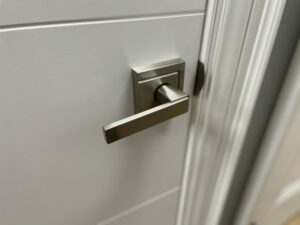 The Traditional Door Hardware
If you are thinking all these are too modern for your home's age or even for the other trim elements in the home you're working with, don't worry, we wrote a whole blog about how traditional trim is back in style. Traditional trim and hardware boast a nice contrast to modern furniture giving the design of a space so many elements. From offering classic traditionally rounded rosettes and knobs to crystal knob features that act as an accent in any room but look exceptionally good on French double swing doors for a closet or entering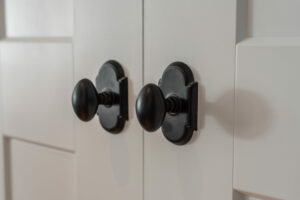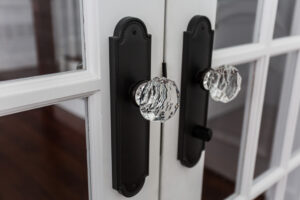 If you are getting towards the end of your home build or renovation and your interior designer is calling looking for a decision on hardware that you are just having such difficulty deciding on, we can help! We have three showrooms across southwestern Ontario – Stoney Creek, Waterloo, and London – all with active door and hardware displays. Shop from hundreds of options in person to narrow down your search so you're happy with your final selections!