At Riverside Millwork Group we understand the importance of that crucial space at the threshold of your home. It's where the magic happens—people bustling in and out, shedding coats and shoes, dropping bags and keys, handling mail and dog leashes. This is where first and final impressions of your home are formed. Whether you prefer a formal front entry, a more relaxed side entrance, or a multi-functional space that serves both purposes, we've got you covered. In this blog, we'll explore a plethora of ideas to inspire you and help you create the perfect mudroom that suits your style and functional needs.
Discover the perfect mudroom design that resonates with your style and caters to your day-to-day requirements. Whether you seek a space dedicated solely to mudroom duties or a multi-functional area that seamlessly serves multiple purposes, we have the expertise to bring your vision to life.
Are you drawn to the timeless allure of a formal front entryway? But right now your space is lacking all necessary storage?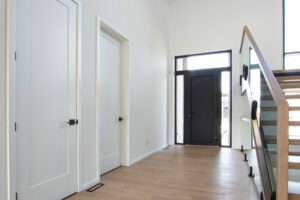 Picture an inviting space adorned with exquisite wood accents, complete with built-in storage solutions and a cozy bench to rest upon. Every detail is carefully considered, from the elegant hooks to the intricate molding, creating an entryway that leaves a lasting impression.
The Side Entrance Mudroom
Perhaps your heart yearns for a more relaxed side entrance, a space that embraces a laid-back atmosphere while still delivering on functionality. We recognize most detached homes in southwestern Ontario have garages that will be connected to the house. Rather than the garage door leading directly into a living space, most of us choose to design a laundry or mudroom in that first space off the entrance.
This mudroom showcases a custom built in storage solution that has cupboard ups top for maximized space in addition to openings below the ready to use bench that will be a great place to store away shoes. Our designs incorporate smart storage solutions, adaptable seating options, and stylish hooks to accommodate the hustle and bustle of daily life. This means you don't need to have the full classic mudroom to create a well curated functional storage solution for your space.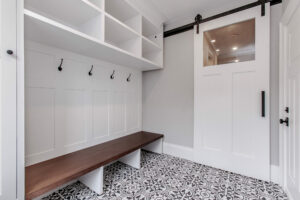 Smaller Side Entrance Mudrooms
Now not all side entrances are created equal, and we recognize a mudroom can be left to anyone's interpretation and offer storage without the traditional bench. Check out this built-in storage solution that makes great use of an otherwise empty space in the side entrance of this home, because not all mudrooms need a bench and a cubby when you build it custom!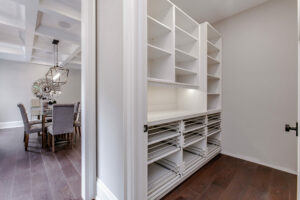 The Locked and Loaded Mudroom
But what if you desire a mudroom that seamlessly marries both formal and relaxed elements? We have you covered with our multi-functional designs that strike the perfect balance. Experience the convenience of a space that accommodates your family's needs with all kinds of cupboards, drawers, hooks, and cubbies –  while offering a touch of elegance to continue what you have in the rest of your home.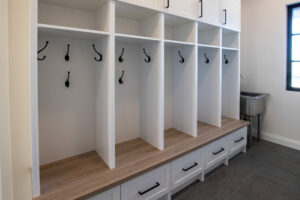 At Riverside Millwork Group, we believe that every mudroom should be as unique as the individuals who use it. That's why we offer a plethora of customization options to ensure your mudroom is tailored to your taste and requirements. Our custom cupboards, enhanced with beautiful moldings, doors, and handles, provide not only functional storage but also an added touch of luxury and sophistication.
That's why this mudroom below, while offering a very similar purpose to the one above, had different design elements incorporated to suit the family using it every day!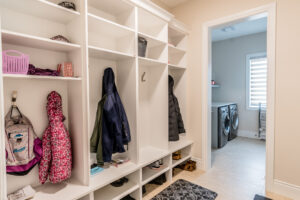 As you embark on this mudroom design journey, remember that your space is a reflection of your personality and lifestyle. Whether you're captivated by classic elegance, modern simplicity, coastal charm, or eclectic creativity, our blog will inspire you with captivating designs and expert advice.
The Mudroom with a Closet
Now if you have an open space in your mudroom in addition to a reach in closet. Consider designing storage for both spaces to keep those open spaces tidy and fully maximize all the space that you have.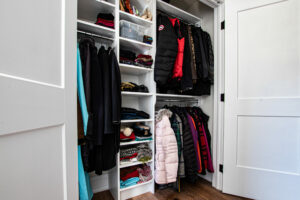 Best part about this, you can always close those closet doors when you want, and if you want new doors…we can help with that too! 😁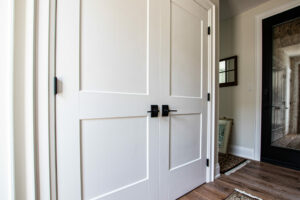 Get ready to unlock the magic of mudrooms with Riverside Millwork Group. Stay tuned for our upcoming blog entries, where we'll delve deeper into specific mudroom designs, share insider tips, and showcase real-life transformations. Together, we'll create a mudroom that not only meets your practical needs but also becomes a space that welcomes you home with open arms.
Let the magic begin!