Shiplap has become a very popular accent in the past 5years. The reason why is because it is a simple feature that enhances the style of your home by directly installing linear wood planks onto your walls. Shiplap has a beautiful natural appearance. Shiplap looks ten times more interesting than dry wall alone, so if you are comparing the two, the easy option is shiplap! Shiplap is often left completely white, although it can be painted other colours that would suit your home. If you are looking for shiplap wall ideas, shiplap ceiling inspiration or any type of design inspiration that includes the popular shiplap feature, continue reading this blog to learn about all the places you can use shiplap in the home.
Bathroom
Sometimes a bathroom can be difficult to enhance, especially if it is a small bathroom. Using your walls as accents and features is an easy way to spruce up a room that originally could go unnoticed by you and your guests. Due to shiplap often being left white it looks excellent against a dark or bright wall adding a perfect contrast. In the small bathroom below the shiplap is installed vertical and looks stunning against the dark blue wall. The shiplap helps brighten up the bathroom while adding a unique design element that allows a dark colour to be painted on the walls.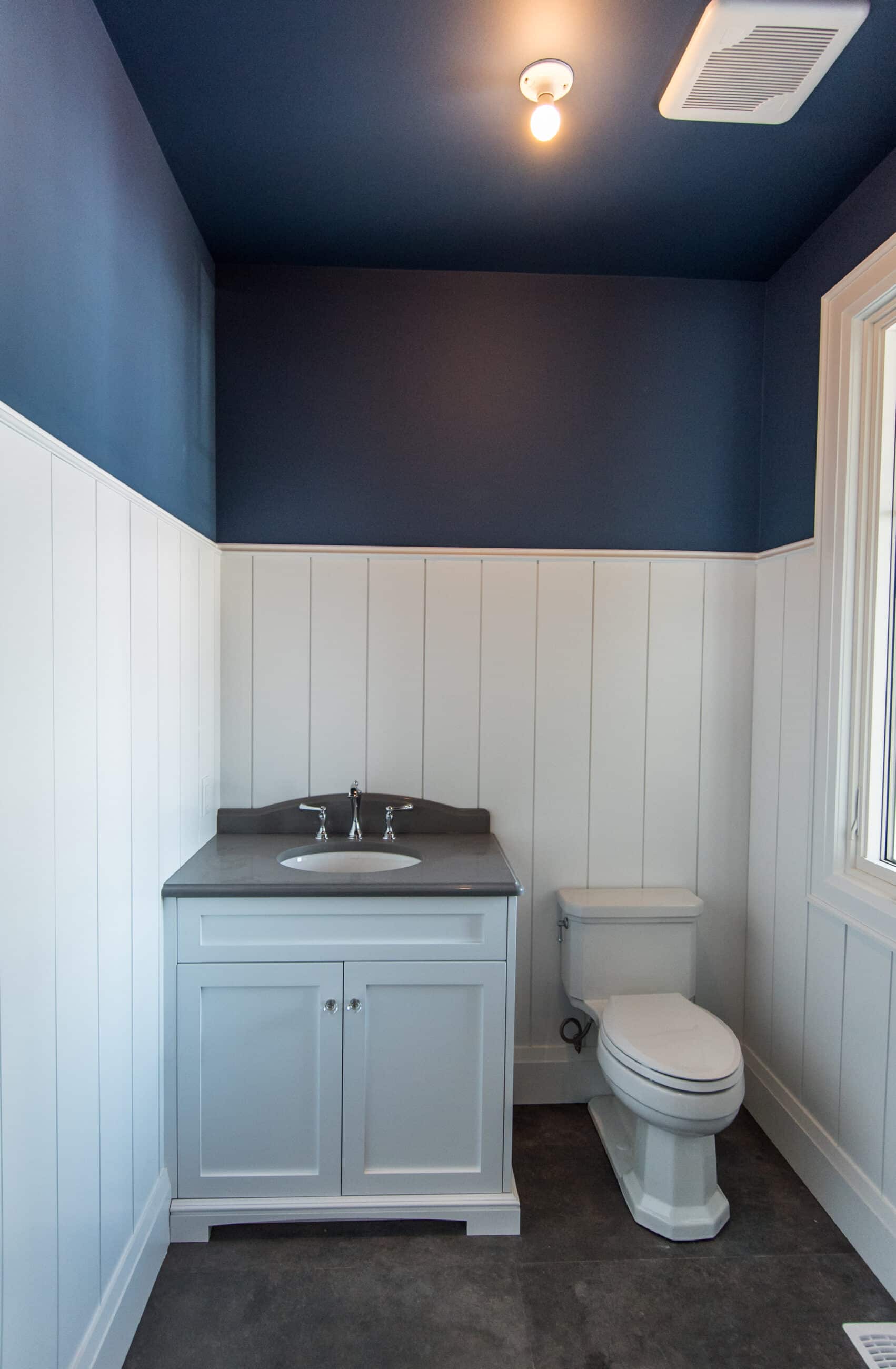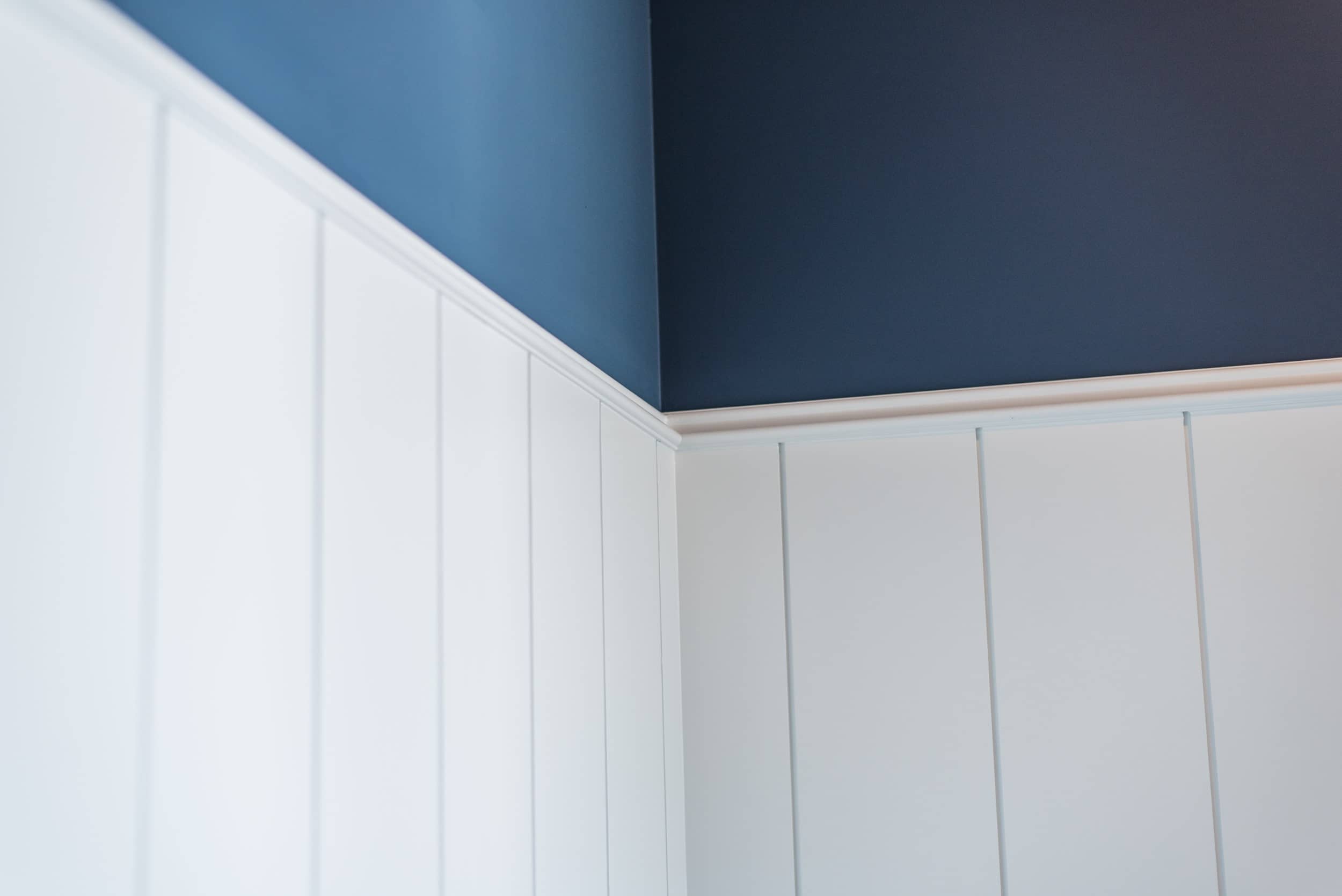 ‍
Shiplap is also flexible in design as it does not always have to be installed vertically. In this image below you can see an image of a small bathroom where the shiplap is installed horizontally. Both options display a unique design that brightens the room while giving it a sophisticated design. The great part about white shiplap is you have a little more room for bold wall colours. The white dials down the bold colour creating a bold room yet simple and stylish.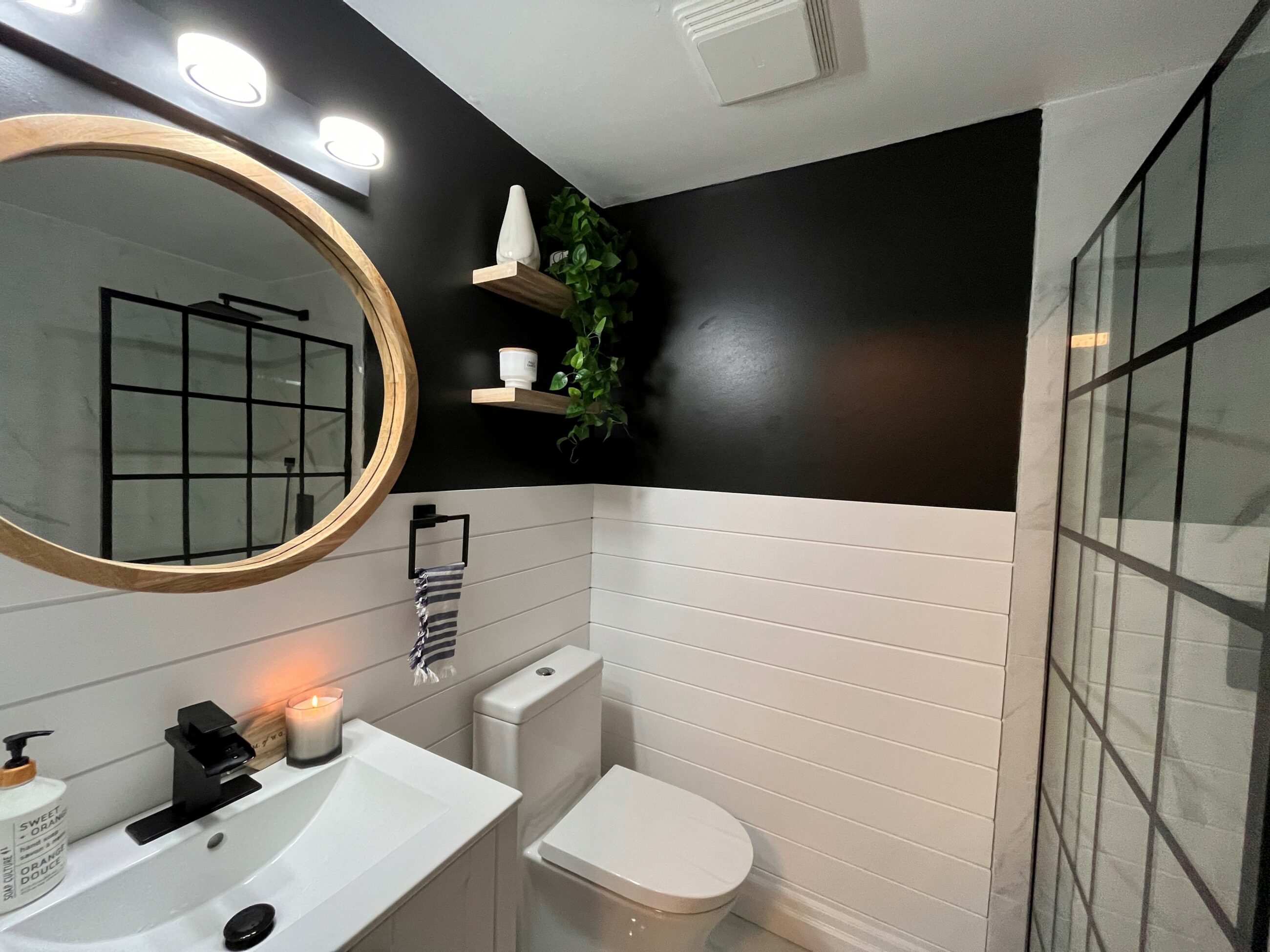 Shiplap Fireplace
Shiplap is not limited to a wall or ceiling. A design element that is very stylish and trendy is a shiplap fireplace. With the straight linear lines on the fireplace, it adds a touch of design while the main focal point on the fireplace remains the actual fire. This element is also more affordable than doing a stone feature which although gorgeous, can increase the cost of the design feature significantly.
If you are building a home or looking to revamp your current fireplace you should consider a shiplap fireplace as a design feature. In the image below you can see an example of a simple yet stunning fireplace with horizontal shiplap surrounding the actual fireplace. With a shiplap fireplace this allows you to remain focused on the fireplace with the simplicity of the design element as shiplap.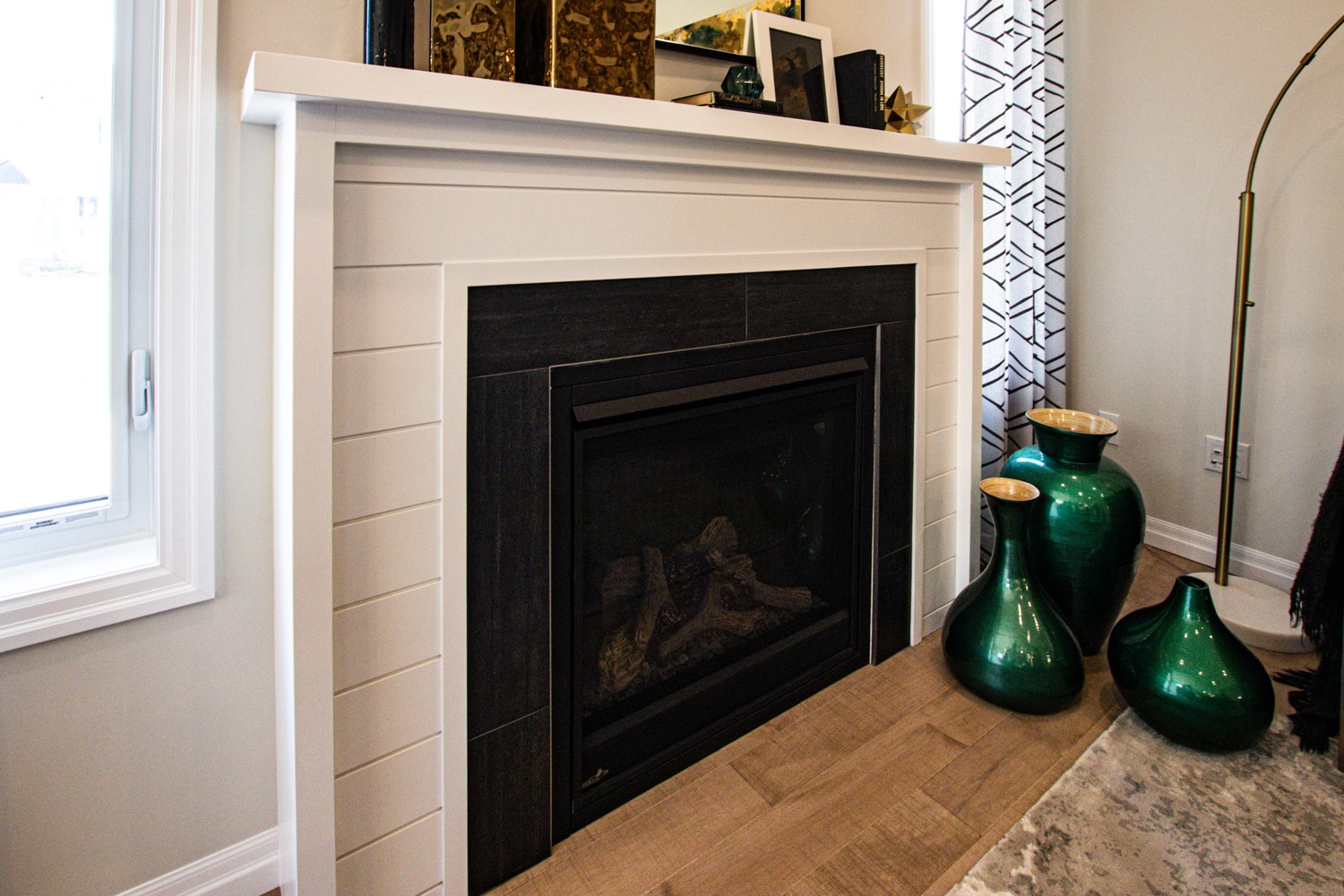 Living Room
Your living room is typically the heart of the home, for some people it can be the room you are in the most as a family. Typically, a living room has a T.V that is against the wall or hung up on the wall. Sometimes wall art or wall designs are limited because of the tv. The best way to create a unique design element in your living room is using your walls. In this living room in the photo below, you can see the shiplap is left the same colours as the walls and trim. This allows the wood stained fireplace mantel and the dark furniture remain the anchor of the room.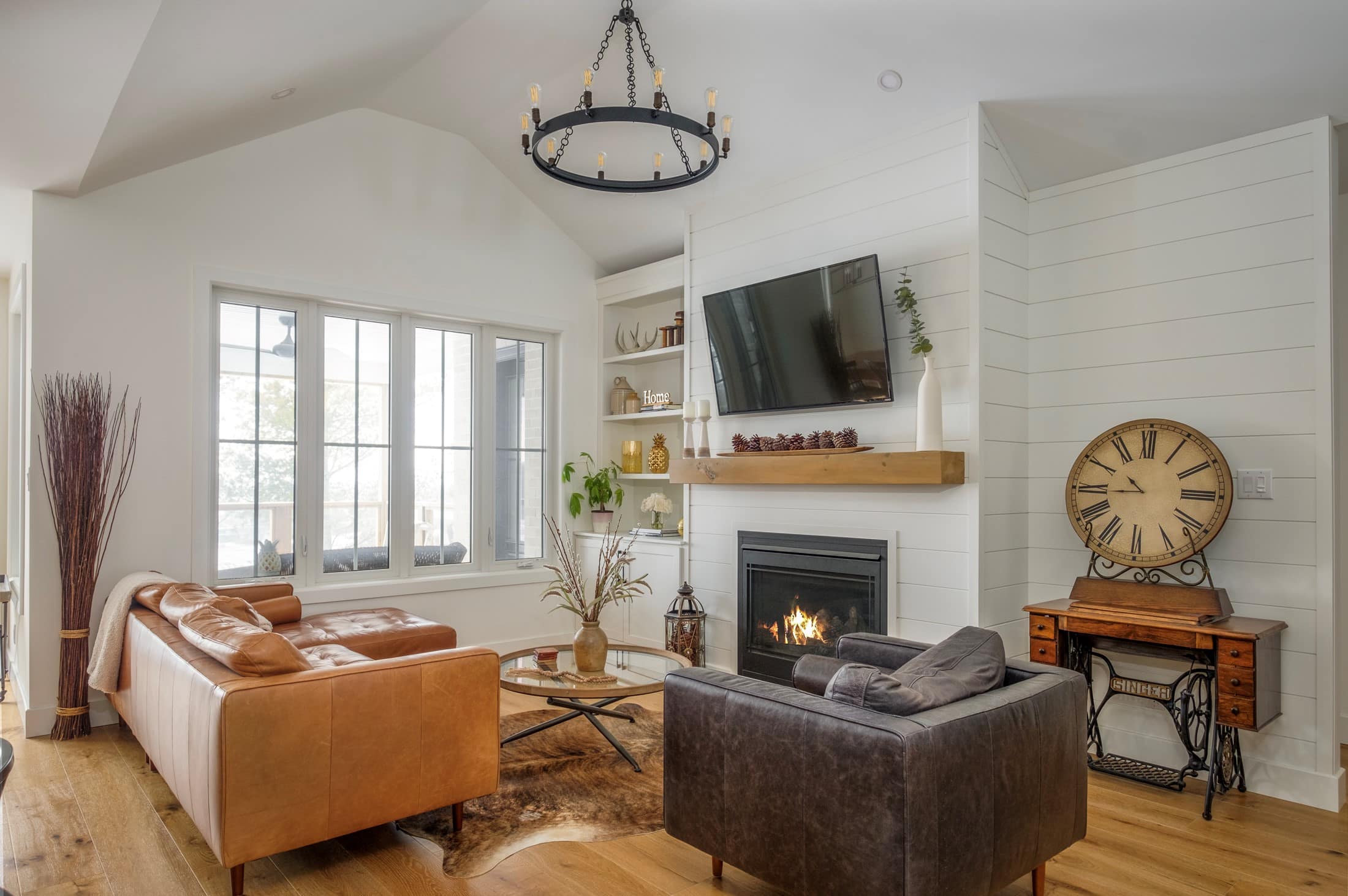 This living room above that contains a shiplap feature wall is absolutely beautiful, although shiplap doesn't stop with just one wall. To give you an idea of other places you can install shiplap in a living room take a look at the image below which demonstrates a living room with the shiplap installed on the ceiling.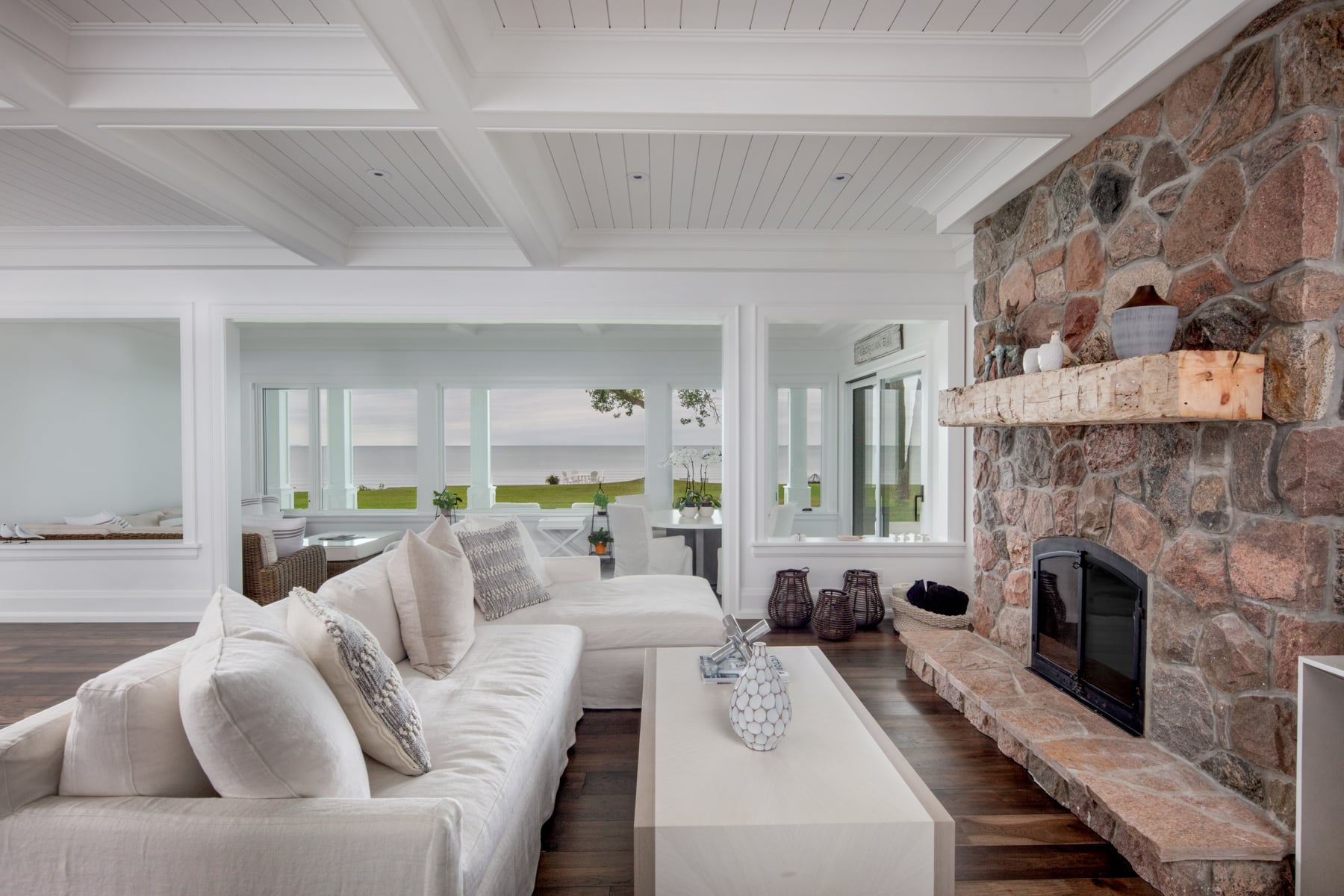 Ceiling
There are ceilings in every room of your home or any building. A place that often goes unnoticed can be used as a canvas for design using millwork. While there are many ceiling options to choose from like coffered ceilings or wooden beams, one that is also very popular is shiplap or tongue and groove. Shiplap and tongue and groove look very similar, to learn more and better differentiate the two check out our blog Tongue and Grove vs Shiplap. You have already seen one example of shiplap on a ceiling with the image above of the living room. Below is another example of simple shiplap added to a ceiling.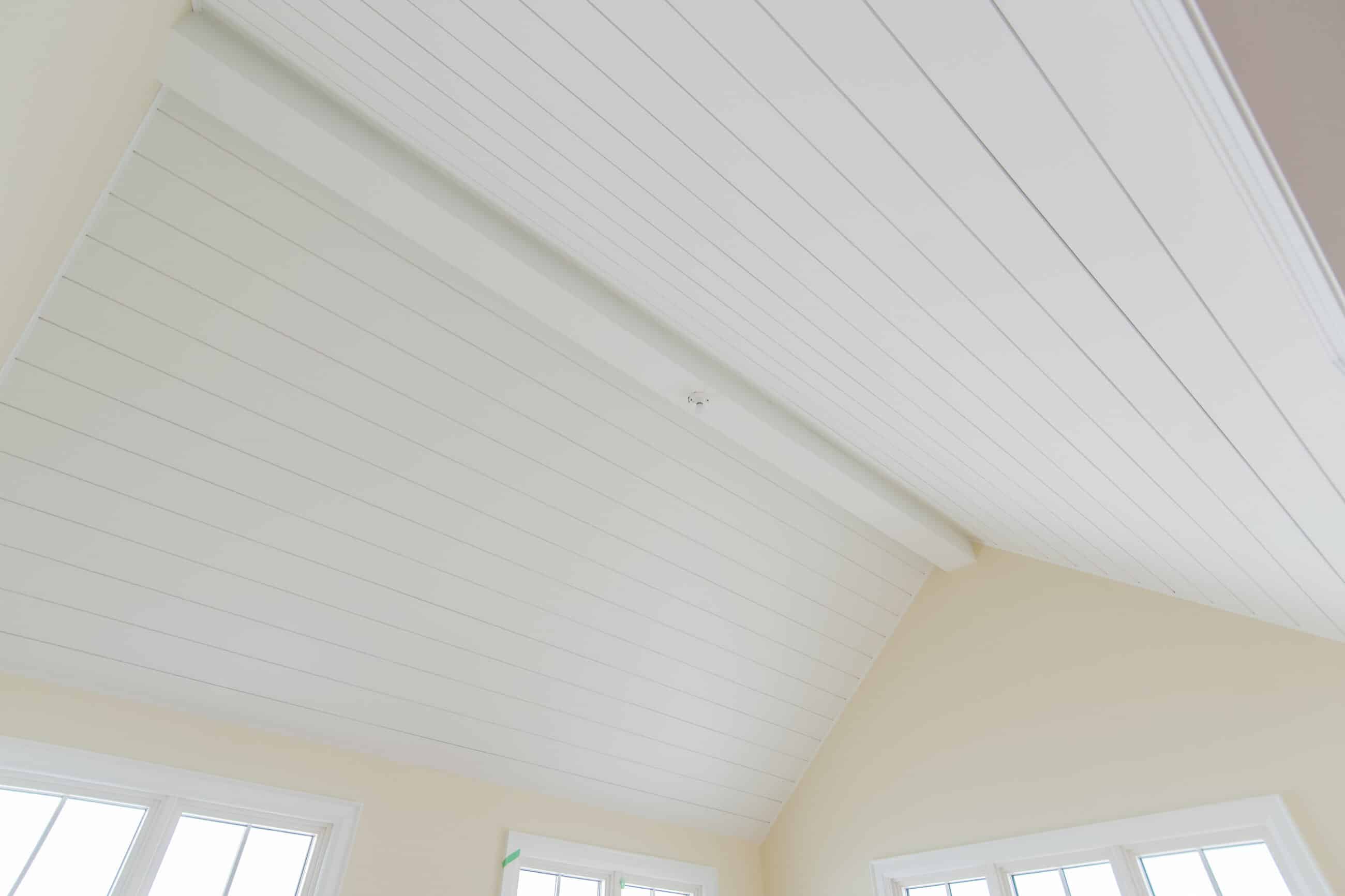 Adding shiplap to a peak ceiling helps to ground the ceiling better giving you better perception of its height. You will notice in one quick Google Search for 'peak ceiling' that nearly every example has shiplap on the ceiling for this reason. Without the added shiplap you could also experience greater echo in the space which doesn't exactly make for a great heart of the home.
‍
Kitchen
When considering design elements to include in your kitchen, by choosing shiplap you have an easy, simple feature that doesn't' take too much attention from the other kitchen features. Not only can you include shiplap in your kitchen on the walls and/or ceiling but you can even have it installed on your kitchen island if you have one! In this image below the shiplap is installed in the ceiling, turning an otherwise boring area of the kitchen into something more unique.
‍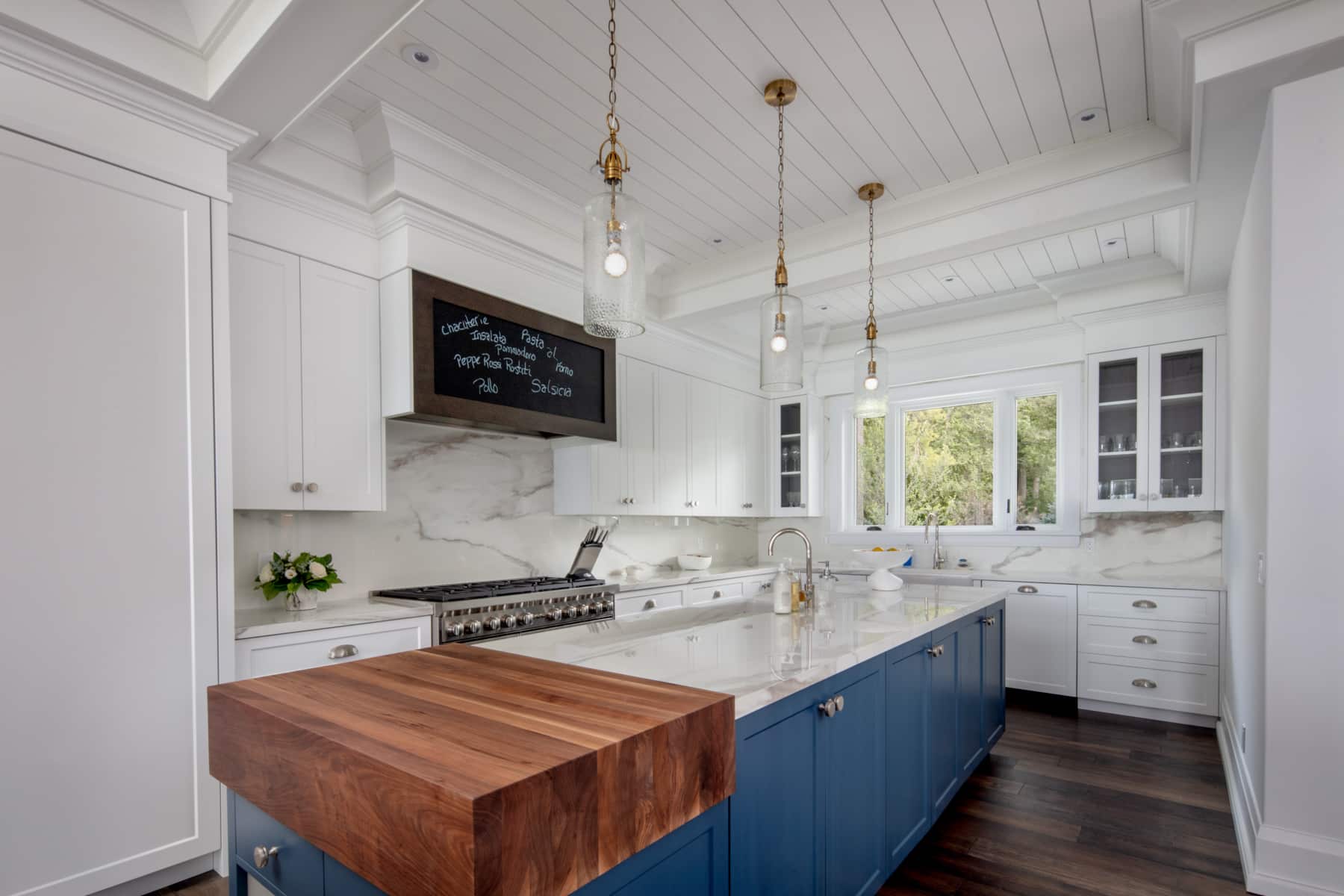 Below is another view of the kitchen, where you can see by eating at one of the two kitchen islands you have a perfect view of the entire kitchen with the shiplap ceiling.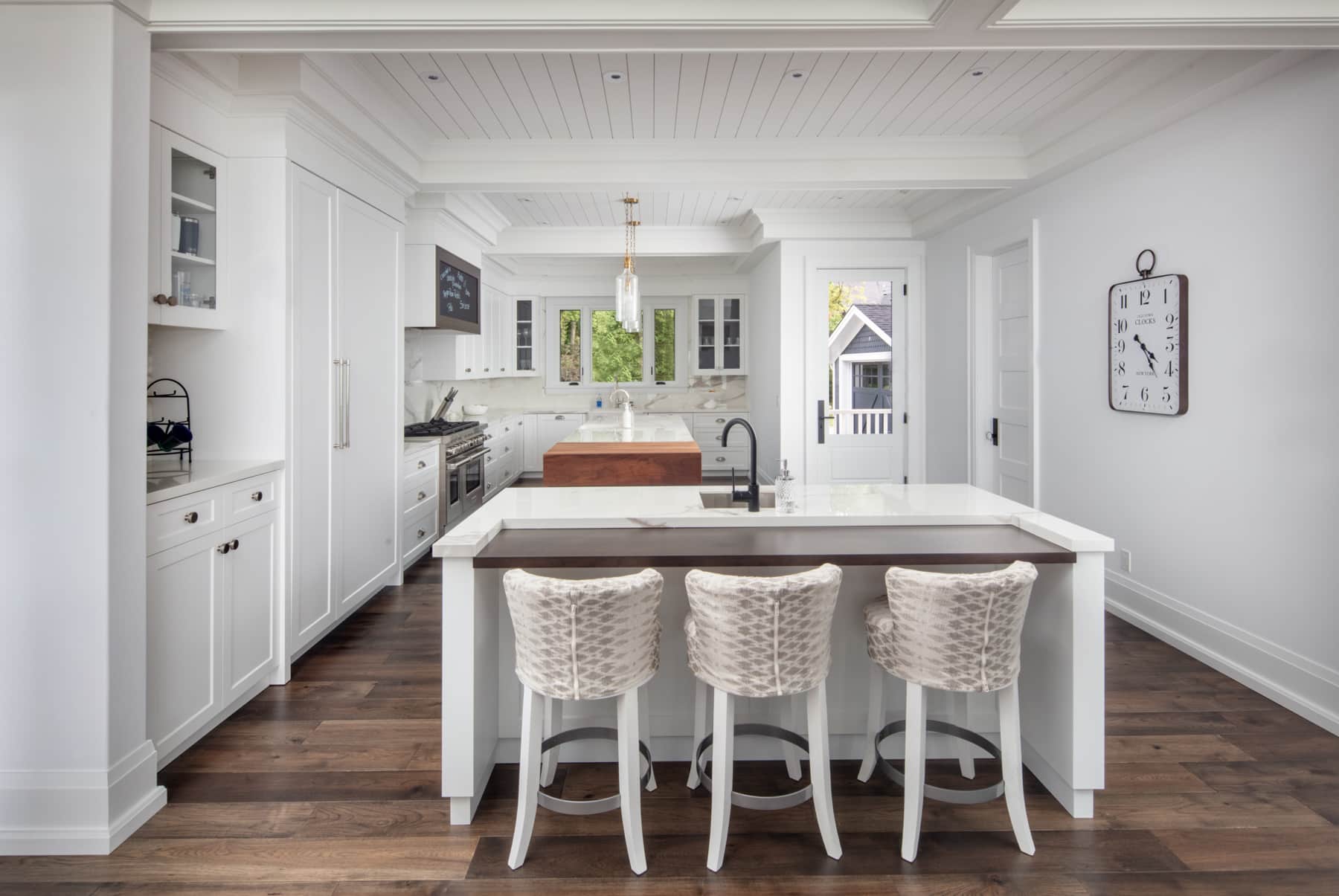 Bedroom
After reading most of this blog you probably have started realizing that shiplap essentially can be anywhere in your home or building, and you are completely correct. One place in a home that we often see shiplap on the walls or being able to view a stunning shiplap ceiling is a bedroom. A bedroom, like any other room in a home, can include a shiplap wall, a shiplap ceiling, or even a shiplap fireplace if there is a fireplace in your bedroom! Look at the image below that showcases a stunning shiplap ceiling designed with the shiplap boards installed in different directions to add a bit of a unique touch.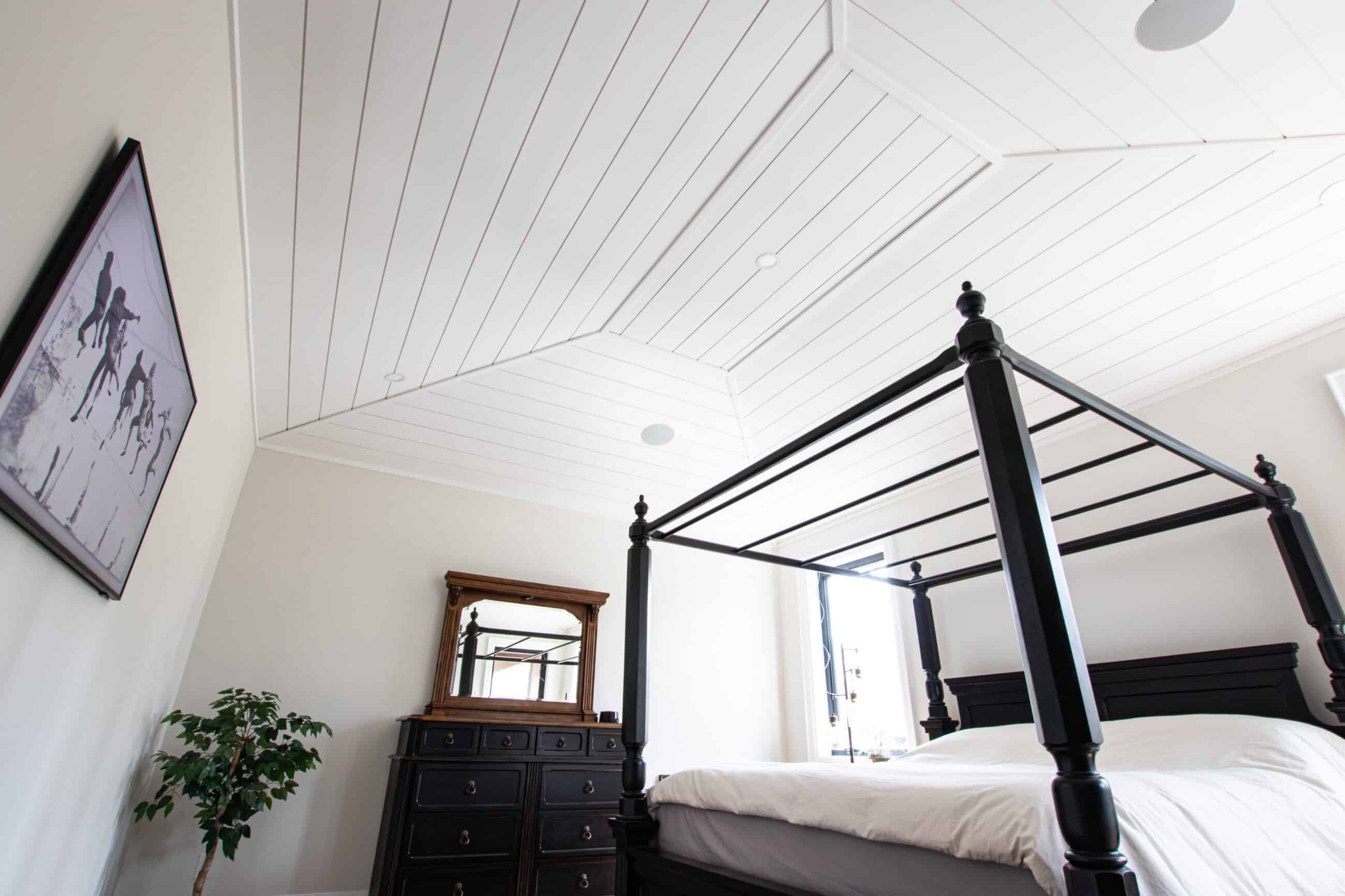 A bedroom that includes a shiplap ceiling doesn't have to be limited to just the ceiling. Have you considered installing shiplap everywhere in a room? In the image below there is a shiplap wall and a shiplap ceiling, the entire room is covered in shiplap paneling, and it still definitely doesn't overwhelm the space. Is there such thing as too much shiplap? Based on this image below, it proves that there is no such thing as too much shiplap!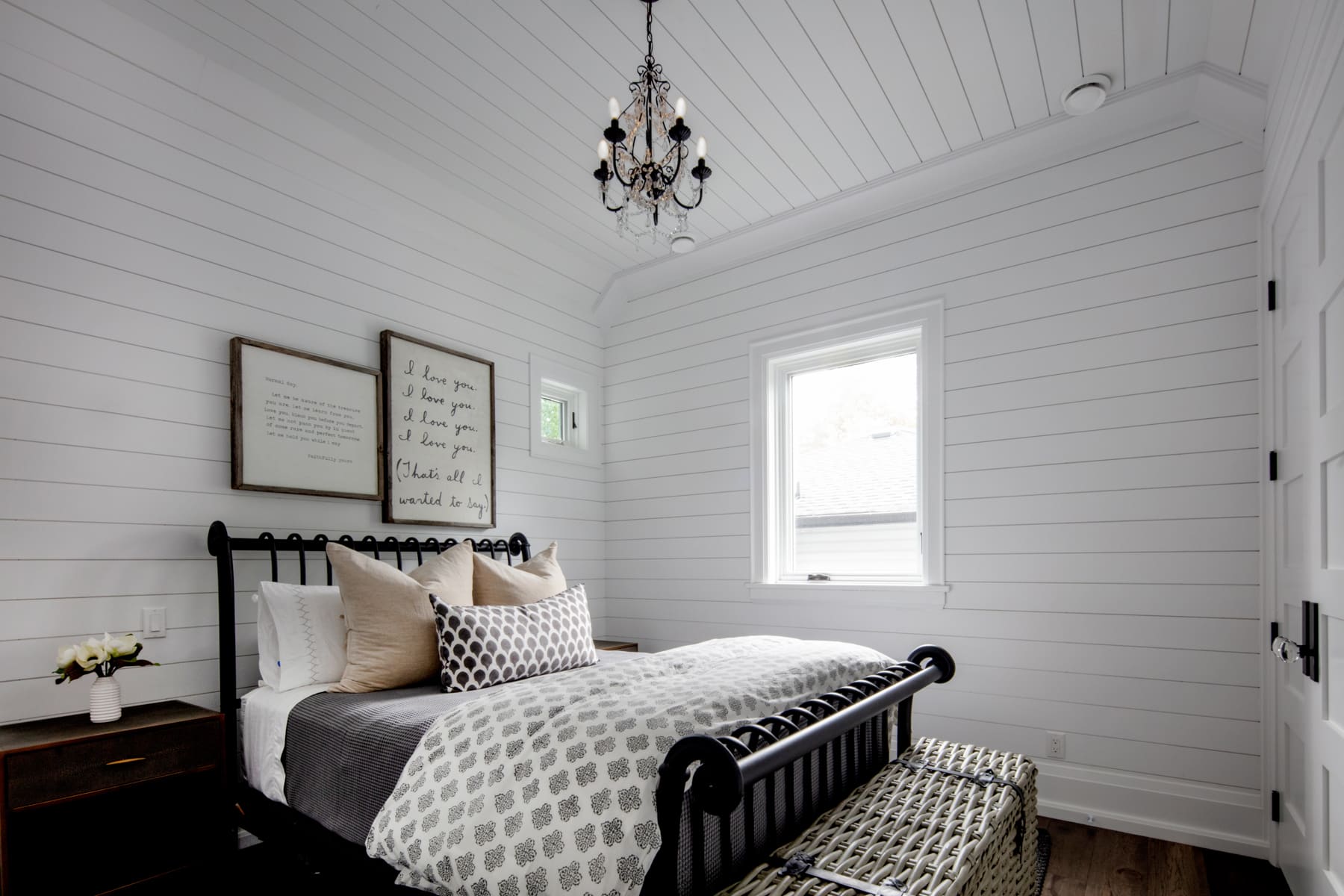 A shiplap ceiling doesn't have to be simple like the image above where all of the shiplap paneling is parallel. Although the simple look of a shiplap ceiling is absolutely stunning, by adding some other elements like beams only enhances the effects. The bedroom in the image below demonstrated a shiplap ceiling with beams.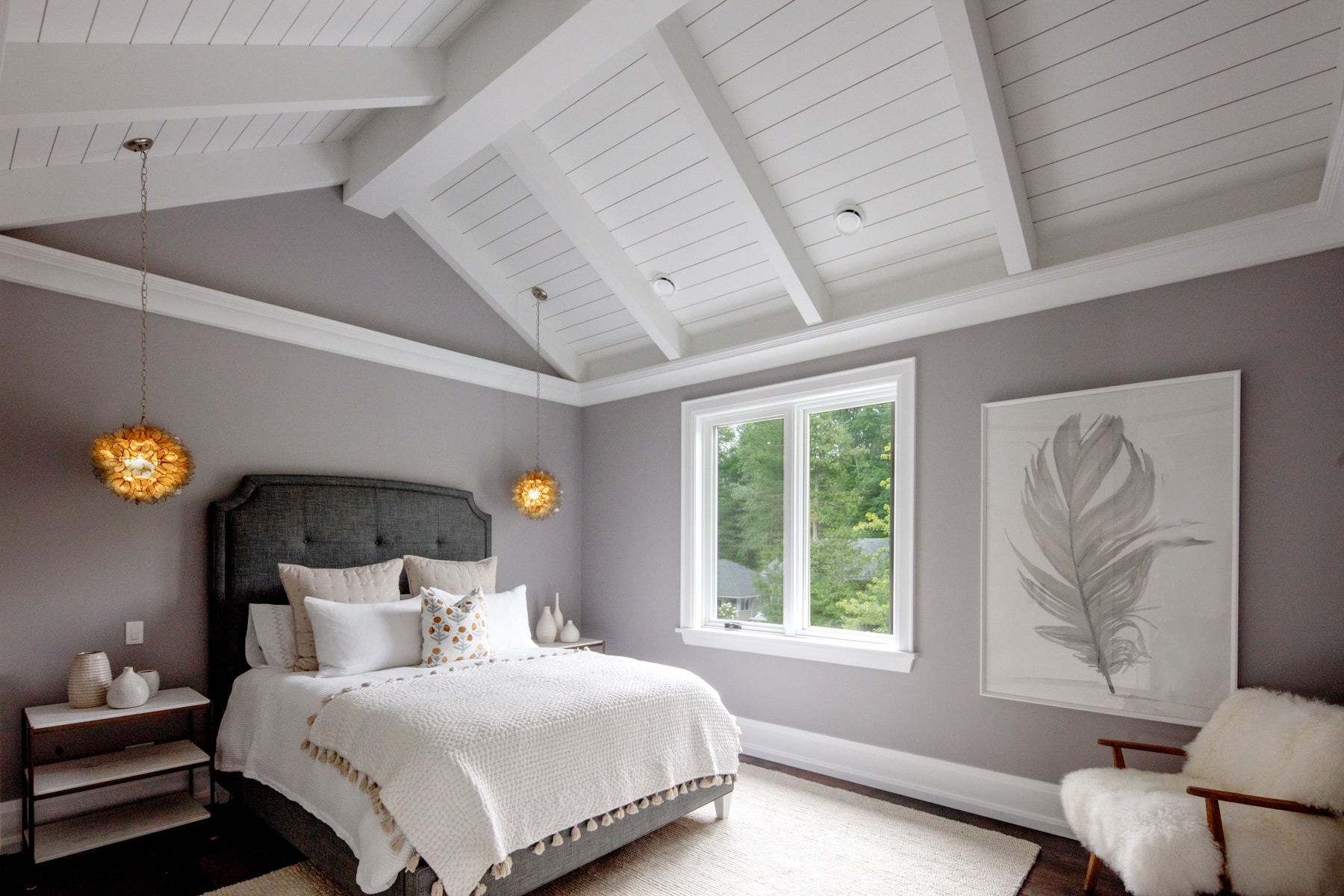 ‍
Shiplap Installation
If you are wondering about the shiplap installation process or how to install shiplap, check out our blog on How to Install Shiplap to get step by step on the easy process of installing shiplap!
At Riverside Millwork group we offer Shiplap in 5 1/4'" or 7¼" contact us today to learn more about shiplap, and how we can help you start your shiplap project.
‍