When it comes to making interior design choices, whether they are small or large, they can be equally challenging to make the final call because you just don't know if it is going to look right in the room. While we're not all interior designers, and there is plenty of reason to hire one for everything from a bathroom renovation to a whole home renovation, selecting a light fixture or replacing a rug may be something you choose to do on your own.
Since we were stuck at home for so long, dissecting our spaces, many of us have now chosen to invest our time and money into elevating our spaces. Although we can see what we like and don't, through lifestyle images on Pinterest, we all could use a little assistance selecting between the rug options at Home Sense and the door options at Riverside when it comes to fitting them into our current spaces. In this blog we will walk you through how to use a tool called Canva to create a mockup of what that new door or new rug would look like in your home so you can be confident when you hit order or pick up that product in store that you will love it even more when you get it home.
Capturing Images
To start you are going to need a photo of the space you are going to be replacing a door, piece of trim, or a piece of furniture. Once you have that photo, move on to capture a photo of the element you are trying to decide around. In this first example we will walk through a door where we want to replace a more traditional French door with a trending modern design.
Here is the image of the current door, free from any clutter that may otherwise impact the decision around the change.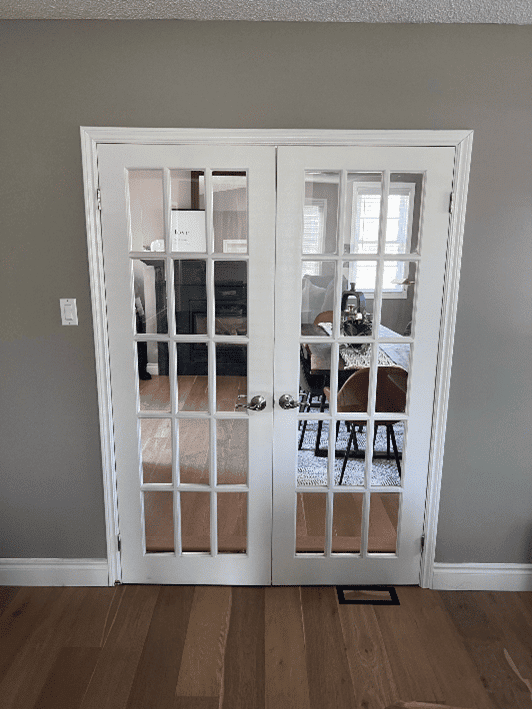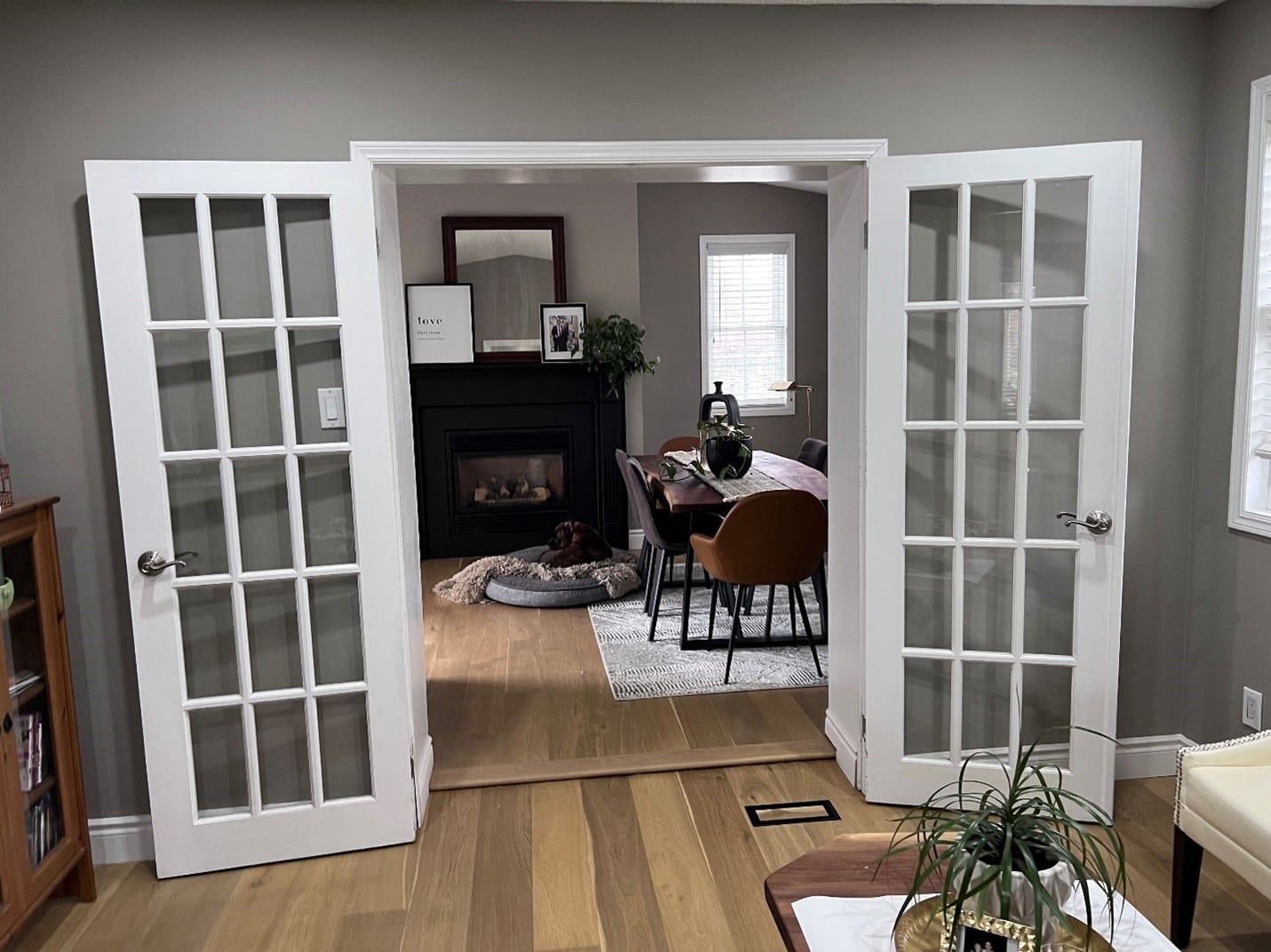 Once we have the current room image we need to capture the image of what it is that we want to put into the room. In this example we take a screenshot of the doors recently featured on Riverside's social media from The Beach Motel.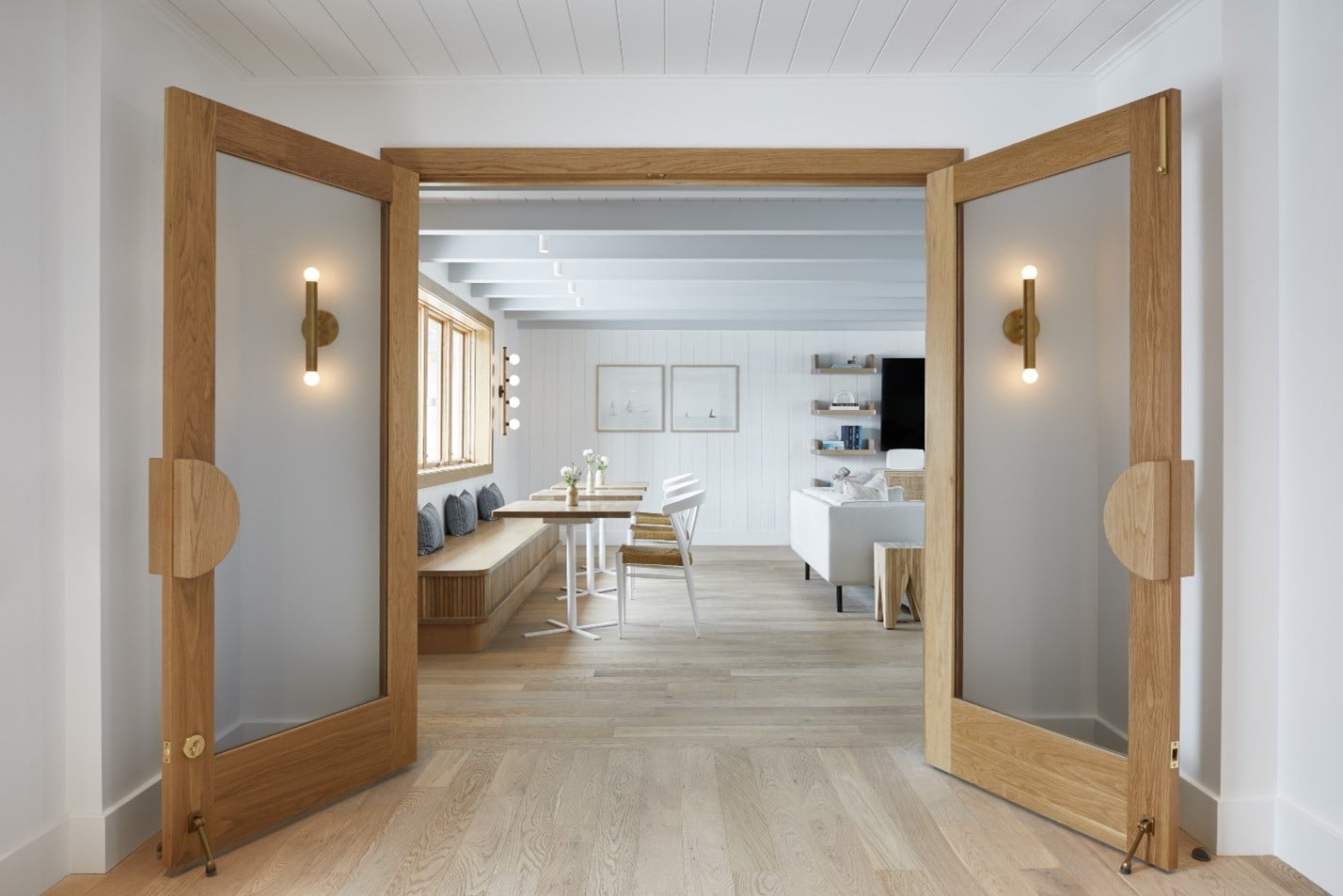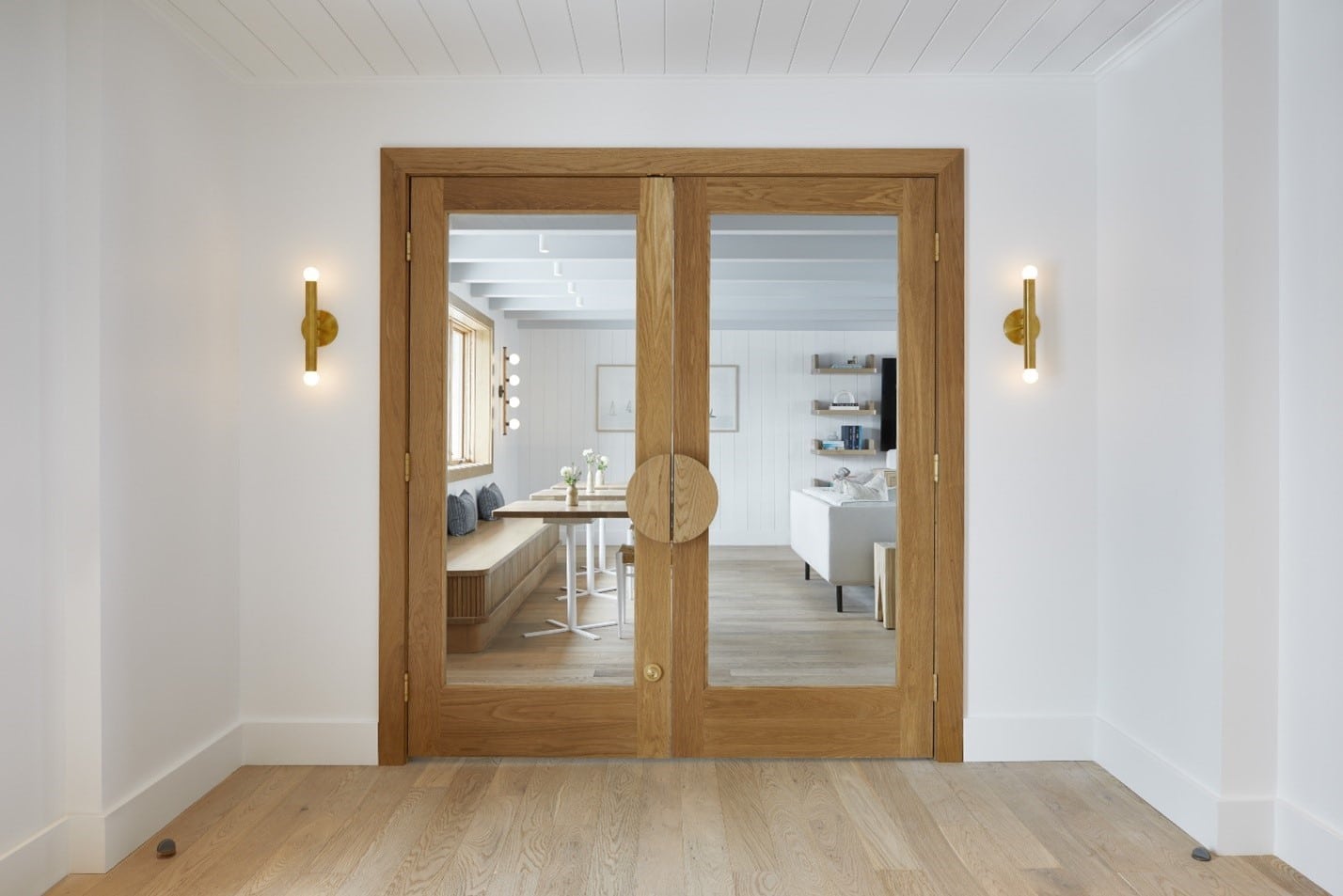 Now that we have all the images we need to create a design mockup, we can move on to introduce you to the tool we use to create the mockup (without any auto CAD or computer software experience required…we promise)!
Using the Free Online Tool to Create a Mockup
Now that we have all the images, we need to create our mockup. We need to go to Canva.com to create a free account to be able to work with editing the images. Once we have created our Canva account we can then go to Create a Design and Edit Photo to begin.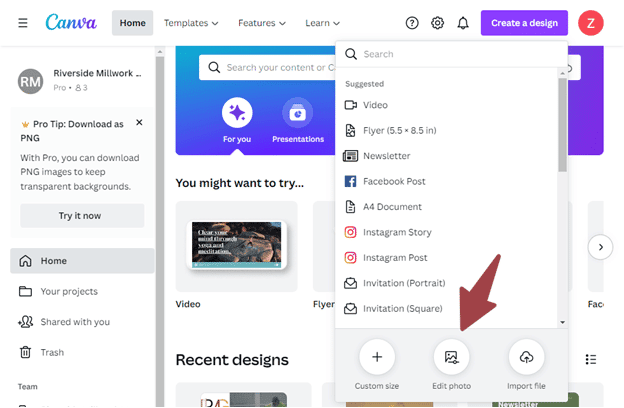 Start with uploading the images of your room to use as the foundation for the mockup.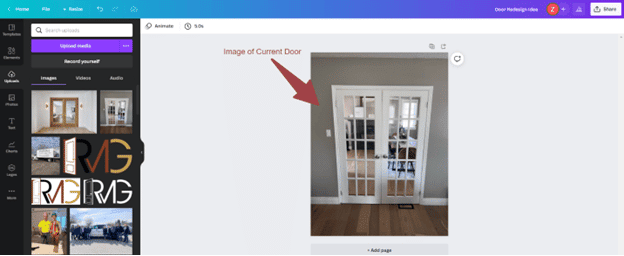 Now that we have the image of the current door in place we are going to upload the image of the closed doors that we are considering replacing the existing doors with. We do this by going to the uploads option in the left menu bar, then selecting Upload media, and lastly choosing the images we have selected from our saved computer images.

Once we have uploaded the image to be in front of the existing door we will want to remove as much of the background in the image to focus only on the item we are considering here. You will do this by selecting the image you have added on top, selecting the Crop function in the menu bar above the image, and cropping out the background that does not apply.
Once you have cropped out the inapplicable background, then dragged the remainder of the image over the door, you will then be left with the mockup of what the new door would look like in it's place.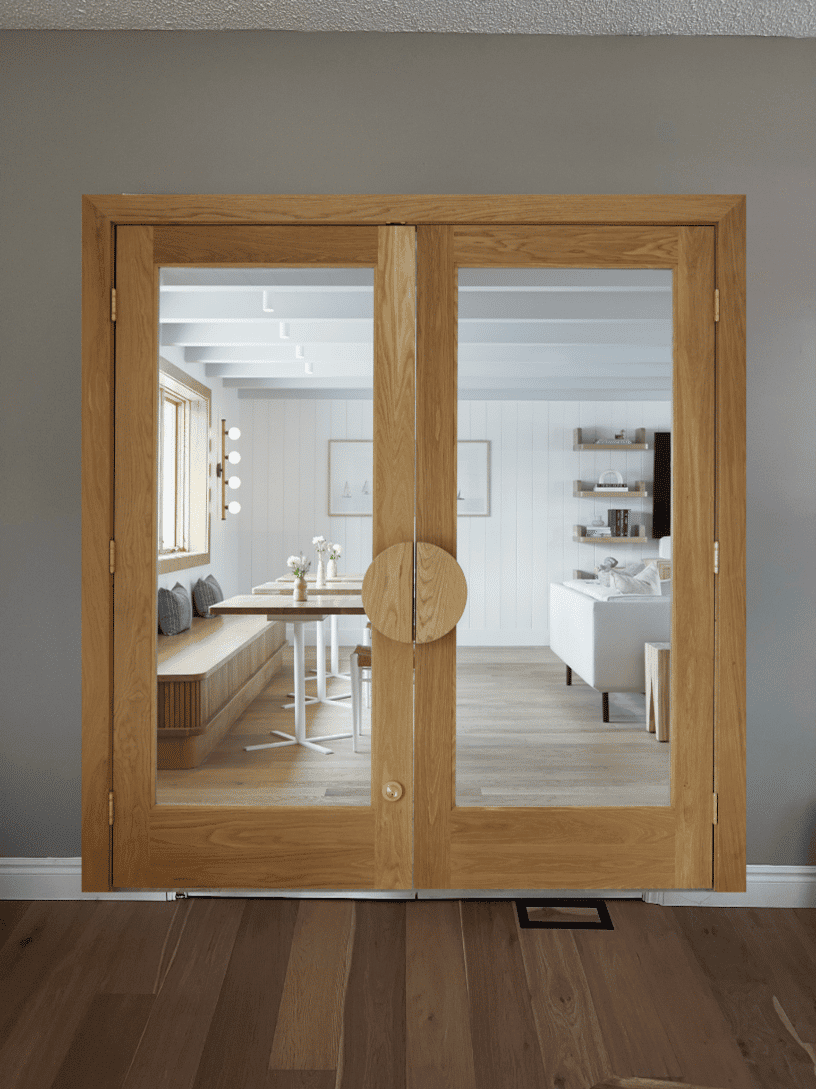 Have Some Fun
When it comes to using this tool you have the opportunity to play around with a few option to see which door or other item you are replacing would work best in your space. In this example, we show what the doors would look like if they were open.
A unique and useful tool, which does come with a price, is the background remover tool. If you feel that you need to remove the background you can start a free 30daytrial for Canva Pro. To get the image of the doors without the background go to "Edit Image" and then "Background Remover". This feature will come in handy for intricate items you are adding into the mockup where you want to create the most clear mockup possible to make your design decision.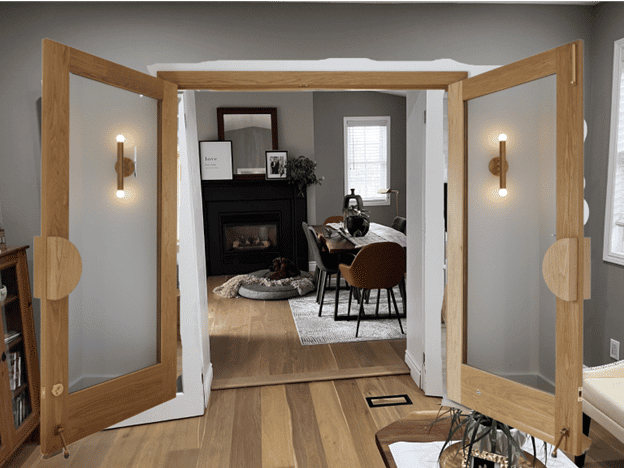 Here is another example where we try another styles of French door this time with some frosted glass and a painted white.
‍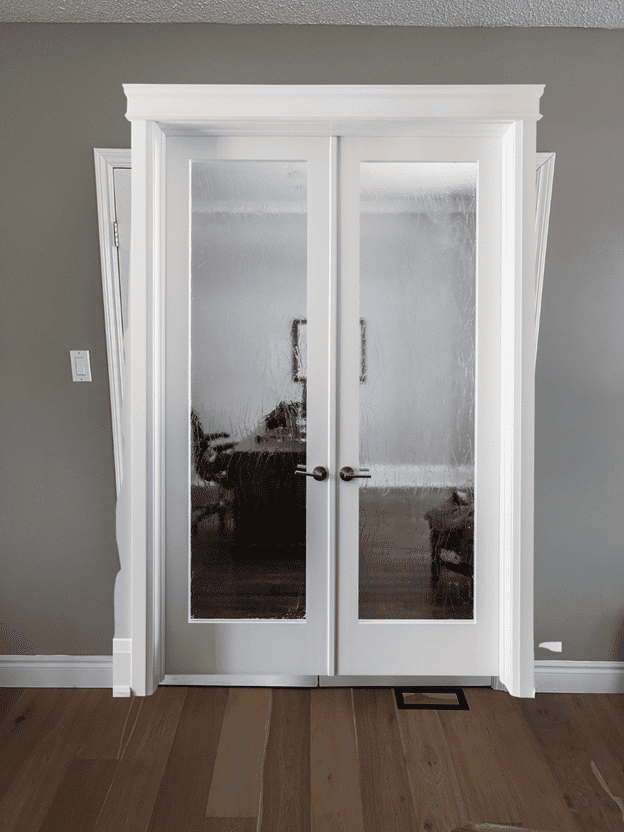 Now as a homeowner we can see between the doors we like online and the décor we have in our home, which are going to be the best fit to our design and lifestyle.
We hope this blog helps you with selecting your door and trim choices with us along with all other design decisions you make without a designer. So that you can move forward with full confidence that you're investing in home improvements you will love for years to come.
‍