When replacing your interior doors your main focus may be the interior doors, which they should be as they are the main functional piece and arguably the most used part in your home or any building.  Although, you cannot forget about the trim that will surround your door way, or in other words, casing. Interior door casing is the trim found around a door opening or window. Door casing is both functional and decorative, it can be used to enhance the look of the doorway or window while also concealing the transition between the wall and jamb or the window and jamb. Door trim is something that is important to understand and choose the design that suits your home best. There are many parts of door trim that you may not have known about as there are also additional trim products that you can use to enhance the appearance in your home. To learn more about additional trim products, check out our blog 4 Additional Trim Products to Enhance your Standard Trim in your Home.
In this blog we will talk about different trim options to select when replacing your interior doors, sleek and minimal while others are additional design features to improve the design of your home.
Trim Styles for your Doors
There are a number of different casing styles to choose from. At Riverside, we even offer custom trim options, if you find a trim profile on Pinterest or on your favourite HGTV show, bring us a photo and we can match it to create your dream trim profile! Or, if you own a century home or old building and you are completing a renovation but there is no way you want to lose the charm with the unique trim throughout the space. Contact us and we can help you with your renovation without losing the charm. Check out our blog on custom trim profiles, Keep the Charm in your Home with Custom Trim.
We offer a large variety of trim profiles, designs and material, but in this blog we will tell you a bit about our most popular trim profiles. To learn more about different trim materials and which ones you should choose, check out our blog, The Best Wood Materials for your Home's Interior Trim.
Contemporary Casing
One of our most popular casing styles is our Contemporary Casing. It is a very simple, minimalistic look and we are seeing this trim installed in many homes, especially newly constructed homes. In the image below you can see a photo of our contemporary casing around an opening.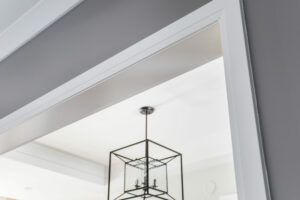 Eased One Edge Casing
Our Eased one Edge casing is probably our most minimalistic trim profile we have. It is a simple design with no grooves added to it, this is a perfect casing style if you are looking to stay modern and complete that minimalistic home design style.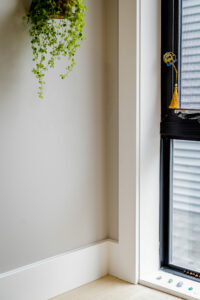 You can see in the image above of our Eased One Edge casing and baseboard, it is very simple and easy to clean with minimal places to collect dirt and dust.
Colonial Casing
Another popular trim style is our colonial trim. Available in MDF, and other materials this has been a go to for a number of our clients. This profile has more traditional features when you compare to the contemporary casing and the eased one edge casing. What makes this profile a traditional style is the multiple grooves and designs in the trim. Below is an image of our colonial baseboard and casing.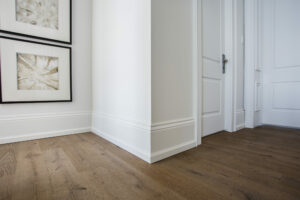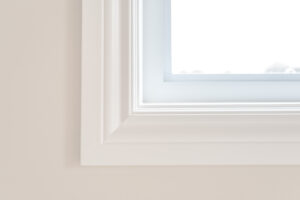 Backband
Backband is the trim around a window or the trim around a door or doorway, it is installed by a trimmer after the casing is installed. The backband is found exactly how it sounds, on the back of the casing connected to the farthest part of the trim away from the window or door way. Backband is an additional trim product that is not necessary but truly enhances the appearance and effect of the trim around a window or the trim around a door. Below are two images of our contemporary trim profile with backband installed. You can see that it adds depth and gives an additional design element to the trim and door.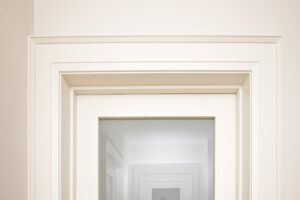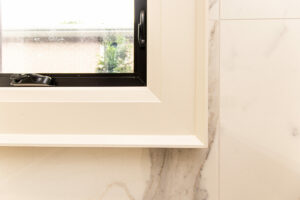 Door Transom
Door transoms are often seen and recognized on entry doors as the glass panels placed above the entry door or on either side of the entry door. Most people don't realize that you can actually include transom on your interior doors. Adding transom to your interior doors gives an added design feature, while providing more light to translate between rooms, and there are so many styles you can choose from!
Some people choose to have a filled in transom, some like the glass and some even choose to have a glass design on their interior door transom. Transom can be installed above the doorway or on the right side of the interior door or the left side of the interior doorway. Although, transom is most often installed above the door for interior doors. See below some images of some of our favourite transoms in interior doors.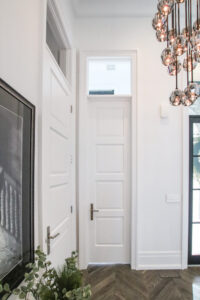 The image above displays two very tall interior doors that contain glass transom above. The glass transom is a plain clear glass, the added benefit of having glass transom is it allows natural light to peak through and makes the space feel more open while still keeping privacy in each room. Some people love the clear glass transom while others may choose to have a custom glass design to add a bit of a unique design feature in their home. See the image below.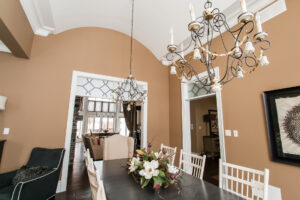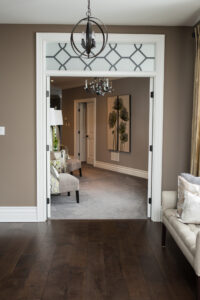 In this image you can see this home owner chose to have a custom glass transom above every door opening. This style fits in perfect with the traditional home style and we can't image this space without this custom glass transom!
Now not all interior door transom has to contain glass. Some are completely filled in and their purpose is to give the illusion of a larger and taller interior door. See the images of interior doors with transom below.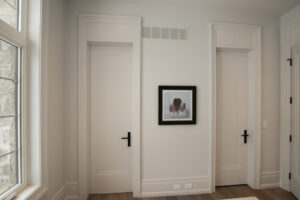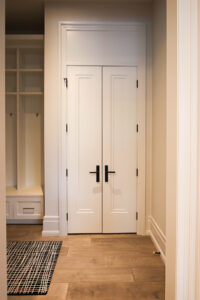 After reading this blog, we hope that you gained some insight on some interior door trim that you can select when replacing your interior doors. Contact us today to get more information on trim options throughout your home!