You get a brand new closet organizer installed in your home, maybe you have a simple layout with closet shelving or closet rods. Your organization goals are satisfied, YAY! Now you need to consider what kind of closet doors you need. While the organization and storage inside the closet is the whole reason you embarked on the project, the doors that go on the closet are the final touch you're going to be seeing the most, and likely your guest will see.
So, do you want closet sliding doors, closet barn doors, closet French doors, or closet pocket doors? With so many styles to chose from, in this blog we will go over each one to determine which closet door is best for you and your needs!
Classic Closet Swinging Door
The classic closet swinging Door is the same as any regular interior door. They are a three hinged door with a handle, lever or knob used to open and close a door. If you have the room for a swinging door this could be a great option for you!
Pros:
This is a popular, timeless option. You can also make the closet doors then match the rest of your interior doors if you are looking for a consistent design flow throughout the home. In fact, most people think that the swinging door is really the only option, so this is likely your first thought when you think of a closet door.
Cons:
You need to have enough space in the area to give the swinging door enough room to open. The last thing you want is to only be able to open the closet door a quarter of the way due to an adjacent wall.
Is a Closet Swinging Door for You?
If you have the floor space for a swinging door this could be a great option for you! It is very common to see closet doors as the classic interior swinging door. The best part about purchasing a closet door or any door in general from Riverside Millwork Group is that we can custom make the door so it fits into any space. For example, in the image below, this closet had a tall narrow opening, but it was important to the home owners to have a double door so we were able to have this door cut down to size for this linen closet.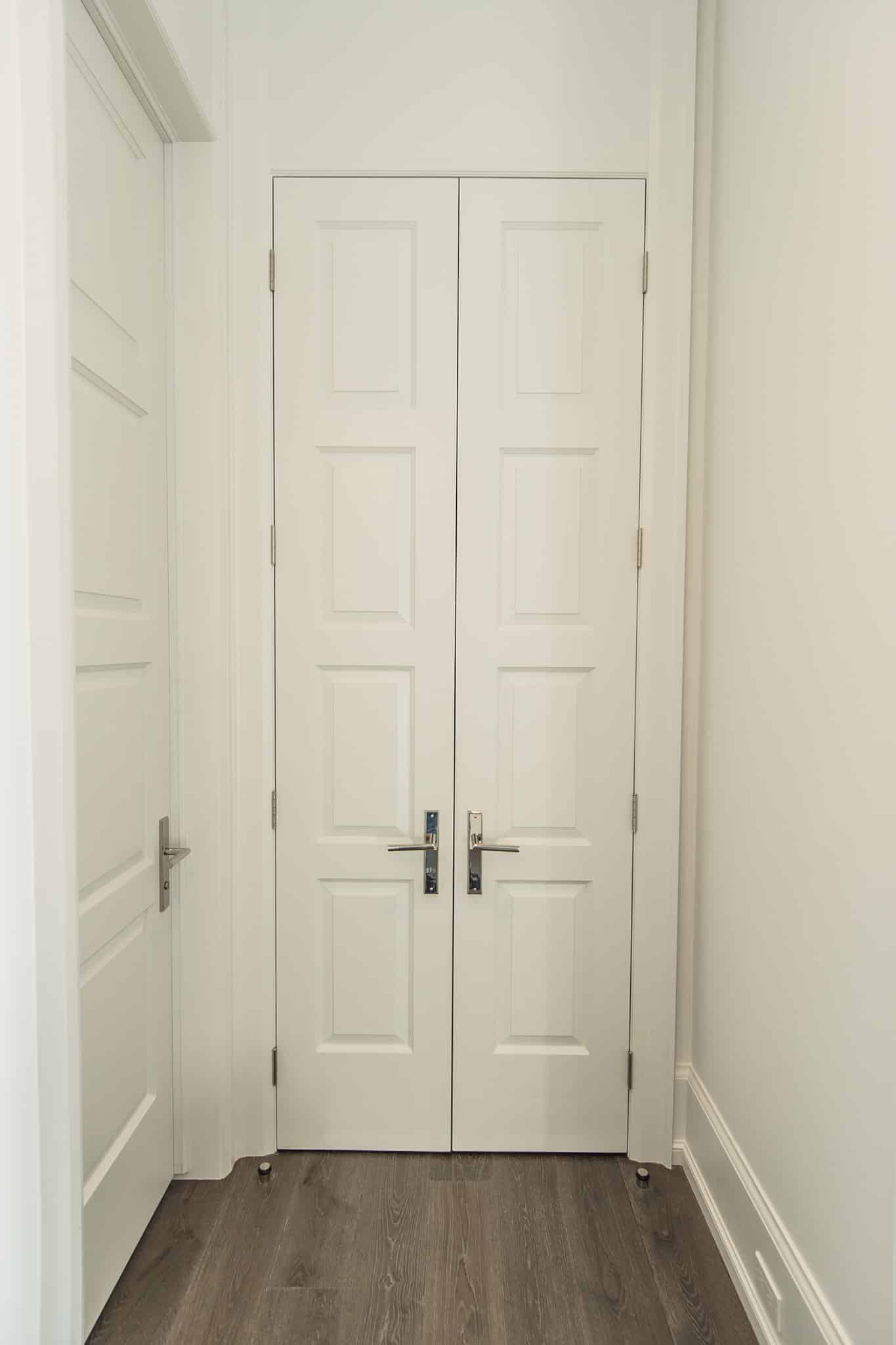 If you have a large door opening for your closet you may not have the space for a wide large door, so you could go with a double door and cut that width in half, like the image above.
Bifold Door
Sometimes people don't have the space for a classic closet swinging door, so another option is a bifold door. A bifold door is a door that is capable of being folded into two parts, they are hinged together in the middle of the door allowing the door to fold in a vertical half. The door slides open by folding back against the wall. Typically, bifold doors are often used for reach in closets rather then the large master walk in closet. Bi fold doors take up much less space when compared to a swinging door and a barn door.
Pro:
It saves a lot of wall and floor space considering the door folds in half.
Cons:
Bifold doors tend to not have as long of a lifespan compared to other doors due to the tracks they are on. The more often you open and close it the more likely the door will fall off its track.
Is a Closet bifold door for you?
Comparing the bifold door to a swinging door, the bifold door takes up less floor space, so if your closet is in a tight space this would be perfect for you. When comparing a bifold door to a barn door, the bifold door takes up less wall space, whereas the barn door takes up a lot of wall space. Bifold doors aren't great for kids because the folding function can cause pinching of fingers if the door is not pulled closet via the handles. You may face an upset toddler with a booboo from playing with a bifold closet door– OUCH!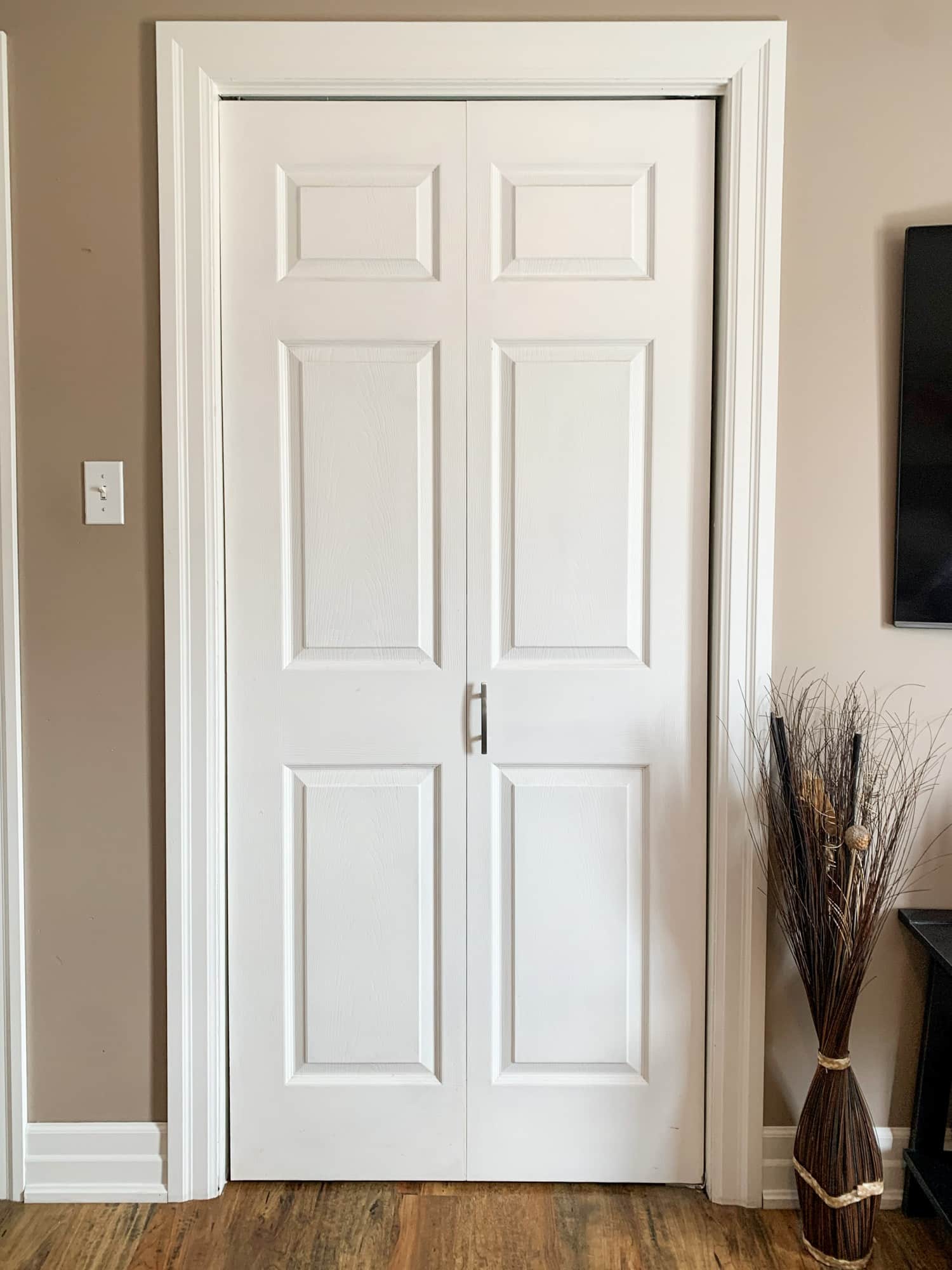 In the image above you can see a three panel bifold door. The handle is a basic satin nickel pull. When opening the door, you grab the handle in the middle and the entire door opens folding in the middle.
By-Pass Doors
By-pass doors allow the doors to slide in front of each other rather than swinging in or out, these are great if you are limited in floor and wall space.
Pros:
Can easily fit in the closet opening and saves space. They are easy to use and are DIY friendly.
Cons:
You only have access to half of the closet at the time. These are also on a track so it is important to make sure the tracks stay in tack.
Is a bypass door for you?
If you are lacking wall space and or floor space, a bypass door would be the best option for you.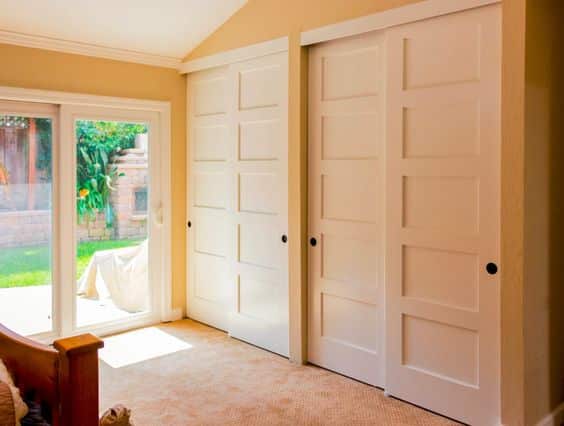 As you can see in the image above, when you open one side of the bypass door it will cover the other side.
Closet Pocket Doors
A Closet sliding door or Pocket door is great to save space. As you can see in the image below a pocket door could be a great option for somewhere that does not have wall space for a barn door or maybe you don't want to take up too much floor space. 90% of pocket doors actually don't get closed so this is something to consider, do you want your closet to be open for everyone to see?
Pros:
Pocket doors definitely save the most space when it comes to all of the closet door options.
Cons:
A pocket door is not the easiest option as the wall needs to be installed around the door rather then the reverse which is the case for all other doors. Since the door is also sliding into the wall, you would require a minimum amount of wall space to accommodate the width of the door.
Is a closet pocket door for you?
If you really have no wall or floor space to give up when it comes to your reach in or walk in closet then a pocket door is best suited for you. Pocket doors are a much bigger renovation project as you have to tear down the wall and build the wall around the door. So, it is important to consider how big of a project you want to embark on when selecting the doors for your closet(s).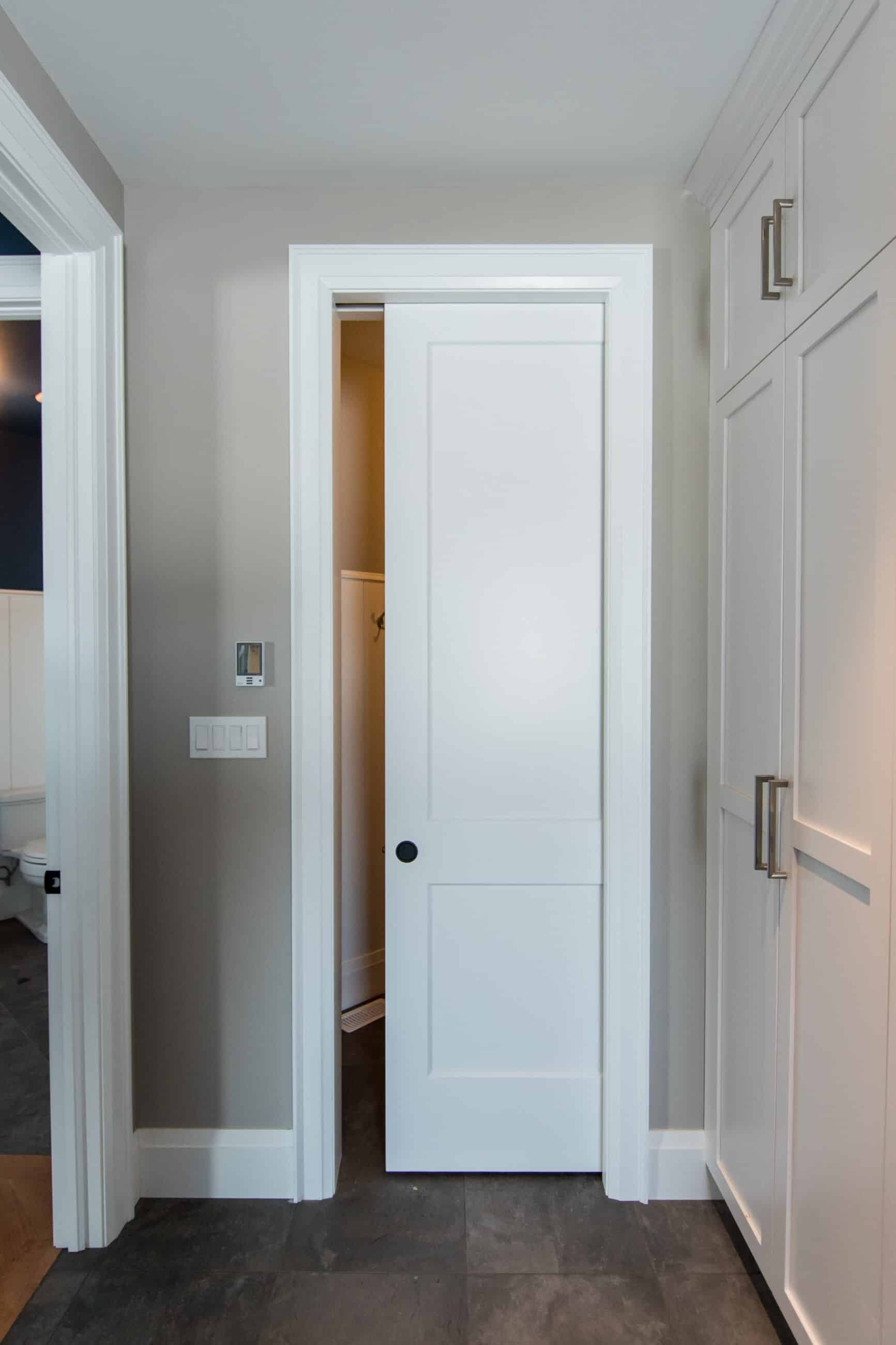 A pocket door can be used for closets, bathrooms, mudrooms, pantries and more, they aren't only for closets.
Closet Barn Doors
Closet Barn doors have been very trendy for the last 5 years and many people are choosing the barn door as an accent and décor piece more than just a door solution for their space. Barn doors can be great for closets as long as there is space on the wall with no outlets or plugs so nothing interferes with the function of opening and closing. Something to consider, is that most people like the look of the barn door being open and covering the empty wall space and leading into the next area so a lot of barn doors actually don't get closed often. So when considering a barn door for a closet, you should consider if you plan to have this closet door open more than it is closed.
Pros:
Very stylish and can be a conversation piece, all your friends and family will admire it.
Cons:
You need the wall space for it, with no plugs or outlets that would interfere. You also will want to consider if you like the look of the barn door being closed more than open if it is for a closet you want covered.
Is a closet barn door for you?
If you are lacking floor space and you can't have a door that swings open but you have a lot of empty wall space and are looking for some room décor than a closet barn door would be a great fit for you!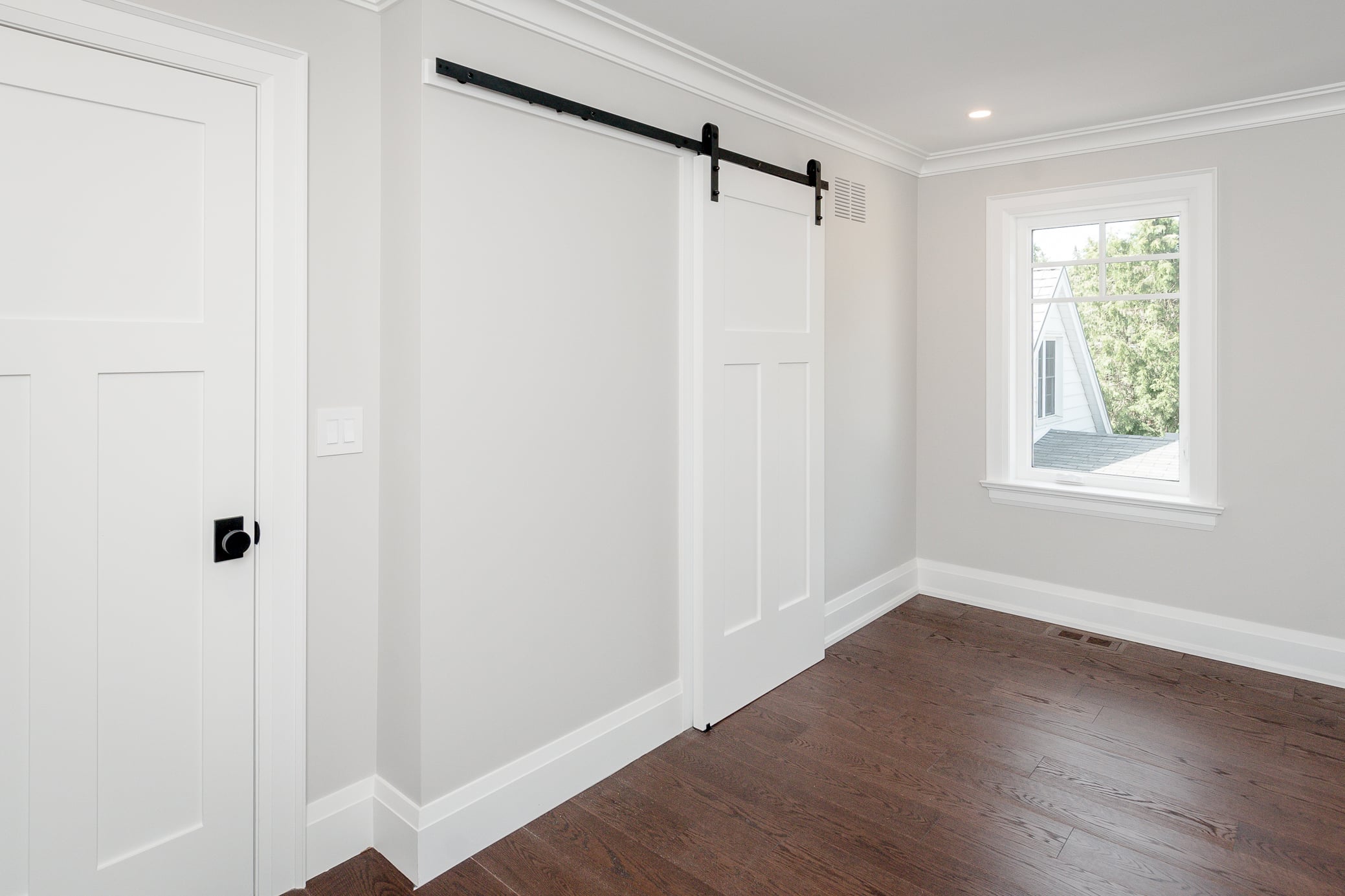 As you can see in the image above, this bedroom has enough space for a swinging closet door OR a barn door but this homeowner chose the barn door because the wall had nothing to get in the way of the door opening and loved the style of the barn door. This homeowner chose the barn door to be the exact same style of door as all other doors in the house to keep some sort of consistency. You can choose any style of door to be converted into a barndoor, simply chat with one of our Riverside sales representatives to help you decide what the best option is for you.
Closet French Doors
A closet glass door, or in proper terms, a closet French door is becoming very popular in not only historical homes but in contemporary ones too. French doors offer a wide variety of panel styles and glass styles which means there is one that be a match for any home. With all of the different glass options like diffused laminate, you can also choose how much privacy a French door can provide. For some people they may want their closet to be private, although they are in love with the French door aesthetic. While other people may intentionally want the glass to be more transparent to be able to see what is inside the closet. When selecting a closet French door make sure you talk to your Riverside sales representative to get the proper privacy and style you want for your project.
Pros:
Great timeless style that can turn a functional closet into an element of design.
Cons:
French doors can be a bit more expensive than the average closet door as they have several glass panels that are being built into the door.
Is a closet French door for you?
If you want a classic swinging door for your closet but you also want something that is a little different from the other doors in your home, then a French door may be what you are looking for! The best part about the French door option is you can use it in a swinging door, a bypass door, and a barn door format so you could have best of both doors depending on what requirements you need!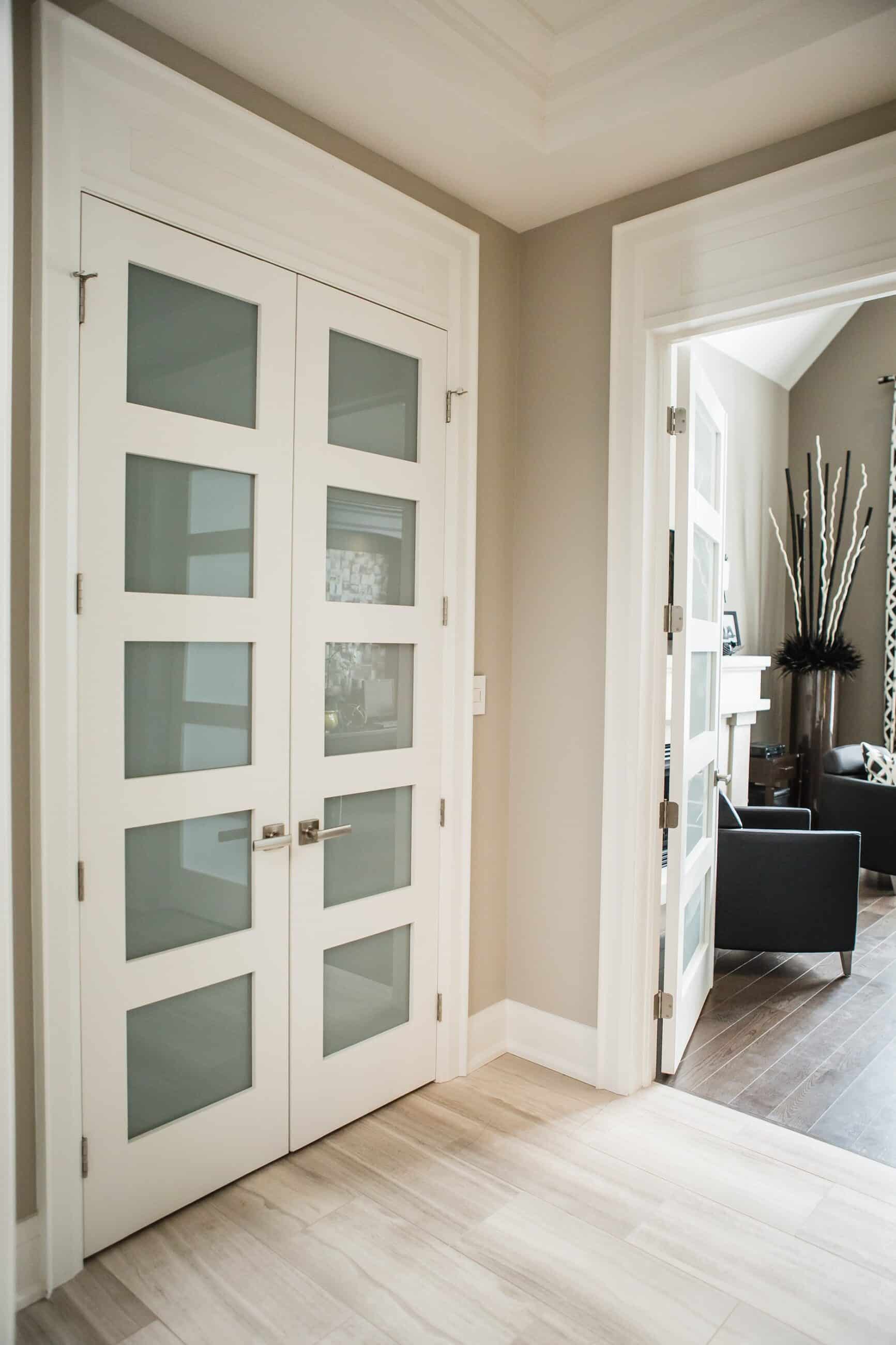 As you can see in the image above this is a double French swinging door for the closet door. In the image below a closet French door is used again but as a barn door style for one entrance but a swinging door for another. The French door style can be used essentially anyway you want.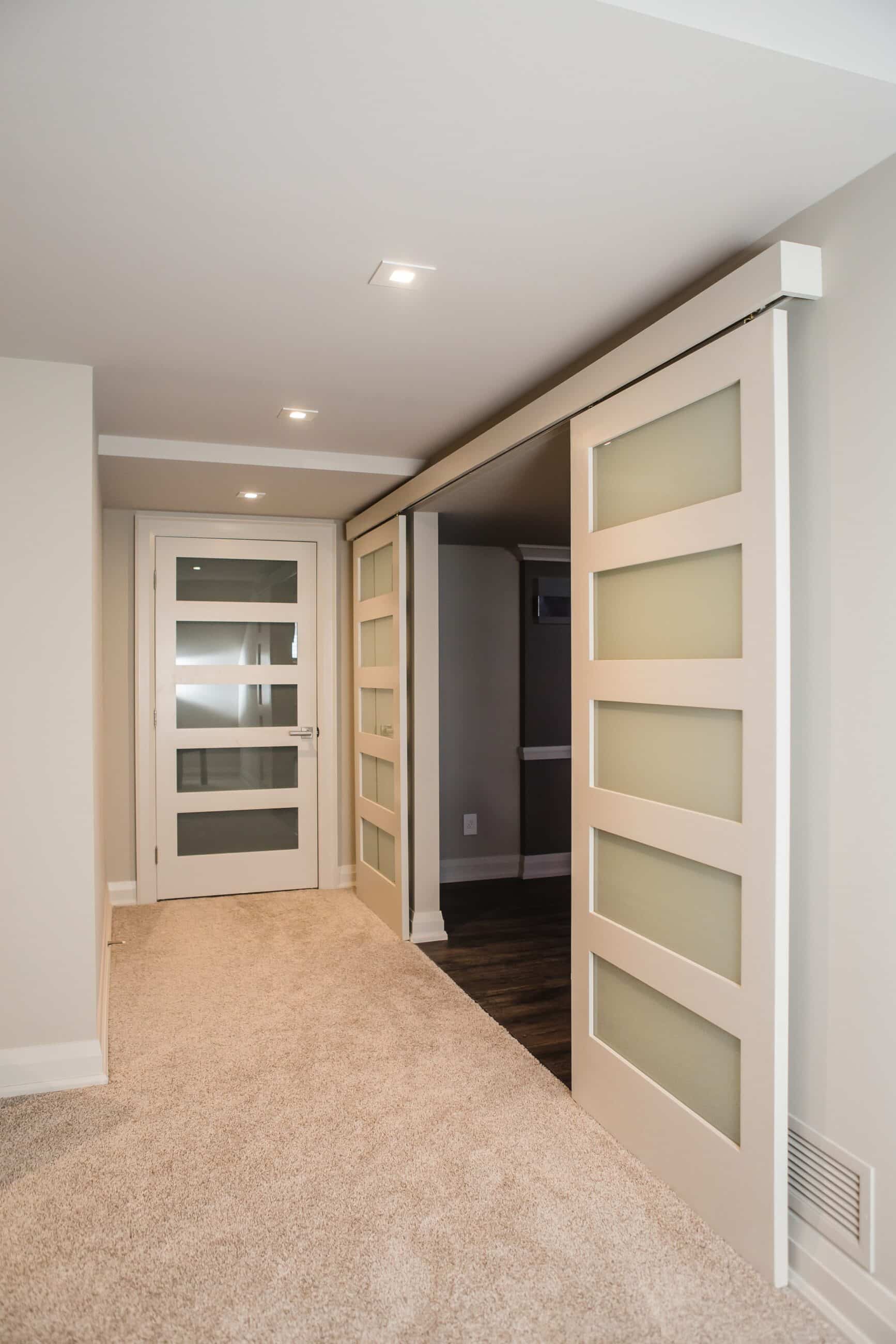 Closet Curtains
Yes curtains can be used to replace a closet door although the general appearance isn't very appealing. If you don't want your guests having sneak peeks of your closet, maybe there are some personal items in there or maybe that day just isn't your day and you have not folded your clothes yet. Closet Curtains have been used in the past but here at Riverside we suggest a closet door instead. There are so many different options for closet doors that I'm sure would solve the problem of your closet curtain approach. If affordability is an issue, there are many closet doors that barely break the bank, you can contact one of our showrooms to get more information on price points. You do not need to resort to a closet curtain. There is absolutely an option for a closet door in any of the above options.
Closet Door Hardware
It is important to understand the properties of all hardware but specifically closet door hardware. If you have a simple reach in closet, would need to get a type of hardware that is Dummy. This means it only opens from one side and has no real function other then gripping the hardware with your hand and pulling. If you have a master walk in closet you will likely need a passage or privacy handle or knob. A passage is for a room that you need to get in and out of that has no lock. A privacy, often used for bathrooms lock and unlock on only one side. For more information on hardware visit our Hardware Page.
‍