Hey there, Riverside Millwork fam! Hope you're as excited about the changing seasons as we are. 🍂 The leaves are turning, the pumpkin spice lattes are back, and we've got something else for you to get hyped about—2024's hottest paint trends! But we're not just talking about slapping some color on your walls. Oh no, we're diving into how the right paint can elevate your trim, doors, cabinets, and hardware to all new levels of fabulous. 
Black is Back: Behr's Cracked Pepper
Starting strong with Behr's 2024 Colour of the Year—Cracked Pepper. Now, imagine pairing this bold black with some sleek, white trim. The contrast would be jaw-dropping, am I right? It's like putting the perfect frame around a stunning piece of art. This high-impact hue can make your trims and doors the star of any room. 
Now if you're not ready to commit to painting a whole room or wall black, consider how painting a door or trim in a room black could help it stand out against the white you have selected for the walls. Nervous about committing the whole house to black, well you don't need to! We have seen time and time again the focus on one room's theme doesn't have to be the theme of the whole home!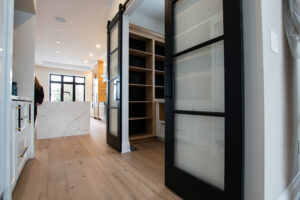 Moody Blues: The Scott McGillivray Way
Moody blues are on trend, and these colors are ideal for setting off natural wood trims and doors. Think maple, oak, or even a white oak—moody blues provide a beautiful backdrop that'll let your woodwork shine. So whether you're looking for something to offset the warm tones in the flooring or in the furniture, consider how once again, introducing some blues in the millwork details of the home can present a stunning compliment to what your space already contains. Here we are highlighting  a basement in an Activa model home in Kitchener, Ontario that boasts a comfy navy with contrasting white contemporary baseboard and casing to create the right balance of moody yet clean and contrasting the light carpet and furniture selections in the space.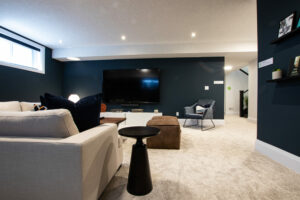 Rich Browns: A Perfect Match for Metallic Hardware
Behr's Wild Mustang, a deep, warm brown, is sweeping the paint world by storm. Want to make this rich hue even more captivating? Complement it with metallic hardware—think brass or brushed gold knobs and handles. You'll thank us later.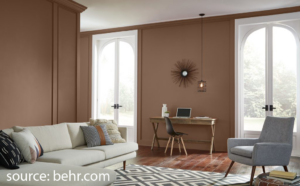 The New Neutrals: Best Friends with Anything
We love a good neutral. But let's talk about how Benjamin Moore's Bleeker Beige could be the ultimate wingman for your cabinets. Its warm gray undertones can give your kitchen or bathroom cabinets a sleek, modern appeal without stealing the spotlight. 
If you're not ready to create any new cabinetry in your home, consider how this colour can be brought again into your doors and trim to compliment warmer whites and wood tones throughout the home and creating more visual interest from room to room.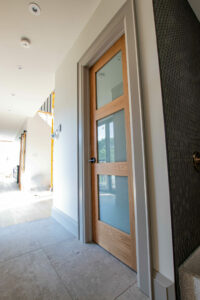 Pink Power: Accents All The Way
Thinking pink for a small space or as an accent wall? Bold, bright pinks like mauve or coral can give your white or cream-colored doors and trims a playful vibe that's right on point. If you're looking for something less girly and more bold but still incorporating the pink, try a contrasting black trim or door that will be sure to pack a punch!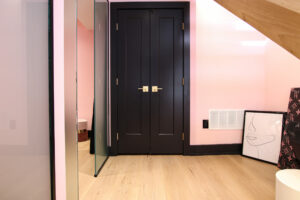 Sunbaked Hues
A sun-soaked palette—like Sherwin-Williams' Redend Point—brings warmth and nostalgia into any room. This is the moment for those vintage or antique hardware pieces you've been wanting to showcase. Trust us; they'll look fantastic.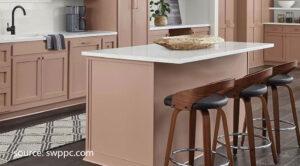 Berry Good: Showcase Those Cabinets
If you've got cabinets worthy of attention, a berry shade like Behr's Raspberry Crush can make them pop like never before. Think about pairing this luscious color with some neutral-toned hardware for the perfect balance.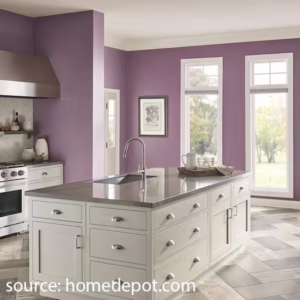 And there you have it, folks! Paint isn't just for walls; it's the secret ingredient that can make your trims, doors, and cabinets truly shine. Have questions or need some expert advice on materials and design? You know Riverside Millwork Group is always here to help you out. 
Happy painting and designing, everyone! 🎨🏡