Greetings from Riverside Millwork Group! Are you considering a dash of rustic flair or a touch of modern elegance for your home? Let's talk about barn doors – not just any doors, but a transformative element of home design. As you embark on this journey, you've got questions, and we've got the answers. So, let's dive in and unlock the beauty of barn doors together.
What Should I Know When Buying Interior Barn Doors?
As you ponder the perfect interior doors, think beyond mere function. Envision how the door will marry style with substance. Will it invite light into a dreary hallway or shield your sanctuary for a quiet retreat? At Riverside Millwork Group, we craft doors that aren't just passageways—they're statements of your unique style, from the timeless allure of wood doors to the sleek finishes of custom designs.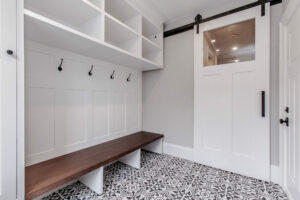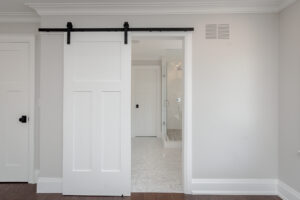 Are Sliding Doors More Expensive Than Normal Doors?
This is a hot topic in the world of home design. Sliding doors, with their chic hardware and sophisticated tracks, often have a higher upfront cost than their swinging counterparts. That is, however, not necessarily the case if the opening does not currently have a door in it. Often times sliding barn doors are requested for openings that do not currently have a door. If that is the case, having a sliding barn door solution fill that space could be more cost-effective than framing and casing the opening to accommodate the swing solution, depending on whether you are paying for the installation or able to do the labour yourself. Contact a Riverside Representative to walk through the costs of both solutions for your doorway, so you can make an informed decision.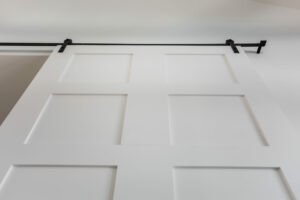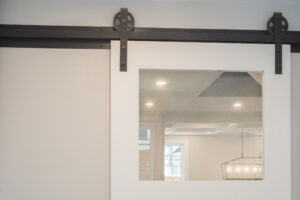 Are Sliding Barn Doors Good for Bathrooms?
Ah, the bathroom – our intimate retreat, a sanctuary of solitude and relaxation. Sliding barn doors are the perfect complement to this space, offering a stylish, space-saving solution that merges effortlessly with any design ethos. That being said, we often recommend they are only used for closets within a bathroom space, or as an entrance to a private ensuite bathroom, and you avoid using one for bathrooms that will be opening into hosting spaces. Designed for the savvy homeowner, our doors are the ideal choice for those who seek an elegant yet practical upgrade to their private haven. With privacy and sophistication in mind, our barn doors stand as silent sentinels, ensuring your bathroom remains a tranquil escape within your home.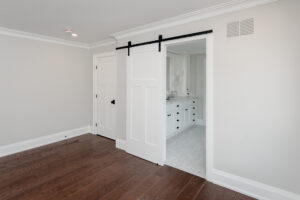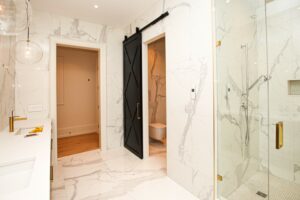 Can Any Door Be Used as a Barn Door?
'Can I transform my favorite door into a barn door?' This would be the most popular question we receive. And while some size limitations exist for functionality, any door we have on our website or in our showrooms can be made to be a barn door. This makes it easy to have a consistent style of door throughout your home if you wish, or pick a custom-designed barn door to make a statement in design you will be itching to show your friends. With the right advice and know-how, many doors can be reborn as barn doors. Let's chat about your vision, and our Riverside experts will ensure your chosen door glides on its track as if it was always meant to be a barn door.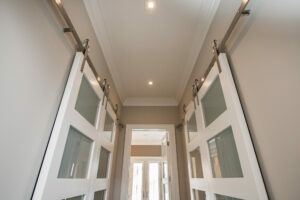 Why Are Barn Doors So Popular?
There's something undeniably magnetic about barn doors. Is it their space-efficient design, their effortless glide, or the way they make every entry an occasion? Perhaps it's their customizability, fitting into any decor from farmhouse to industrial chic, that has made them a celebrated choice in homes across the country.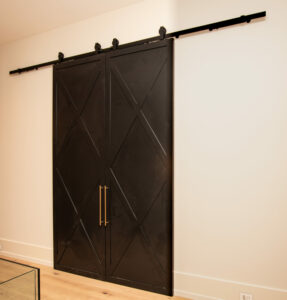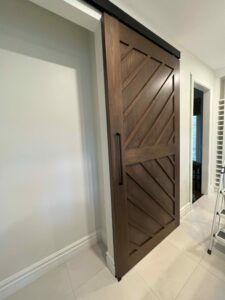 Your home is a reflection of your spirit, and at Riverside Millwork Group, we're here to ensure your doors reflect just that. Whether you're charmed by the traditional wood door or captivated by the modern barn door, we invite you to open up to new possibilities. Let's create a space that's uniquely you, one door at a time.