At Riverside we love putting our mill in London, Ontario to work with a variety of custom wood entry doors. With our reputation in millwork increasing, and many people inquiring about replacing their front doors, we thought we should breakdown the main differences in a wooden entry door compared to the typical steel entry door. Here is the comparison of the two options!
‍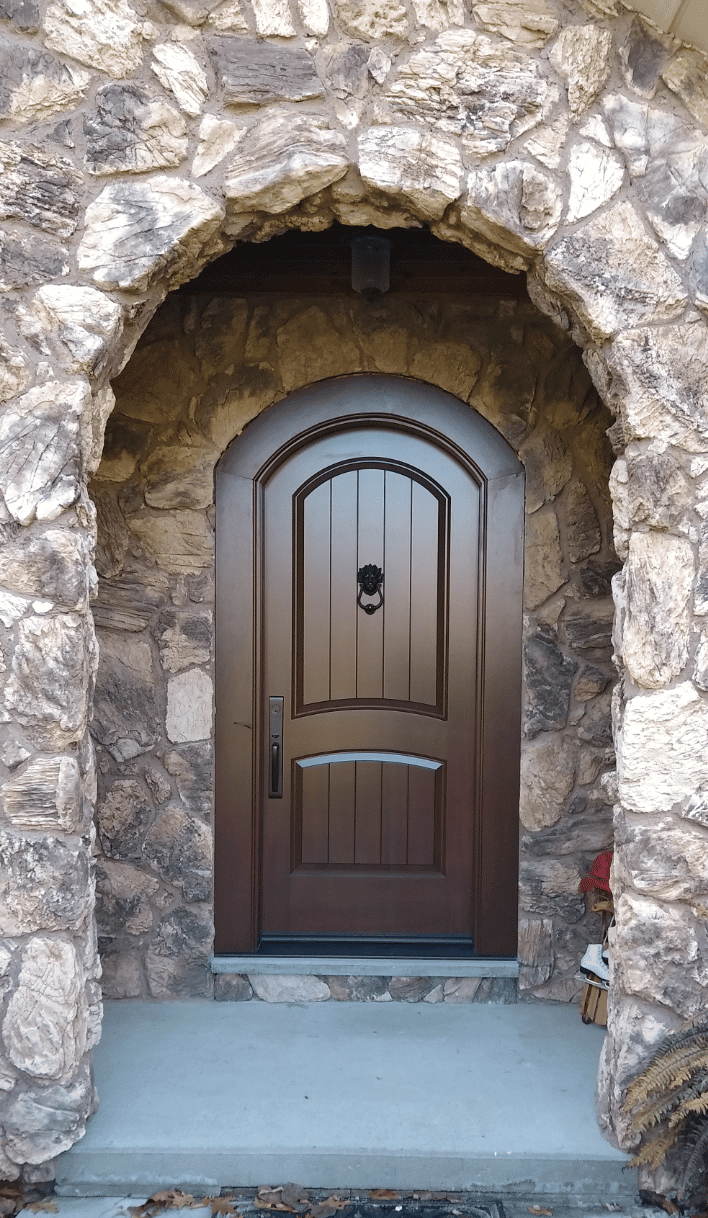 Appearance
A wood entry door provides a wide range of style options to elevate the exterior of any home. Whether it is a newer home that showcases modern and contemporary style or a historic home that requires an exterior door to match the history of the home, there is always a wood species and door design style that will align to elevate the home. We never want a front door to take away from the remaining exterior, it should always enhance the features such as stone, brick or siding.
Here is an example of a custom wood entry door for a cobblestone house. When the home was built, it was a front door with an arch instead of a typical rectangle seen in the last few decades of design. To keep the front door in the same shape as it was intended without eliminating any of the cobblestone a custom wood door makes the most sense for this home.
‍
‍
‍
‍
‍
‍
‍
‍
‍
‍
‍
‍
‍
‍
‍
‍
In the building of a more contemporary home, like the one below, a wood door can add a point of focus in curb appeal. Having a door that attracts the eye keeps the entrance of the home as grand as it is intended in the creation. In this home we can see the wooden exterior door along with the wooden garage doors turns components of a home we often don't want people to look at into a design feature.
‍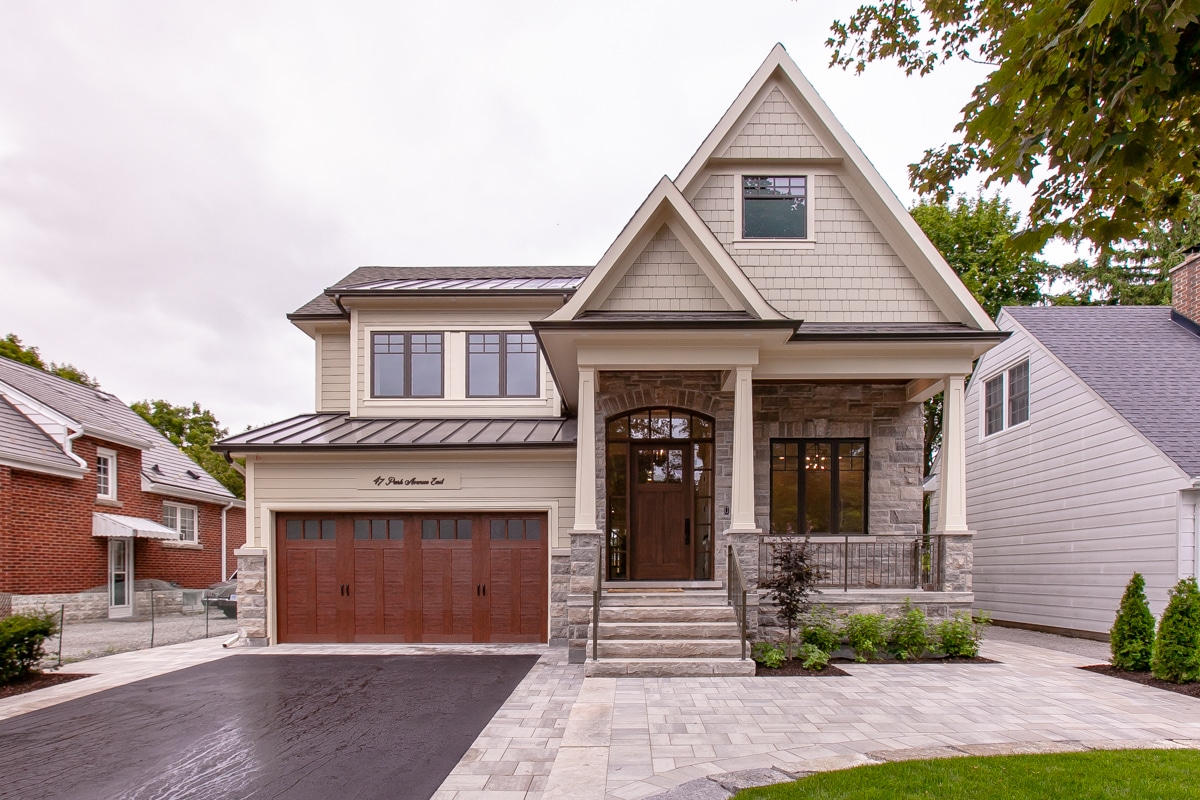 Lastly, when it comes to the appearance of wood compared to steel entry doors, we want to look at the longevity of the appearance. With traffic in and out of the door, if you have a dog or a child, sometimes scratches in your front door are inevitable. If a scratch in a steel door occurs it can seldomly be repaired to its original condition. A wood door does a much better job of hiding imperfections should they occur and can often times be touched up by a professional when wear and tear occurs.
Function
While both a wooden and steel door are intended to have the same general function and purpose, there are some homes where a steel door is more reliable due to what conditions it will face. For example, if your home is one that your front door sees a lot of sun exposure with no overhang, experiences a lot of snow and rain, a steel door may stand a better chance against these conditions as it will not warp due to the heat or the humidity.
‍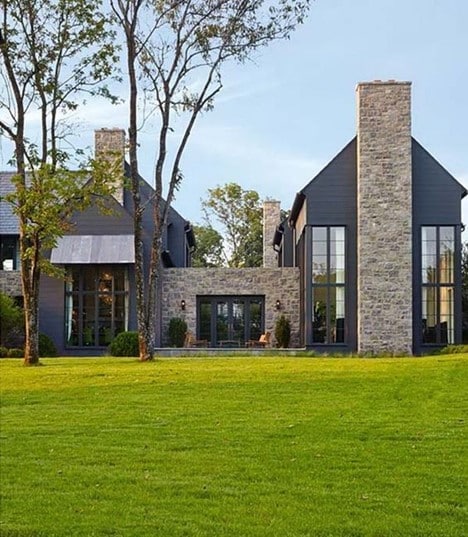 Here is an example of a home where a steel door would be a more reliable solution for the homeowner, and provide a longer life so typically is a better financial decision. This home has a very flat face and is facing towards the sun for a majority of the day. With a large open property the wind would likely carry in high volumes of snow which would again beat up the door over time.
An example of a home that is much more suited to a wooden entry door is one like this home which has a large overhang and only faces the sun for a short period of the day made a good candidate for a wood door. A wood door helped to tie together the wooden arch way while bringing a great contrast to the brick colour making for a focal point on the front of this home.
‍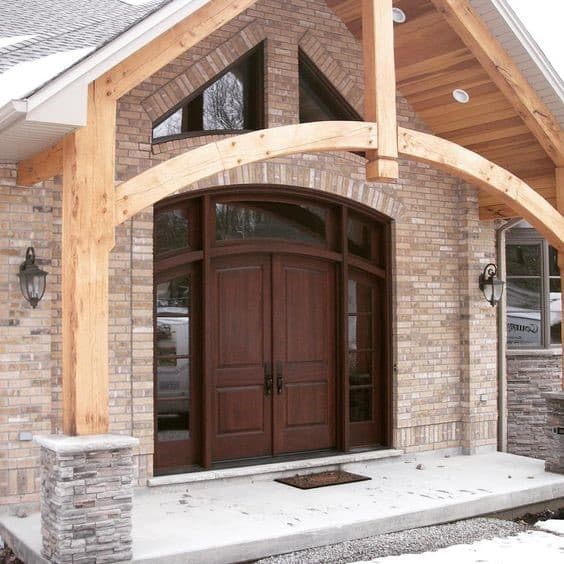 Investment
The final thing to consider is the reason you would want a wooden door vs. a steel or fiberglass door. If you're looking specifically for a wood door because the style and design is the custom look you are aiming for and you are planning to make this home a long-term place for someone else or yourself to reside a wood door could be the perfect solution.
If you're replacing an entry door out of necessity and your thoughts around the style or the door are open to many solutions, a steel or fibre glass door may be the more economical choice for you. For benchmarks you can say that a fibre glass or steel door will cost you between $2,000 – $10,000 on average while a wood entry door is completely custom and you can expect this to cost you between $5,000-$25,000.
If after reading this blog you have your sights set on a custom wood entry door for your project, please contact us to help you out!
‍