Estimated time to read: 5 Minutes.
Whether you are building your dream home, renovating your current home, or upgrading your home to sell, it is important to consider the details in your home that will make a big difference to the finished product. If you are a starting a plan to build your forever home, you should think about the future. Do you have a family? Will a family grow into the home? If you are renovating your current home, you should likely ask yourself the same questions. If you are upgrading your home and getting it ready to sell you should think of your ideal buyer, are they first time homebuyers, or someone who will be planning to live the rest of their lives in this home? It is important to plan your future and consider the function of your home or project and make sure you are designing it to its full potential. This brings us to one of the most useful spaces in a home… a MUDROOM!
Especially for those who have kids, grandkids, dogs, or guests over often. A mudroom can provide an area that can remain out of obvious sight from guests and help keep your home be more organized. What if your mudroom space isn't out of sight? Or if you don't want it to be out of sight, and you're looking for it to be front and centre, having a well-designed mudroom is ideal. Riverside Millwork Group is here to help you design the most functional yet beautiful mudroom for your home, and here are some of the components of a mudroom to consider.
Mudroom Bench
When you are brainstorming mudroom ideas one of the first additions might be the mudroom bench. A mudroom bench can do wonders if you are in and out of the house, have kids, grandkids, or simply have a hard time taking your shoes off while you are standing. Benches for mudrooms are multifunctional, they can be used to sit when you have a handful of groceries or need to remove your winter boots, and they are also a perfect spot to set your bags, or anything else that you do not want to hit the ground. A mudroom bench can be multifunctional, and you can add storage underneath with drawers or shelves.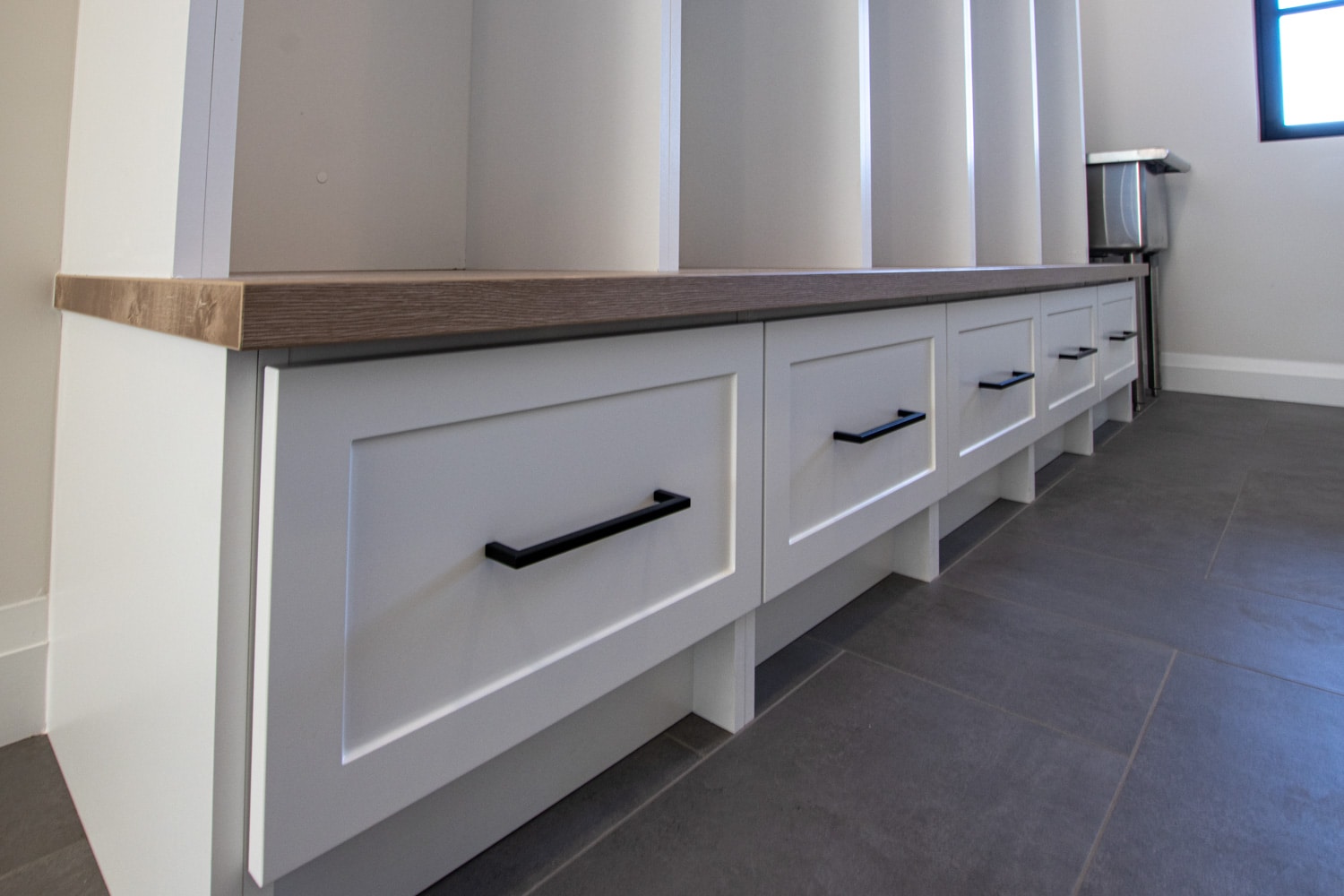 In this mudroom bench above we have installed drawers underneath the mudroom benches so that you can use not only the bench, but you can also use the drawers below for added storage space.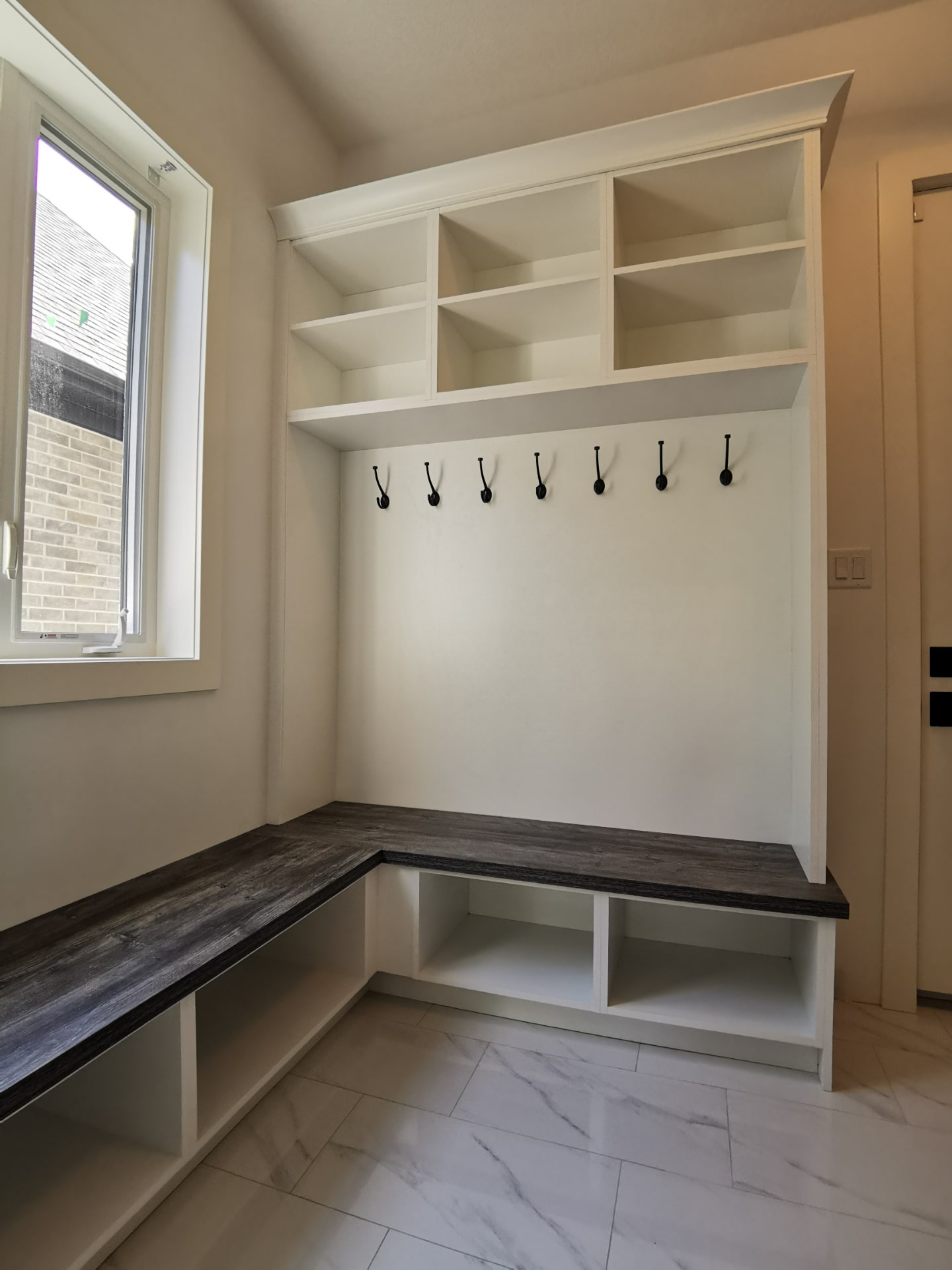 In this mudroom bench above there are storage cubbies, these can be used to place shoes, or to place baskets to simply drop your hats and mittens in. If you prefer a drawer, or cubbies, either option is do-able, and if you have a different mudroom idea in mind then you can talk to your Design Specialist at Riverside who will be able to work with you to create the most ideal mudroom space for you.
Fully Customizable
Yes, you can go to your local big box store or make a purchase online of an off the shelf mudroom unit that might work in your home. But once your purchase arrives it can be obvious which is built in as a custom mudroom solution versus what is off the shelf. At Riverside Millwork Group we can help you design a completely custom mudroom to make sure it fits in your space and utilizes every square foot of your new mudroom. Let's say cubbies aren't really a necessity for you, no problem we can design the mudroom with amore open space, like this custom mudroom unit in the image below. Mudroom layouts can be completely customizable for what you need.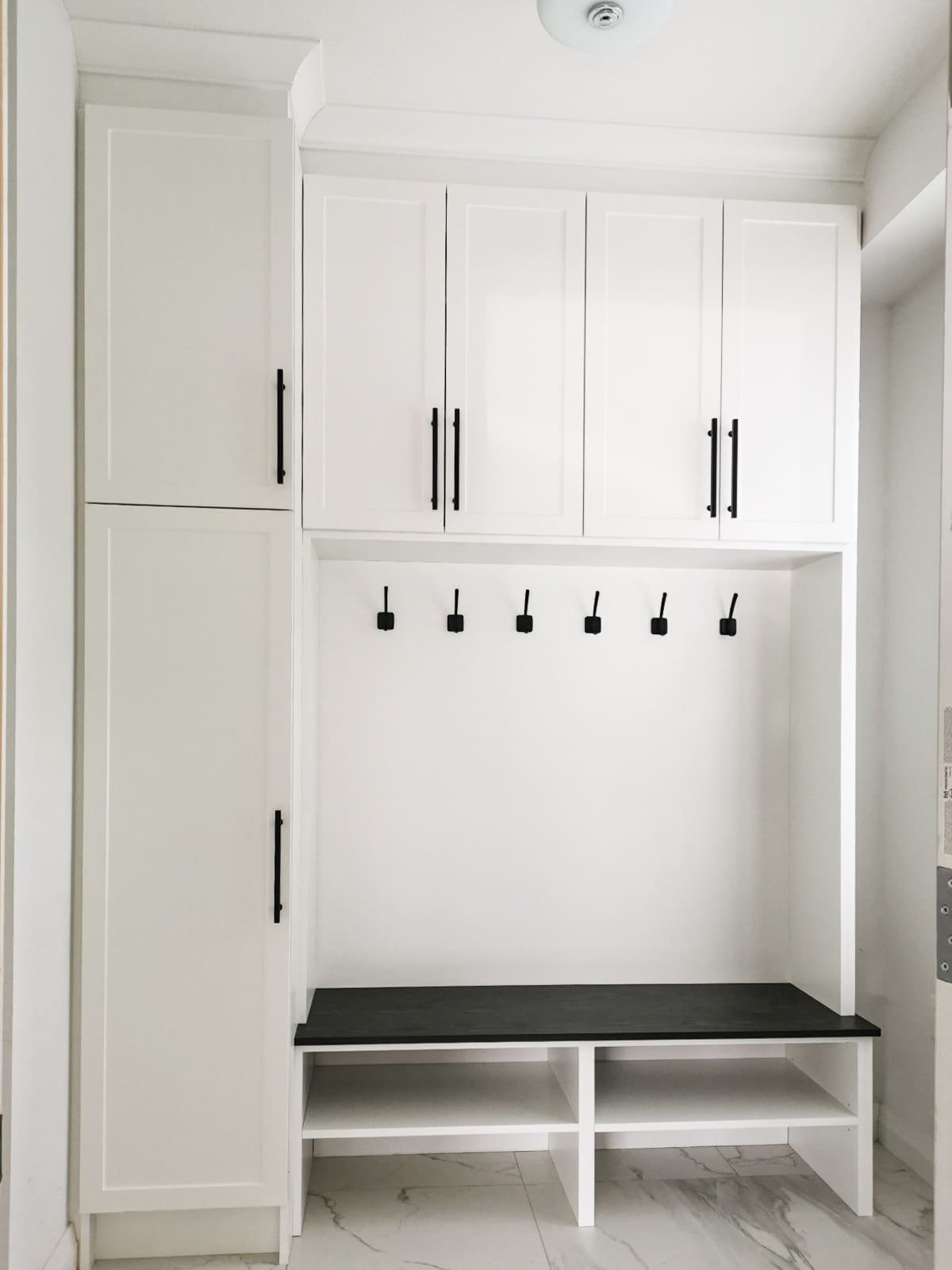 We can also add unique millwork features like this mudroom in the picture above, features crown molding surrounding the top of the mudroom unit. Giving it a truly custom feel while avoiding dust build up on the top of a unit that is not built in.
Mudroom Cabinets
Mudroom cabinets are ideal for any space or home as it can hide all of the "junk" that you want out of sight. Mudroom cabinets can be installed anywhere that there is space, so long as your walls are not plaster, this is a straightforward process. This is where the fun can come in, and you can decide what kind of cabinets you want and what style and finish of hardware pulls you want. We offer a large selection of cabinet pulls in multiple styles and a number of finishes. We are positive that you will be able to find the cabinet style and finish that would perfectly suit your home. Mudroom storage is one of the main reasons people opt in to adding a mudroom to their home. Storage solutions are a necessity for most homeowners that need to keep the front entrance appeal by having a space where all day-to-day belongings are easily accessible yet neatly packed away from visitors.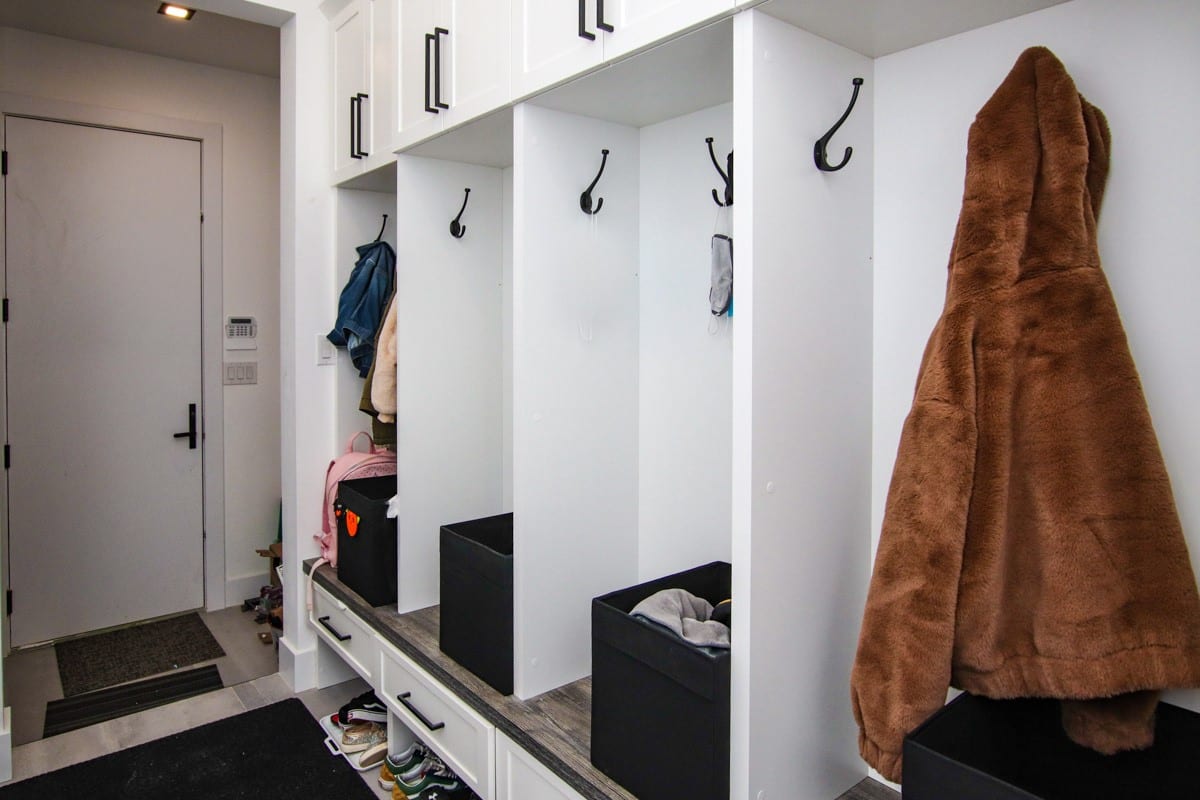 Mudroom Laundry Combo
Looking to add a mudroom to your laundry room? Although we commonly refer to these organized units as mudroom solutions, many homeowners in southwestern Ontario have homes where the laundry room is right off the garage entrance, and more storage is needed where the homeowner traffic is entering and leaving the home most frequently. Having an organized laundry room as well as a space to drop your jacket and shoes can be more beneficial than you would think. If your laundry machines are in the same area that you enter your home and take off all your gear, a mudroom laundry room combo would be ideal for you!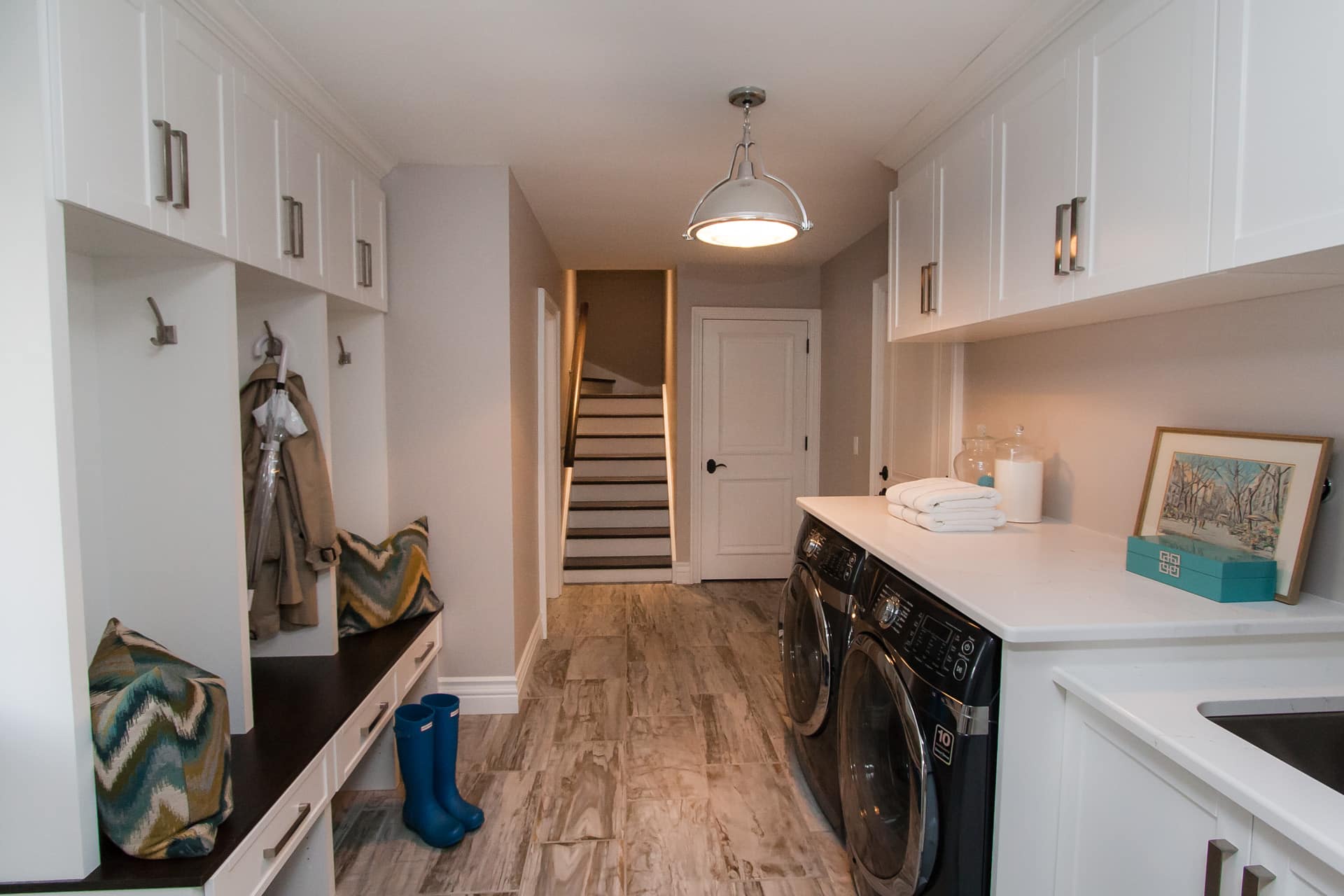 Take a look at this stunning laundry room mudroom combination. There is enough storage space to place all travel items like boots and a jacket, but also enough space to fold laundry, organize laundry detergent and make sure all of your laundry items are easily accessible.
Mudroom Hooks
Who says you are limited to one mudroom hook per cubby? If your ideal mudroom design includes one hook per cubby, you can have one hook no problem. If your mudroom ideas include multiple hooks, the sky is the limit! Mudroom hooks are very beneficial to hang a bag, purse, hat, backpack, and so much more. Exactly like the cabinet and drawers pulls, hooks are available in a number of different styles and finishes so that it fits in with your homes theme.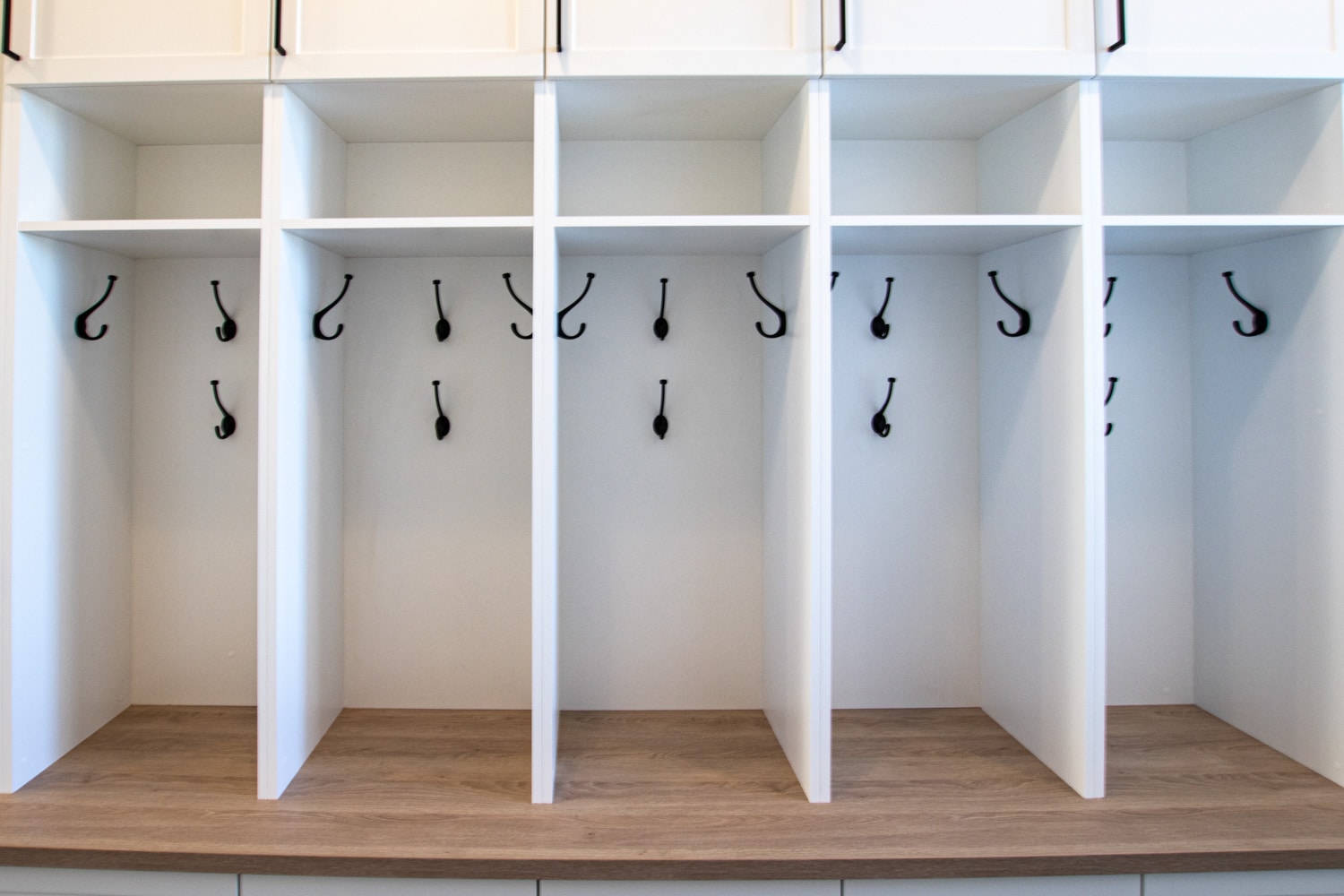 This home owner chose to have four hooks in each cubby, this allows easy access to items while making sure they are laid out in an organized fashion.
If you are in need of a mudroom addition plan, Riverside Millwork Group can work with you to design the perfect mudroom storage space for your home or project. To view more information about our mudrooms visit our Mudroom page on our website.
‍