Estimated Reading Time: 6 minutes.
Staircase design ideas can be difficult to picture using your imagination because it is not often shared on social media or in commercials. But what we have seen since the beginning of 2021 is an increasing trend in making staircases a very intentional design element in the home. So if you have an upcoming main floor, basement renovation, or you're starting with a clean slate for a new build, you will want to read this first. In this blog we will share some staircase design ideas for homes to enhance the aesthetic, that can help to increase the value of your home and to simply gain inspiration on a home staircase design.
Depending on how your staircase is built out, whether it is a straight staircase, L-shaped, U-shaped, Spiraled, Curved or something even more unique, millwork can help transform a functional piece to something beautiful.
‍
Wainscoting Staircase
Wainscoting dates back centuries, although this doesn't mean that it is out of style, this is more an indication that it is a timeless design element and not a trend. Wainscoting designs have unlimited options to choose from. Wainscoting has now become both a traditional feature to a home as well as a modern touch to the theme of a room, home, or building. Wainscoting consists of trim, chair rail, and detailed moulding, typically running horizontally and vertically. The wainscoting covers the wall creating a design on the lower half of the wall area with detailed millwork designs, most often seen in the shape of boxes. Wainscoting has now been seen incorporated into a staircase design and is not only limited to one feature wall. This has been around for a number of years now and we don't anticipate it to be leaving anytime soon.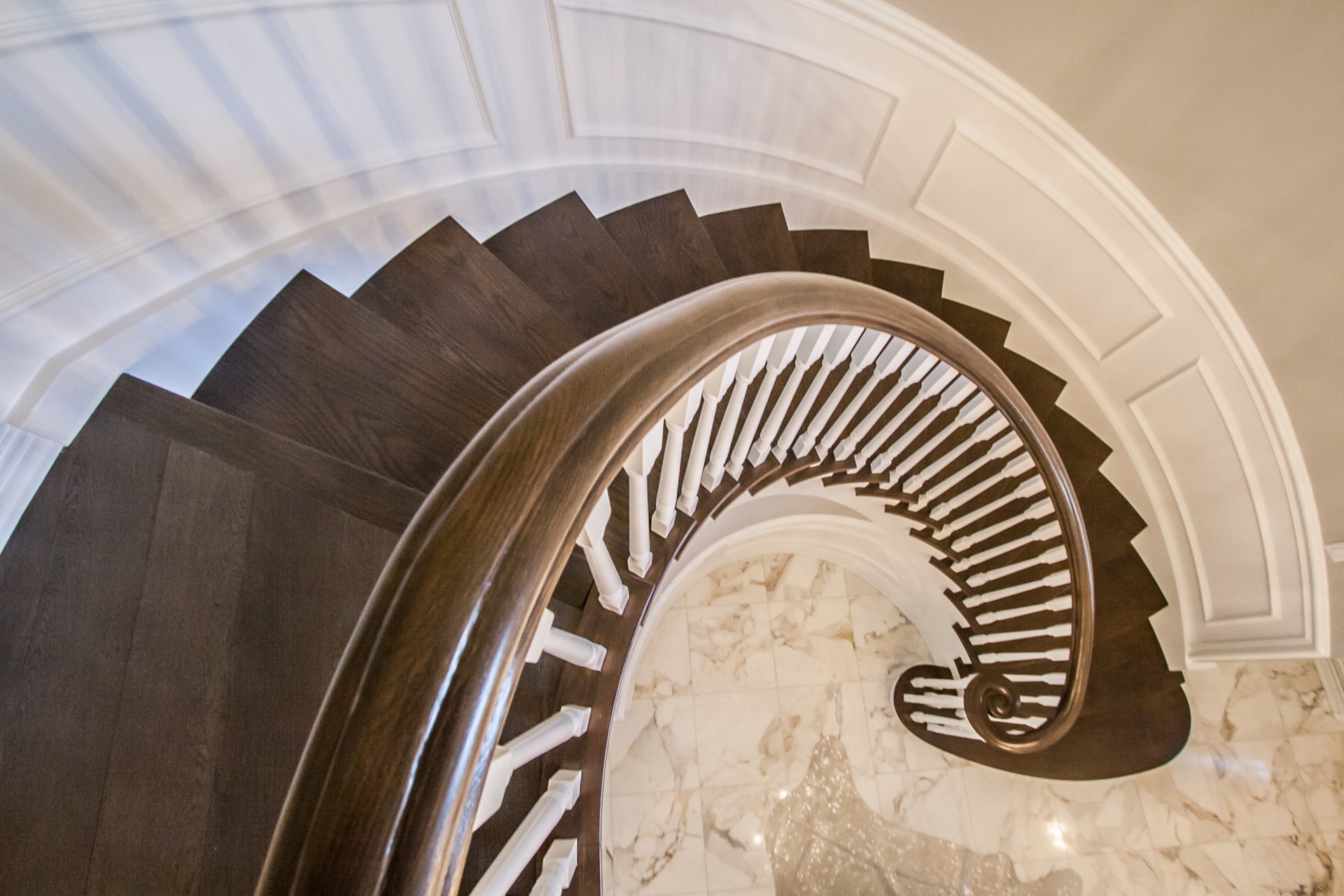 In this image of an open staircase, you can see the round staircase design has wainscoting following each step. This simple but elegant wainscoting design adds class and texture to this unique staircase design.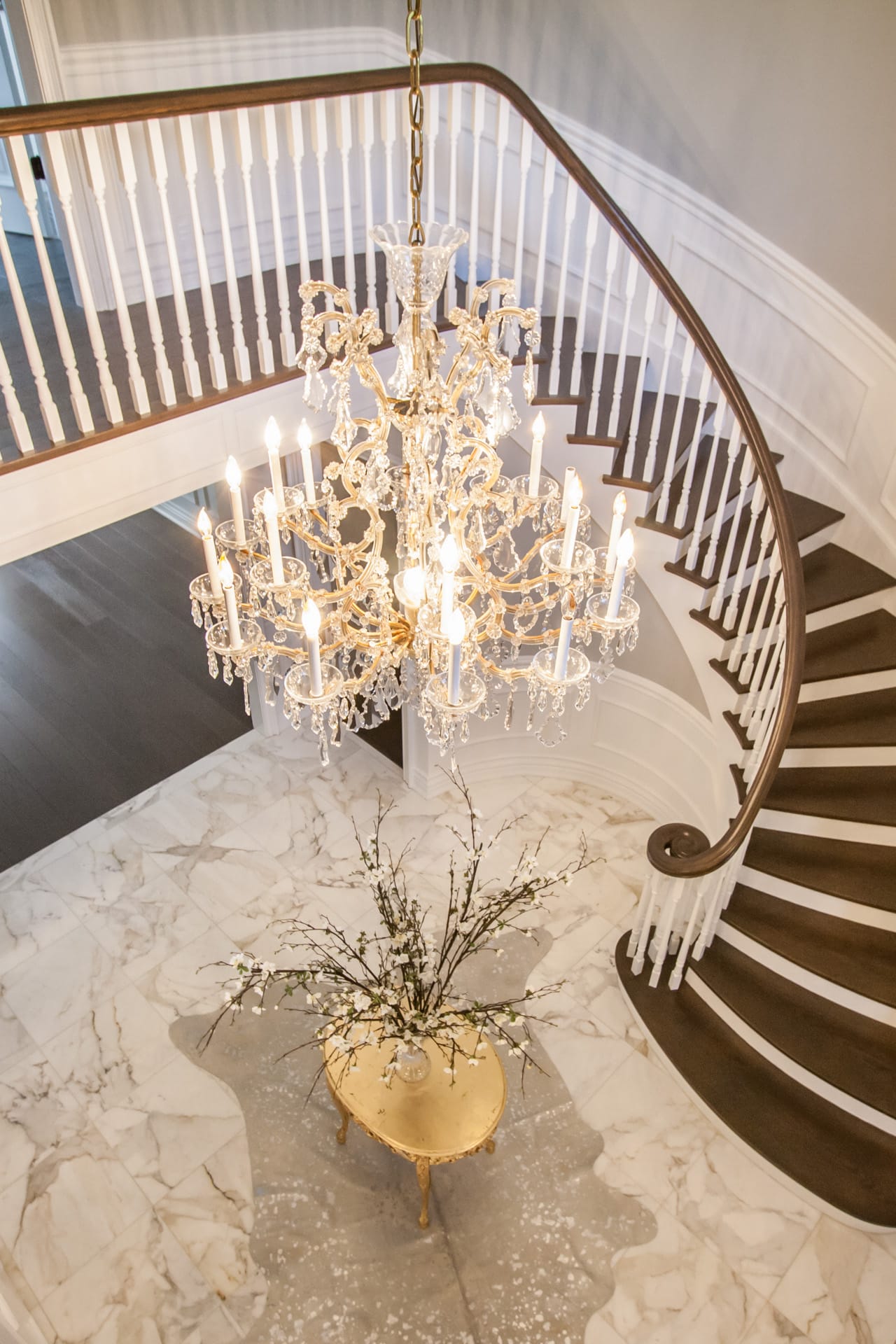 You can see in this wainscoting staircase, the millwork doesn't end at the top of the staircase, it continues throughout the second floor of this home. This helps the flow of this grand entryway where the wainscoting is throughout the first floor and continues through the second, without skipping the staircase.
Accent walls can be anywhere, including where your staircase is located. Due to the classic staircase having many parts to it, the tread, baluster, handrail, riser, railing, step and more, you typically don't want the wall paneling to be too complex. Keeping the design to cleans lines, helps maximize the design features in the actual staircase.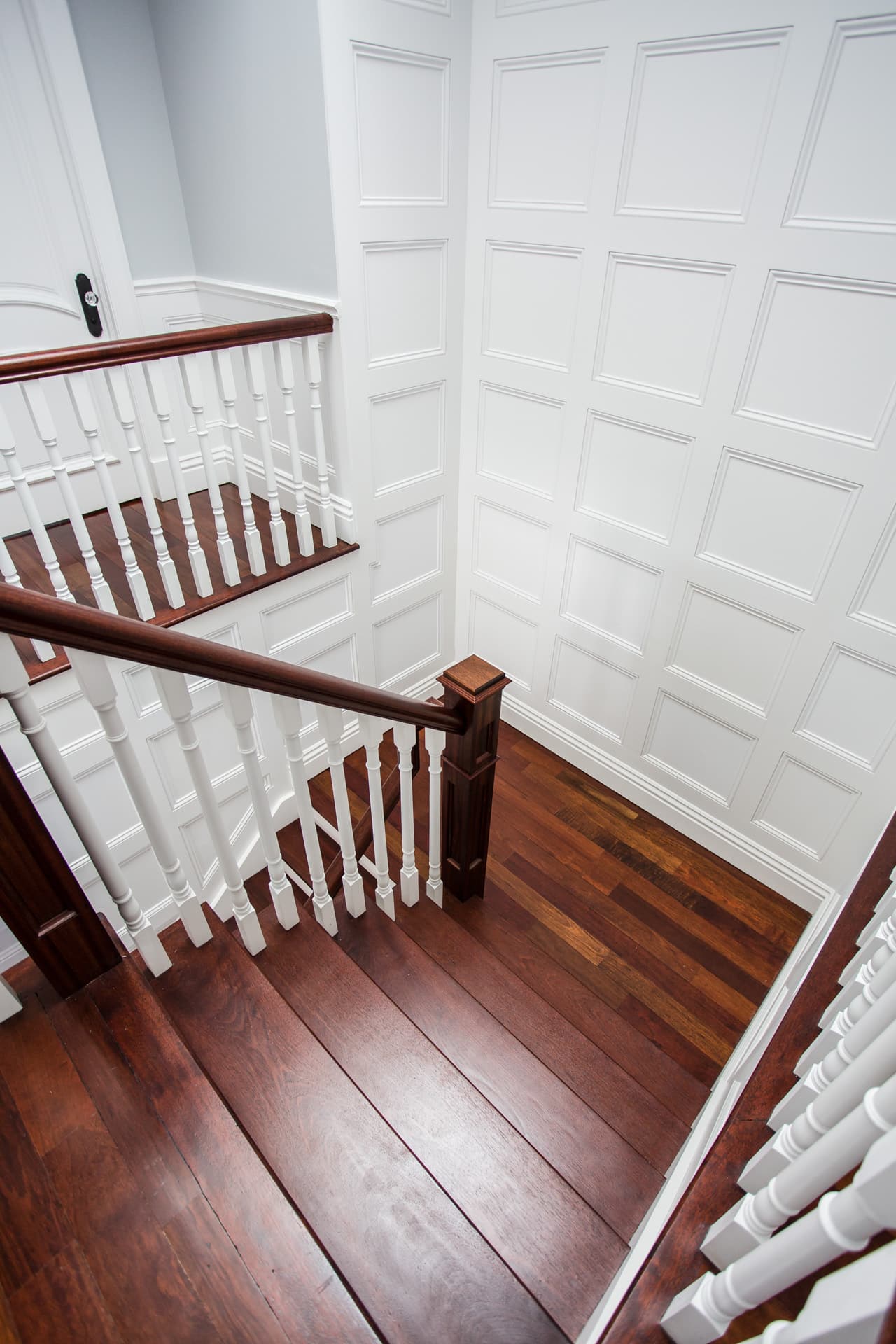 This U-shaped staircase contains wall coverings featuring perfectly symmetrical square panels covering the entire wall that meets the staircase. This offers a clean look, emphasizing the mouldings and the dark stained staircase that matches the handrails.
Aesthetics
If your home theme is a minimalistic approach, you can resort to other features to enhance the aesthetics of your space. This could be no art or photography on the walls and simple, linear millwork throughout. The paneling that frames the staircase can be painted the same colour as the wall colour so that it doesn't draw too much attention elsewhere. Sometimes keeping your eye on one feature makes it easy on the eyes, and who doesn't want something easy and appealing to look at.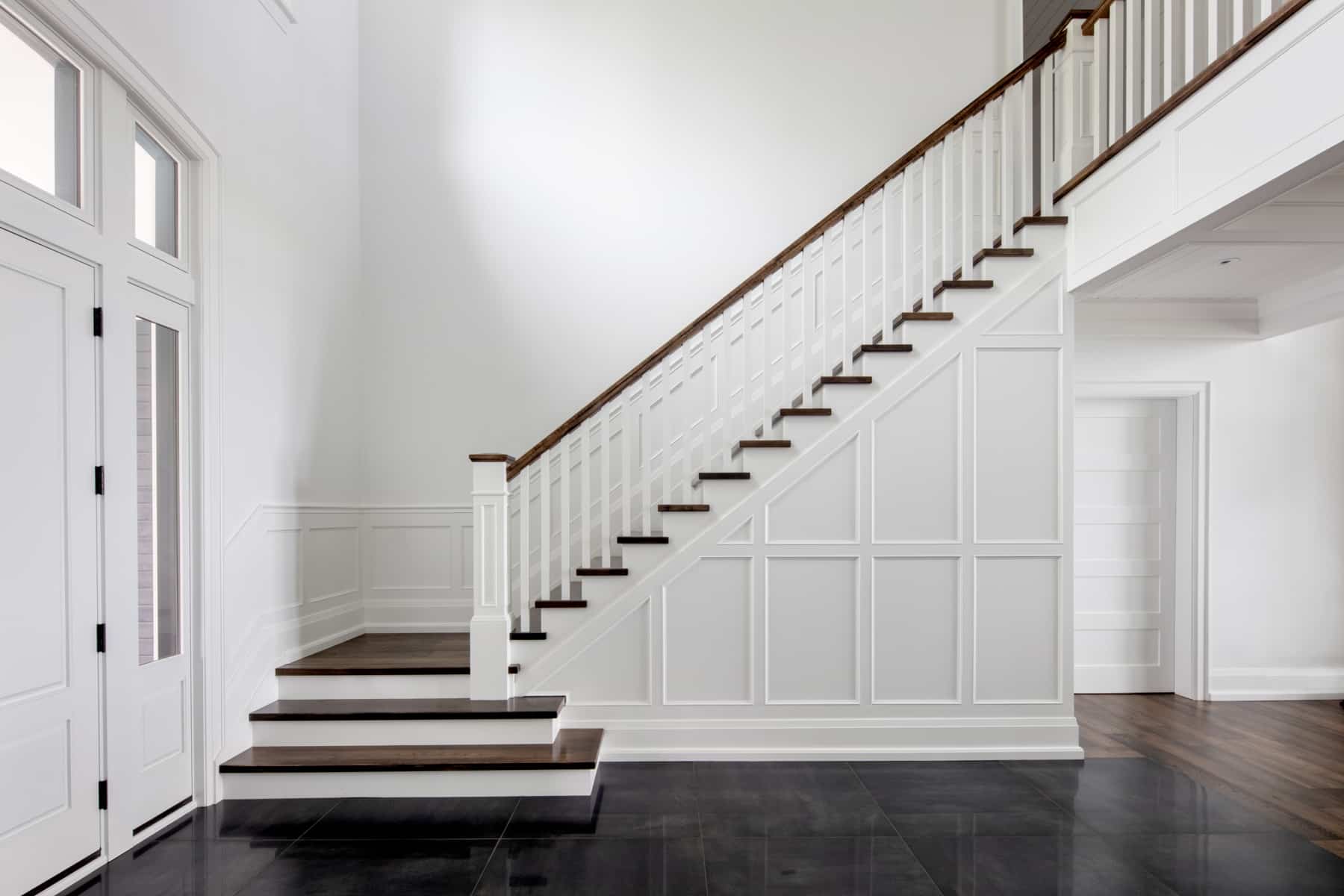 In this image above, you can see the handrail and steps on the staircase are stained dark. This gives a beautiful contrast between the steps and everything surrounding the staircase. The wainscoting and paneling throughout the staircase add a little touch of texture and lines without drawing too much attention, this beautifully frames the staircase, so it remains a main focal point.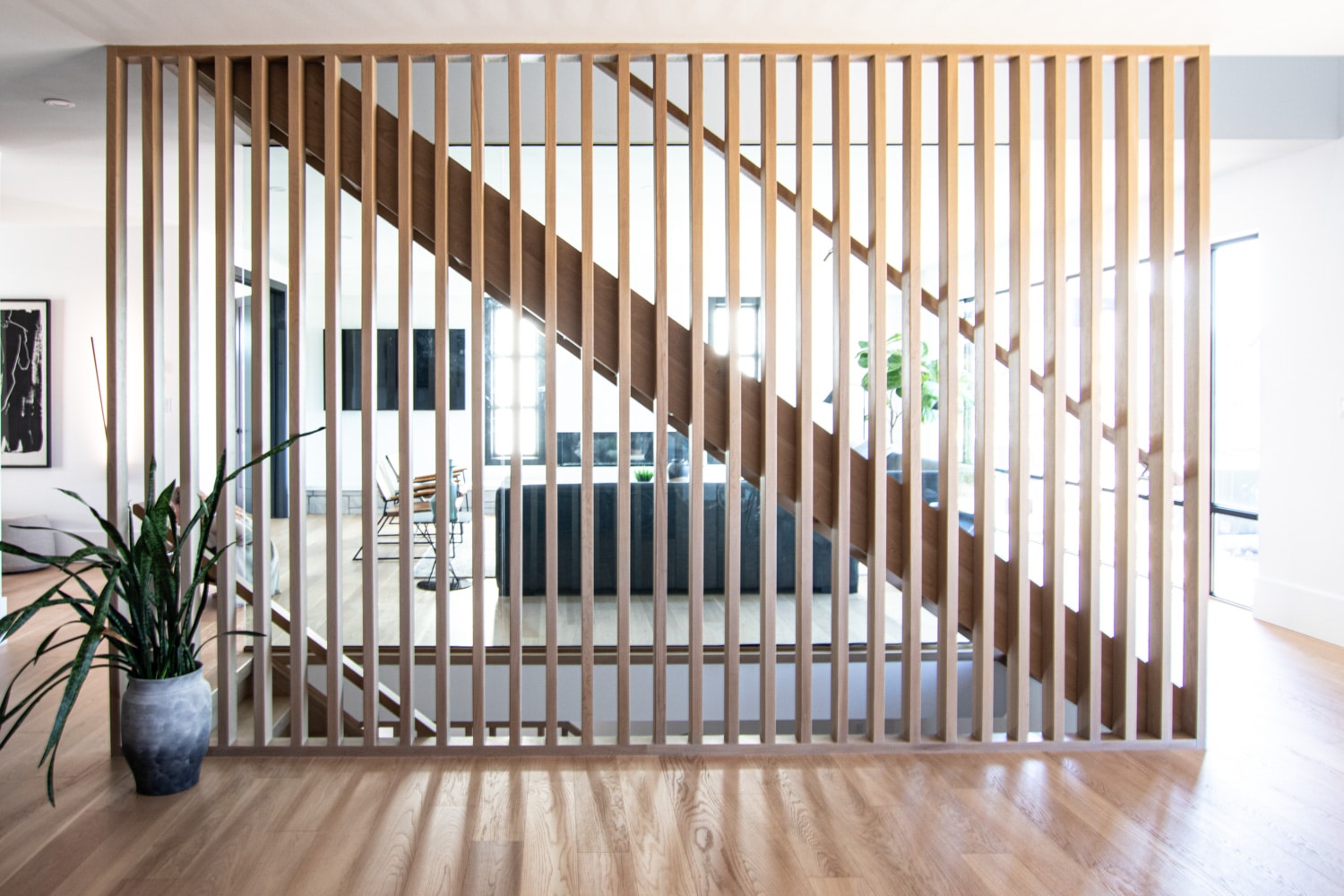 Adding straight wooden beams directly beside a straight staircase, that happens to be in between a kitchen and living room, creates separation between rooms but also allows for an open concept.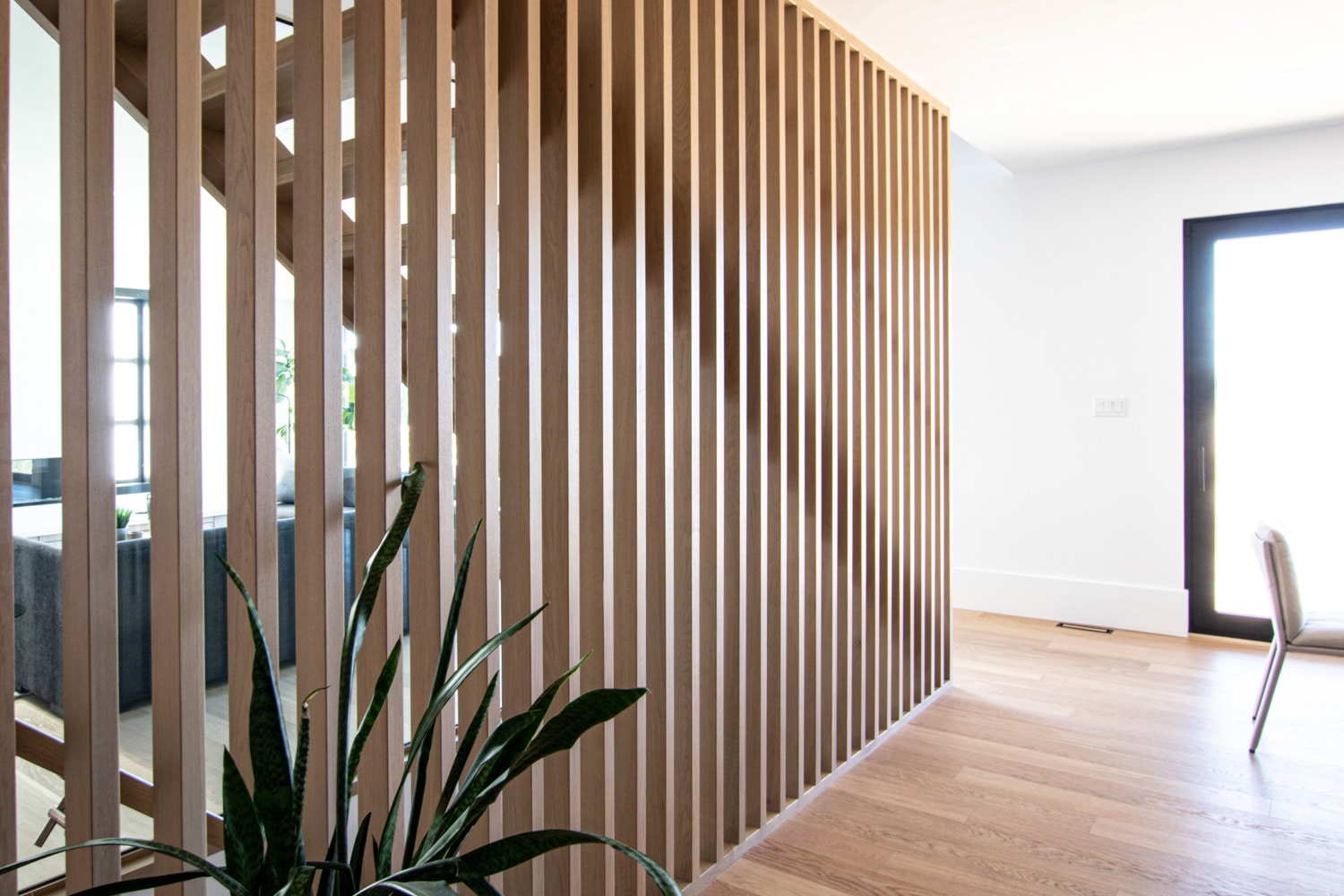 Linear straight lines have become very popular in new home builds, and we are starting to see older homes adding this feature where it is possible. The simplest addition can provide a significant impact on the aesthetics of a home, especially in the staircase design. When searching for a modern staircase design for your home, you should consider simple linear lines. Please note this work on the staircase was done by another company.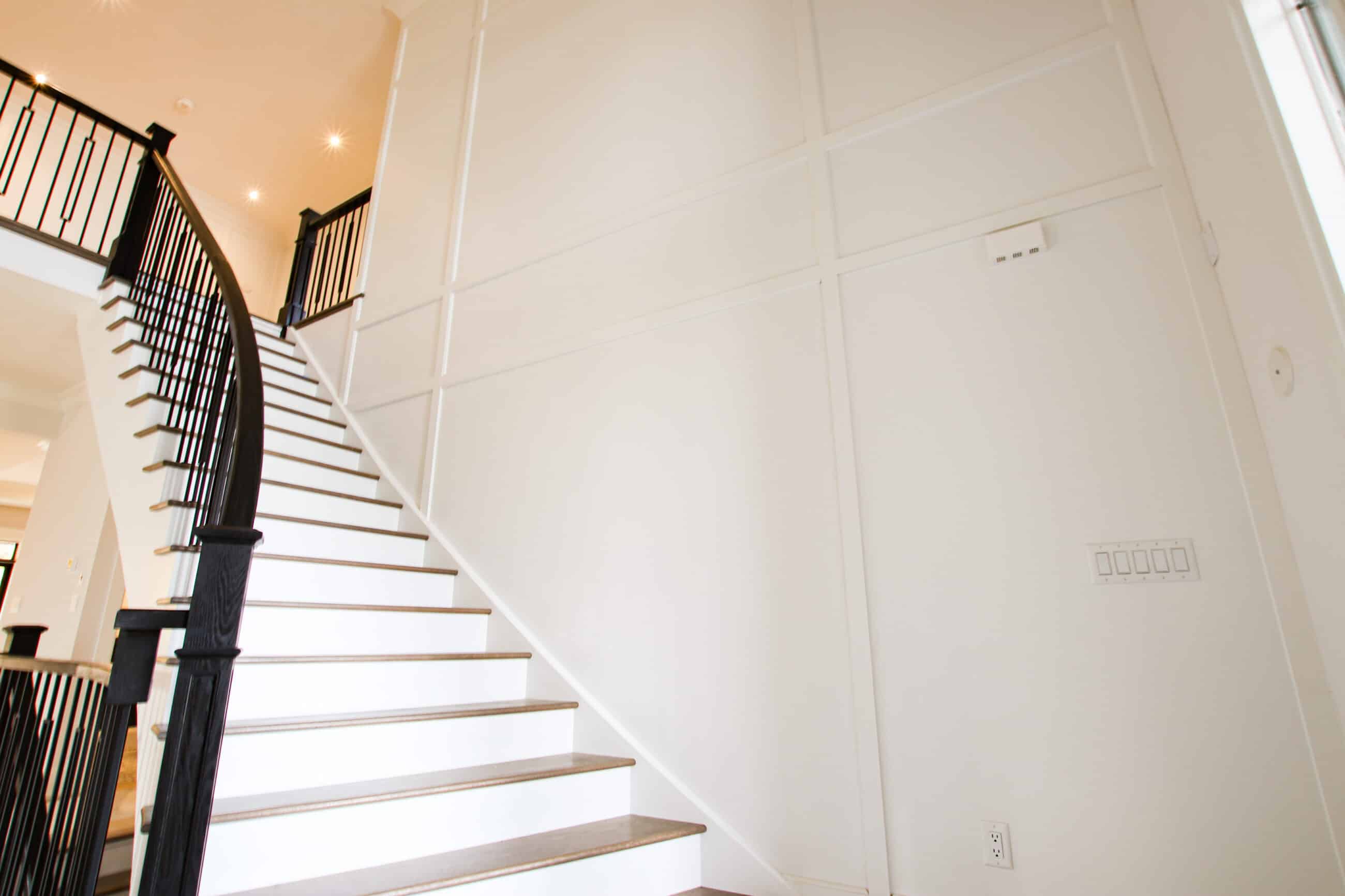 Adding straight wall panels on the wall that is directly attached to the staircase is another option for a unique look. Wall paneling can add interest to what could have been a boring wall. Without wall paneling on the image above, the homeowners may have resorted to adding art or other features to the wall to give the home a more custom look with the ceiling height.
Home Value
The appearance of your staircase can reflect your homes overall quality, so it is important to not only have a functional, safe staircase but it doesn't hurt to have a stylish staircase design. Wainscoting and millwork on your staircase is simply beautiful to look at. Some people may not consider adding it to their existing staircase, although seeing it when you walk into an open house on a Saturday morning will definitely make a statement. If there is anyway you can turn an ordinary part of your home into something more unique and custom it will increase the urge for buyers to want to make an offer on your home. Improving your staircase design may be something so small, although due to it being a unique feature in homes it will give your viewers something to remember.
Trim Around Staircases
The stair skirt or in simple terms the baseboard that runs along the bottom of the wall beside the steps in a staircase, should always be considered when putting together a design. Often this piece of trim is similar or the same as the trim around the rest of the house or building. Although it could be different depending on the design you desire or the wall features, if there are any.
Trim design around your entire house or a building can be simple; straight flat trim following the flooring. Adding trim around a staircase can be a little more difficult. Here are a few options you can consider when wanting to clean up the trim around your staircase design.
Installing straight baseboard that follows the staircase direction is an elegant solution. In the image below the contemporary baseboard trim helps add a good transition from the staircase treads to the adjacent wall.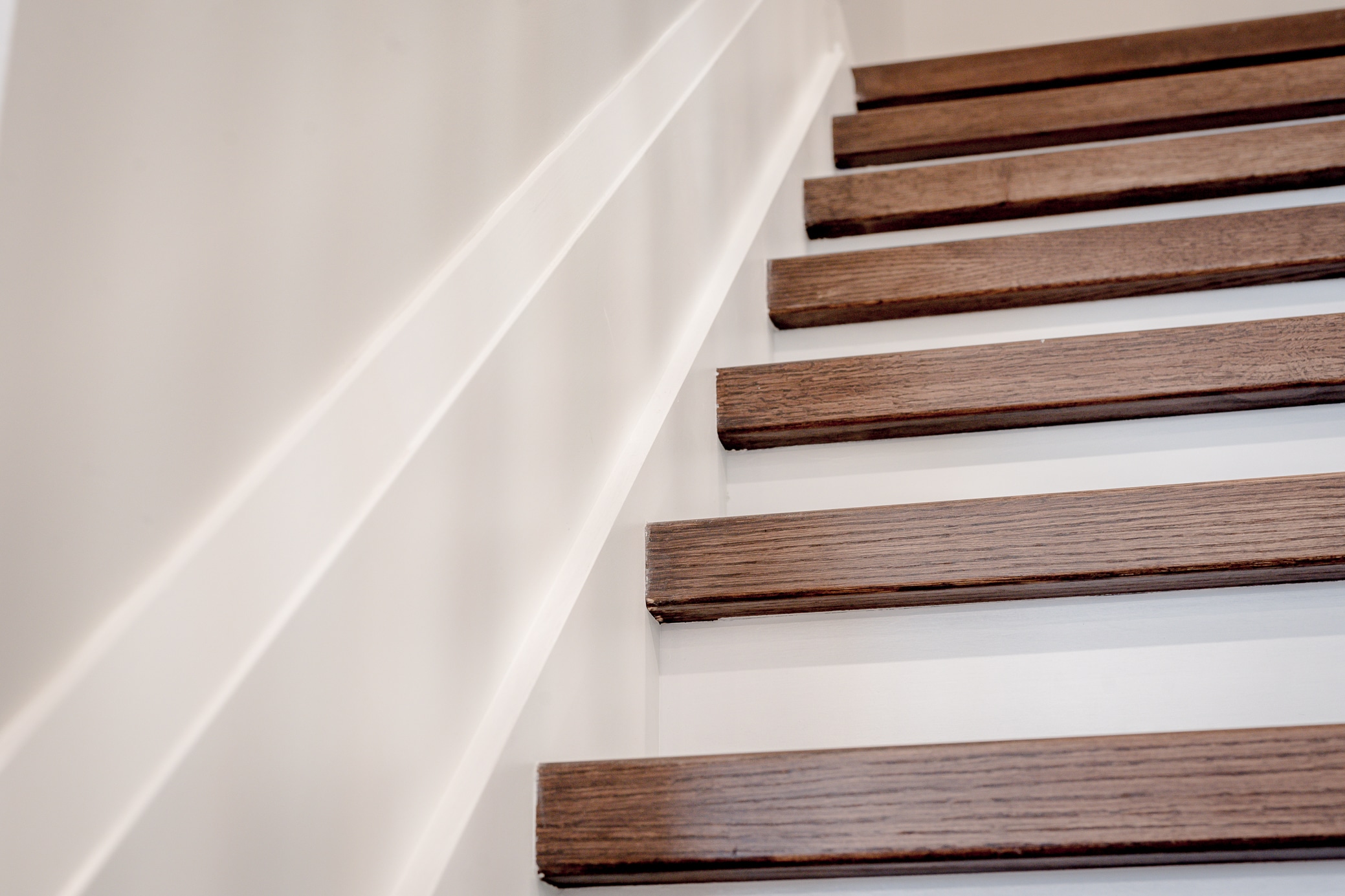 Below is trim profile that has more design elements to it, you can see that the baseboard against the staircase is the same as the rest of the floor, making it an easy transition.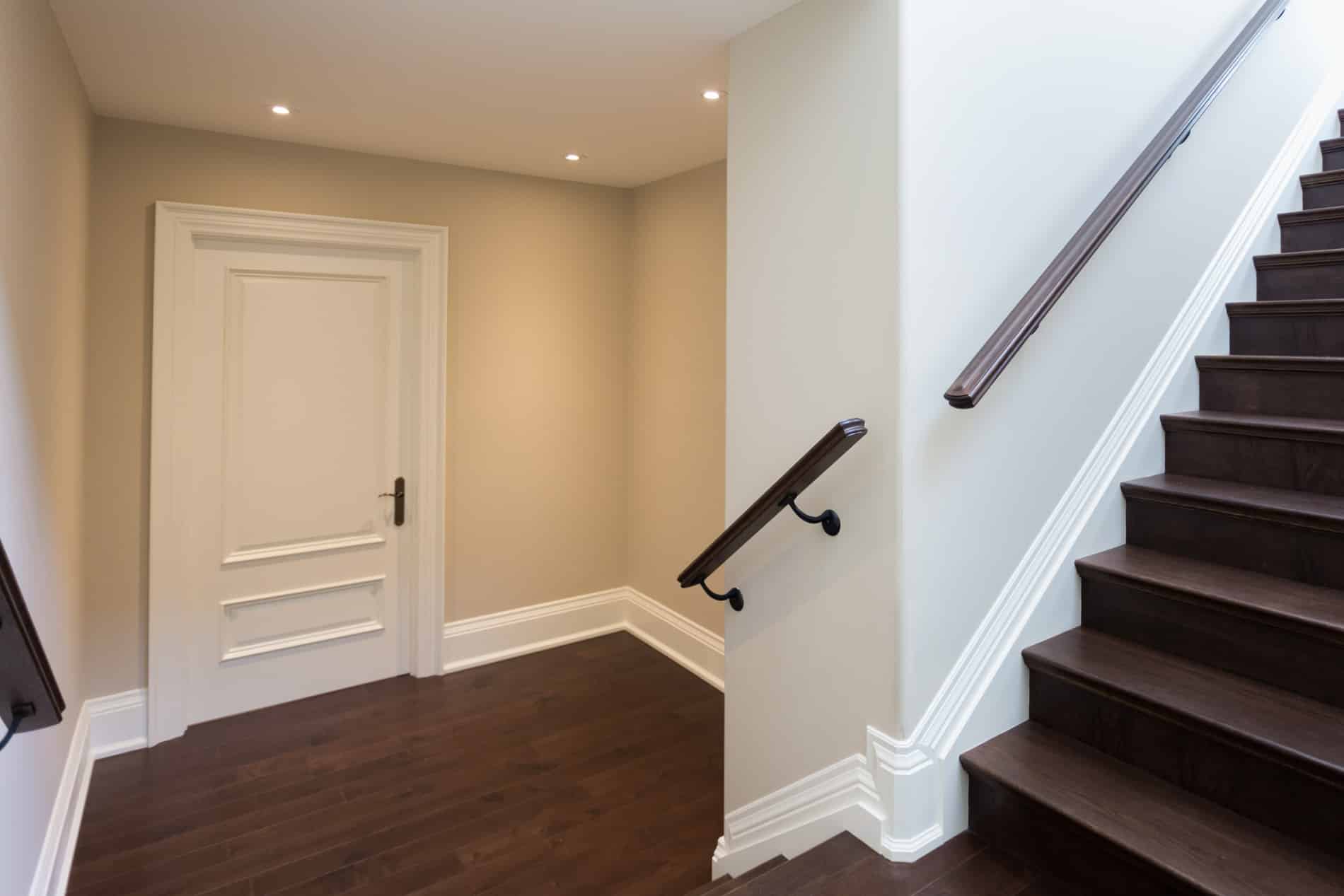 For staircases that are connected to a wall with decorative paneling you may want to opt for a very simple base trim. Something that isn't too high and extravagant, so it doesn't take away from the design element in the wall. In the image below you can see a very simple base trim following the staircase to align with the paneling details on the wall behind the staircase.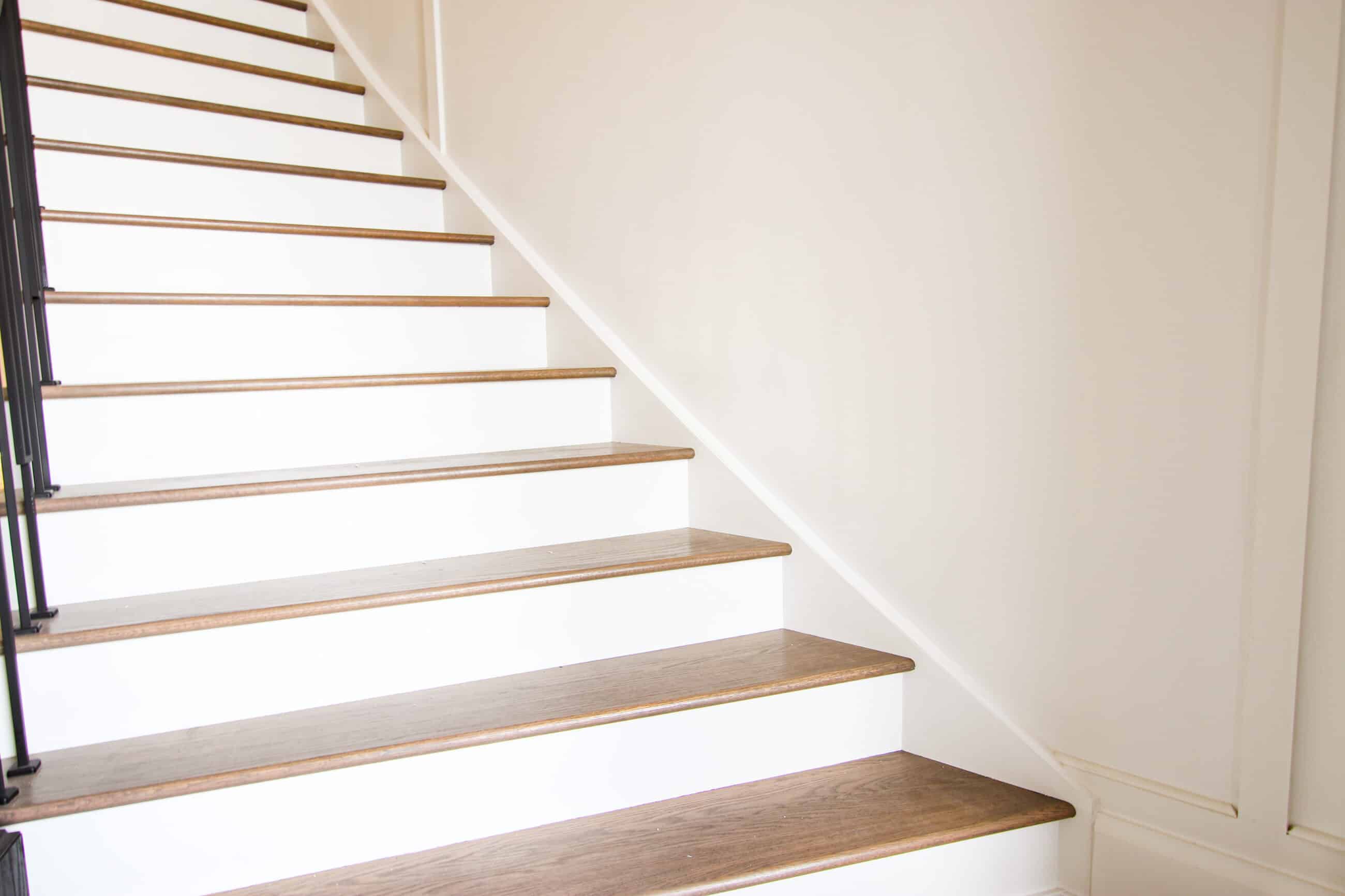 With millwork and mouldings, Riverside can help you turn any ugly staircase design into a piece of art! If you decide to use wainscoting, full wall paneling or simply match the staircase with the flooring or handrail, we can help transform your staircase with millwork so it's purpose isn't just functional. If you need some expert advice on your upcoming stair renovation project, reach out to us and we can help you source the right products from your project.
‍