With the year 2022 coming to an end, it is exciting to start another year and a new chapter. In this blog we will outline some of our top projects that we loved being a part of! From the standard trim, like baseboard and casing, to unique custom millwork seen on feature walls and ceilings, interior doors with glass, solid core interior doors, and closet organizers made just for the homeowner. We love having the opportunity to work with such amazing builders, contractors and designers and look forward to what 2023 will bring. Now let's dig in to some of our top projects in 2022!
Activa Homes
Builder's like Activa Homes are investing more in net zero ready homes to help our building industry do it's part to combat climate change. This year they opened their first model home at their project in Kitchener on the corner of Ottawa and Trussler, which is a community of detached ready for net zero homes. We have had a long relationship with Activa Homes, we love working with them, especially when we can see the finished products and everything put together.
Here are some photos of one of their model homes in Kitchener, Ontario. Their style choices were along a mid century modern selection and they chose variations of contemporary baseboard and casing, along with 3-panel shaker doors, and matte black Weiser hardware.
There are minor black accents throughout, seen on the dining room accent wall, the interior door handles, furniture and the windows.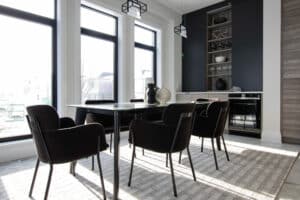 In this image above of the dining room you can see dark chairs, windows and accent wall help give this space a bit of character.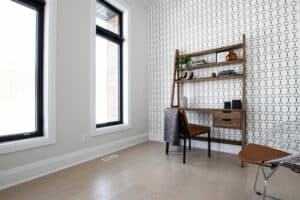 In this image of a small home office space you can see different textures in the wall paper, the desk and the chair. Incorporating multiple textures in a space helps elevate the room.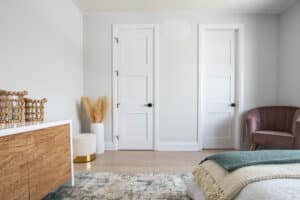 Activa Homes went with our three panel equal shaker door for their interior doors. Each door has four black hinges to match the black Halifax lever with a square rosette from Weiser.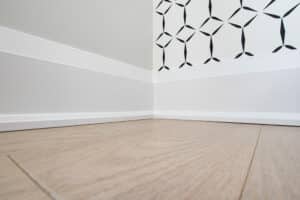 Here is a close up of the trim, which is our contemporary baseboard and contemporary shoemould, found throughout the home. This was one of our most popular styles of trim in 2022.
Beach Motel
The Beach Motel, located in Southampton, Ontario, has a total of 17 suites and the perfect space for you and your next getaway. Riverside Millwork Group was honoured to be a part of the building process and help turn a neglected motel into a picturesque paradise. The owners had a beautiful vision where one of our experienced Technical Sales Representatives helped them turn it into a reality using custom millwork. Each room features shiplap found on the entire wall, half of a wall or on the ceilings. Coupled with distinct door archways and unique wood interior doors to help add the perfect natural touch to each space.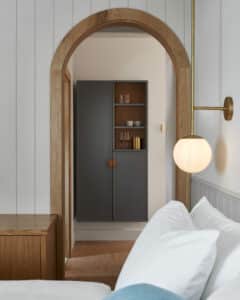 This oak archway surrounded by white shiplap is an excellent opening for this room. Rolling out of bed seeing this view alone brings piece and relaxing to mind.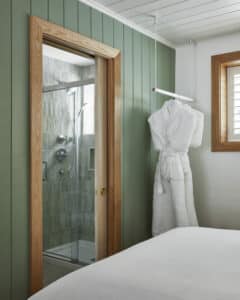 The neutral tones chosen in every room makes the space feel homey and leaves you never wanting to leave. This vertical shiplap installed on one of the walls is painted a unique earthy green tone which looks stunning against the wooden casing around the doorway and window.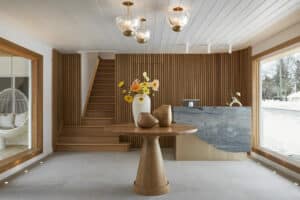 The front desk alone makes any guest even more exciting to spend a relaxing getaway in this space. The unique wood wall paneling and shiplap ceiling sets the tone for an excellent trip upon arrival.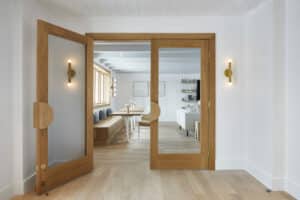 This custom one panel double French door with a half circle door handle is the perfect way to enter the next room off the entryway. The interior doors with glass are incredibly inviting and look great open or closed which was the intent of the space.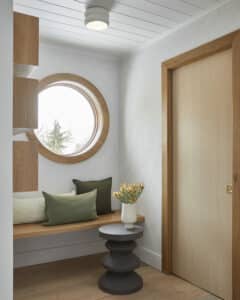 At Riverside Millwork Group, we are able to create any size or shape of trim, and this circle window is a great example of something that we are capable of producing out of our London Mill. Oh, and don't forget the wooden pocket door, which is a sliding door that disappears into the adjacent wall, when it is opened.
Legacy Homes of London
Legacy Homes of London are a family owned and operated company with a passion for building. Riverside Millwork Group has had the pleasure to work with them on a number of projects, here are just some shots from one of the recent designs.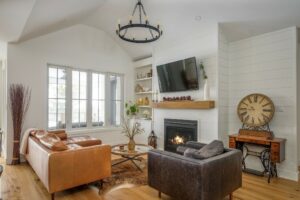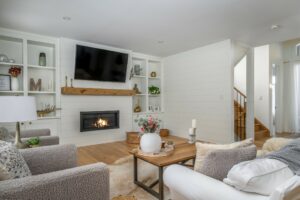 This living room with white walls and ceiling, an accented wall with horizontal shiplap, leather furniture and wood textures throughout is the ideal space to wind down in front of the fire.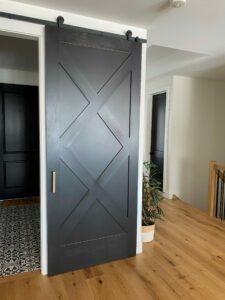 We see another featured black accent in this stunning large black barn door with a gold handle pull. You can see throughout the home each door is painted black adding some contrast against the white shiplap walls.
Gemini Homes
We have worked with Gemini Homes for a number of years and the most recent project that we were able to capture some photos of was the model home in Morriston, Ontario.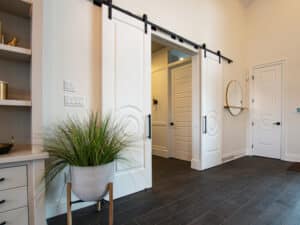 The home has 6 panel interior doors throughout with some custom door appearances. In this image above you can see a custom interior barn door that leads into a hallway.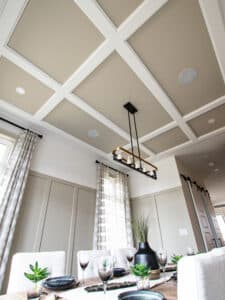 The dining room displays a beautiful two toned coffered ceiling. The tones match the board and batten wall décor and the entire dining rooms décor.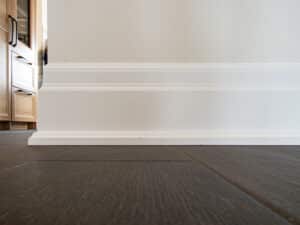 The trim along the main floor of this home is one of our popular styles, we call it Step. This MDF baseboard has shoe mould installed at the bottom adding depth while also covering any gaps in the flooring.
Thomasfield Homes
We always love the work from Thomasfield Homes and we were thrilled that we had the chance to visit their model home. This mid-century modern model home was designed and staged by Ariss Interiors and is one that has design incorporated into each element of the home.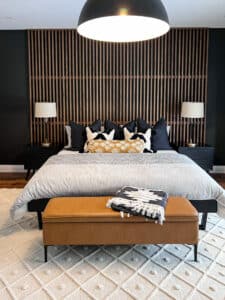 Starting with the wood headboard feature wall in the primary bedroom. This design removes the need for a headboard and uses unique millwork to spice up the room and give it that flare it needs.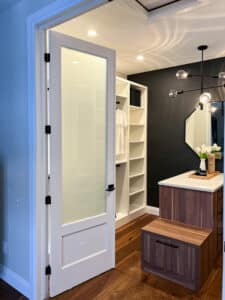 In the primary bedroom there is a walk-in closet separated with a two-panel interior door with glass. The larger, top panel in the door is a frosted glass allowing some natural light to sneak through while still maintaining privacy. The black accent wall in the walk-in closet incorporates the accents in the feature wall, allowing these two spaces to be connected through design, colour and décor.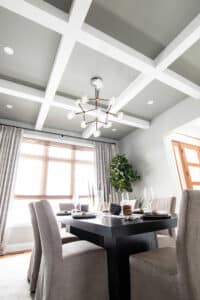 The dining room off of the front door has a two toned coffered ceiling. Giving the room more definition from the surrounding hallways.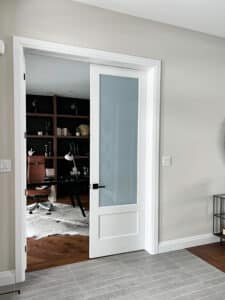 Off the other side of the entryway, we see the same door that was used in the master walk-in closet, this time used to add privacy to a main floor office. Continuing the theme of dark accents and wood features inside the space.
ATO Construction
ATO Construction worked with Ruth Aho, a Real Estate Agent in the Grand Bend area, to create a stunning, unique home for her and her family featuring barn doors, shiplap, interior doors, beams, custom closet organizers and more!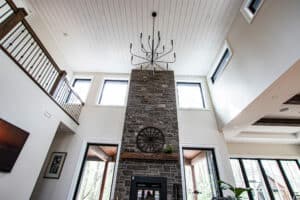 As soon as you step foot into this home you can witness the shiplap ceiling, black windows with contemporary casing with backband. To the right, we have wood beams installed on top of a shiplap indented ceiling above the dining room table.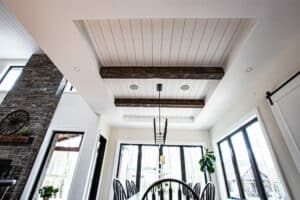 This ceiling gives the perfect spot for a dining room table and light fixture. The open concept is still very popular, although we have been seeing small details that separate the room, in this example it is the ceiling.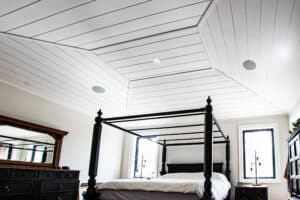 This master bedroom has a one of a kind ceiling that consists of white shiplap installed in five sections all perpendicular to each other. This draws the eye to the centre of the room, giving the illusion of a taller ceiling and larger room.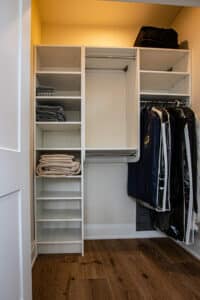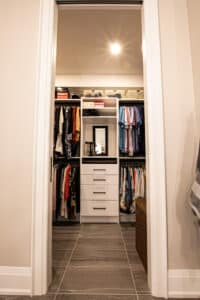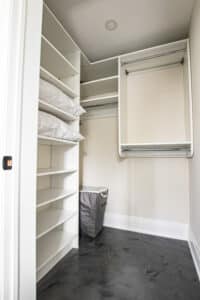 This project contains closet organizers in every closet. From basic to standard and up to a custom walk-in closet off of the master bedroom. Closet organizers can be custom made to suit your needs and wants. We have every option from wire shelving to shelves only to luxurious closet accessories.
While 2022 was an amazing year filled with great relationship, stunning projects, unique custom jobs, and new trends, we cannot wait to see what 2023 has in store for us! Stay tuned to see our 2023 projects… how will they differ from 2022 projects!?