As the year 2022 is complete, we are heading into a new year with new home design trends! In this blog we will take a look ahead at the newest and freshest home décor trends that we predict will be a hit in the interior design world. Whether you're embarking on a home renovation project or starting a new build, we believe this blog will give you the millwork trends you need to know to purchase your trim and doors with confidence.
Dark Tones and Textures
Home décor enthusiasts are spiking interest in the gothic aesthetics with moody vibes and dark accents. If you're looking to bring in the goth aesthetic into your home start with dark tones for walls or furniture. You can include textures throughout in your furniture or walls.
In the image below, the dark tones are obviously seen on the back bedroom wall and the texture is displayed in multiple areas in the room. The main texturized component of this master bedroom is found on the white oak wall paneling accent installed directly on the black accent wall.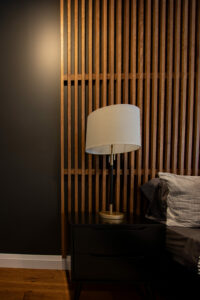 Some secondary textured features are the boho style rug and the leather bedroom bench (also known as an end-of-bed bench) at the end of the king sized bed.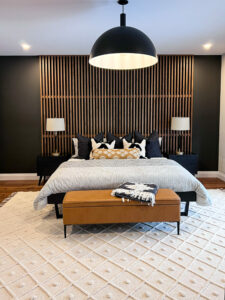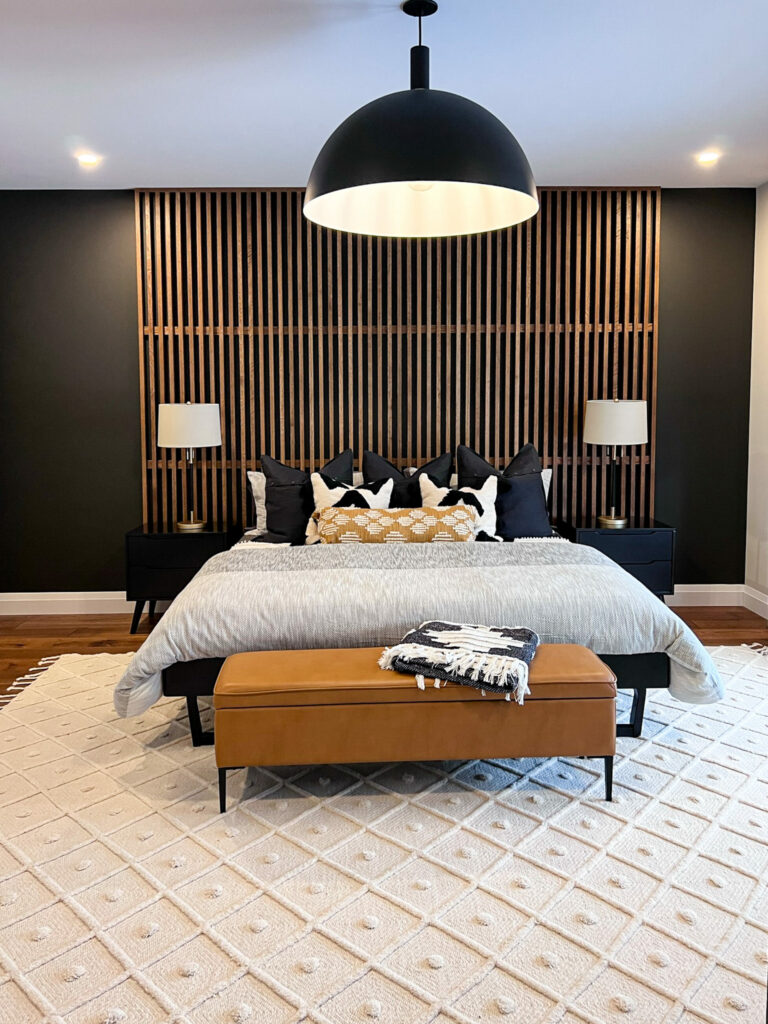 While dark tones are still going to be a popular home décor style for 2023, we predict seeing a lot of beautiful browns. Brown tones pair very nicely with the dark tones, and can bring in a lot of warm to traditionally neutral selections in wall and flooring choices. In the image below of a home office, you can see a double glass French door leads into a beautifully designed home office, this one featured was designed by Arris Interiors. 
The black wall design in this office also displays an almost marble texture, but what truly brings out the texture on the wall is the wood floating shelves that are installed on the entire width of the wall. Another touch of texture can be seen on the cowhide rug in the office and the brown leather office chair. Lastly, the interior glass French doors allow the room to feel inviting while also maintaining some privacy to be productive while working from home.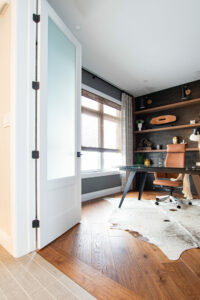 Trim Trends for 2023
Before we dive into our predictions for 2023 baseboard and trim trends, lets take a look at some of our popular styles in 2022.
Eased Edge Baseboard
The Eased One Edge baseboard has been a go to for a modern look. There are basically no grooves or designs on this style besides the mandatory top and bottom of the baseboard. This baseboard style is very modern and simple, a style you can't go wrong with.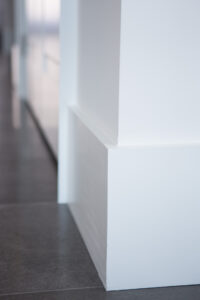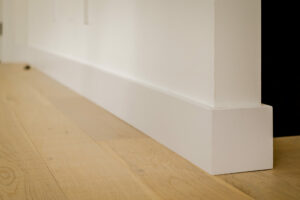 Contemporary Baseboard
Similar to Eased One Edge Baseboard, our Contemporary Trim displays a modern décor with less grooves than a more traditional style of trim. Our contemporary baseboard has only one more groove than the eased one edge, seen at the upper part of the trim closer to the ceiling.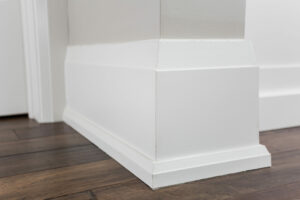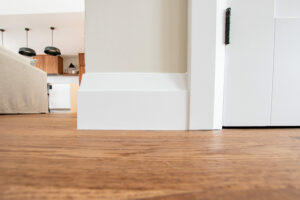 Now those two styles have been our most popular styles of 2022, and we don't see too drastic of a change for 2023, but we do have a few additions to the baseboard and casing that we expect. Below are our predictions for most popular baseboard and trim styles for 2023.
Contemporary Baseboard with Shoe Mould
While Contemporary baseboard and casing was very popular in 2022, we don't predict that to slow down in 2023. Although, we do see more shoe mould additions to the baseboard. Shoe mould is the piece of trim installed where the baseboard meets the flooring. Adding shoe mould to baseboard adds depth to enhance the design and style of the space, while it's initial main function and purpose was to cover the gap between the flooring and the baseboard. We have shoe mould in our contemporary style so our contemporary baseboard and our contemporary shoe mould pair very nicely together. See the images below of both contemporary baseboard in poplar paired with our contemporary shoe mould also in poplar wood.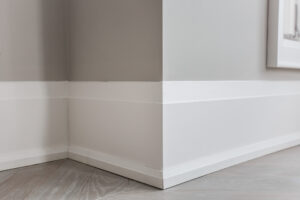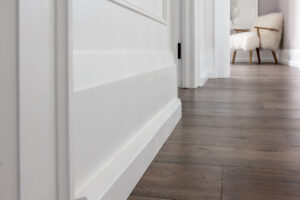 To find out more additional trim products that can enhance your standard trim in your home, visit our blog.
Step Baseboard
Our Step baseboard has more grooves when compared to our contemporary baseboard style. It is on the border of contemporary and a traditional trim style. Step is a trim profile that we often carry in stock and in many different materials. The image below displays our Step baseboard with shoe mould. You can see there are some grooves in it but it still maintains the modern style that most people are looking for.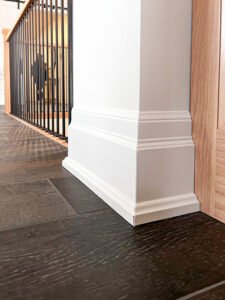 Millwork and Wall Features
Feature walls will continue to be a popular décor piece found in homes, buildings and offices. We are finding more people taking advance of the bones of their home or building, rather than purchasing décor items like painting, furniture and design pieces.
Below are some accent walls that we think we will continue to see in the year 2023.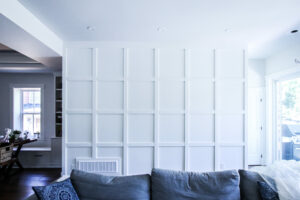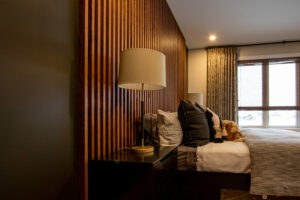 Dark tones and wall paneling as a bedroom feature wall.  
Interior Door Trends for 2023
Black doors have been on a rising trend and we don't think this will be changing. Black accents are very popular and will stay popular for the next couple of years.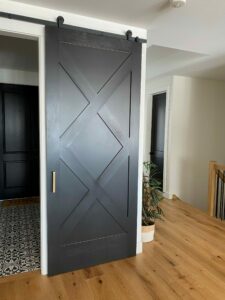 This large black barn door with a gold pull is so unique, while blending in with the other interior doors, this barn door stands out because it is a different design and has a gold pull where as the other interior doors have matte black hardware and are not installed as barn doors.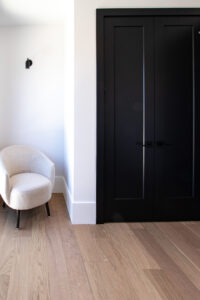 In the image above you can see a black interior door against white walls with furniture that includes some textures. This is a style we believe we will continue to see come 2023 and we are loving every bit of it!
Mixing & Matching
I bet you have never heard the terms "mix and match" when discussing home design trends. We have started seeing many homes mixing and matching their door styles and even their hardware choices! When we say mix and match we mean using more designs than just one, you don't have to limit yourself if you can't seem to make a decision on just one style. We predict interior door styles mixing and matching being popular in 2023. This means using one style of door for some rooms while using a different colour, style, design, or even material on others.
For example, some people like to have their closet doors a different style than the rest of their doors in their home. In the image below you can see this room has two different styles of interior doors. The door on the far left is our Berkley door, while the other two doors, one being a very narrow, custom closet door, are our one panel shaker door. Even though these door styles are completely different, they still complement each other nicely.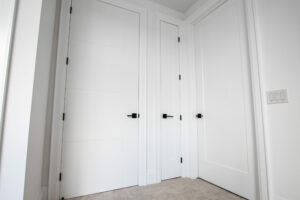 Below is another image of an example of interior doors where mixing and matching has proved itself to be a home design trend that is only rising. The home office is separated by a custom glass double French door, while the closet door is a standard one panel shaker door.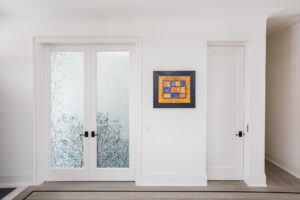 Now, we have seen a couple great examples of more than one interior door design being used. Below is an image of a master walk-in closet that also displays a very successful combo that we will likely continue to see in 2023: Bronze and Black. We see on many components of this walk-in closet where different tones are complimenting each other. The matte black door compliments the iron black hardware pulls, while tying in the natural wood tone and the bronze cabinets and rods. Some people may have felt like if they are using bronze accessories they would have to stick with bronze cabinet pulls.. this has become something so far from the truth. This image simply proves that mixing and matching creates contrast and allows you to enjoy more than one design component in your space.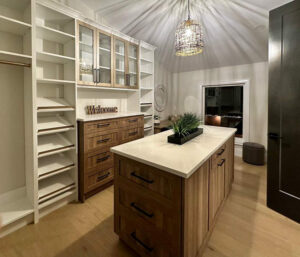 We are excited to see what 2023 has in store for the home design trends. Follow us on Facebook, Instagram, Pinterest, and Linked In to follow along on this years upcoming trends!