Are you looking to update your kitchen cabinets? If you are, you may want to learn about the different types of kitchen cabinets you can purchase. In this blog you will learn about thermofoil kitchen cabinets as well as Thermally Fused Laminate, or TFL kitchen cabinets. Riverside Millwork Group has entered into the kitchen cabinetry industry and we are excited to showcase some of our kitchens and we are looking forward to seeing what the future has in store for us in the kitchen cabinet world!
Whether you are completing a full kitchen renovation, building your dream home, getting ready to sell, or simply replacing your current kitchen cabinets with new and improved cabinets. Riverside can help you through the entire process and make sure you are more than satisfied with the final product. Keep reading to learn more about Riverside's kitchen cabinets and what we have to offer.
What are Thermofoil Kitchen cabinets?
Thermofoil kitchen cabinets are a type of cabinetry made using vinyl laminate that is both heated and pressurized onto an MDF core (Medium Density Fibreboard).  Thermofoil cabinets are both functional and stylish for your new kitchen renovation. Thermofoil can be used to make kitchen cabinet doors, finished panels and kitchen drawer fronts as well as mouldings such as crown moulding or light valance. The best part about thermofoil products is that they are high quality and very durable, but still affordable. They come in a number of different finish options. Keep scrolling to see some of our popular kitchen cabinet finish options.
Benefits of Thermofoil Kitchen Cabinets
Thermofoil cabinets have many benefits:
Trend
Thermofoil kitchen cabinets are not only made durable but they are trendy and beautiful to look at. They have a minimalistic look and this style won't be going anywhere anytime soon. Many builders and designers are leaning towards these sleek designs to compete with any other wood tones being used in the home. One of the advantages to Thermofoil products is that they come in different styles – one of the most transitional styles being "shaker". Shaker style kitchens can be used in both a traditional design and in modern designs. The simplicity of the doors and drawer fronts make them versatile, yet give an extra "profile" to add depth and shadows to the cabinetry.
Affordable
Thermofoil Kitchen Cabinets are both trendy and affordable, now how often do you get the best of both worlds!? With a range from minimalistic to very traditional design, thermofoil cabinetry can be the most affordable option for kitchen cabinet finishes. Thermofoil products boast much lower costs with higher durability than stained or painted cabinetry do.
Easy to Clean
We all have busy lives and maintaining a clean home can sometimes become your last priority. With thermofoil kitchen cabinets, they are easy to clean due to the smooth surface, there are limited places for the cabinets to collect dust and it is an easy wipe to keep the cabinets clean. For cabinets that have been heavily soiled, there is no concern about the paint or "top coat" coming off on the sponge or peeling up when cleaning. This can be an issue with stained or painted cabinets.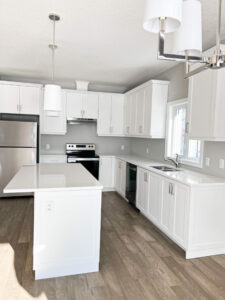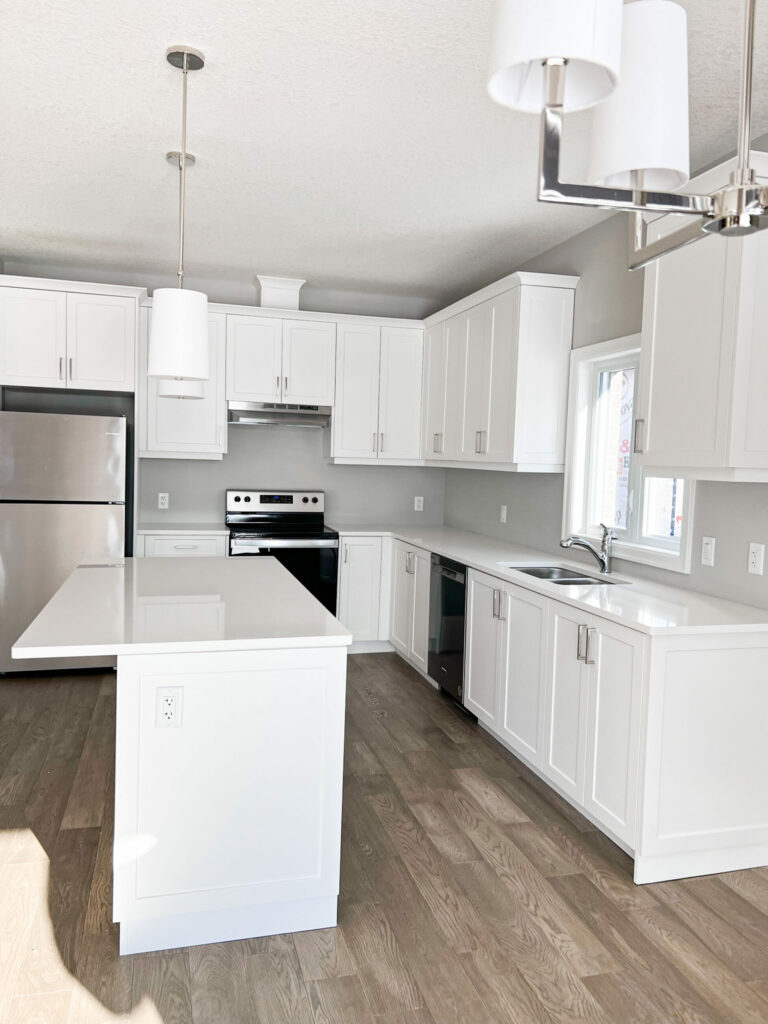 The image above displays a thermofoil shaker door kitchen. You can see how the cabinets doors and drawers display a minimalistic look.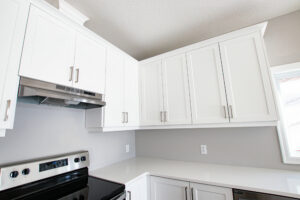 Here is another image a bit closer up to the thermofoil kitchen cabinets.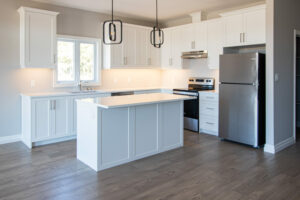 When comparing thermofoil kitchen cabinets with TFL kitchen cabinets, the clear difference is that the thermofoil has a slight design on it. In this image of a thermofoil kitchen, you can see the drawer fronts and kitchen cabinets are a shaker style where, although it is a minimalistic design, there is more of a design to them when compared to the TFL kitchen cabinets. Keep reading to learn more about TFL kitchen cabinets.
TFL (Thermally Fused Laminate) Kitchen Cabinets – also referred to as "Melamine"
Kitchen cabinets are created from laminate fused to an MDF or particle board core. Heat and pressure are used to effectively seal and produce the cabinet doors, drawer fronts and panels. Melamine cabinets are not only seen in kitchens, we have installed them in closets, garages, vanities and more!
Benefits of TFL Kitchen Cabinets
There are many benefits of TFL kitchen cabinets, continue reading to learn more.
Colour Options
The great thing about TFL cabinets is that you have a very wide variety of colour options you can choose from. This makes it easy to match the aesthetic you are looking to achieve.
Durable
TFL cabinets are highly durable and can last for decades. Since TFL products are an applied finished surface, there is no painting or staining required. As long as you don't take a hammer to the cabinets, these melamine cabinets should last you a very long time. Both TFL and Thermofoil products are much more UV resistant than their wood counter parts which prevents discolouring over time.
Easy to Clean
Similar to Thermofoil Cabinets, TFL cabinets are also easy to clean.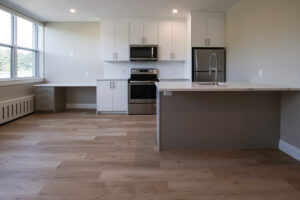 The image above is a kitchen design featuring TFL kitchen cabinets. You can see the design is very simple and minimalistic.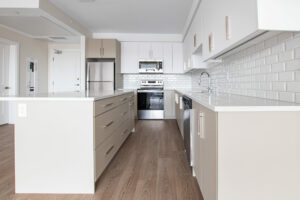 Here is another image displaying TFL kitchen cabinets. It has become very popular in the last few years to see kitchen cabinets two different colours. Similar to this image where the top cabinets are white and the bottom cabinets and drawers are a beige tone. Featuring two different colours gives the space a more unique look.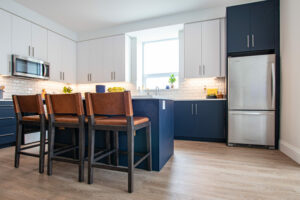 We can see in this image above, two colours in one kitchen again. These TFL kitchen cabinets are the perfect simple design in this kitchen with bold blue cabinets. We have a blog published about Mixing and Matching in a home, check it out to find out other ways you can mix and match using home design trends.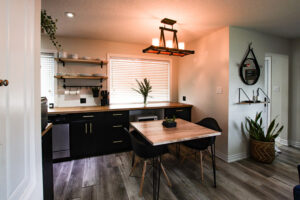 In the image above of TFL kitchen cabinets you can see this homeowner chose the bold colour of black and it looks amazing!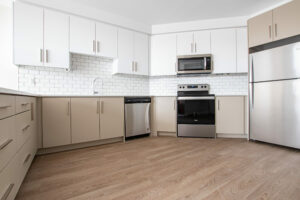 Above is another image of TFL cabinetry, you can see how easy it would be to clean these cabinets as there are no grooves or indents that would otherwise collect dirt and dust.
Kitchen Cabinet Finish Options
Below are some of our popular finish options for kitchen cabinets. But don't stop here, if there is a finish option that you don't see in this blog, bring us an image and we will be able to see if we can find the closest match! Our goal is to help you create your dream kitchen right down to the colour of your kitchen cabinets.
Thermofoil or TFL Kitchen Cabinets?
Now that you have a better understanding of thermofoil and TFL cabinetry, you may be wondering which option is the best choice for you. TFL cabinets are often confused with Thermofoil cabinetry, but they are not the same. Thermofoil is a type of film such as Polymer or Polyester that is applied to a sub-straight such as MDF, while TFL is a particle board or MDF core with a resin saturated material that is applied with high pressure and heat. If you were to take apart a thermofoil cabinet door, you could tell it is thermofoil because it is thicker and has a softer feel. Melamine is slightly more durable and it is almost impossible to peel off the colour coating.
So, if you are looking for an affordable option that includes door profiles and mouldings, thermofoil would be your best selection. If you are looking for an even more budget-friendly option and minimalistic design with slab/flat doors and mouldings, melamine would be the best option for you. Also, if you are looking for kitchen cabinetry that have a unique colour or texture or finish, melamine would also be a great fit for you since there are more colour options available for melamine cabinets.
Contact one of our Kitchen Design Specialist to see if your next project qualifies!