Interior doors have many different styles. You may think choosing an interior door would be simple and not much to it, although when you start your shopping process you will soon realize that there are many options to choose from. With various different ways to create a door, multiple materials and unique styles, choosing the right interior door has more thought to it than you may think. In this blog we will go over interior door styles that can personalize your living space. By the end of this blog you should have a better understanding on what type of interior door would best suit your needs and wants.
An interior door can really help to beautifully tie a room's décor theme all together, and like any design project, choosing the right new interior door for your home will take some time. You'll want to make sure you make the perfect choice that will seamlessly complement your living space. Whether you choose a glass door, sliding door, wood door, or shaker door, you want to make sure you pick the best door for you and your home.
With that said, below are some go-to interior door styles to think about for your next home build or renovation project.
Styles of Interior Doors
There are a number of interior wood doors to choose from, continue reading to learn about what types of interior doors Riverside Millwork Group can provide before we get into the design style elements that make the doors different.
Moulded Panel Doors
Moulded panel doors are an economical choice for a primed interior door. These wood doors are constructed with wood and pressed together in forms to create each unique door style. Moulded panel doors are created to imitate stile and rail door designs, although at a reduced price.
Below is a photo of one of our styles called the Berkley door.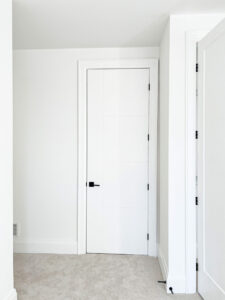 Shaker Doors
Shaker Doors are another wood door that we provide to our customers, and a popular one at that. Shaker doors are a variation of a Stile and Rail door, they feature a flat centre panel and square edges, with minimal detailing. These wood doors are a modern style that we see on interior doors as well as cabinet doors found in kitchens or closets. Shaker doors offer a simple and timeless design with the flat edges and clean lines.
See below some images of shaker doors that we love. Shaker doors can be purchased with one panel and up to six panels.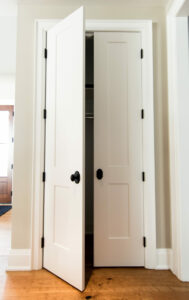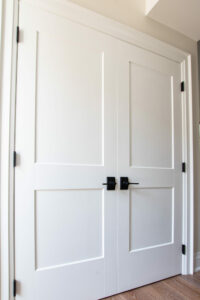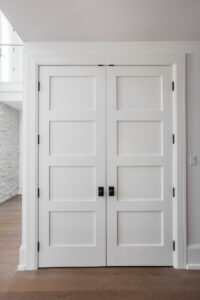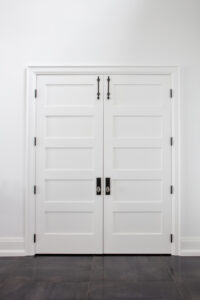 Stile and Rail Doors
Stile and Rale doors are solid wood doors that can provide a great amount of detail in the design element of the door. They are strong and durable, and are constructed from horizontal rails and vertical stiles. When put together, stile and rail doors give the illusion of a single carved piece or wood. As these doors require more precise and complex construction techniques, they are a higher price point when compared to our moulded panel doors.
Below are some images of some of our stile and rail wood doors.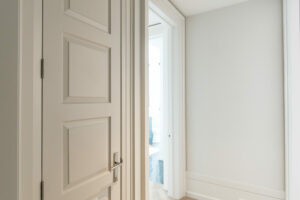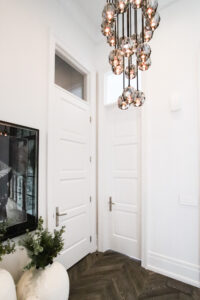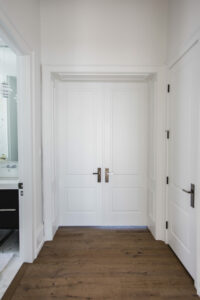 Glass Doors

If you're looking for a modern-style interior door that welcomes in a lot of light for your contemporary home, a glass door is a great route to go. There are many different styles of glass doors on the market. Glass doors can be a single glass panel, multiple, or a combination of a traditional solid panel and glass panel. Beyond the number of glass panels, you also have the option to alter the transparency of the glass.  The best part about having transparency options is that you can choose the amount of privacy you want, some glass options are limited privacy, meaning you can see through the glass door completely, while others are diffused where you can barely see anything past the glass and the glass component of the door is simply a design feature. A glazed or frosted glass door can be a perfect option if you're looking to invite some more natural light into a room but still desire the privacy that a solid door creates. These doors also tend to give the home a airier and more spacious feel.
Below are some of our glass doors that we have installed in the past few years.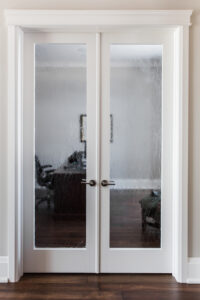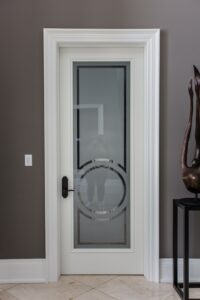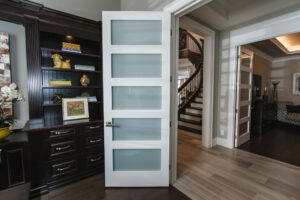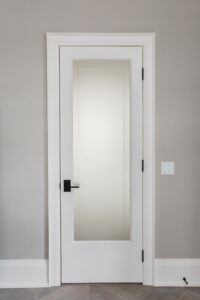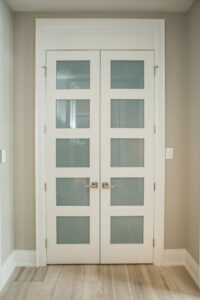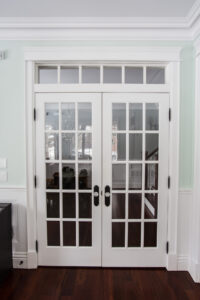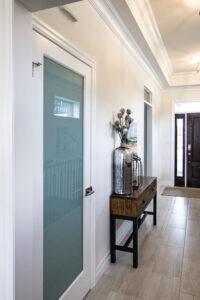 Combination of Wood & Glass Doors
A popular interior door choice, glass panel doors are combined with another material like wood, designed with a traditional pattern of square panels. But possibilities go beyond just panels – and wood can be combined with clear, coloured or stained glass in any shape, pattern or design for a uniquely crafted interior door that makes a statement.
French doors are wood doors that regularly incorporate glass inserts or panels into their construction adding a beautiful and elegant touch to the home. While we have already touched on glass doors, or in other words, French doors, we also love seeing the combination of wood doors and glass doors in one! See below some great-looking wood and glass door combos!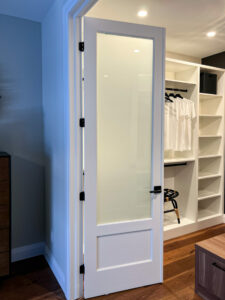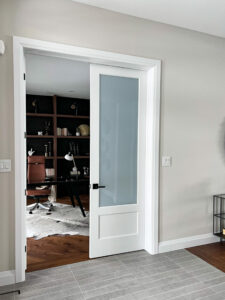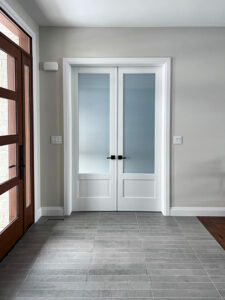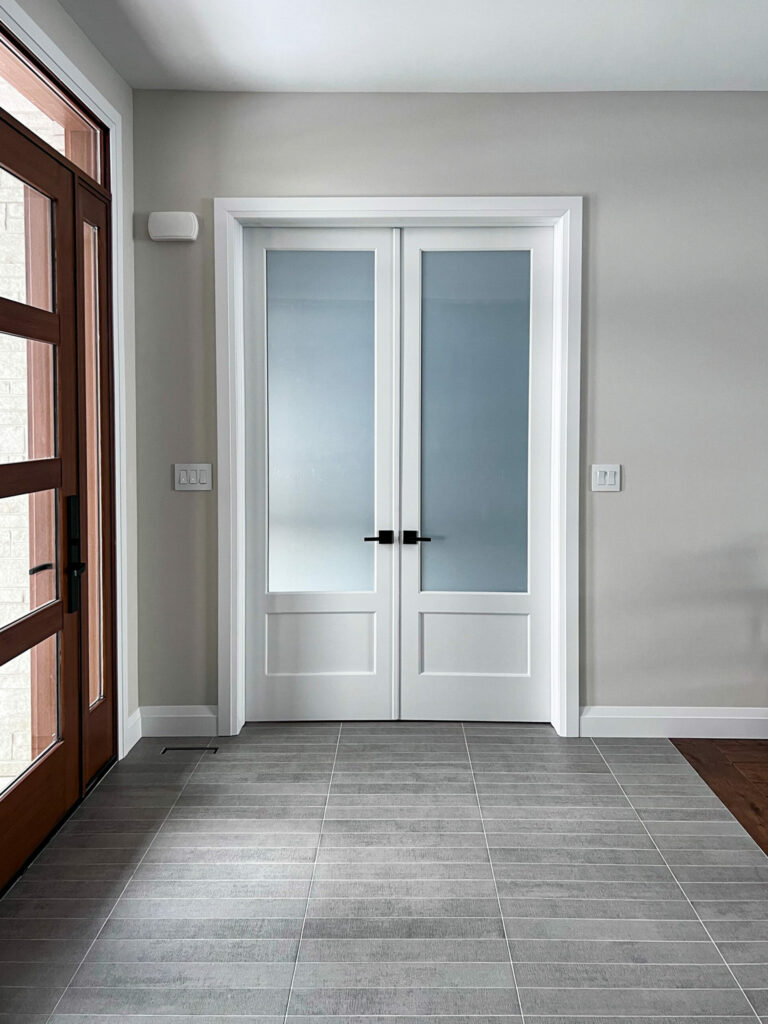 Choosing the perfect interior door style can certainly be a difficult decision to make for any home owner, but we're here to help! Riverside Millwork Group offers both standard and custom interior doors with sound reducing options to suit your living space and vision perfectly. Come visit us today at our Waterloo, Stoney Creek or London location… we'd love to see you!