Treating yourself to a closet organizer doesn't stop with the installation. When considering a closet organizer for your home your main focus and desire is to keep your clothing and accessories organized. Staying organized can not only keep peace in your mental health, but also allow you to have more time spent elsewhere, where your treasured time is. You will eliminate the time spent cleaning through your unorganized closet, you will save time knowing just where those favourite pair of jeans are, not having to rush in the morning to get to work looking everywhere for your most comfortable cardigan. Make sure your closet organizer is custom to your needs. Everyone's needs and wants are different, that's why Riverside focuses on helping you create the custom closet just for YOU.
You can add shelves, rods, wire closet shelving, drawers.. but it doesn't end there. You should consider what closet accessories you would need. There is a long list of closet accessories that we are able to offer our clients, all have the main purpose to help you stay organized and maintain an organized lifestyle. We have everything from your basic closet accessory to luxury closet accessories to closet door accessories and closet room accessories.
Popular Closet Accessories
Our most asked about closet storage accessories are common closet accessories for the every day household.
Jewelry Tray
The jewelry tray is a very popular closet storage accessory that is used by not only many women but men too! This can be used for any type of jewelry piece you have that you don't want to lose, get damaged or get taken by those little children who love to play dress up! The jewelry organizer is a pullout option that has separate cubbies for each type of jewelry piece.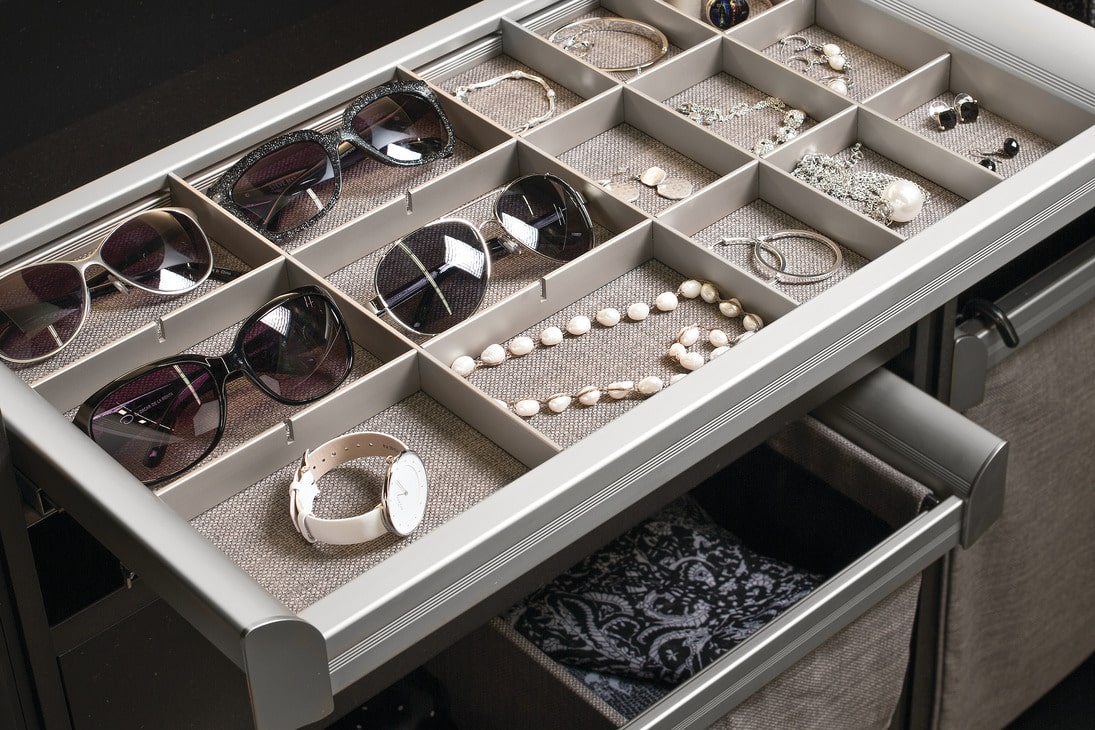 In the image above you can see this pullout jewelry tray is not only used for the classic necklace, earrings, and bracelets but it can be customized to be used for whatever you need, even your sunglasses! We have a number of different colour options to give you endless theme capabilities for your closet.
Pullout Baskets
Pullout wire baskets can be used for whatever your desire is. Some people use them to fold their sweaters, t-shirts, pants and more. Some people even choose to use them as a laundry hamper. These wire basket pullouts are a perfect way to stay organized with your entire wardrobe.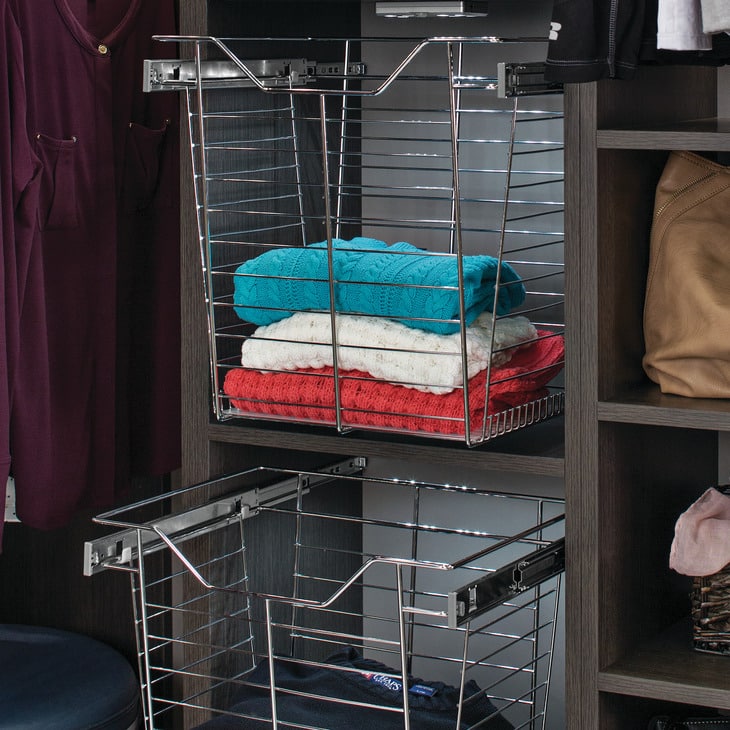 Similar to most of our closet accessories, we have a variety of finish options for pullout wire baskets.
Tie Rack
An accessory to highlight a neat, collared shirt, or shiny pair of shoes, a tie is a common piece of many gentlemen's wardrobes. Sometimes keeping them neat and organized can be a challenge. With a tie rack included in your closet organizer you wouldn't need to worry about searching for that tie that will match your partner's outfit to the wedding you're attending, or an important meeting to land an influential client. It's time to keep at least one aspect of your life organized and that can start with your wardrobe.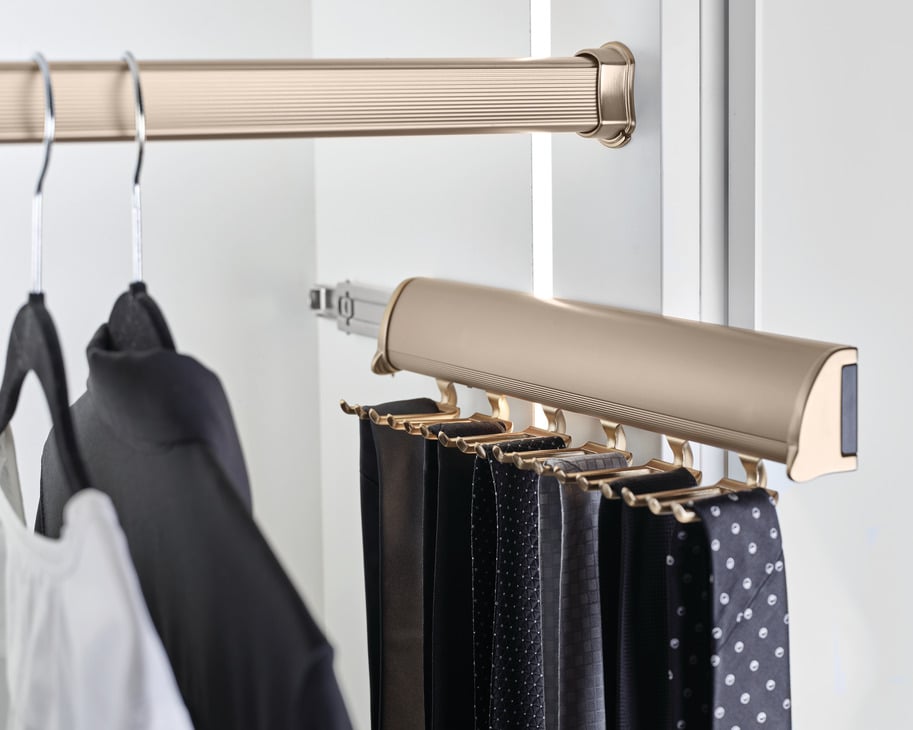 The image above is just one sample of one of the very popular tie racks that both women and men absolutely love including with their Riverside closet organizer.
Belt Rack
If you don't take care of your belts by placing them in an organized safe place they can be damaged or they can damage the other additions to your wardrobe. Similar to a tie rack, a belt rack is very popular with the option for a pullout. Don't forget about half of the belts you own and have them hanging and organized with a belt rack.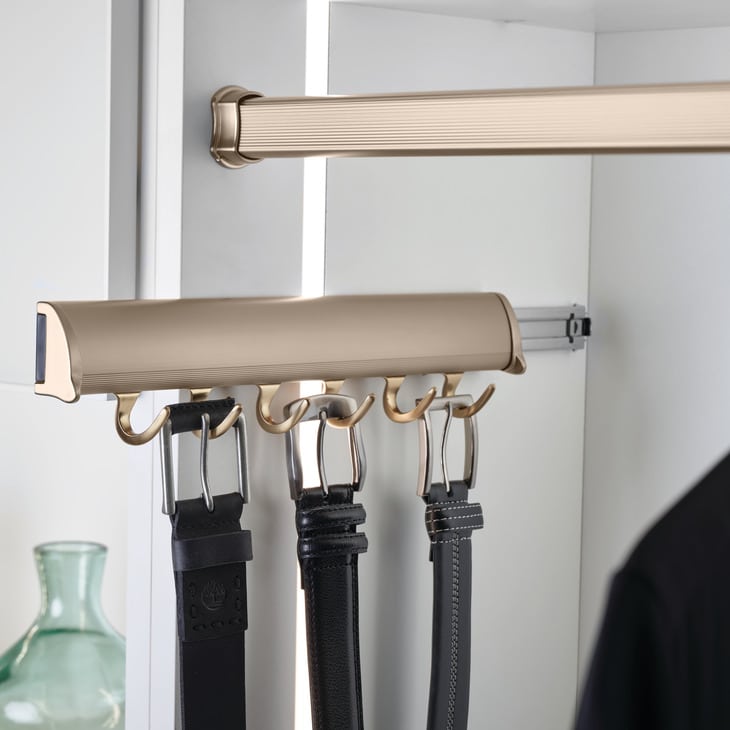 With the same finish as the tie rack, this belt rack fits in perfectly with any closet organizer without taking any unnecessary space. The easily accessible pullout rack makes it easy and convenient when getting dressed in the morning.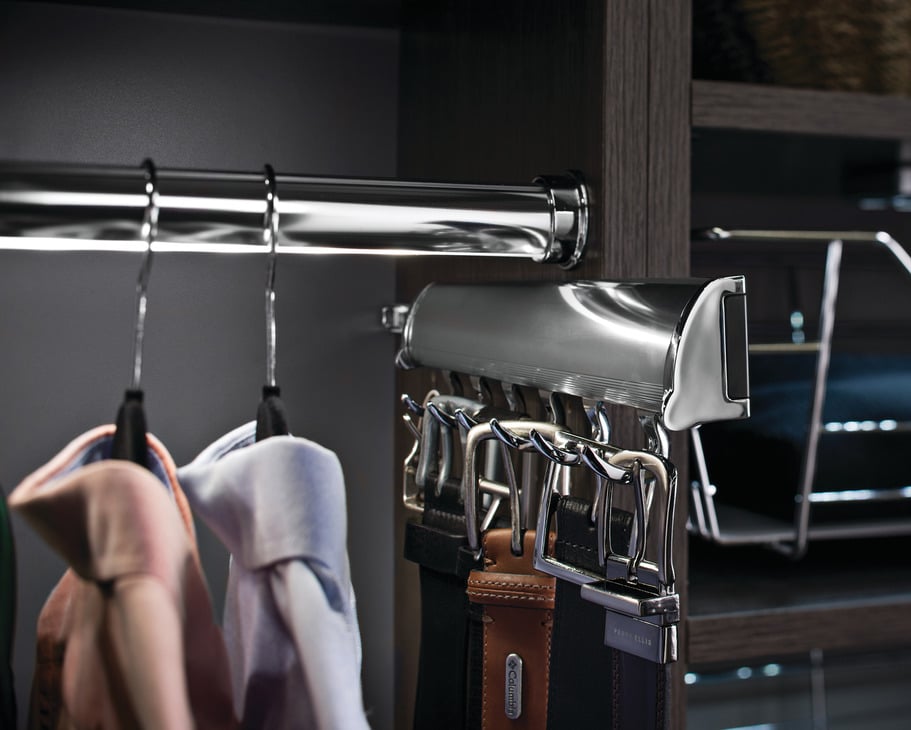 This polished chrome belt rack has the same function as the other belt rack image. It has the pullout function installed directly in the closet organizer shelving so it is simple to reach without any hassle.
Valet Rod
Do you have an image of an outfit in your mind but once you put it all together it just doesn't look as good as you thought it would? Once you have all of the pieces of your outfit together you are able to approve or eliminate. Maybe the pair of pants you thought would not look good against the new cardigan you purchased, but once you set them beside each other.. bam! It looks way better than you expected. A closet accessory that can help you with this is our valet rod. A valet rod allows you to hang specific clothing options hanging on the rod so you can view the item face to face rather then looking at it from an angle where all of your other items are hanging, or folded up in a drawer that is difficult to view. This is also convenient for those who like to have a productive morning and they lay out their outfit the night before. A valet rod, similar to the tie rack and belt rack has a pull out function. This allows the rod to take up minimal space in the closet until it is being used. When the valet rod is not in use it is essentially not taking up any space at all.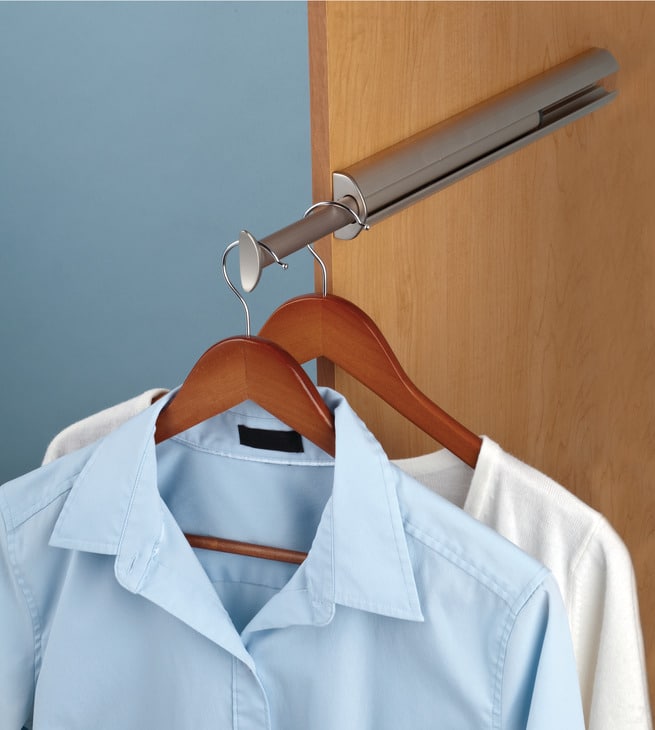 As seen in the image above the valet rod is installed on the shelving of the closet, taking up no space at all. When you simply pull the rod out you are able to gain full access to the valet rod to place any of your outfits.
Premium Closet Accessories
Any closet accessory is an upgrade to a standard or custom closet organizer. We have a wide range of options to suit your specific needs. We have a list of premium closet accessories that are popular for larger more luxurious closets. Although that doesn't mean you standard closet doesn't need a premium accessory!
Pull Out Ironing Board
An ironing board is far from easy for store. It always seems to be a pain to set up, it takes up a ton of space and simply isn't the prettiest home accessory to look at. Eliminate hard ironing work with a pull out ironing board installed directly in your closet where it will be hidden from you and guests until you need to use it. Simply pull the board towards you, pivot it and unfold the legs and you're all set to start ironing your clothing. The ironing board can typically be installed inside the closet or behind a closet door, either way it is hidden but also has easy access.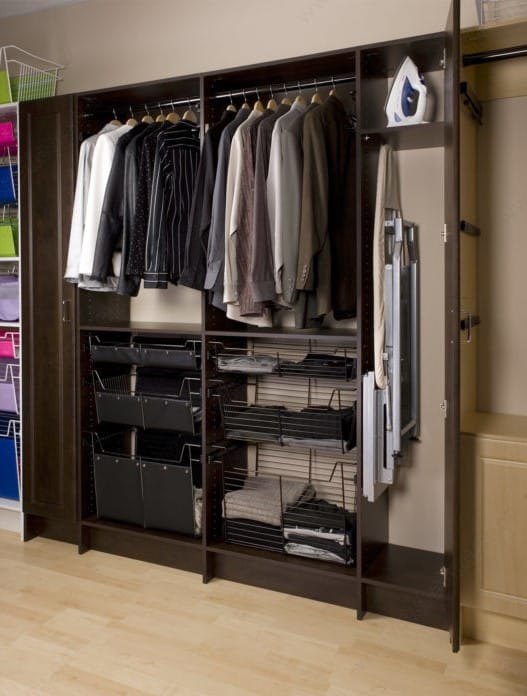 As you can see in the image above the ironing board is very simple to fold and insert into your closet.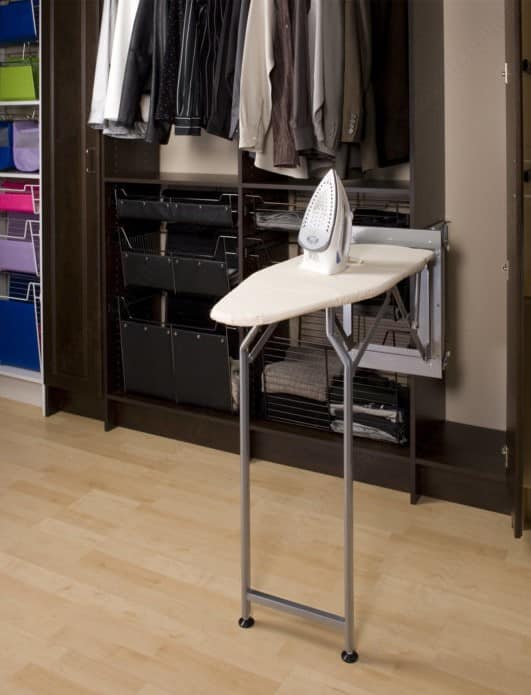 When you are ready to use the ironing board it is very simple to pull out and lay out. Making it an effortless job to set up your ironing station and put it away.
Shoe Pullout Drawer
Do you struggle with too many shoes? Do you struggle with a partner who has too many shoes? Trying to find somewhere to store your shoes can be a struggle, especially when there are so many that need to be tucked away safely without damage. We have many options for shoe organization solutions, like the shoe fence, shoe rack, shoe organizer and more. Our most premium shoe organizer is our pull out shoe rack. It is hidden by being tucked underneath all of your shelves so that they are out of sight until you need them. This not only helps you stay organized, but it is using your space efficiently.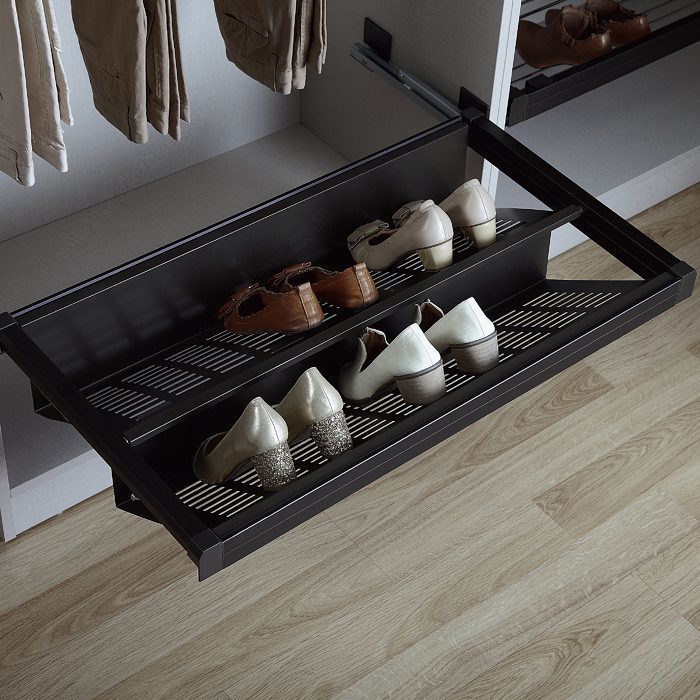 Here is an image of our pull out shoe organizer. You naturally pull it out when you want to view your shoe options and push it back into your closet under your other clothes when you are ready to put all of your shoes away.
Pant Rack
Where do you currently leave your pants? Do you fold them and have them neatly laid out in your drawer? Do you hang them on your closet with a classic clothing hanger? Either way, there is a better options for you. Yes, there is such thing as a pant rack, and YES there is an option for it to be a pull out pant rack. Sometimes it can be difficult to view all of your pants if they are all stacked on top of each other in a drawer, or trying to search through them in your closet. With a pull-out pant rack, it is an ideal way to view your pant options and make a quick decision on which pair you will be wearing.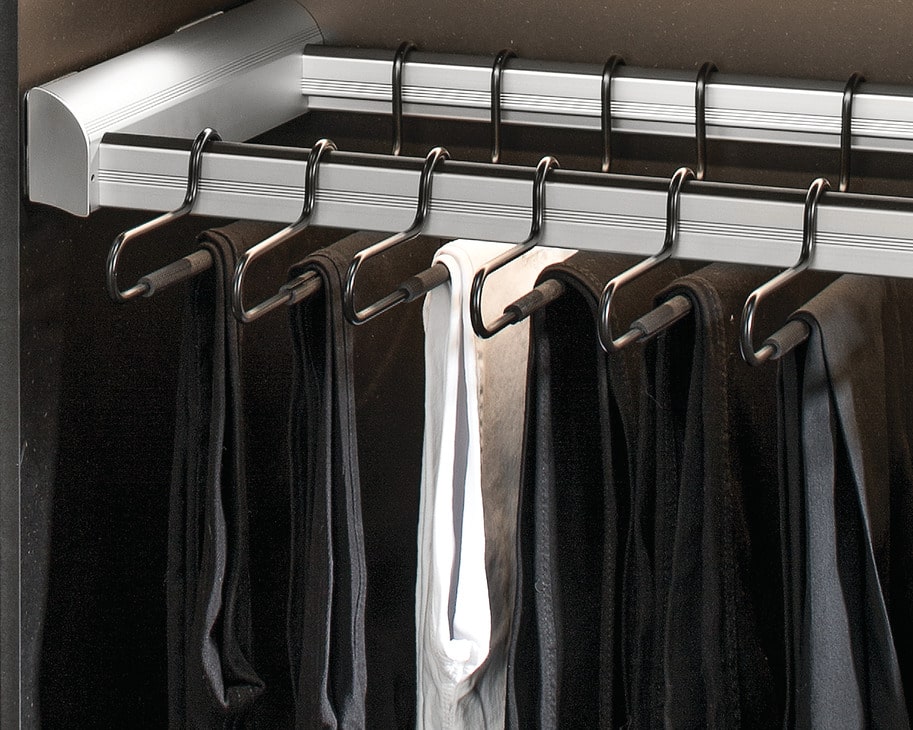 Here is an example of one of our many options and styles of our pull out pant racks for your closet organizer.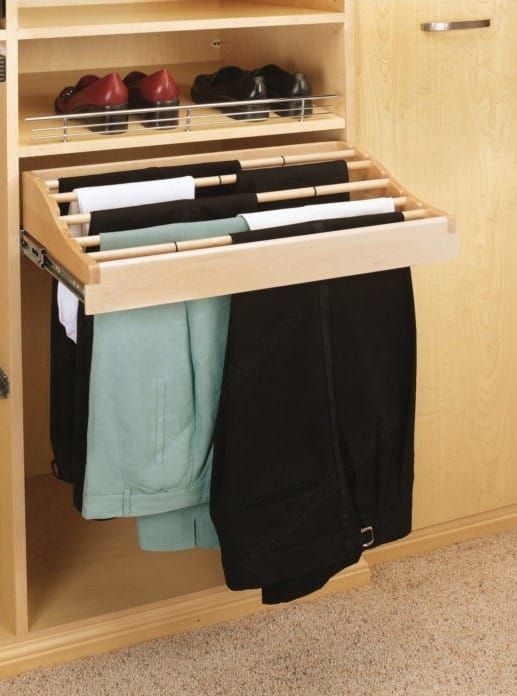 As most accessories we have mentioned here, we have a large variety of different finishes and layouts you can choose from for our pull out pant racks.
Hamper Pullouts
Have you spent days searching for a stylish laundry hamper hoping that it will help with the messy appearance of laundry being thrown in the basket and missing the hamper ending up on the floor, or hanging off the edge of the basket? You are not alone. There seems to be no solution to hide the unorganized décor of laundry baskets filled with dirty clothes. You are wrong. There is a solution, a hamper pullout. Laundry hamper pullouts are hidden in your closet and are easily accessible by pulling them out on their track to insert dirty laundry. The baskets are also removeable from the pullout which helps to carry that laundry from the closet to the laundry room with ease. No more useless time spent picking up after family that can't seem to hit the laundry basket when they play basketball with their dirty laundry.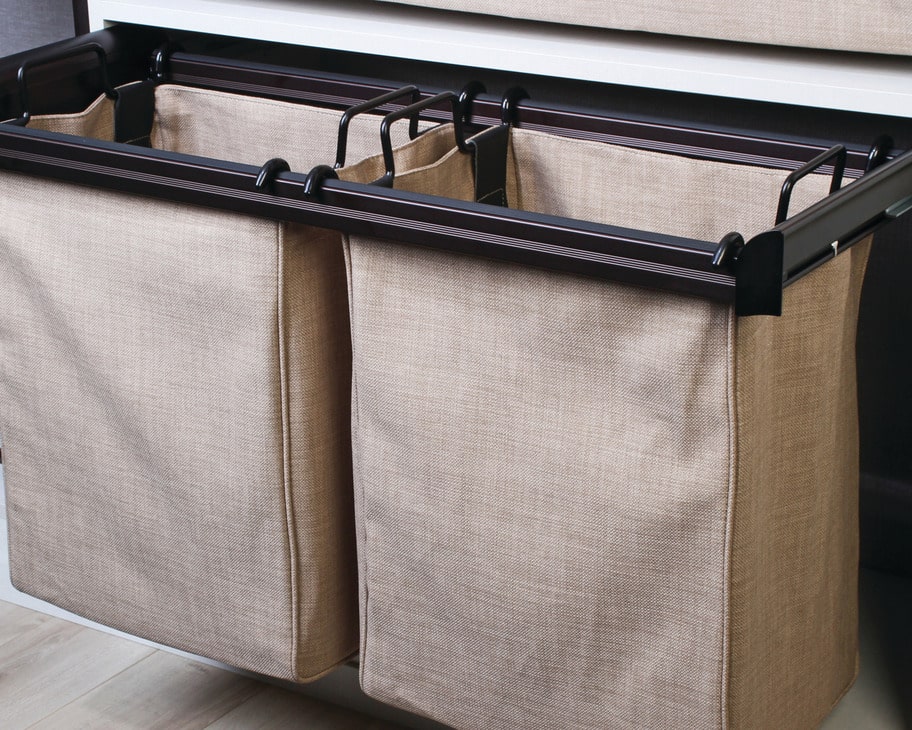 Here you can see an image of pull-out laundry hampers. There is double baskets to easily sort your clothes from dark, light and white! We have many colour options to choose from based on your desired colour theme.
Now it's time to take a look at your space and determine what closet accessories you need the most. Contact us today to get a custom designed closet for your space with the most organized solutions you could ever dream of!
‍