Here, at Riverside Millwork Group, your trim styles and options are endless, there are so many trim baseboard styles to choose from. We not only have a ton of variety to choose from but we can even custom make the trim profile that meets your needs! Sometimes too many options can make things harder, so the first thing to think of before going to view our website or to visit our showroom you should consider what style you want; Traditional or Modern.
You may be wondering what type of baseboards are in style, this can be a tricky question to answer as there is not only one right answer. The first thing you need to understand and decide is if you want traditional styles of baseboard trim or contemporary and modern. Once you determine what style you need, then you can start asking what baseboards are in style and in trend. You can now go to your Riverside Sales Representative and ask for their opinion on what would be the safest profile to choose and what profile would look best in your home. Our Sales Representative are highly trained around every aspect of trim including what styles are in trend and what styles would not suit your home.
Traditional Style
A Traditional styled home may included characteristic from a more historical architectural style. Homes that are considered a more traditional style of home often contain elements from older home designs, such as front porches, covered entryways, columns, and an "older" feel to it. A few timeless elements that a traditional home features is a grandfather clock, a tufted chair, down pillow inserts, vintage décor, nail heads on furniture, brass hardware, antiques and more! The traditional style of homes will always be around, they are not going anywhere. Some people think this is an older style to choose, and to some it definitely is, although there are a lot of people in the younger generation who have come to love the traditional style, finding unique antiques and anything vintage. When seeing the architecture of a traditional home you often see a lot of dividers, such as walls throughout the home to divide into different rooms.
For those who have purchased a century home which screams traditional, they try to stay in the realms of the traditional style. What happens when you need to update the trim, doors, hardware or anything in your home? Riverside can actually replicate century old trim, you can check out our blog "Keep the Charm in your Home with Custom Trim" to find out more information on this option.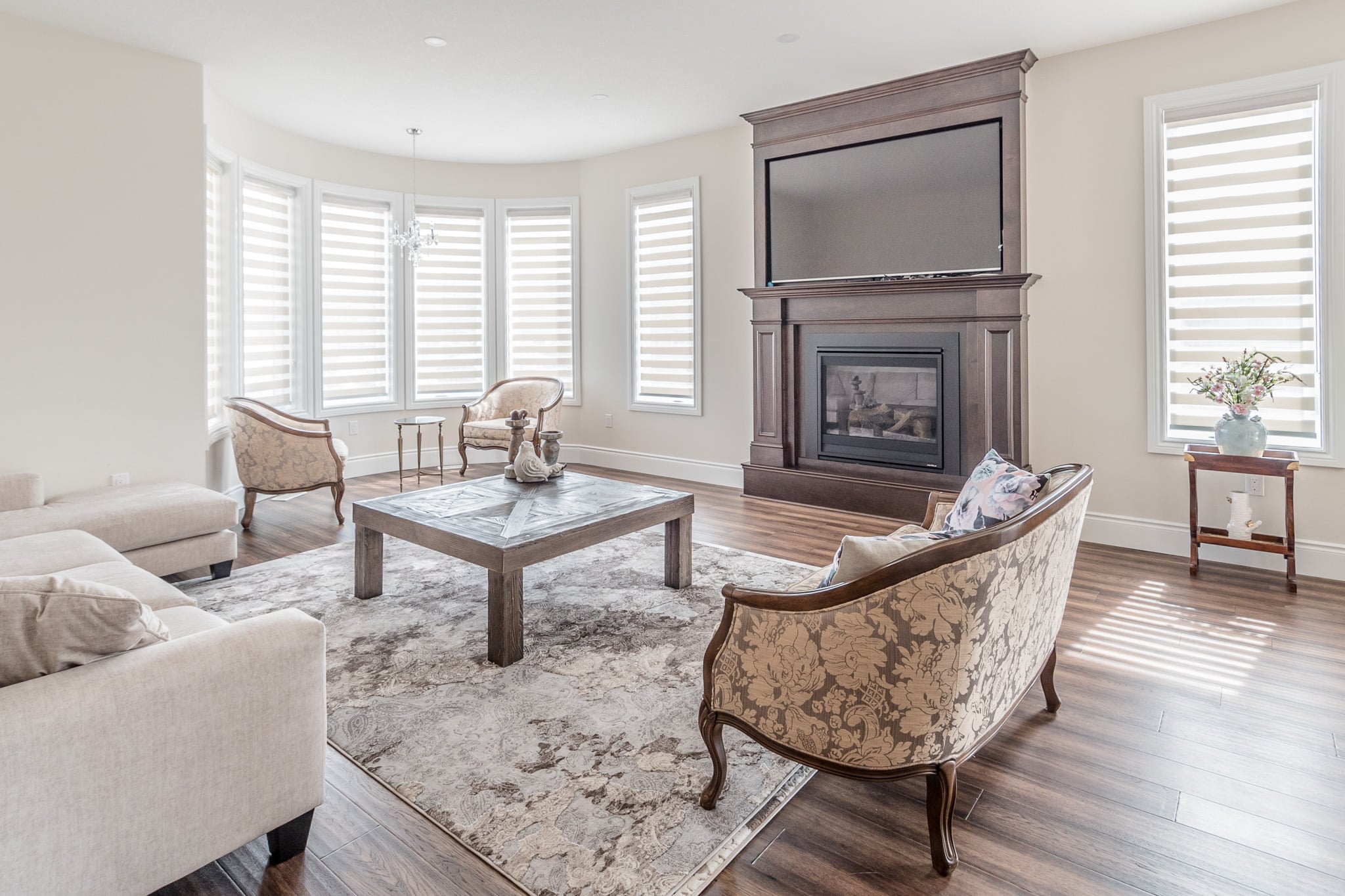 This living area would be considered a more traditional style. All of the textures and colours beautifully demonstrate a traditional home. The curved casing around each vertical window sill surrounding the small sitting area. The patterned furniture with the classic stained curved legs complimenting the fireplace mantel filled with curved and traditional style millwork. The baseboard and casing is our colonial style which matches perfectly with the mantel.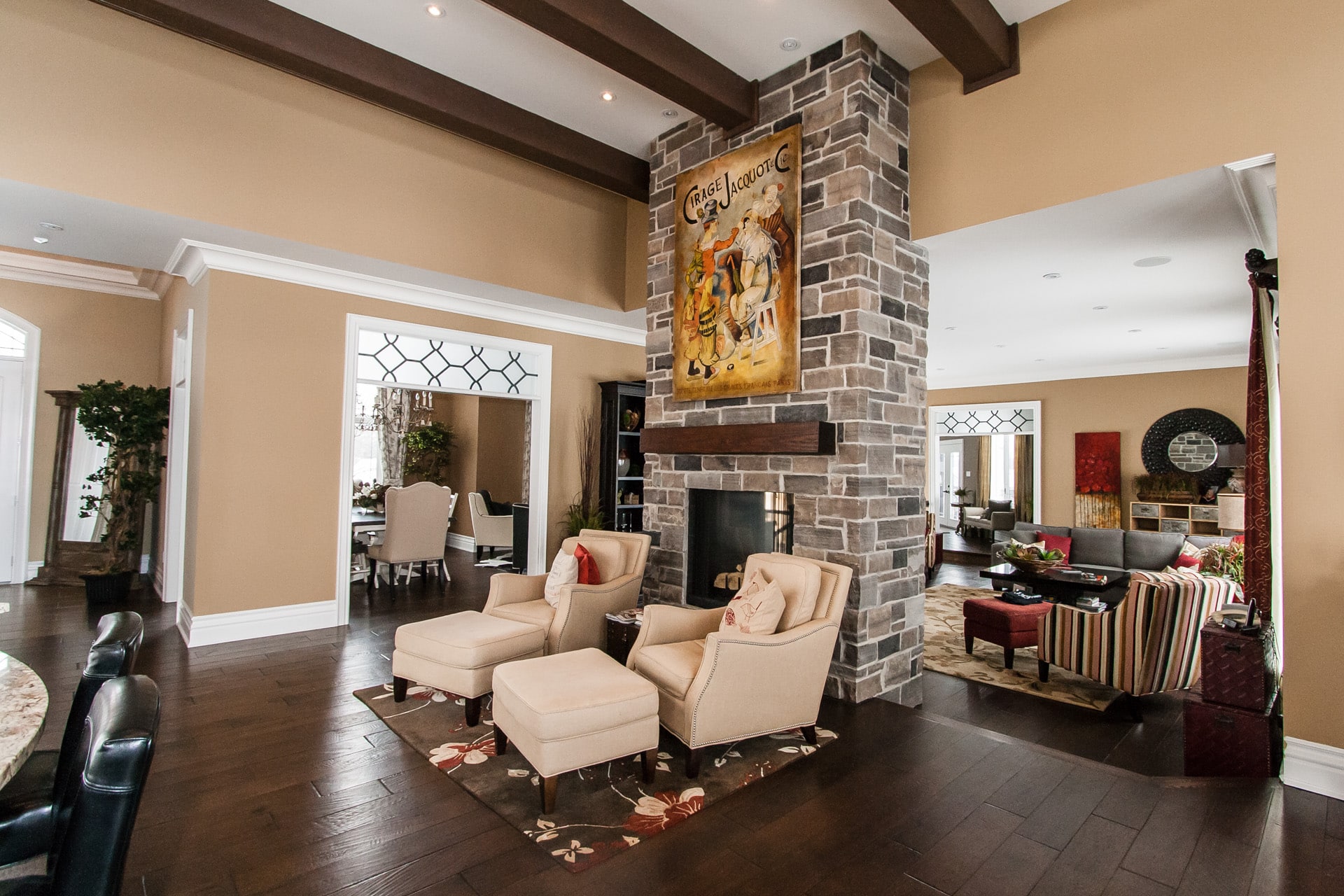 Here is another example of a traditional style home. You can see the dark stained beams on the ceiling with the exposed brick turning into a fireplace containing a matching stained mantel. The trim throughout is our Provincial style Baseboard accented with Shoe mould and traditional Crown Moulding. The Glass transom above every door opening gives a little bit of a pattern throughout the entire house.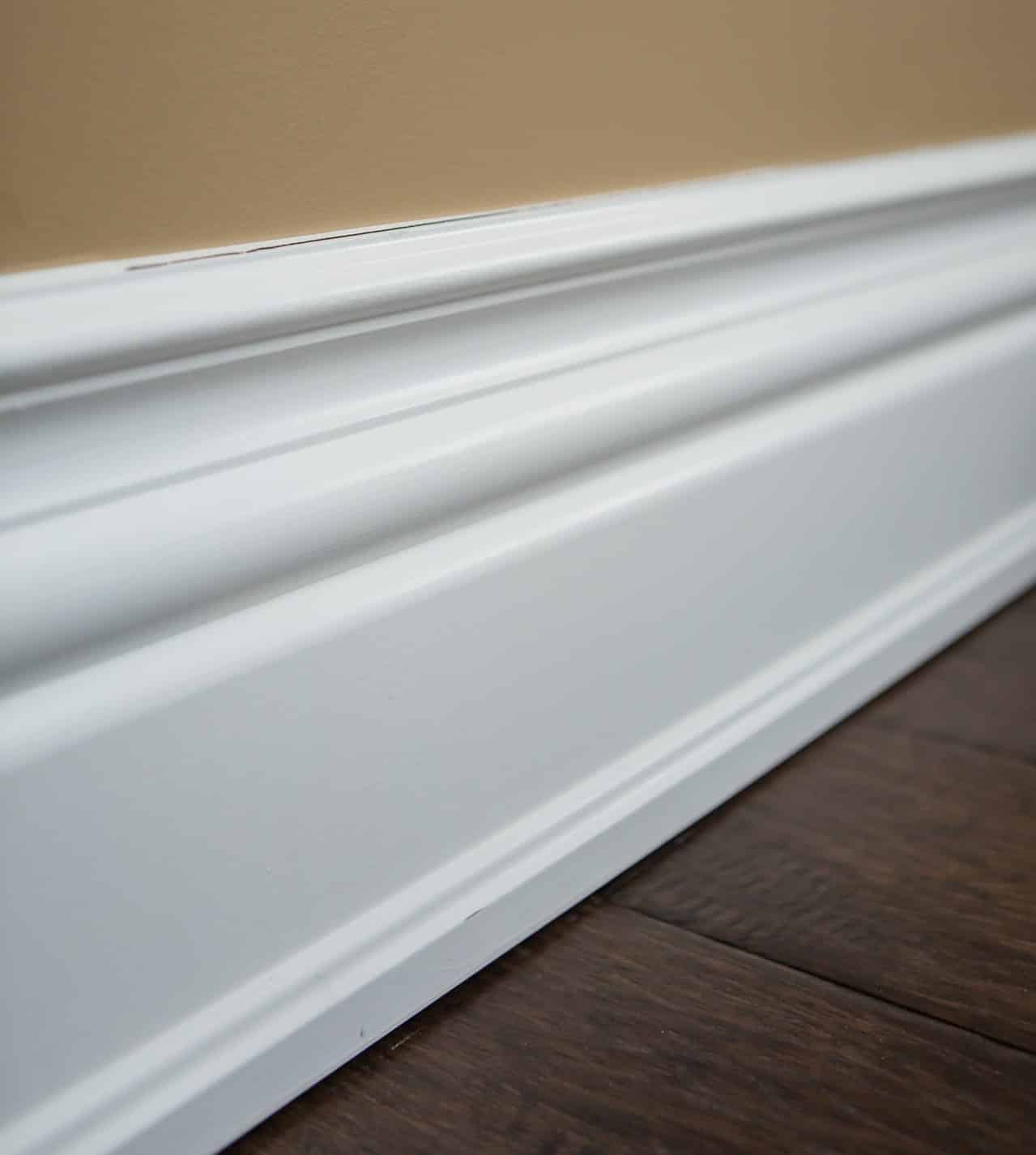 ‍
The image above is a close up shot of the Provincial style Baseboard and Shoe mould.
Modern Style
A Modern styled home is inspired by modern 20th century architecture. Contemporary or Modern style embraces minimalistic elements, you often see a lot of neutral colour palettes such as greys, beiges and shades of white. A home that is considered a modern inspired home features designs that are high on function and simplicity. When seeing the architecture of a contemporary home you don't see many walls, it is more popular to see an open concept where there is minimal walls. Every area, such as the kitchen, living room and dining room are all in the same large area, creating one large room rather than three small rooms divided by walls.
While we have a number of contemporary style trim and baseboard options for you, you can also have one custom made. Our sales representatives are experts at all of our baseboard trim profiles, they can help you decide what the best option for you is, plus they will be able to tell you what styles are the most popular/in trend right now.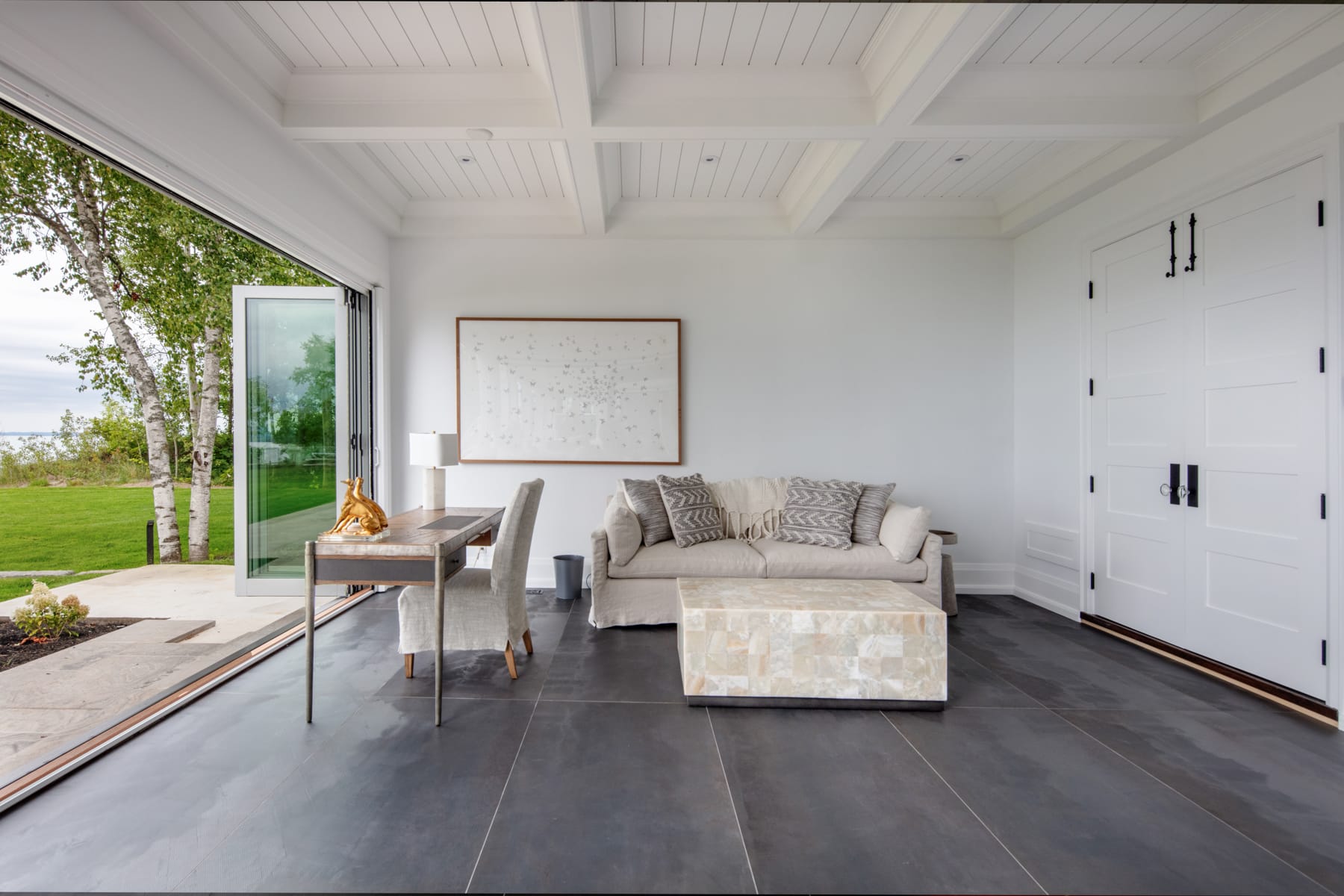 In this modern styled home above, you can see an obvious difference between the traditional photos. For one, you see a lot of white and minimal furniture in a modern styled home. Tongue and Groove in coffered ceilings have become more and more popular, these are actually seen quiet often in both traditional and contemporary style homes. The iron black hardware on all white doors is something that is very popular to a modern home owner. In this home we have our Contemporary Style with Shoe mould and Contemporary Casing throughout.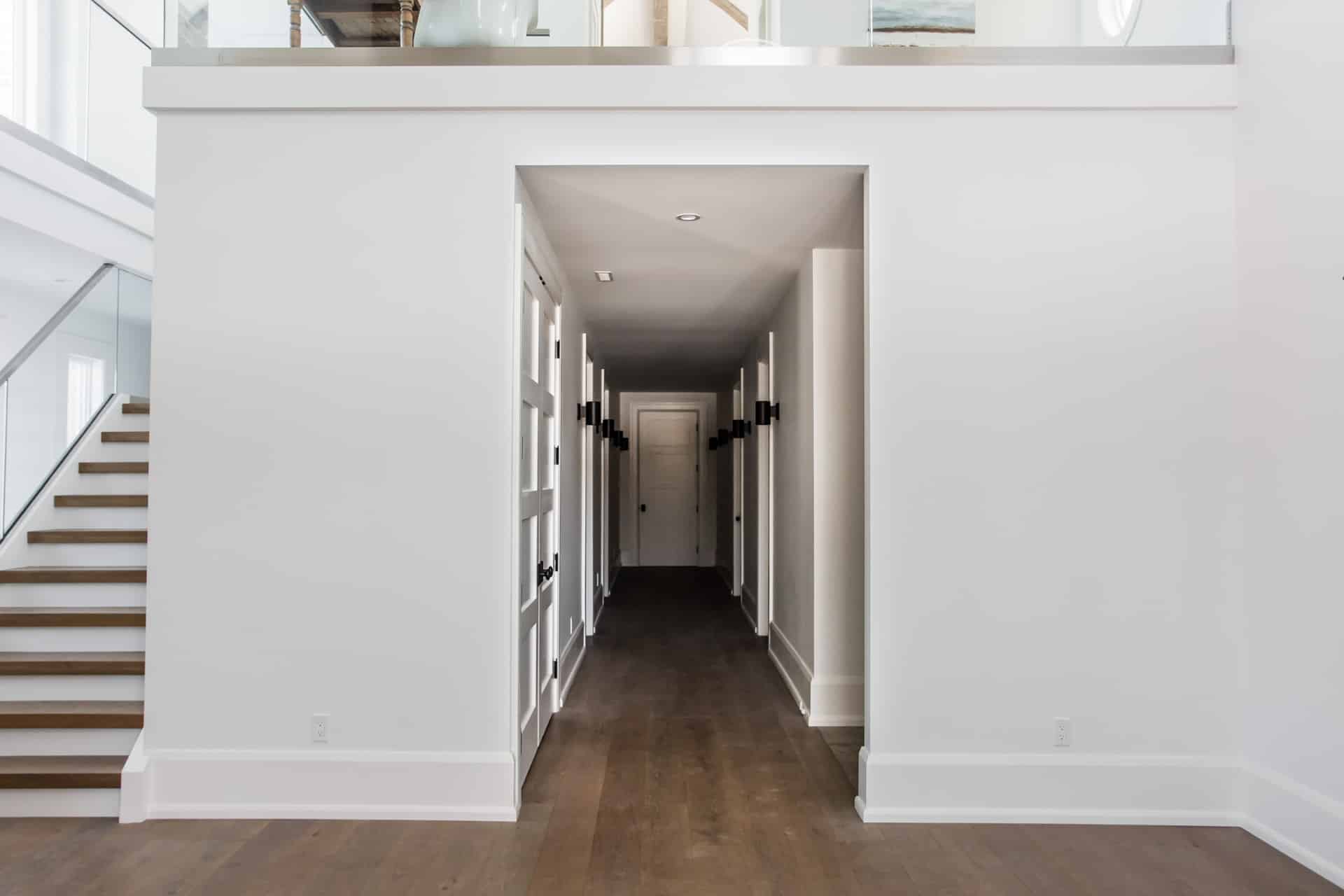 Here is another image displaying a contemporary style home. There is very little artwork, patterns and colour seen in this photo. The trim throughout this modern home is our Bevel style Baseboard and casing. The Bevel profile is very simple with only one slight bevel or curve located at the top of the profile, farthest away from the flooring. This gives a slight subtle indicator that the wall has ended and the baseboard has begun. Sometimes simple makes a huge difference in a space in your home.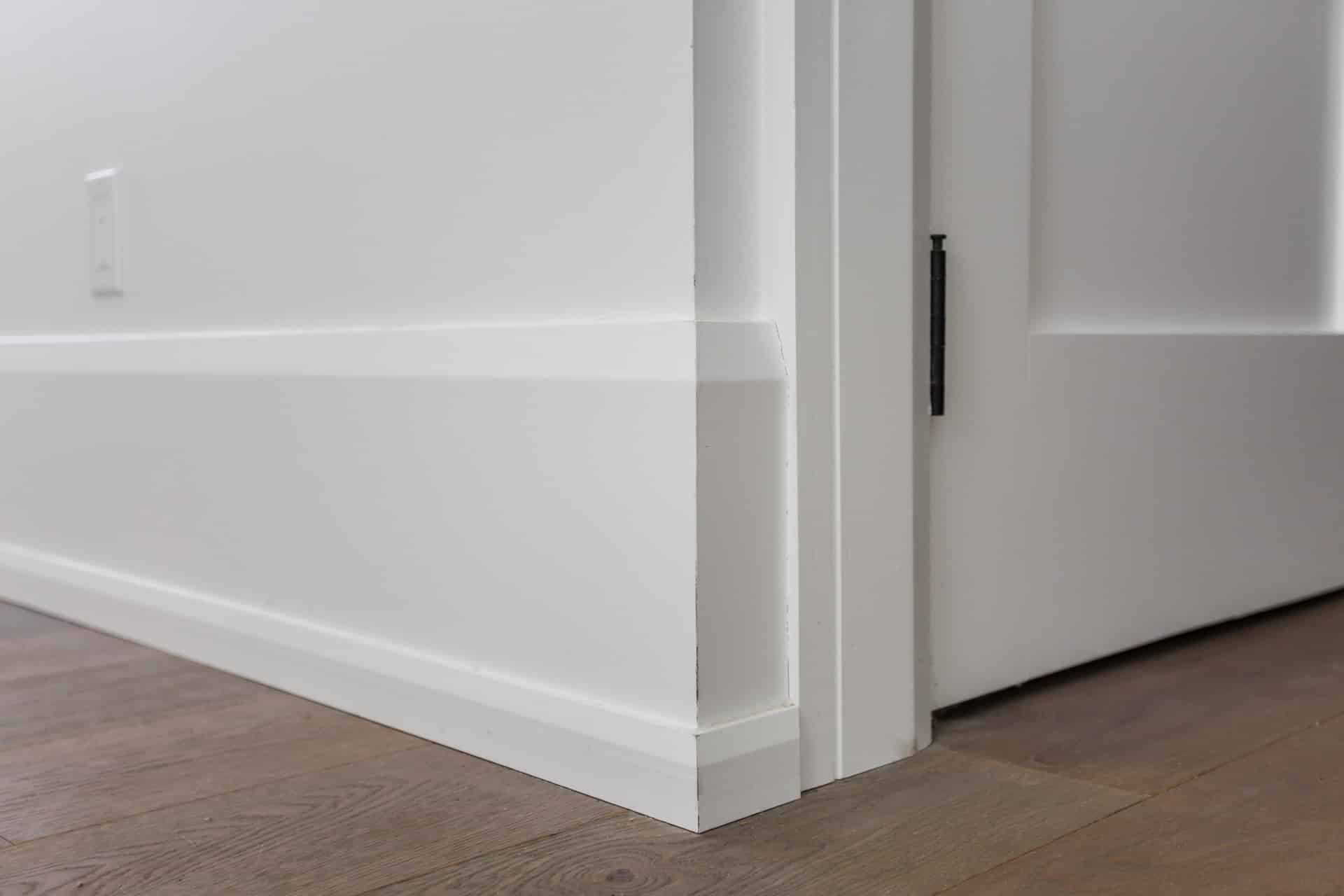 The image above is a close up shot of the Bevel Baseboard and Shoe Mould.
Traditional Trim
Are you searching for a traditional trim baseboard style? We have many options for these baseboard trim profiles, you can check them out on our website or visit one of our three showrooms open Monday to Friday. Traditional baseboard profiles typically contain rounded corners and have many components to each profile. If you are looking for a traditional baseboard trim option, we have a lot of options to choose from, plus we can create any custom baseboard that you have.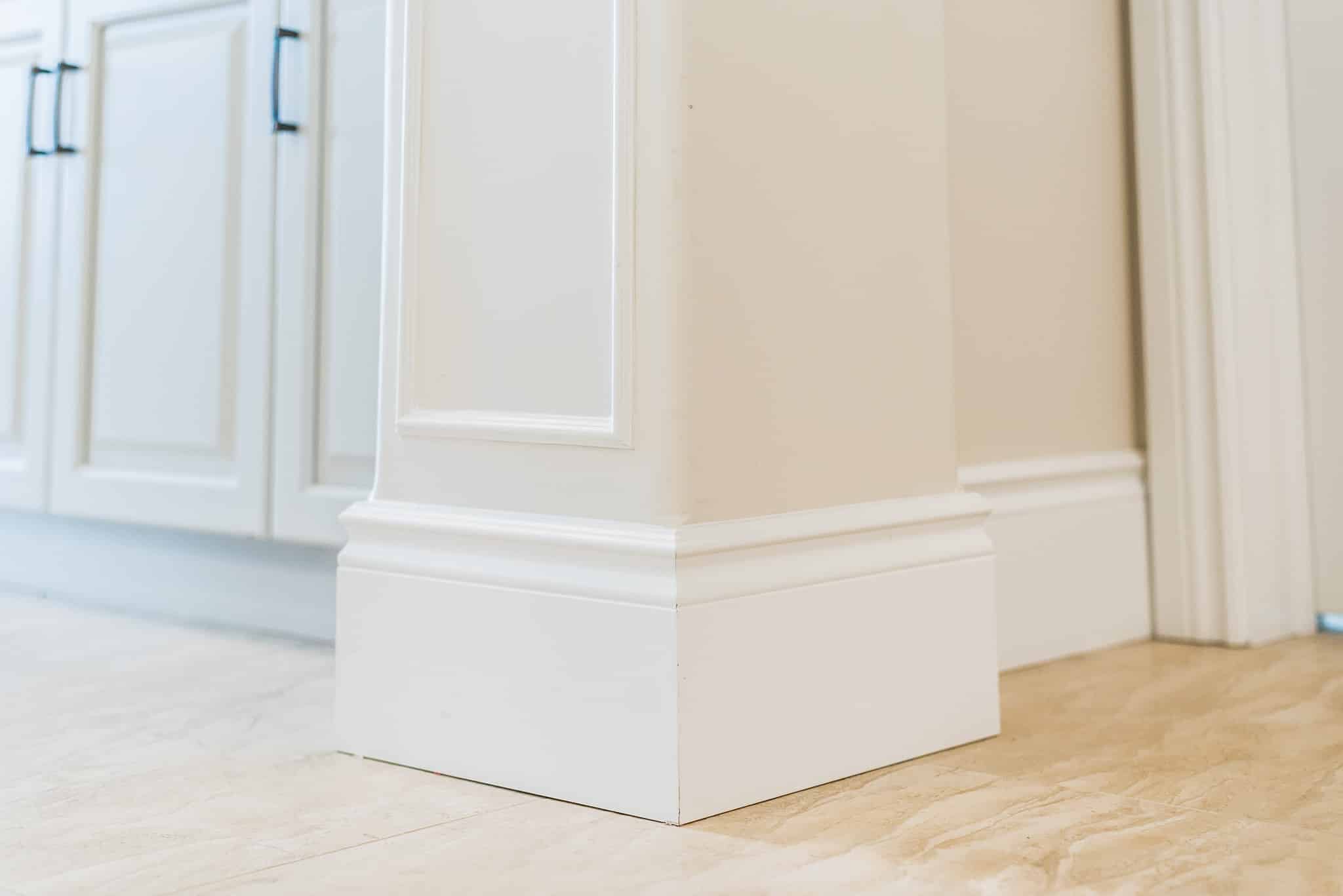 In the image above you can see tall colonial baseboard. The colonial style is one of our popular traditional trim baseboard styles. There are many more components when looking at a traditional style compared to a contemporary style.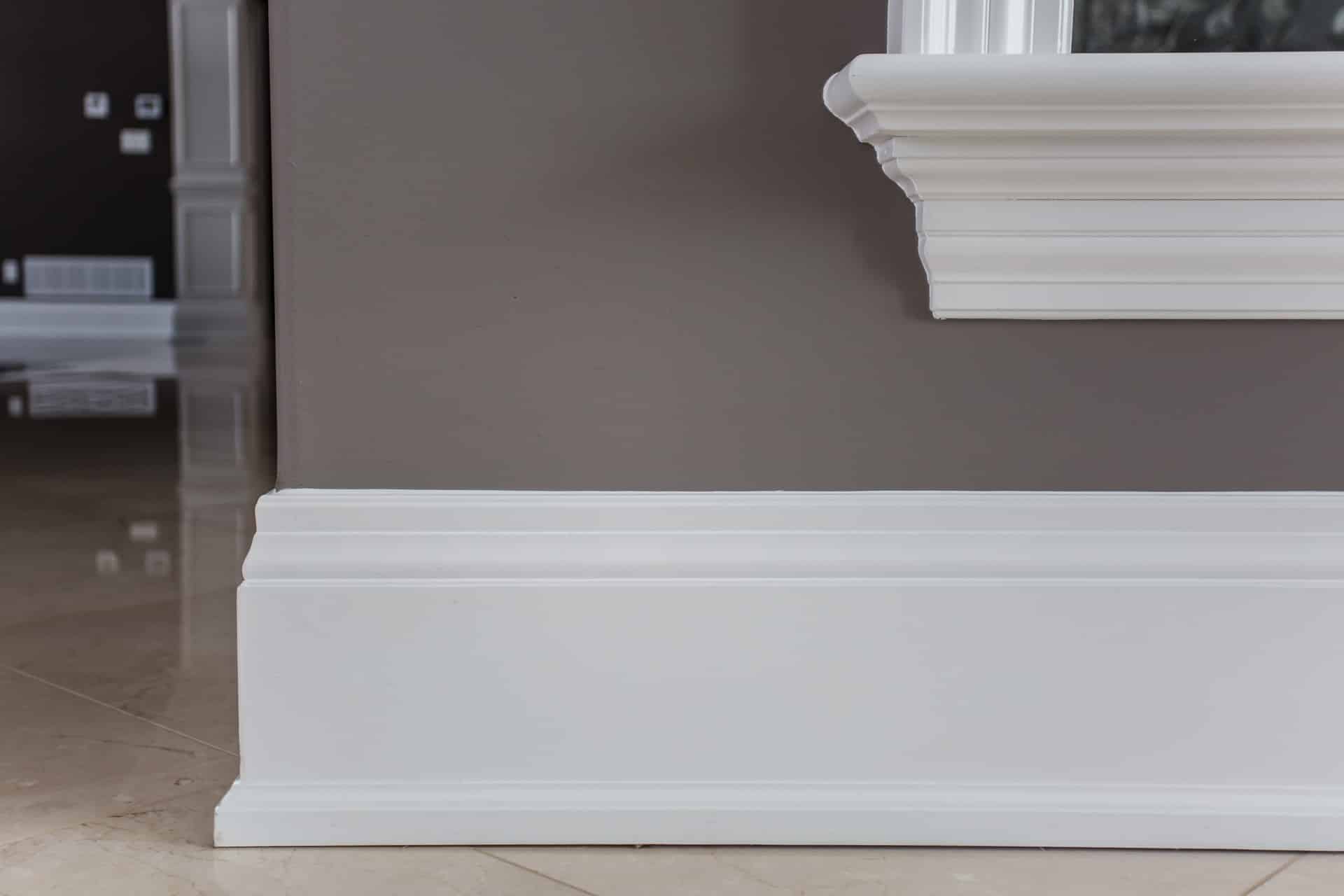 As you can see above, here is another one of our Traditional baseboard trim styles. This unique 9" tall base is our Ornamental Profile. The multiple curves and rounded edges compliment the traditional style window sill perfectly. This Baseboard also contains our Colonial style Shoe mould (LINK SHOE MOULD). The baseboard and shoe mould are different profile styles (Ornamental as the baseboard and Colonial as the Shoe Mould) although because they are both under the traditional style they accent each other in the most perfect way. Nobody would know that these are two different profiles.
Modern Trim
What is a modern or contemporary baseboard trim style? Many people don't really understand what the style looks like. The contemporary baseboard trim style typically contains minimum curves, corners edges, designs etc. It is a more minimalistic look. Some profiles only display a couple of edges while traditional has many different components to each baseboard trim profiles.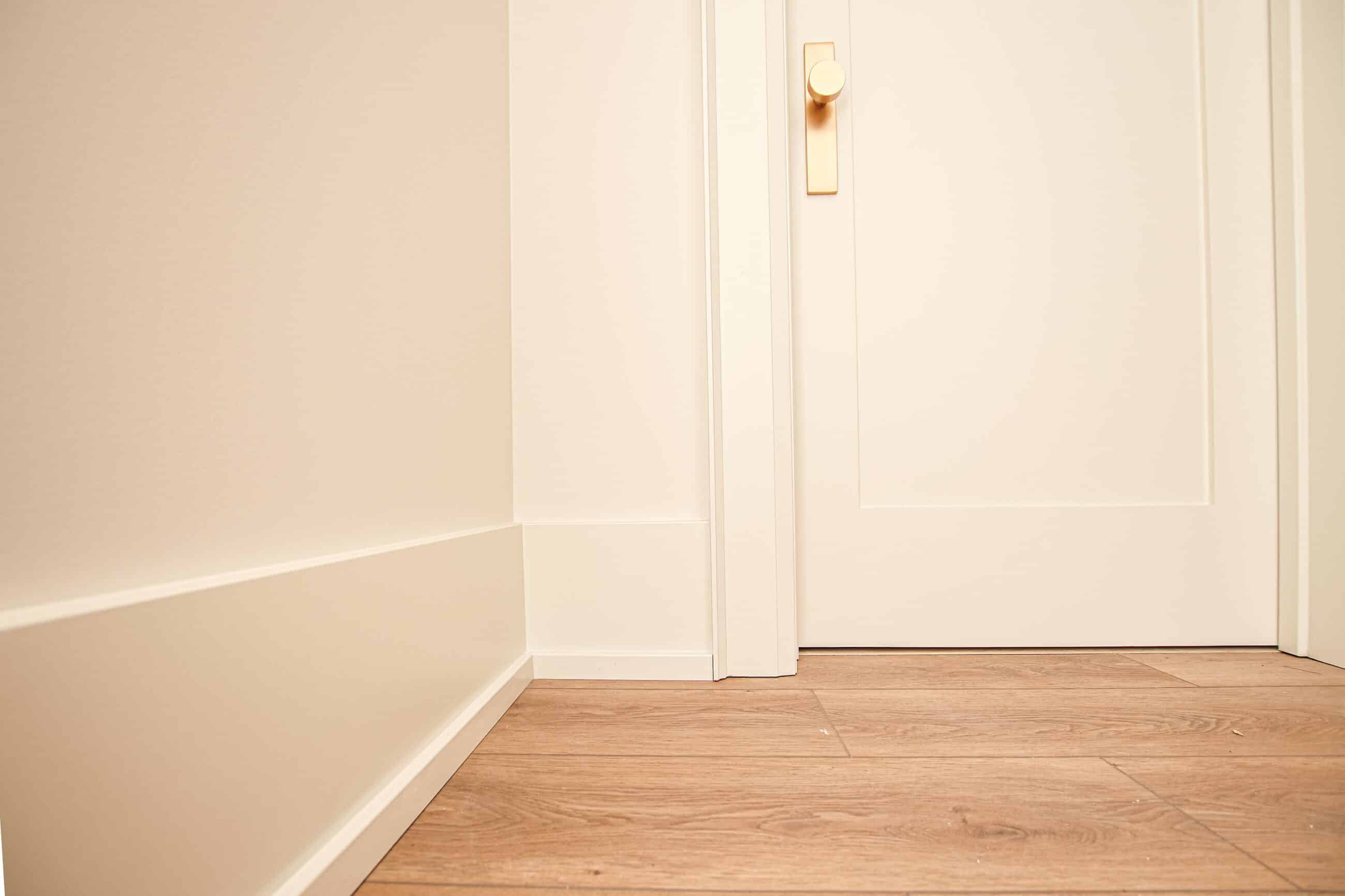 Above is an image of one of our popular modern trim baseboard styles; Eased Edge. This is our most minimalistic profile, it is very simple but looks absolutely stunning in a contemporary style home. In this image the baseboard contains Shoe Mould as well, it is important to determine if you need shoe mould for your home or not, it is best to talk to your Riverside Sales Representative to help you decide if you need it.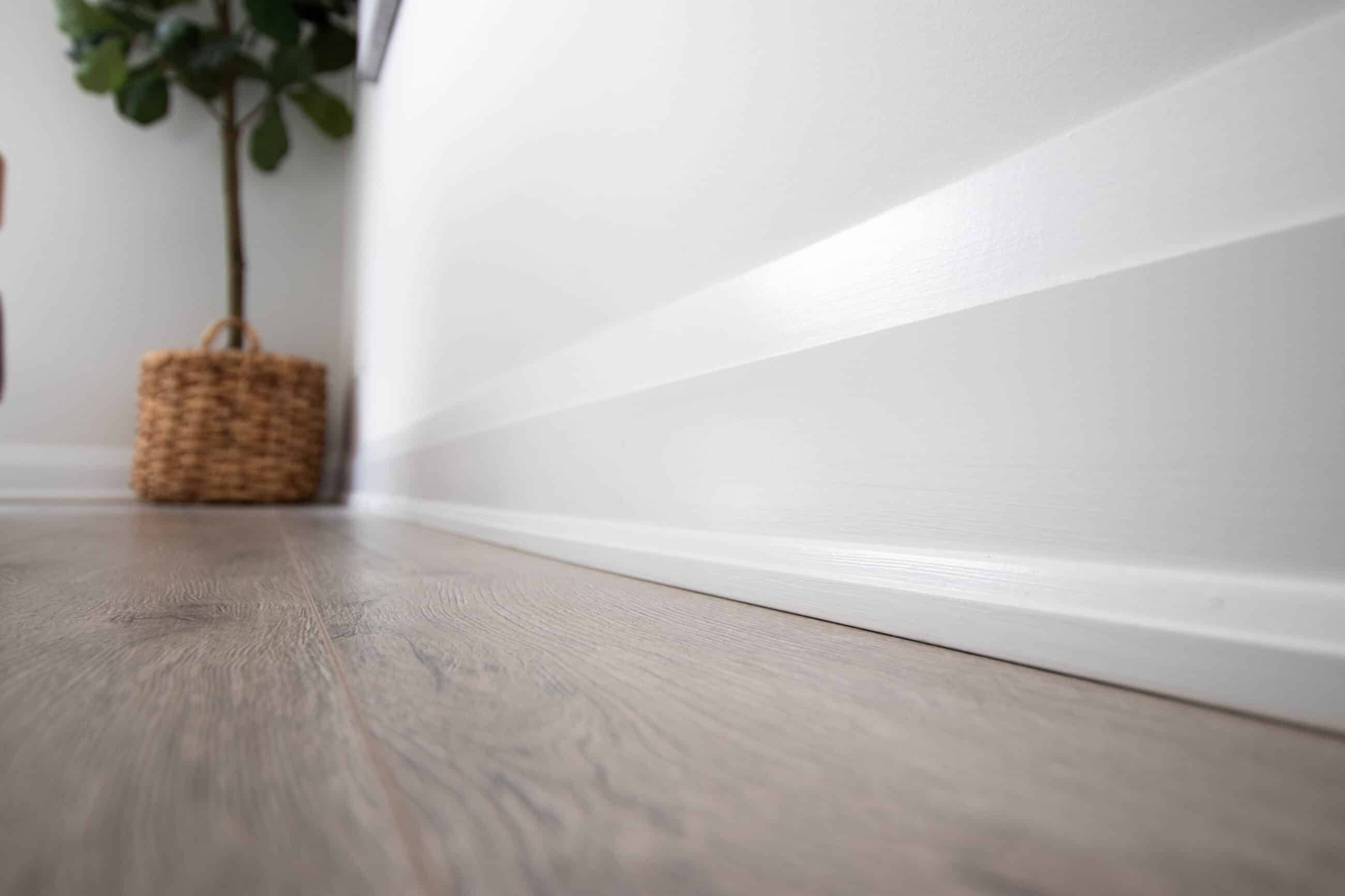 Here is another one of our very popular contemporary baseboard trim styles. This profile is simple to remember as it falls under the contemporary and modern style. This profile is called Contemporary and also has Shoe Mould at the bottom of the base. This is a profile you often see in new home builds or any new home that has been renovated with all new trim.
Now you probably have a better idea on what style you are looking for when searching for the best baseboard for your home. Can you answer the question; Do you want a traditional or modern style of baseboard? After reading this blog I am hoping you are more confident in the style you need. The next step from here is contacting your Riverside Sales Representative to get baseboard trim prices for each profile under the category of your choosing.
‍