Have you ever thought about the colour of your interior doors for your home? Many people automatically go towards a classic all white interior door. We're here to tell you that your interior door colour doesn't have to start and end with white. You can choose to have a stained door to fit into your home style and décor, or a bold dark door, as dark as iron black (which has become very popular in the past few years ), or you could opt for an entirely different style of door, where the colour isn't as big of an impact because the main focus on the door is glass, this would be a French door.
Here we breakdown some of the popular colour trends for interior doors , and hopefully give you some new ideas for your upcoming home décor project. Because at the end of the day, white isn't your only option when it comes to door colour!
Classic White Interior Doors
The most popular go to interior door colour is the all white moulded panel or stile and rail door. White is a universal colour known for peace. It is a simple colour that matches everything and gives off a calming effect to people in a household. A white door gives the illusion of a larger space, which most home owners desire a larger living space. If you need serenity in your home a white door would be a great choice as the light colour is refreshing and easy on the eyes and provides a pacifying environment. White interior doors can be seen in both modern designed homes and traditional, or century homes.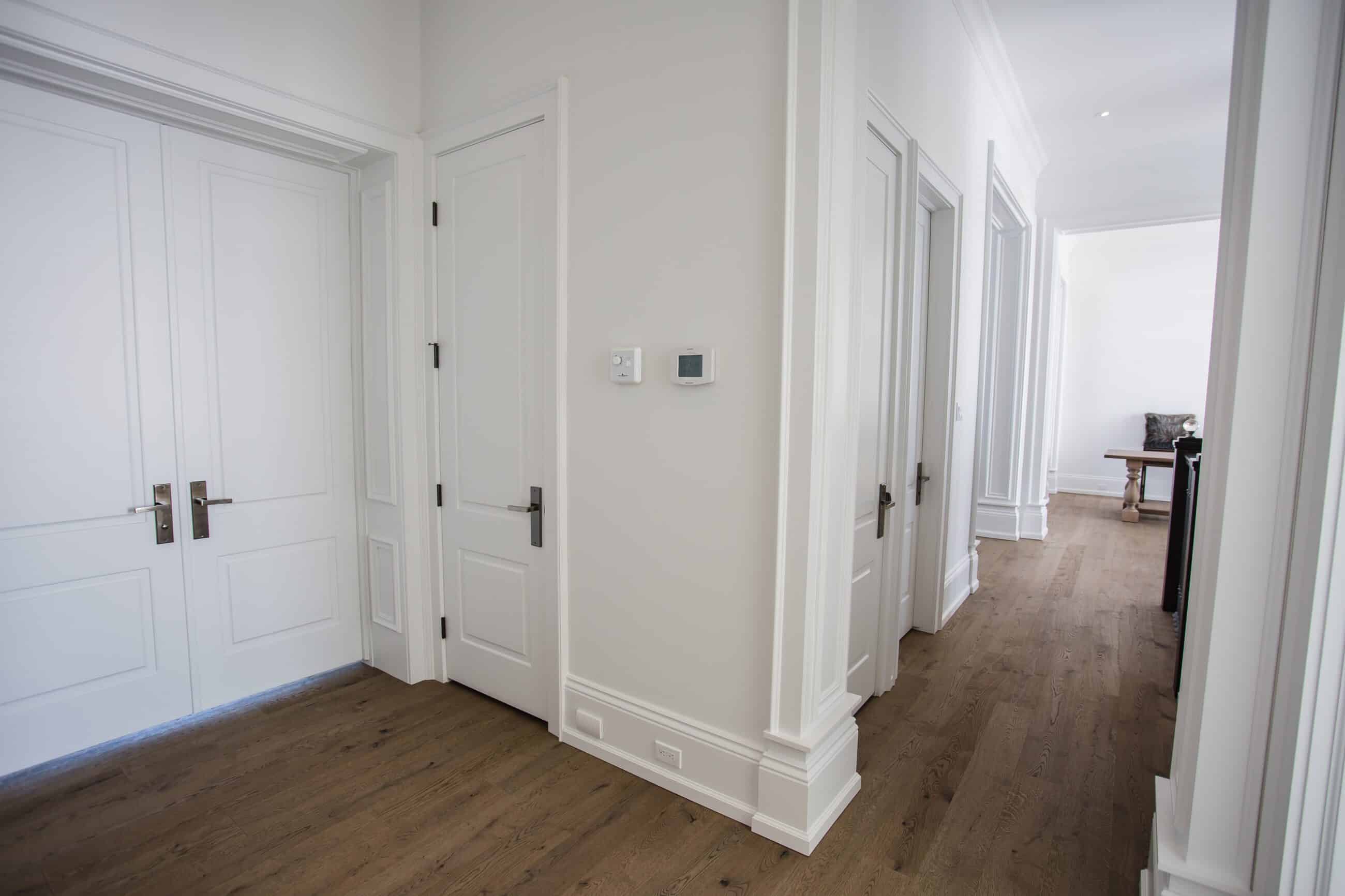 This image showcases all white walls with matching white interior doors, beautifully accenting the stained flooring. The white on white also amplifies the other décor elements in a home. For those who plan on staying in a home for a short term it may be best to stick with white interior doors as it is the most common and not many people dislike the classic white door.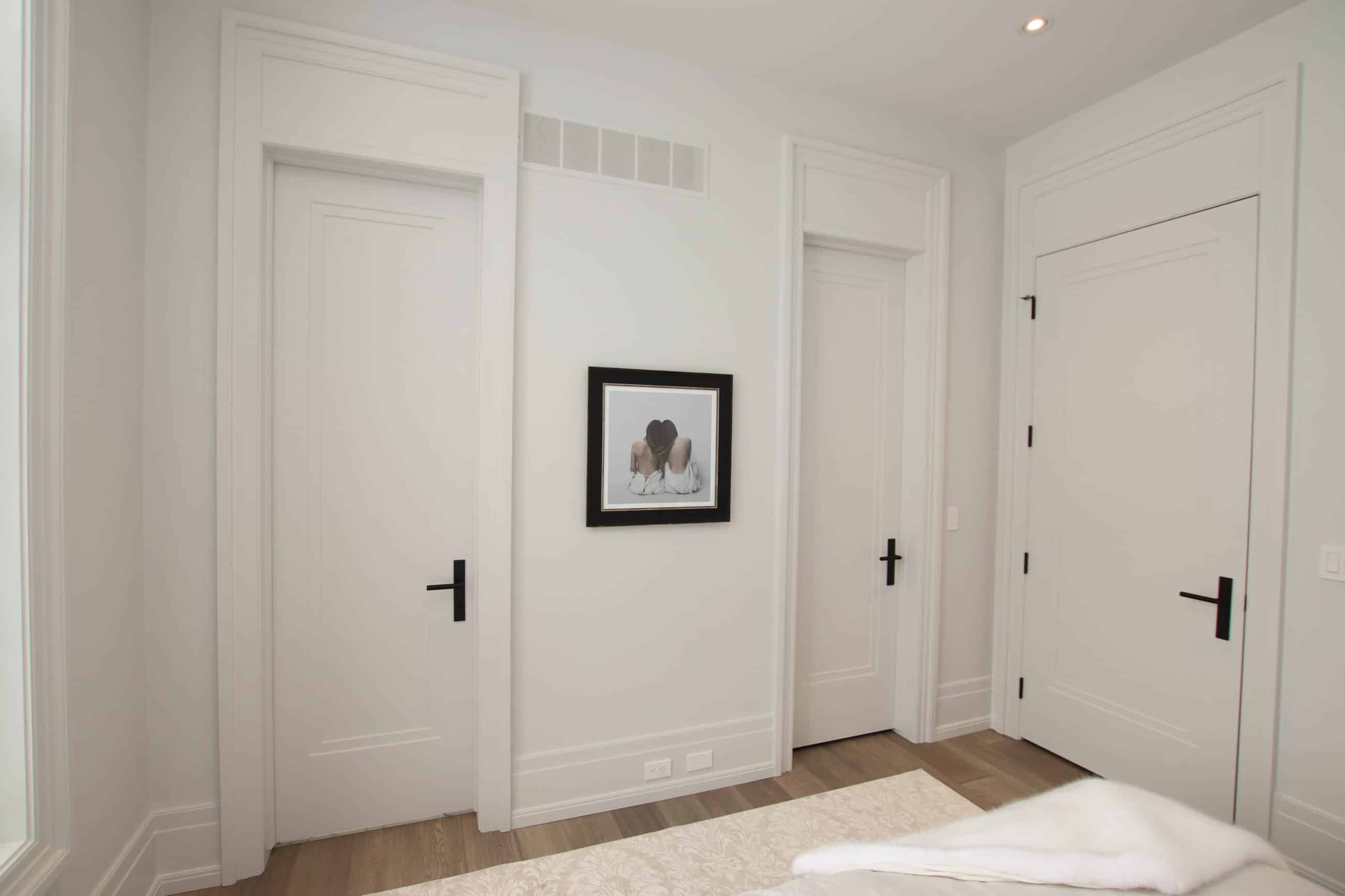 If you don't want to step outside of your comfort zone to choose a coloured or stained door , there are other areas of your home where it is an easier change, more cost effective and still gives you the opportunity to choose a new, unique décor home style. For example, you could choose a unique lever or knob. Hardware options are endless, and Riverside has a variety of options sure to meet your needs. From jet black to satin nickel, or crystal to bronze, we are able to give you many styles and colours to choose from, all of which would look spectacular on an all-white interior door.
Painted Interior Door
Painting your interior door can be an exciting easy home renovation you can do to increase the décor with using the existing items in your home, or taking a new primed door and creating any colour of door you desire. If you decide to go down this path, deciding what colour to choose when there are 1000's of possibilities, can be a difficult decision to make. It is common when choosing a colour to paint your door to go off other design elements in the room and across the whole house. The doors are meant to compliment and align with your homes style. Sticking to a neutral colour is therefore more common and often why we see doors painted in grays, blacks, and off-white tones more than anything else.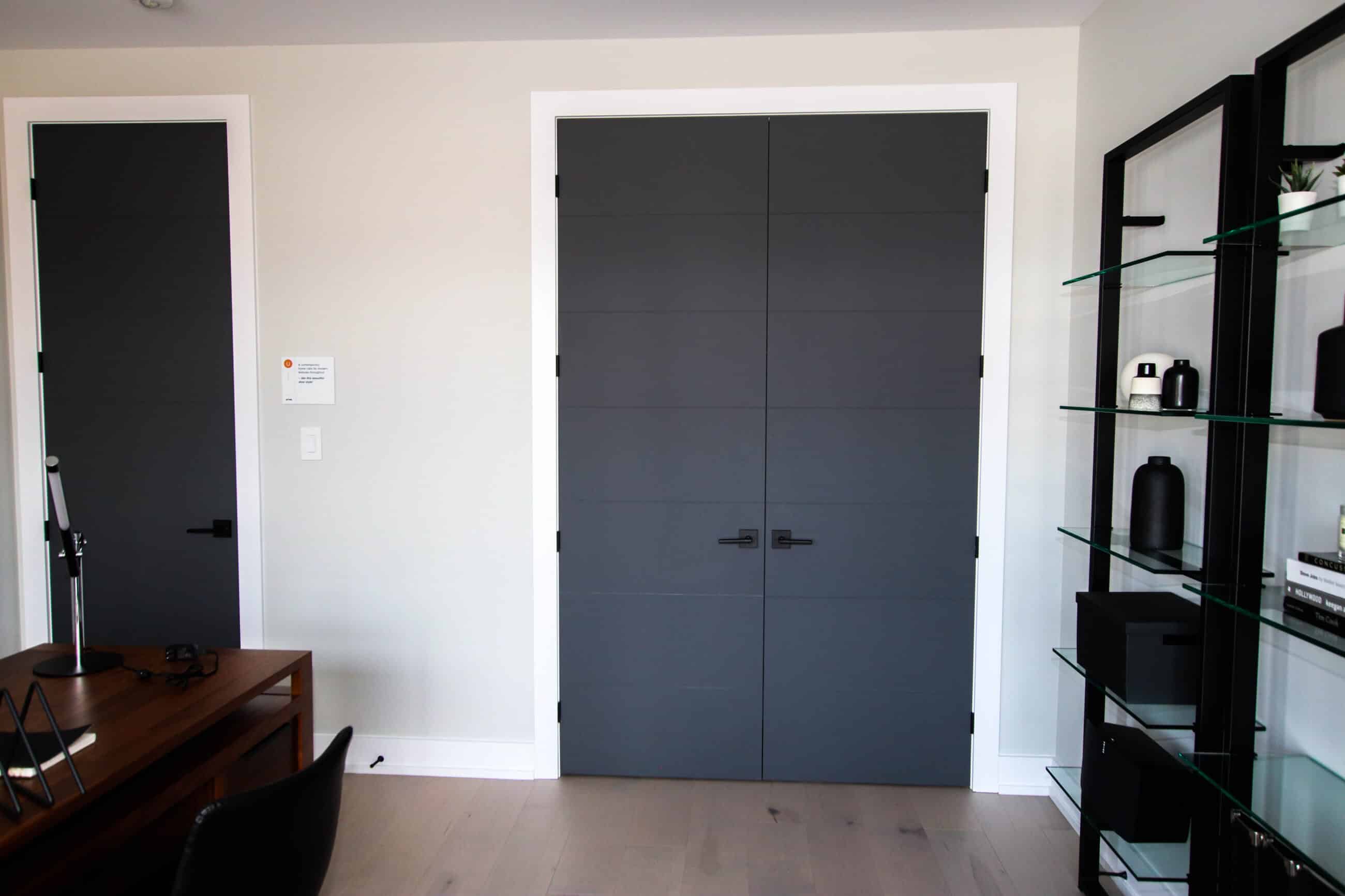 This Melrose style door is an example of using dark tones without going all black. This colour is throughout the entire home adding a unique touch to the home and hiding all of the unwanted dirt around each door. These doors are displayed in a home office adding contrast to the light coloured walls but complimenting many of the furniture choices that are also dark.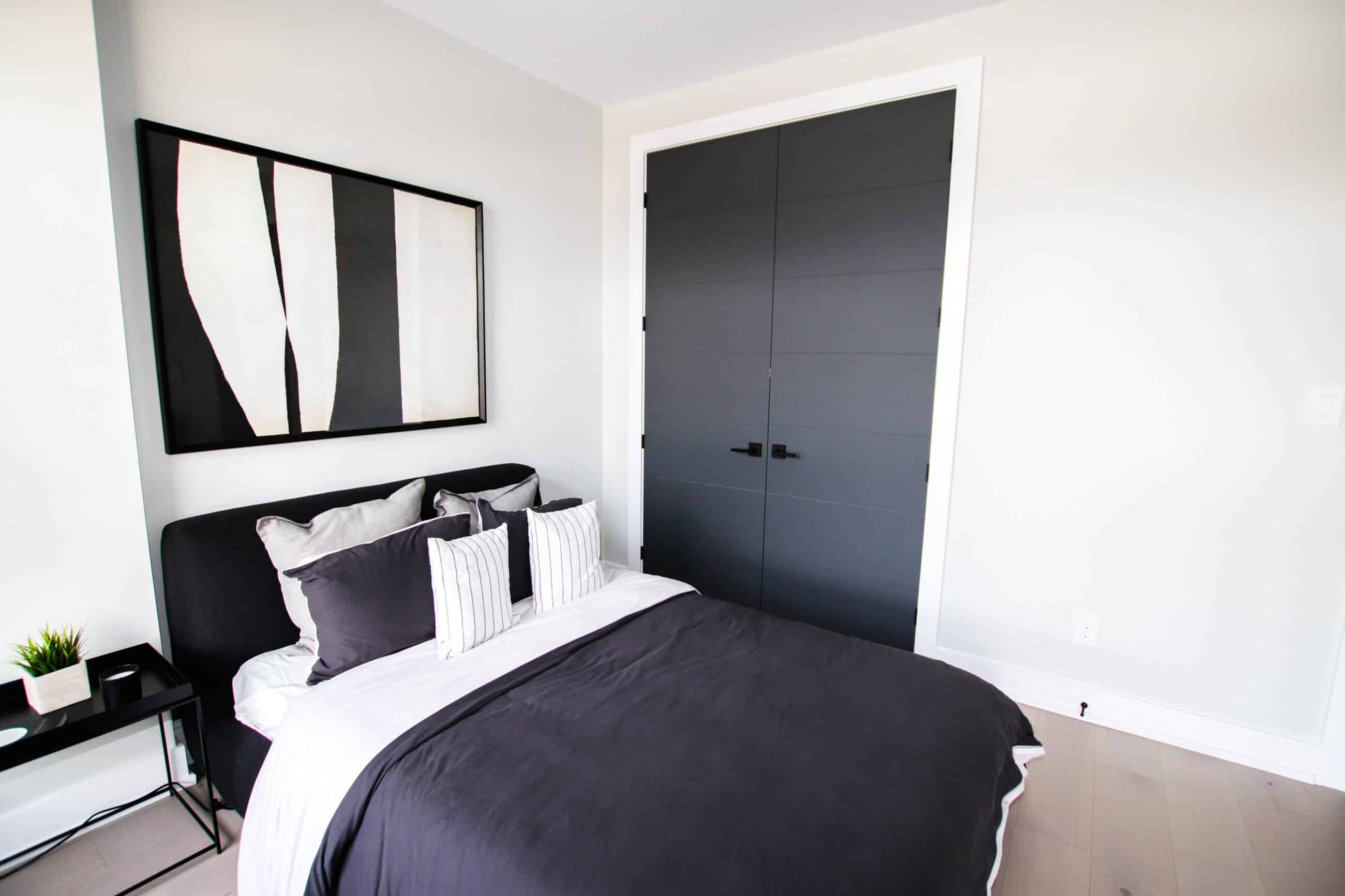 In the bedroom of the same home, the interior door and the artwork above the bed compliment each other perfectly. It is easy to choose simple minimalistic décor elements when your interior doors are a décor piece on its own.
Stained Wood Interior Doors
Keeping the original wood features on every interior door and simply magnifying them and giving them more life could be looked at the same way as your home. You are taking the original parts of your home and simply using the unique characters of the door as a piece of style and décor. Stained doors are not as common as painted doors although they are very unique and take a specific type of person to seek the stained door. Wood doors are seen often in a more traditional style of home, although similar to the image below they can also be seen in a more modern home. It can be predicted that going with a wooden stained door would age well overtime in the style of the home.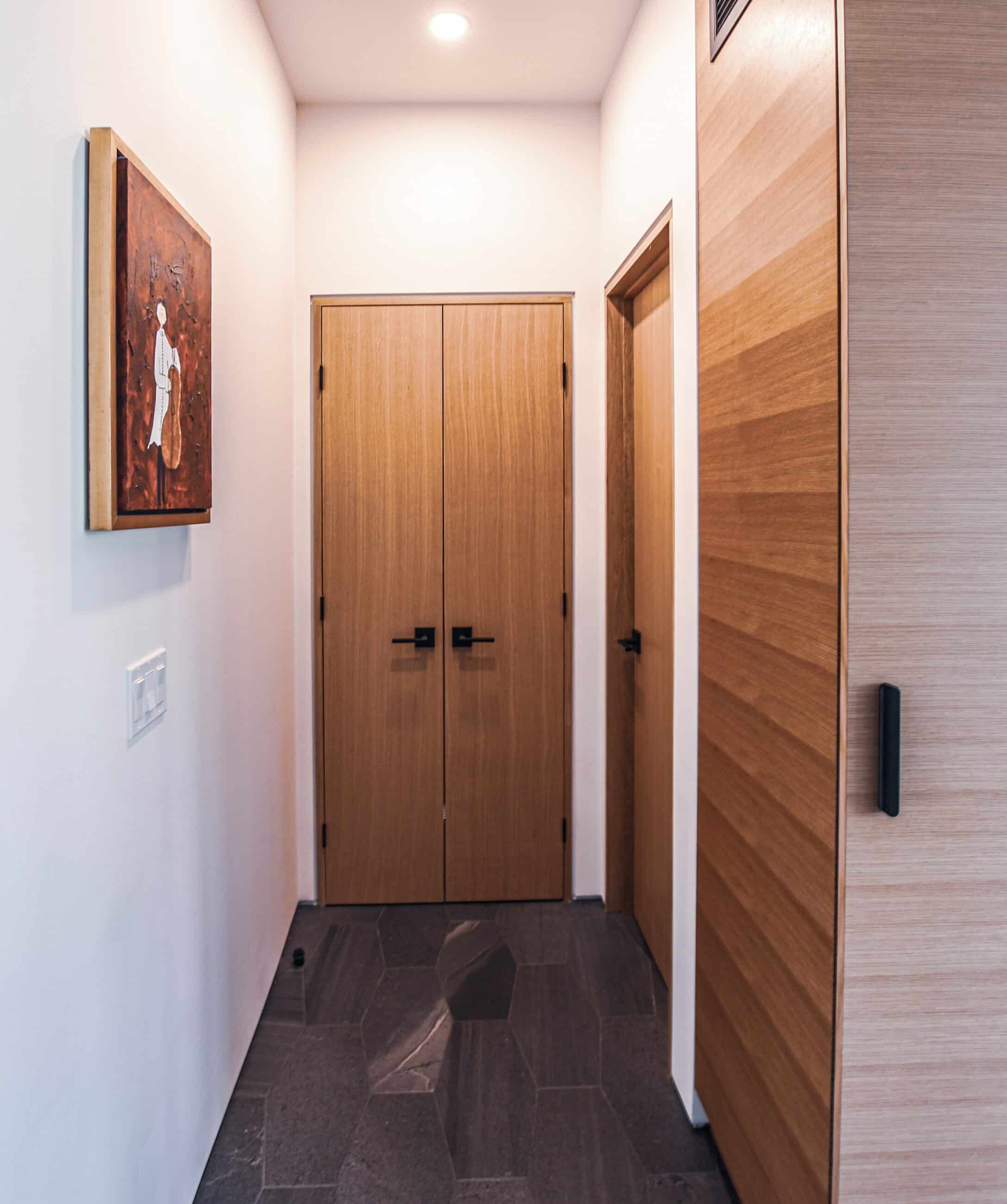 In this home, the interior doors are simple, yet unique. This home also displays a unique type of casing, this is called Shadow casing, where there is no actual casing surrounding the door, it is the shadow you see surrounding the door. This is a perfect option for casing and trim around a stained door because the elements of the wood in the door give off so much texture that wide casing isn't needed.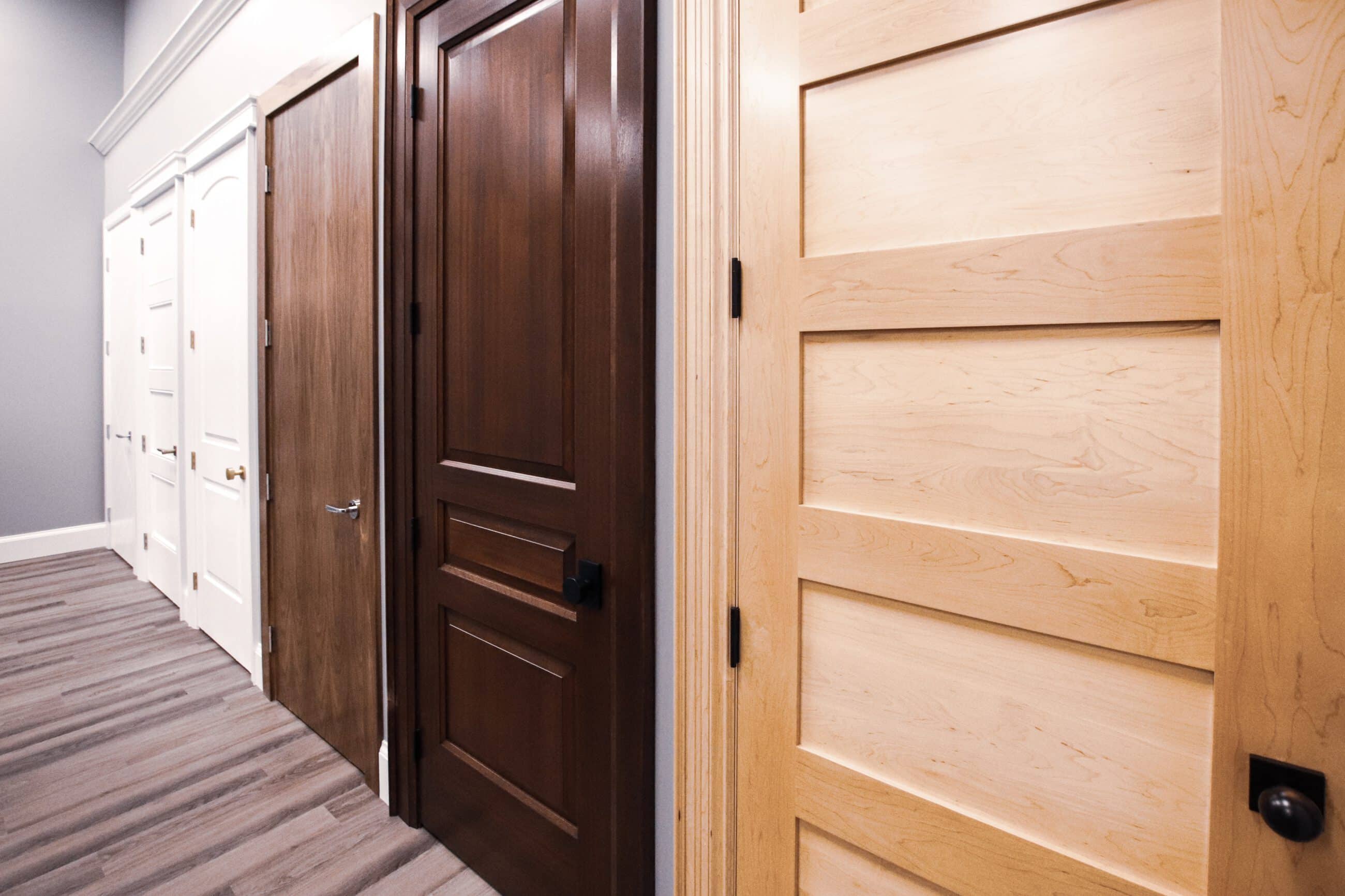 We have a number of different wood species and stains available for any door you desire. You can visit one of our three locations to view some of our options we have available, and if you don't see exactly what you had in mind, we are able to do whatever we can to meet your needs.
Black Interior Door
Black is back and becoming the new neutral for many people especially when it comes to home interior decorating. Jet black interior doors are becoming very popular. You may not see them often but when you do have the pleasure of witnessing all black interior doors in real life it is something you will remember. It is something in your home or building that people will automatically recognize and comment on because it is a household element that is not seen often. The reason why many people opt out of choosing a jet black door is because it is extremely bold. You have the question of "will I get tired of this" "is this too dark" "will I hate it after a year." There are many factors to consider, although if you make the decision to go for it many people are not disappointed. The amount of comments, compliments and questions guests have on the doors will always come.
Black doors not only look beautiful to the eye, especially one who takes an interest in interior trends, but they can be easier to manage as a home owner or landlord. How many times have you had to clean dark smudges around your doors? Do you have someone in your household, or customers coming in and out, who have a career where they are getting their hands dirty.. literally. Well then you must get frustrated looking at your bright white doors with dirt all over them. Black doors will not repel dirt but they will not magnify dirt. If you can hide it, why not!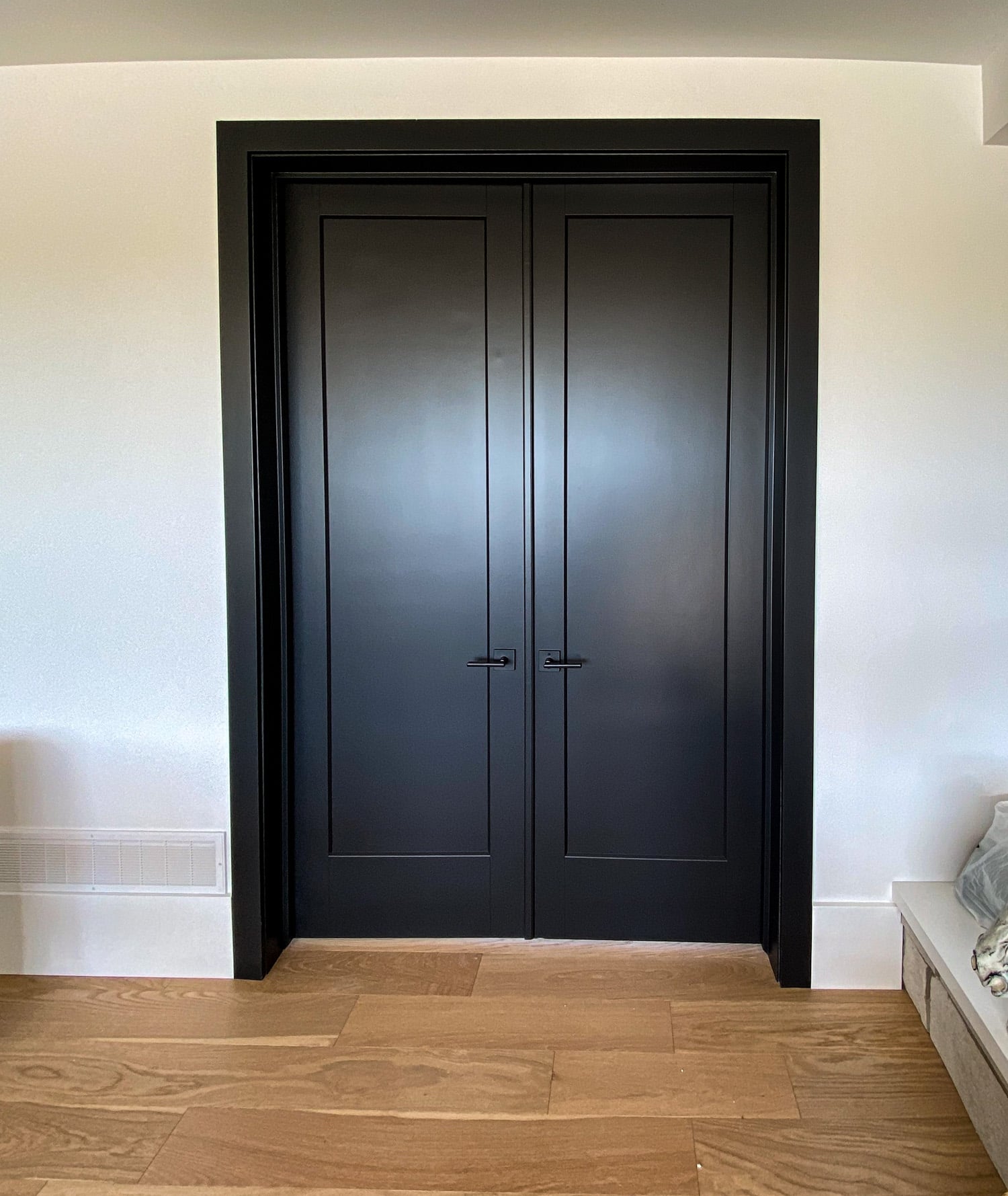 This all black interior door is accented with matching all black casing and iron black hardware. Everything is simple because the bold dark colour doesn't need any extra elements to it. One part of this image to point out is that although the casing surrounding the door is black, the baseboards around the house are white. You do not always need to have matching casing and baseboard, it is okay to not follow the norm of all white casing and all white doors. It is your space; you have a blank canvas to do whatever you please.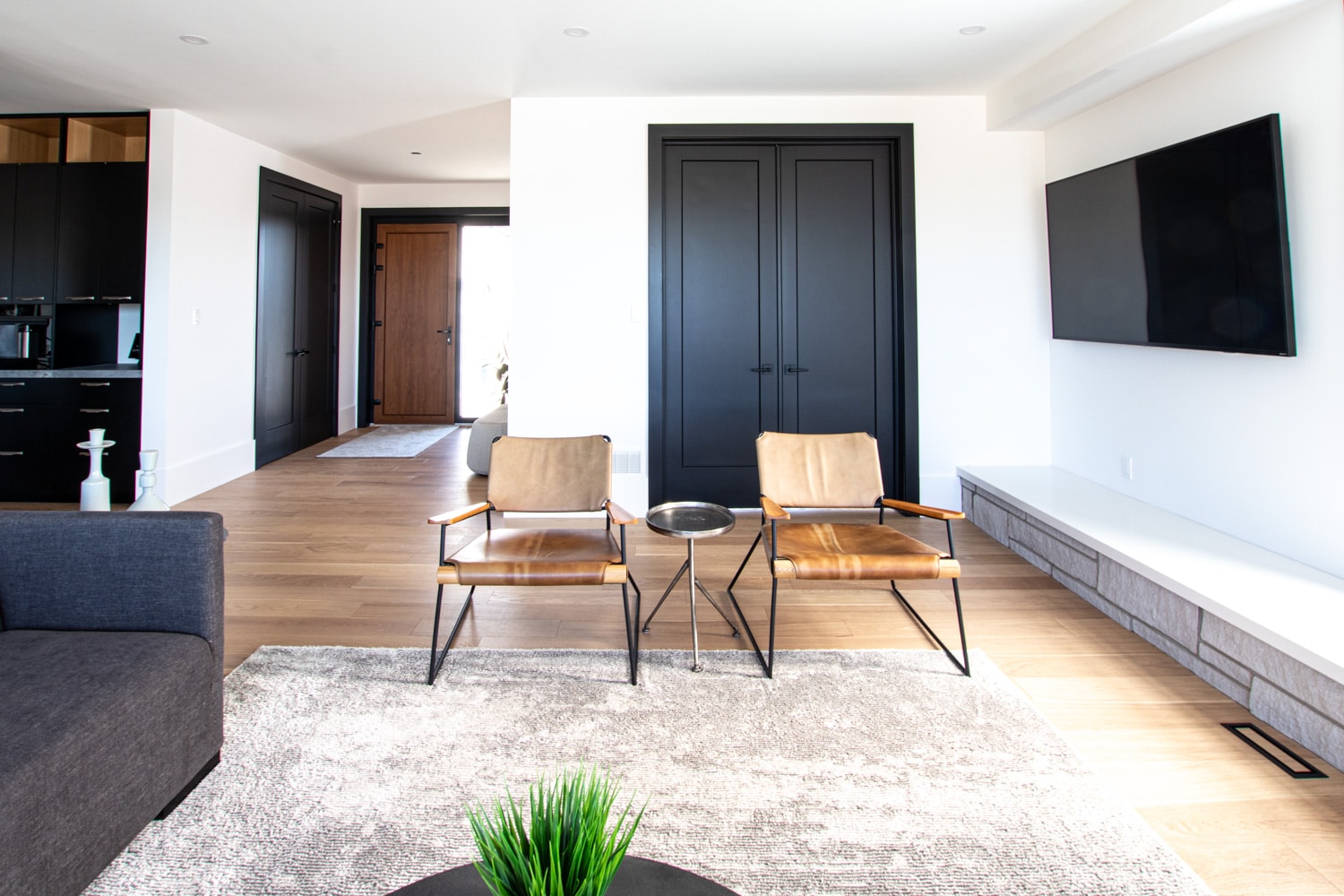 You can see in this image the black interior doors truly stand out making a statement in this home. The entry door has black elements from the interior doors, seen in the casing around the exterior door and glass sidelights.
The colour of your door may not be something you thought you should consider because you automatically resorted to the classic white interior door, which is very common. Or sometimes there is a the misconception that the casing around your door has to match all of your baseboards so you have resisted getting away from white. Now that you have seen what can be done, the next time you are considering updating your interior doors or if you are building a new home or updating your existing doors in a project, try thinking of colour options outside of your comfort zone. You may be surprised by your results!
‍