The housing industry has seen a great increase in demand ever since the beginning of the COVID-19 pandemic. With so much time being spent inside, we are looking at the design elements of our homes now more than ever. With many families going from a go-go-go lifestyle to staying at home every night, more people are considering renovations; and some are even adding an addition to their home for a little more space.
If you are renovating a century home or thinking of adding an addition but want to be certain that you stay as close as possible to the original profiles used, then our custom trim capabilities may be just what you have been looking for.
The images below showcase a recent project in which a client was adding an addition to a century home. They were adamant of keeping all existing spaces untouched and to match the new spaces as closely as possible. This image is the after shot of the renovated area between the existing with all profiles for all details being a seamless match to what was installed over100 years ago. Riverside can help you match any profile for any trim, the options are endless.
Benefits of Matching Existing Trim
There are many benefits to keeping the original trim throughout the home. First and foremost, it keeps the existing character and charm of the century home. Secondly, if your home has been designated by a heritage council you may be required to keep renovations and additions in line with the original home's specifications. Even if it is not marked by a heritage designation most century homeowners' buy that house for a reason. They fall in love with the character, therefore the last thing they want to do is remove it. Typically, century home homeowners' like to keep renovations and additions in-line with the original specifications whenever possible. At Riverside, we can make that possible.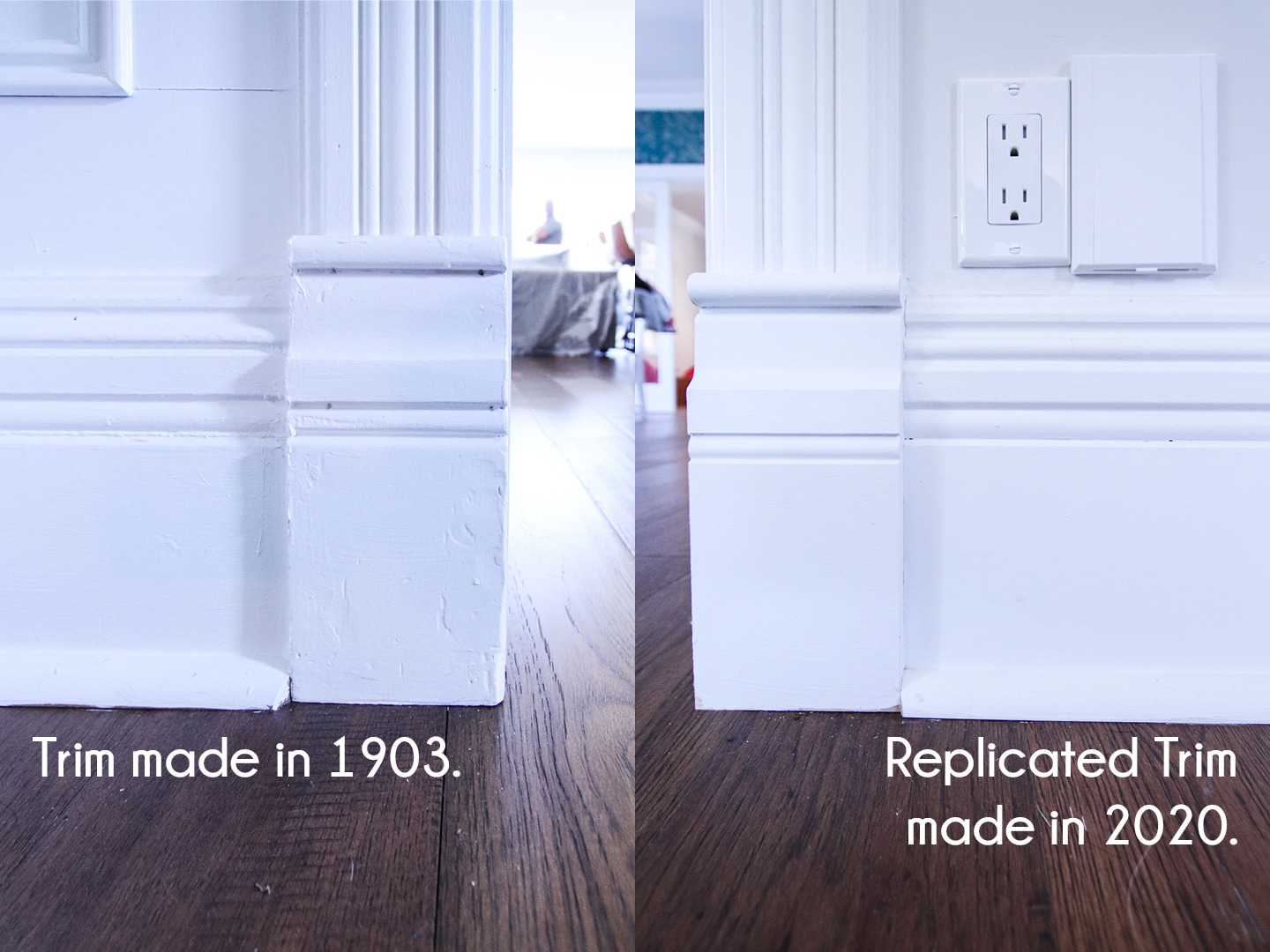 As you can see the old trim created in 1903 is an identical match to the replicated trim created in 2020.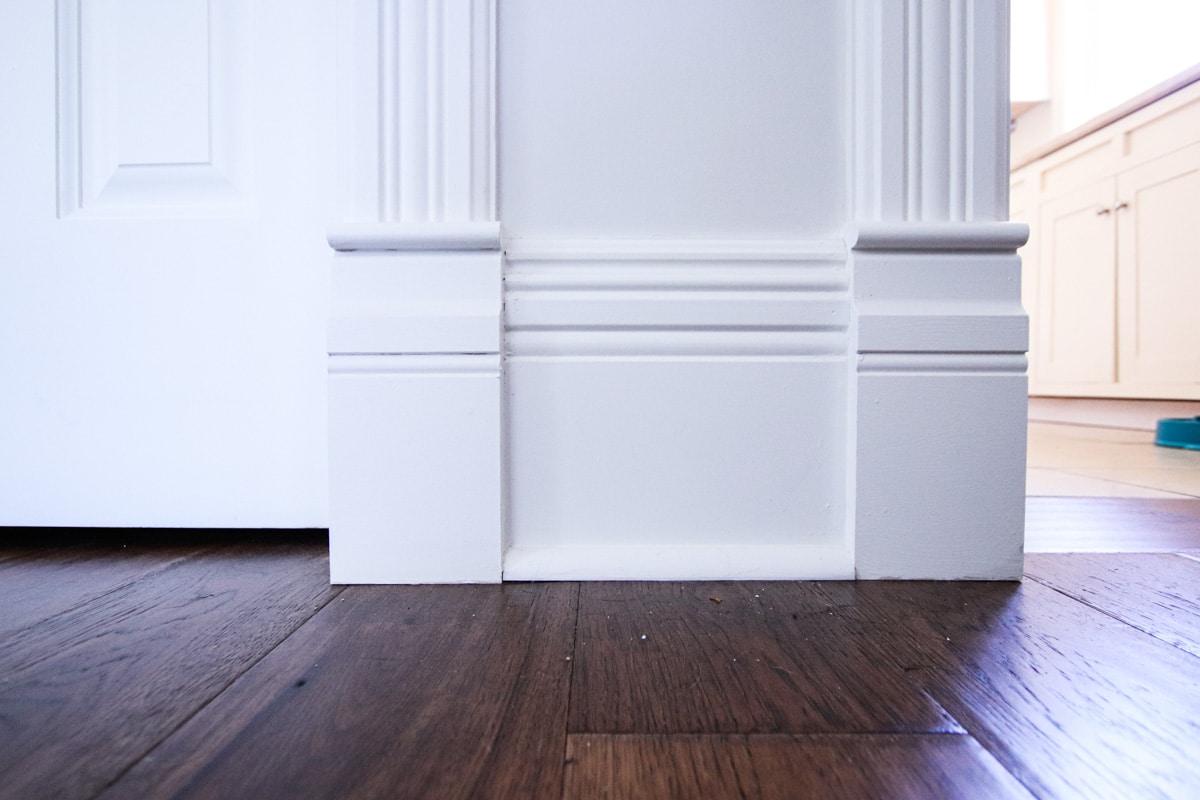 The image above is the brand new custom baseboards replicated. This is on the side of the home that was an addition.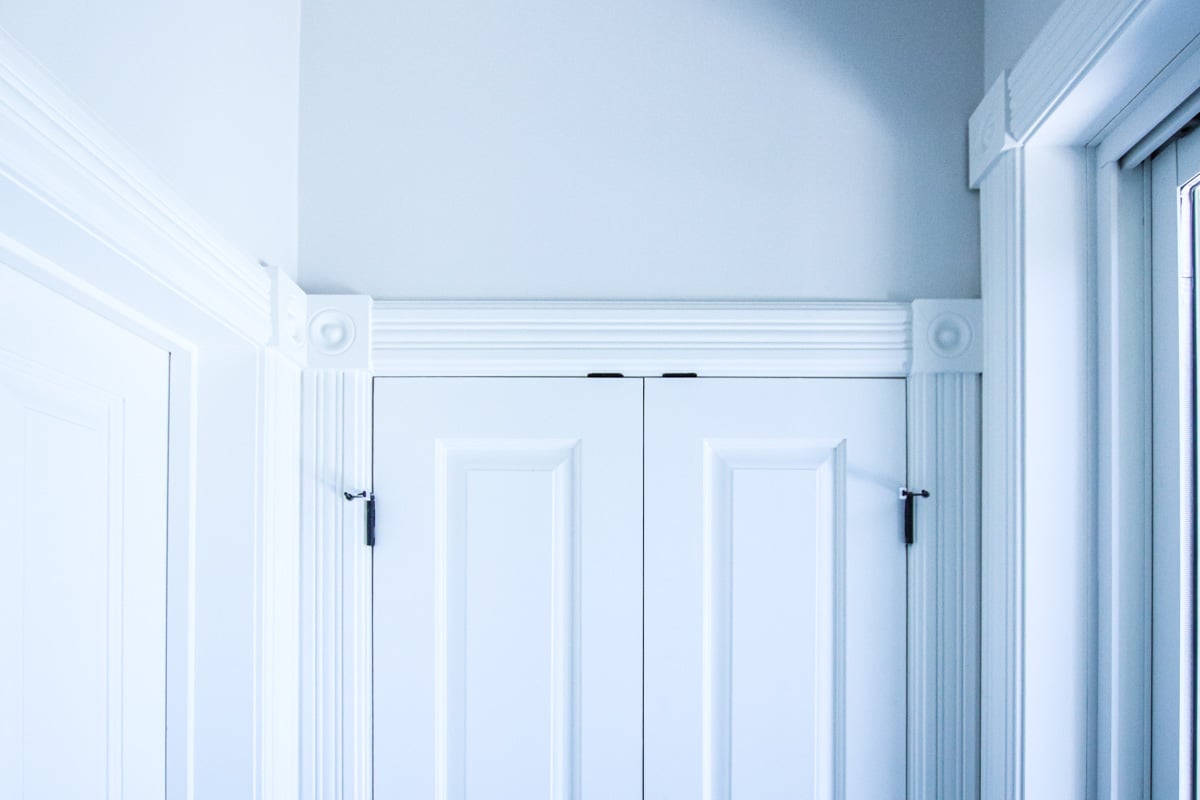 In another example of the same home, the image above has corner blocks around doors and plinth blocks on the bases of doors and walk throughs. Corner and plinth blocks are true indicators of a classical trim package. They add a lot of character to any project (can be traditional or modern) and just as the other trim we can seamlessly match new to existing – all we need is a sample!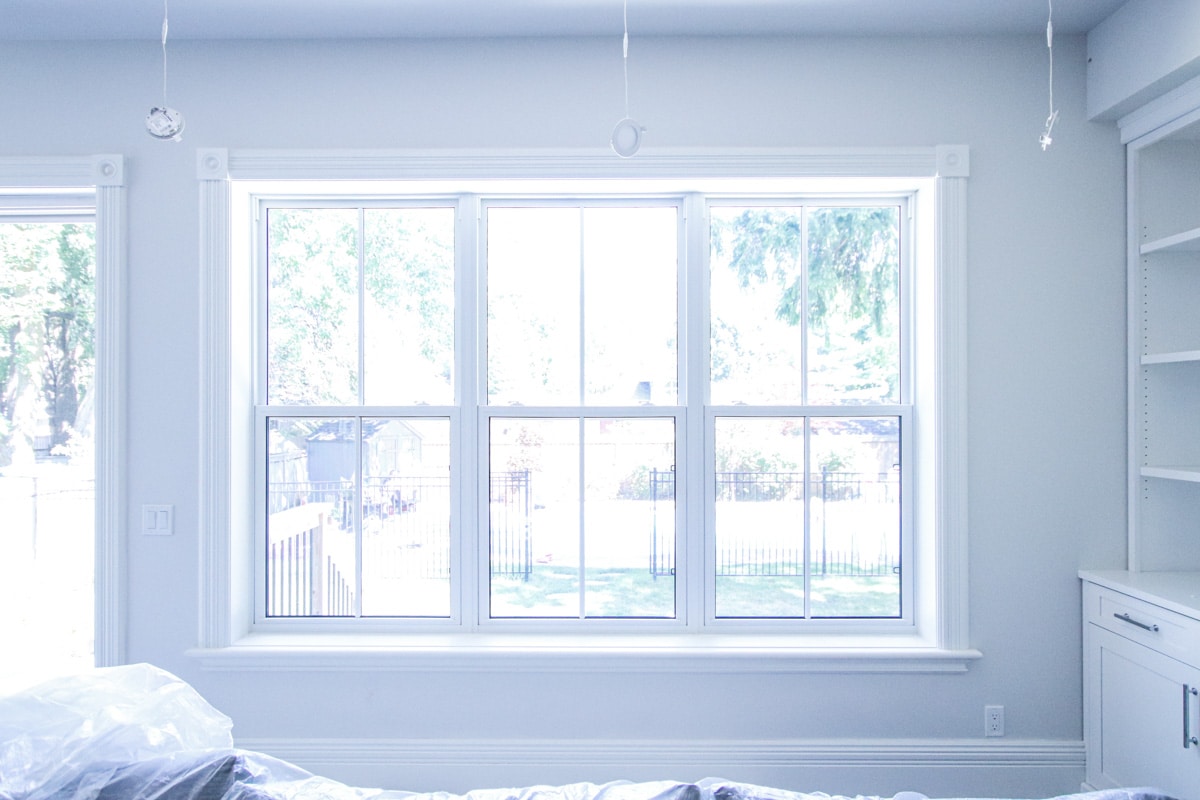 This image again shows off the corner block detail around the large patio window and sliding patio door. As well please take note of the extended window sill and custom apron (two other clear indicators of period for this trim package).
Limitations
There are little to no limitations to keeping the existing trim. The biggest thing to remember is to keep examples of the trim you wish to replicate. With any clean sample of trim (as small as 1 inch) we can produce a knife to match it! You can read more about our Millwork process here where we explain how this works.
Timeline
From the time you receive your initial quote to the time the product is delivered, the process of getting custom trim should be no more than three to four weeks. Depending on the project we may be able to offer installation as well. When you contact us, it is best to communicate with your Riverside Representative if installation is available for your specific job.
What is the process of having a custom trim profile made?
A sample will need to be provided by the client. The sample is first traced onto paper and then transposed to Auto Cad by our skilled drafts man. That file is then uploaded to our CNC machine where the programmer assigns the appropriate tool paths and cuts a tool and die template from plastic. That template is then used to grind a knife out of steel by our Tool and Die technician. The knife is then inserted into a head that is placed into a machine called a moulder, ready for production.
The image below is one of our CNC Machines in our London Mill, this is the machine that would be creating your custom trim!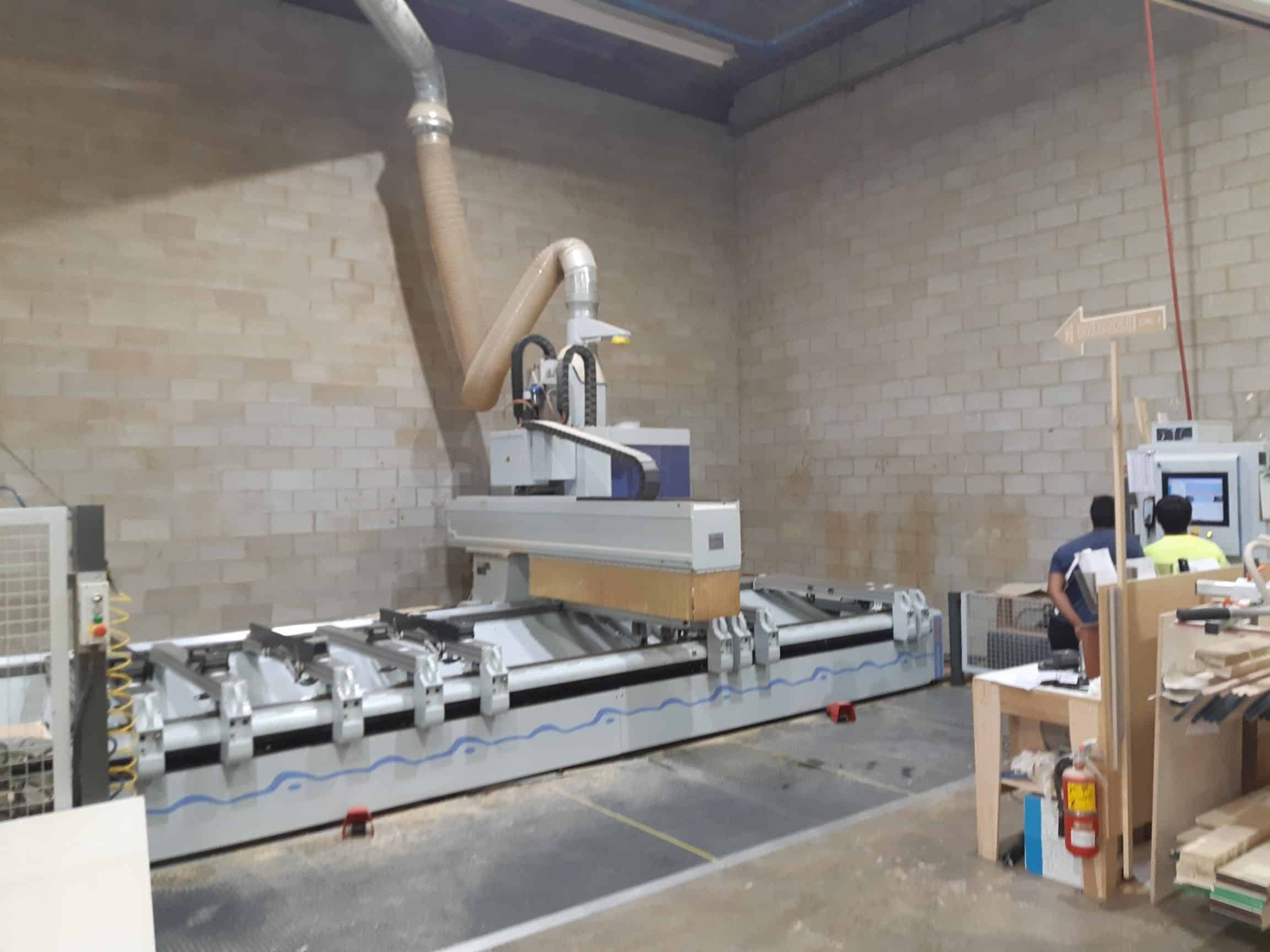 What is a CNC Machine?
A Computer Numerical Control Machine, also called a CNC Machine is a manufacturing process in which pre-programmed computer software determines the movement of tools. It processes a piece of material to meet specifications by following a coded programmed instruction. We have trained Machine Operators who work directly with the CNC Programmer to help create custom pieces for our customers.
Please visit www.riversidemillwork.ca for more information on this and our other custom offerings. Riverside Millwork Group specializes in trim, interior doors, solid-wood entranceways, custom closets, and hardware. We are happy to work with our clients through any inspiration they may find to help them achieve the highest quality finishes for their homes.
‍