Estimated Reading Time: 7 minutes
A dining room is the ultimate gathering spot for entertaining, eating a meal, hosting holiday gatherings and simply chatting with friends and family. A dining room has so much potential to be the room with the most unique style by including millwork. Of course, the furniture in the dining room is important and you want to purchase the most trendy, stylish, and elegant furniture décor, but you don't want to forget about the built-in functional parts of your dining room. This includes your walls, your ceiling, the doors and the trim. Use the functional aspects of your space to create a unique and sophisticated dining room space. In this blog we will help give you inspiration on how to improve the appearance of your dining room design with using your home rather than purchasing décor and furniture.
Doors in your Dining Room Design
The doors in your dining room can make a huge impact as it could be the first thing you see and you touch before entering your dining room. A French door can be a popular door for a room like a dining room because it helps add to the design of the dining room décor. With the glass door you are still able to see the beautiful dining room features in your home, but it also allows you an option to close the door for privacy or to keep the room separated from the rest of the house. Our French doors come in several different glass options to suit your privacy needs.
In the image below you can see a single French door with black traditional hardware that is the door to this stunning soon to be furnished dining room. The chandelier ties in nicely with the French door as they are both a traditional style of décor.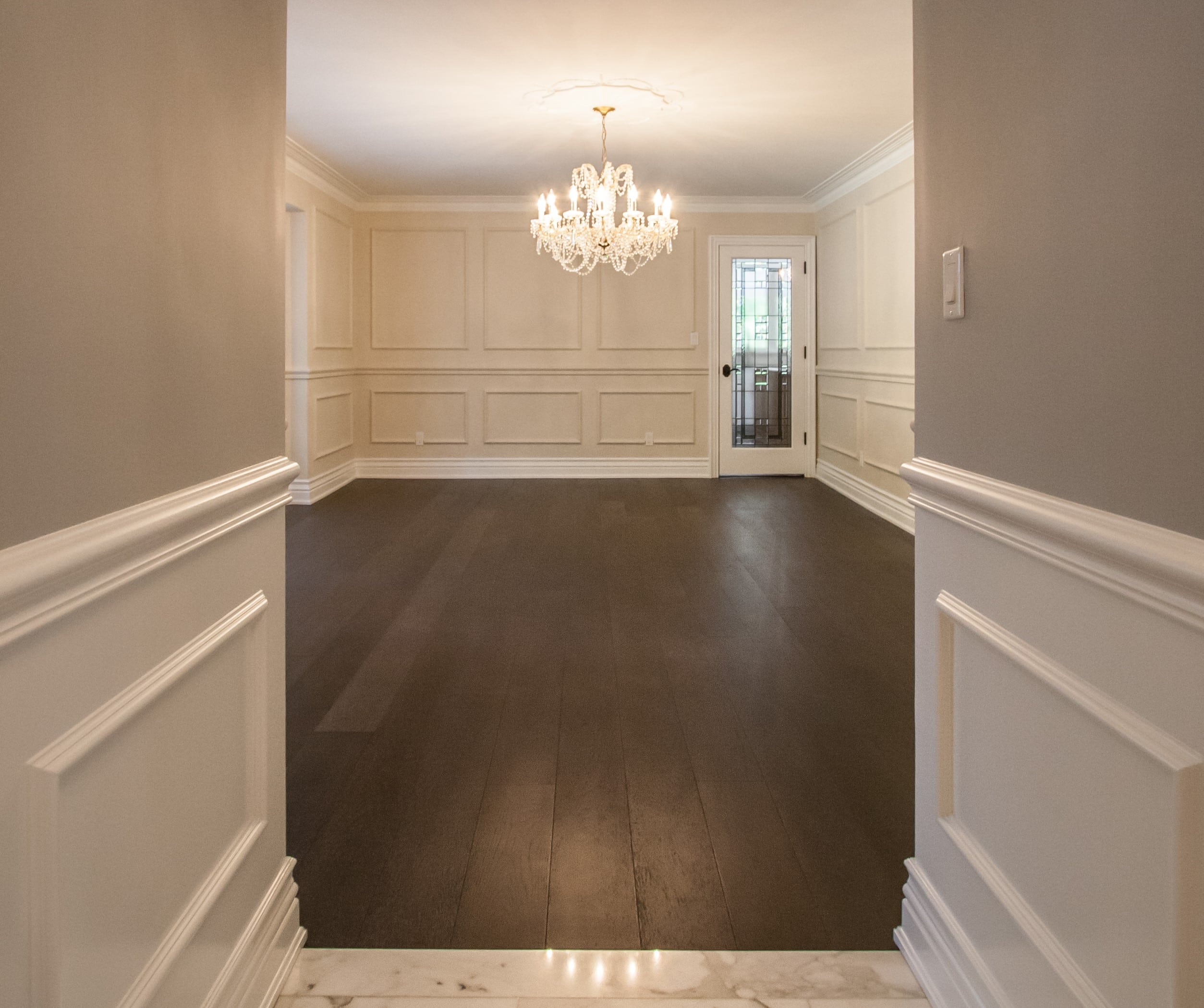 As you can see in the image below, once this dining room was fully furnished and decorated you can see the impact that the French door has especially with the dining room wall décor. The image below is the dining room complete. The traditional furniture with the grooves and designs in the chair brings out the design features in the French door making this style of interior door the perfect door for this dining room design.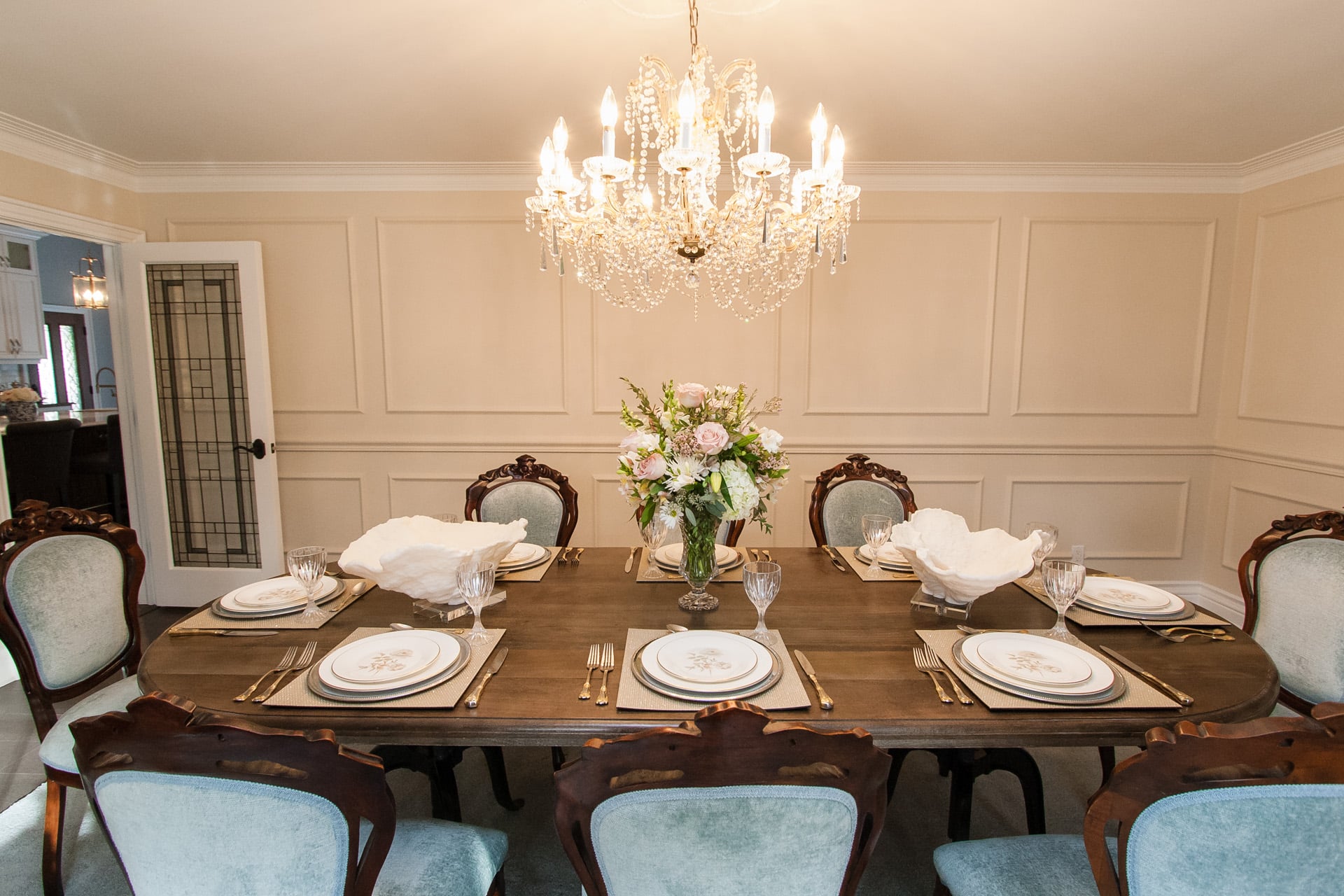 Below is another example of a French door leading into a dining room. The French door is a perfect option for an interior door for a dining room as you can leave them open most of the time. If they are closed you are still able to view in and out of the dining room so you know what's going on in the rest of your space while still maintaining privacy.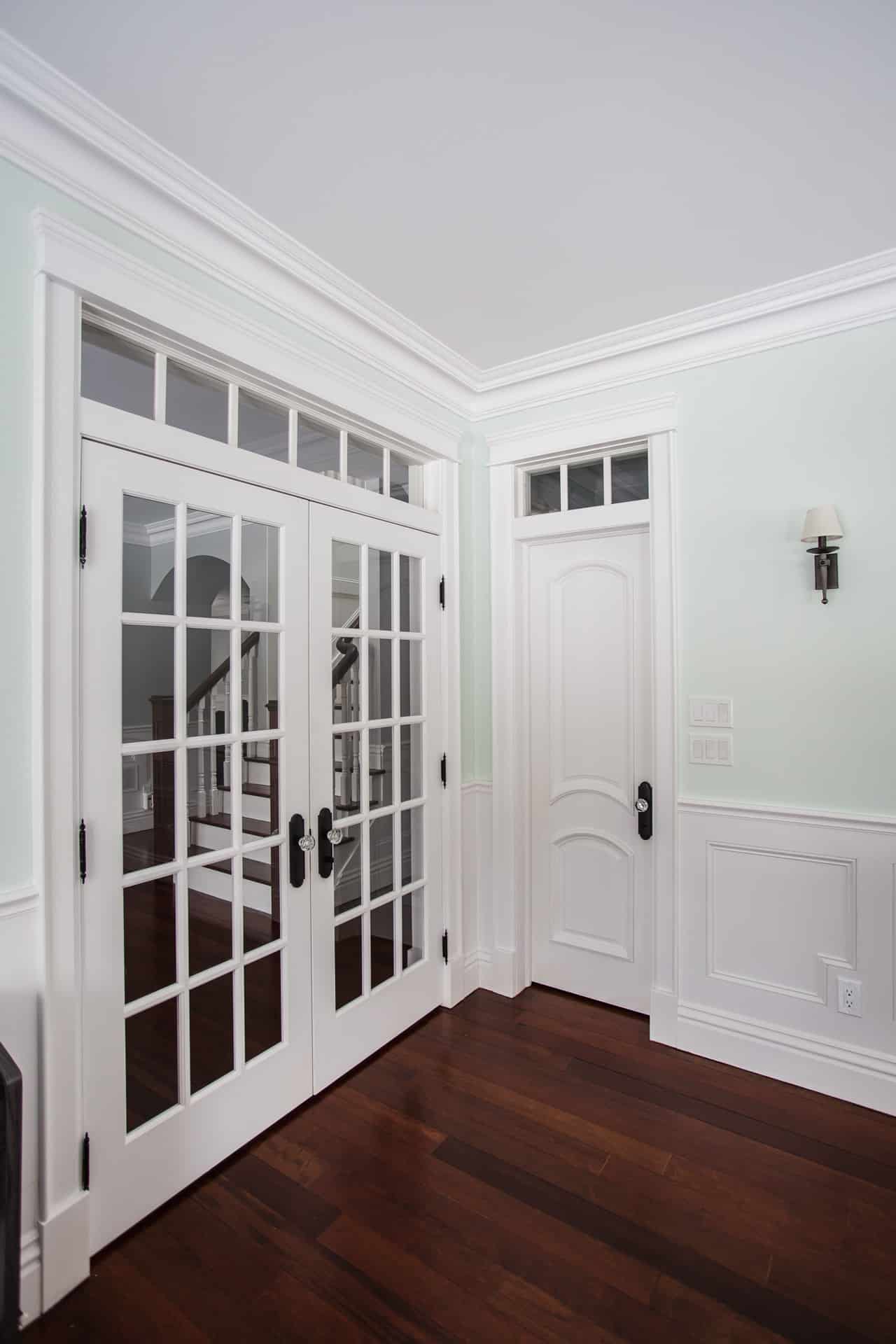 Below you can see a Diffused White Laminate (DWL) interior French door that is incorporated in this simplified dining room design. This door helps with privacy while also adding a design feature to this dining room design.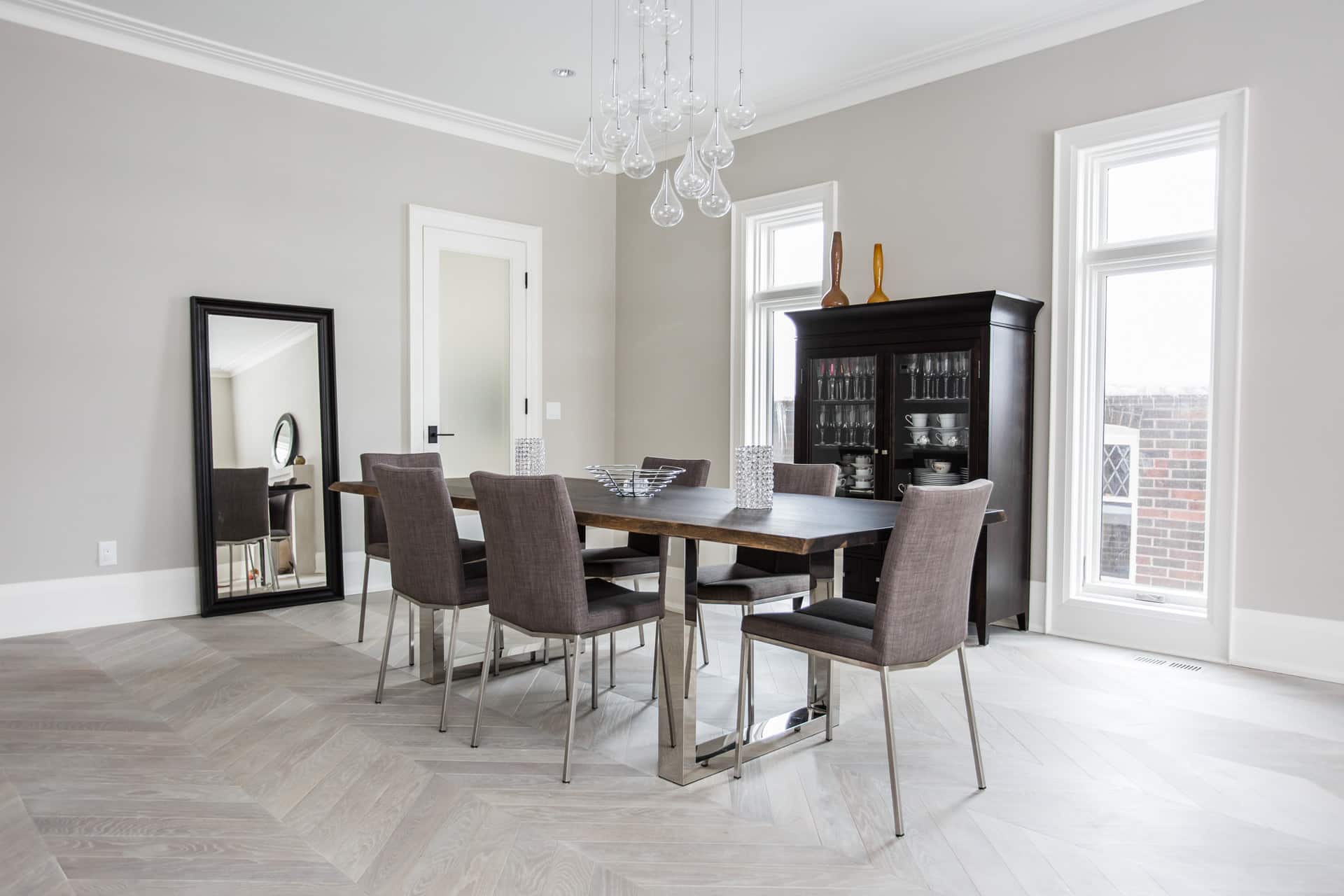 Doorway Entering a Dining Room
If you decide that you don't want a door featured in your dining room design and prefer to have an opening where it is easy to enter and exit, that is also an option. If you are struggling with still finding a way to decorate the doorway you can add a transom above the doorway. This transom below, is a unique glass transom with a design feature on all entrances.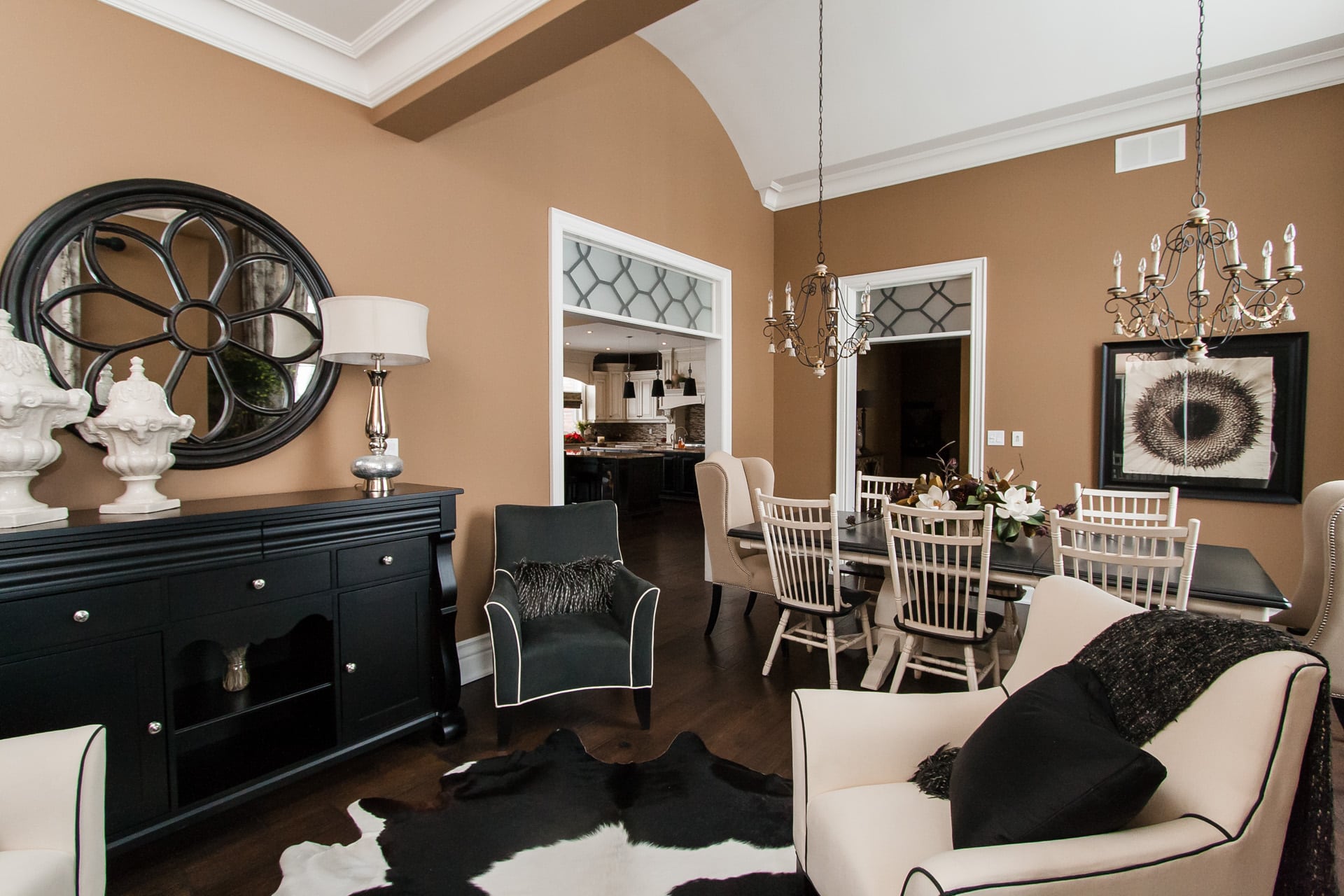 In this dining room below you are able to see decorative trim inside the jamb of the doorway on the left side, but you can also see millwork throughout the opening of the nook on the right side that contains a cabinet for storage. This decorative trim is the perfect accent to this white coffered ceiling.
Making a doorway stand out is a creative way to use something that could be basic and turn it into a unique feature design in your home. Below you can see this large doorway has bold custom designs throughout all of the jambs.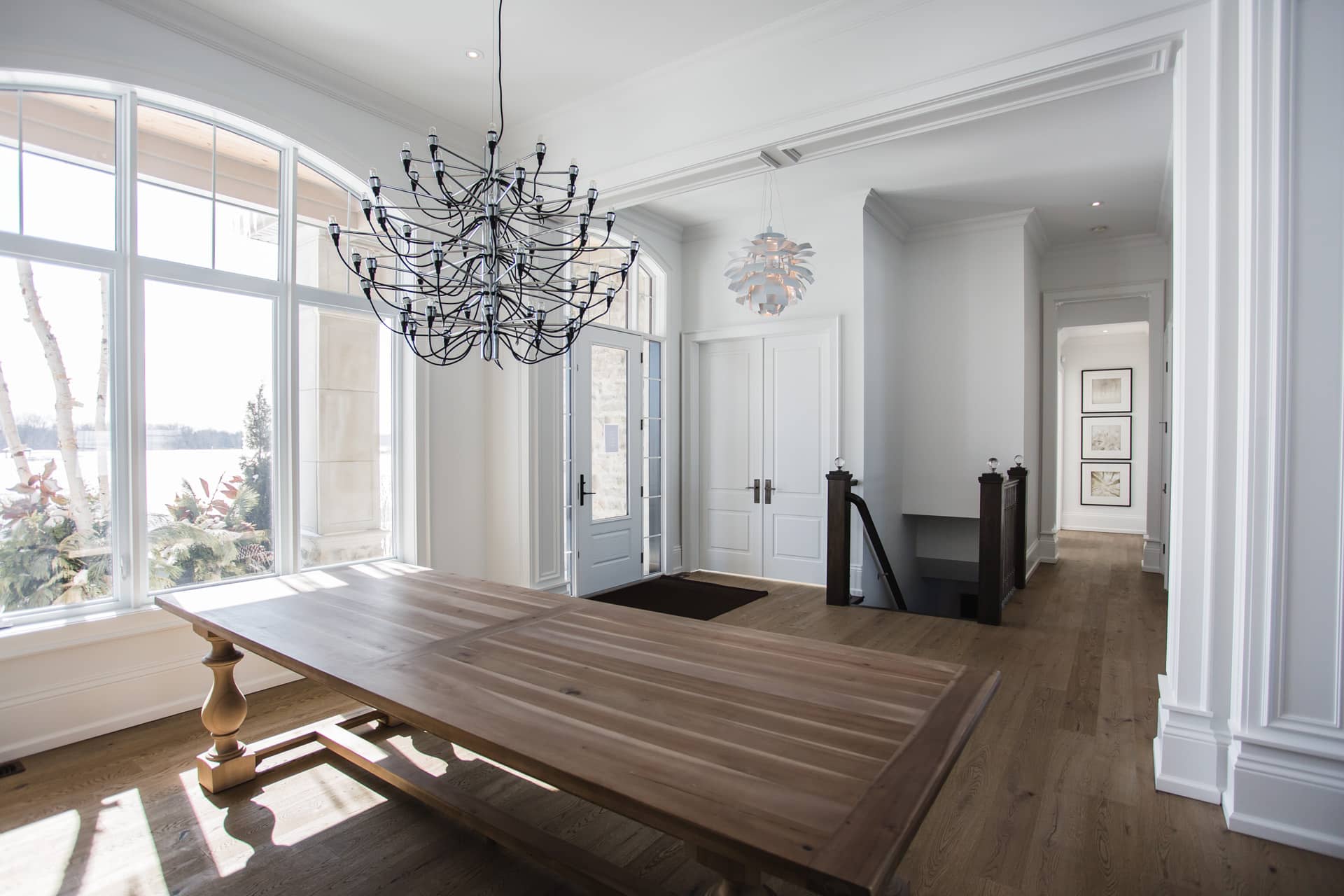 Dining Room Wall Décor using Millwork
Dining room wall décor can be something that is highly desired. Wall paneling is absolutely stunning in any part of a home, although incorporating it into your dining room décor idea creates a conversation piece and an elegant feature to your dining room design.
The image below is a great example of dining room wall décor as it contains wainscoting. This wainscoting wall décor is painted a neutral tone against the bright white walls. The baseboard is painted the same neutral tone as the wainscoting so all of your eyes focus can be on the wainscoting. Wainscoting is most often seen as a design feature to a dining room, although they do have a purpose and function. Wainscoting can be used to cover damaged walls while using a unique design. Wainscoting also prevents damage from occurring if someone accidentally backs their chair into the wall getting up from the table. This design feature is more durable than the standard drywall making it a popular choice for dining rooms where the walls are close to the table.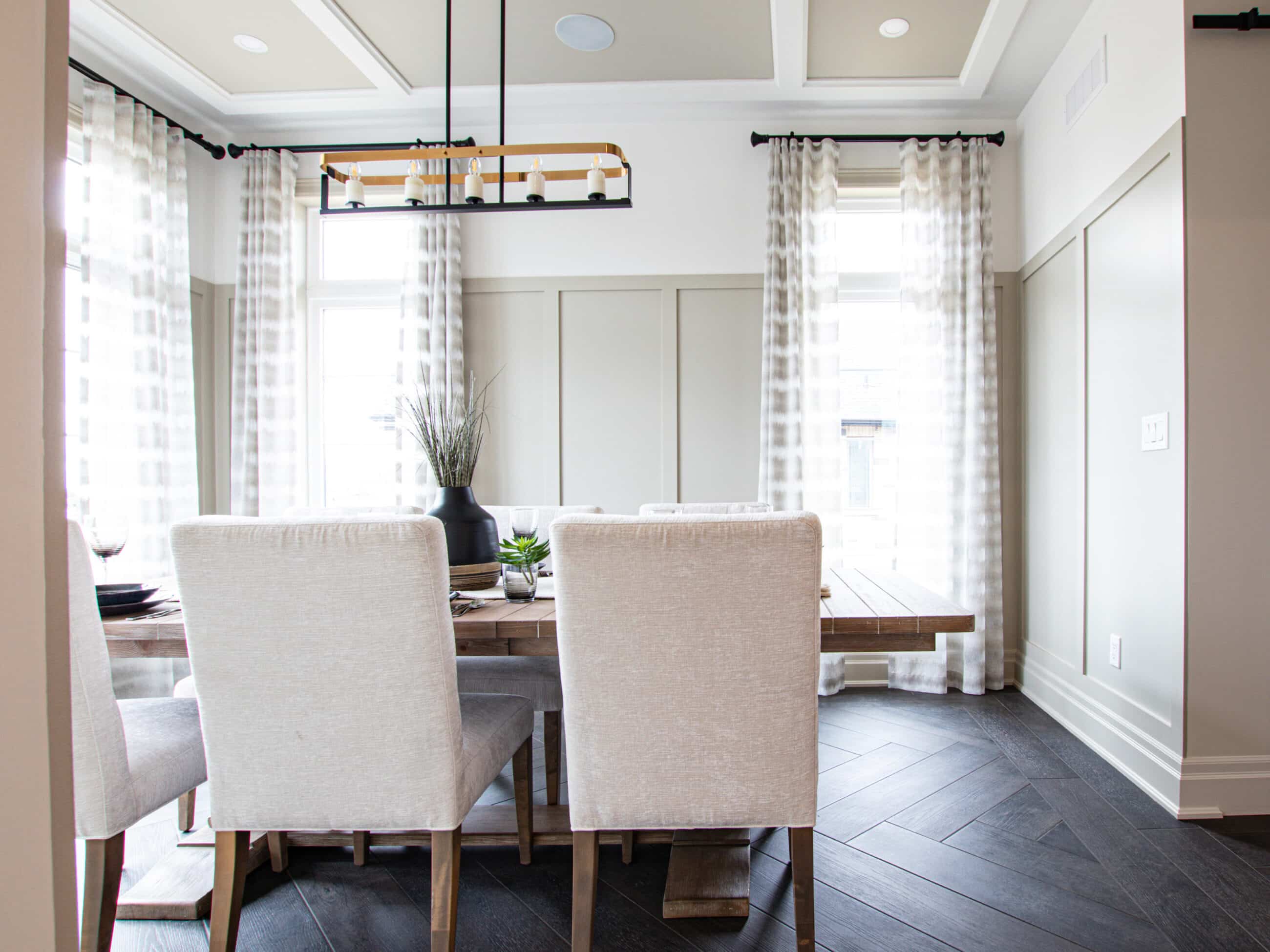 You will recognize the image below from earlier, that includes a French door leading into the dining room. This dining room consists of much more than just a French door. Every wall is covered in wainscoting throughout the entire dining room. This design helps the dining room display an elegant, sophisticated space by including wall décor through millwork.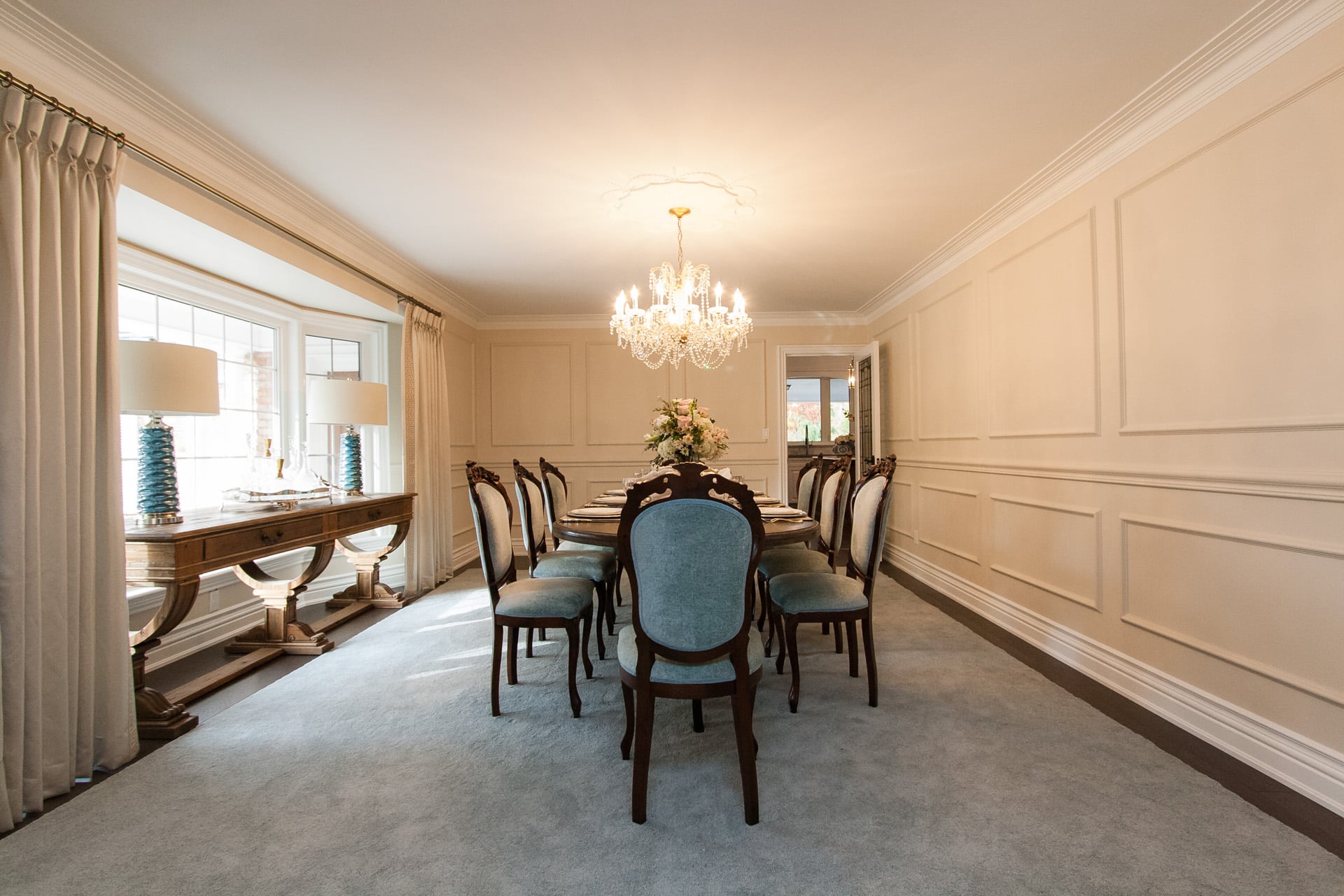 Crown Moulding in Your Dining Room
Crown moulding is a style of trim that is installed where the walls meet the ceiling. They are most often seen in kitchens, living rooms and dining rooms. We have several different crown moulding styles to choose from and we can even custom make a design that you have had your heart set on.
Incorporating wainscoting in your dining room doesn't mean you have to stop there. Crown moulding is the perfect accommodating millwork piece and looks stunning with a full wall of wainscoting. In the image below you can see this home included both wainscoting and crown moulding and they fit perfectly together.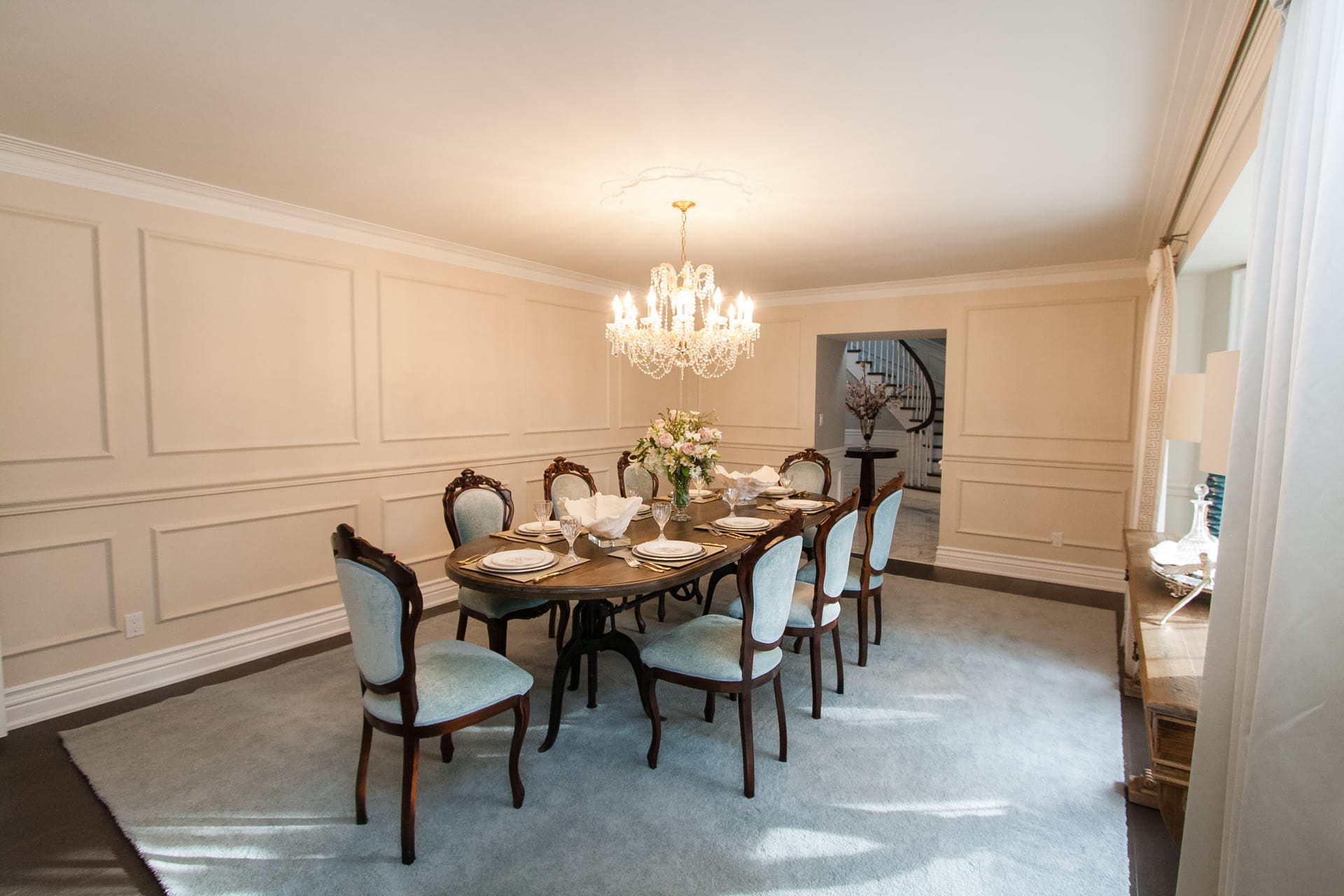 I bet you're wondering what crown moulding looks like with the more traditional style of wainscoting where it covers only the bottom half of the wall. In the image you can see below the half wall of wainscoting ties into the crown moulding leaving a gap for the wall colour, or in this case the unique wallpaper. This was a custom design for both the crown moulding and the wainscoting, as these homeowners purchased an old farmhouse, fell in love with the millwork and didn't want to lose that character. Riverside was able to recreate the exact design so none of the, one-of-a-kind, character was lost in this unique old farmhouse. The dining room wall décor in this home is stunning and very unique.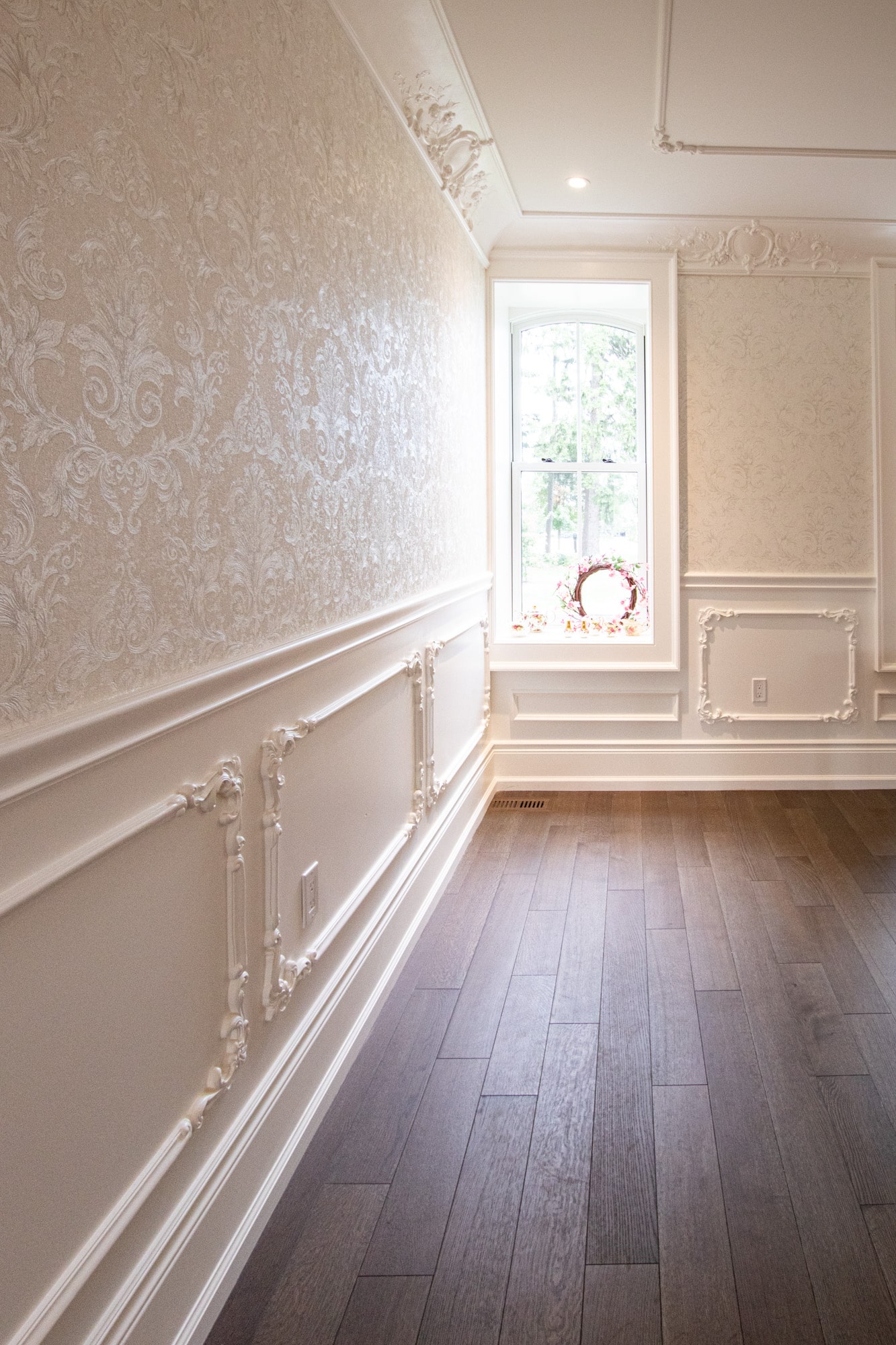 Coffered Ceiling
Ceilings are often overlooked and not used as a design feature that could be added to your dining room design. A coffered ceiling is a series of indentations on the surface of the ceiling, they are often in the shape of a square or rectangle. This is an effective way to decoratively hide any imperfections in a ceiling or enhance the appearance. It creates the illusion of a higher ceiling and a larger space. For those who opt for a ceiling design in their dining room, a popular option is a coffered ceiling.
In the image below you can see a unique two-toned coffered ceiling in this dining room that already has wainscoting installed on every wall in this dining room. Coffered ceilings can be any colour you desire, you often see two toned or one tone.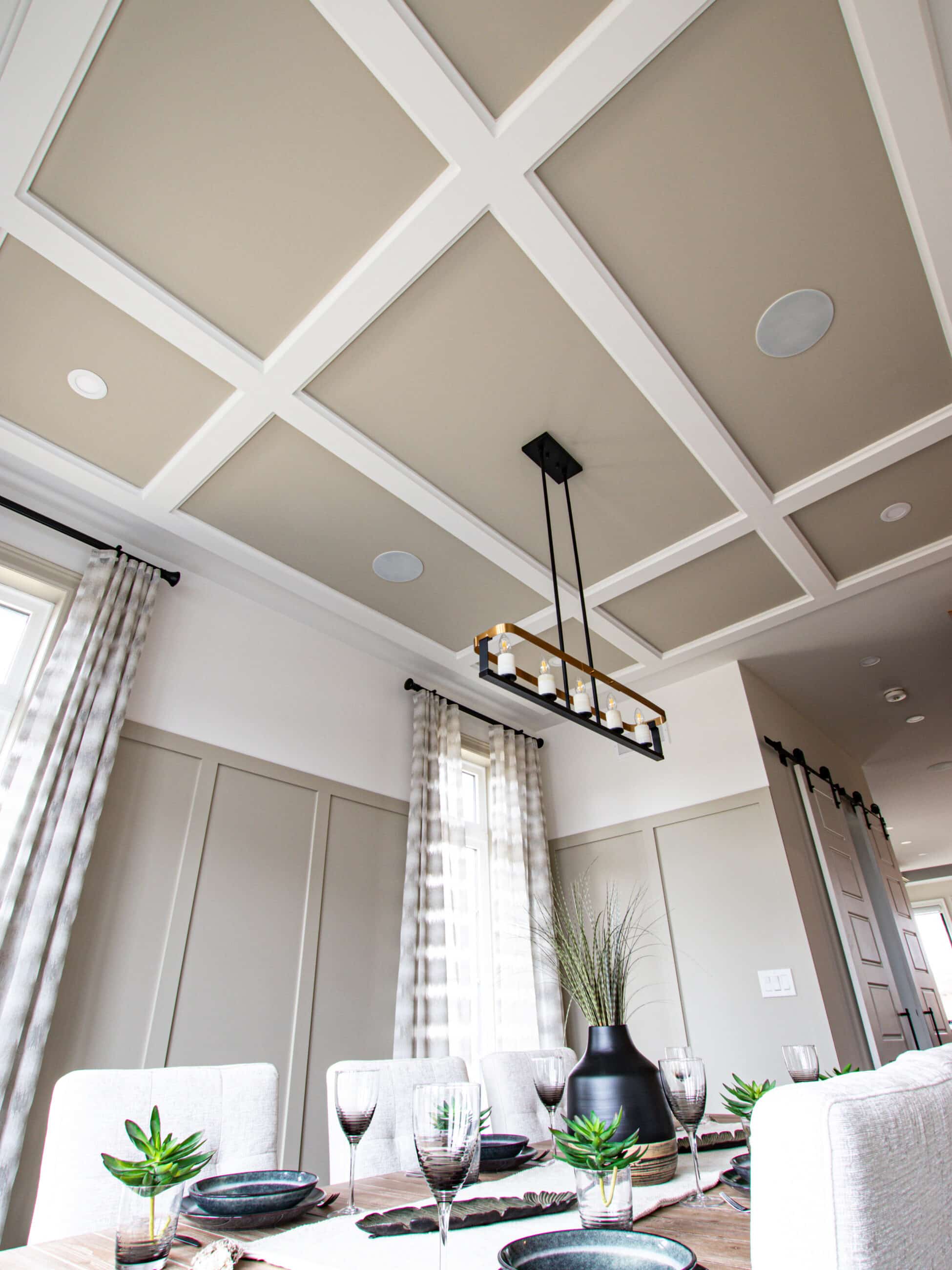 Below is an image that demonstrates a coffered ceiling in a dining room that is one colour.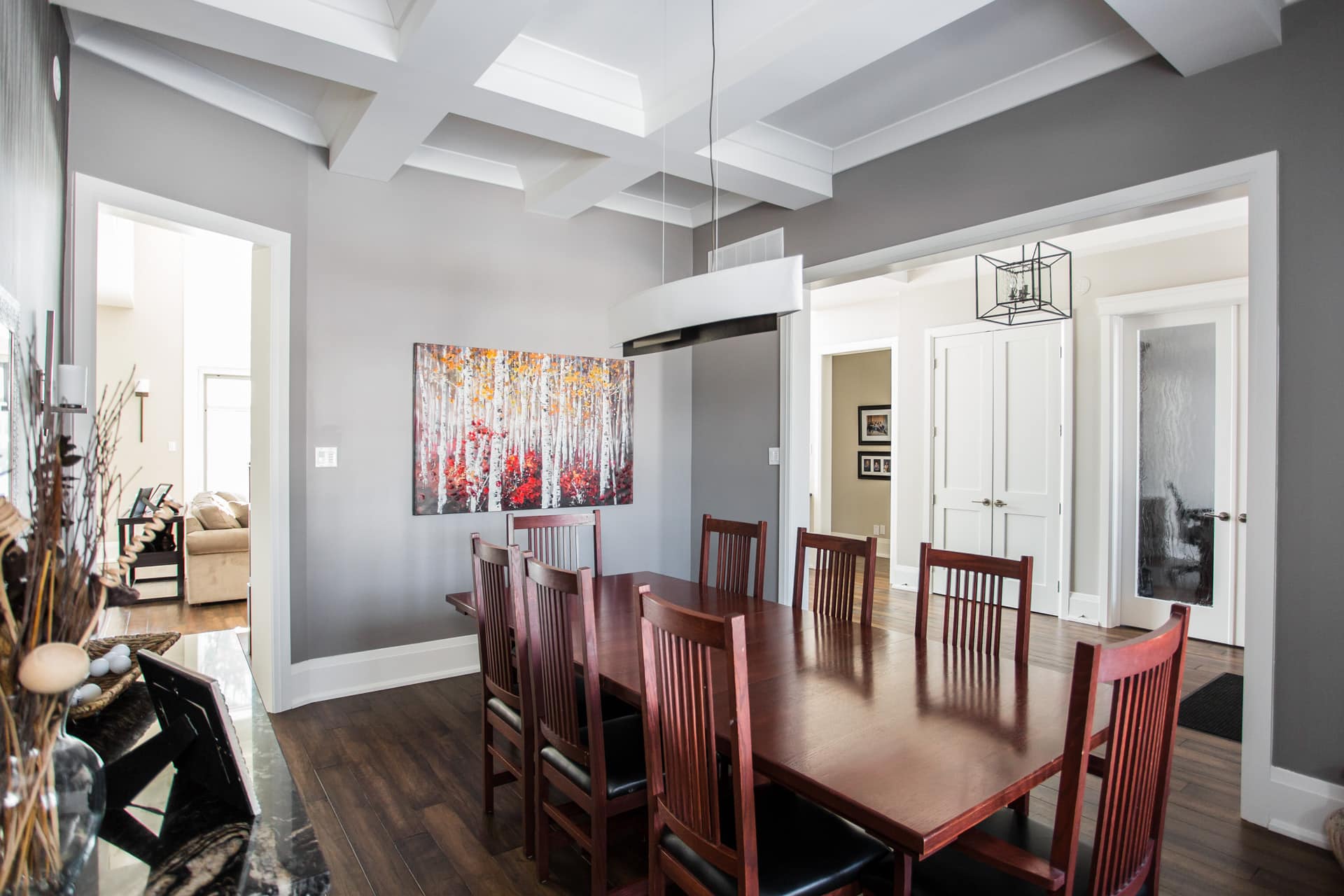 While this dining room has a bit of a dark toned wall with dark floors and dark furniture, choosing to go with a bright white coffered ceiling in this dining room helps give that illusion of a higher ceiling and larger room.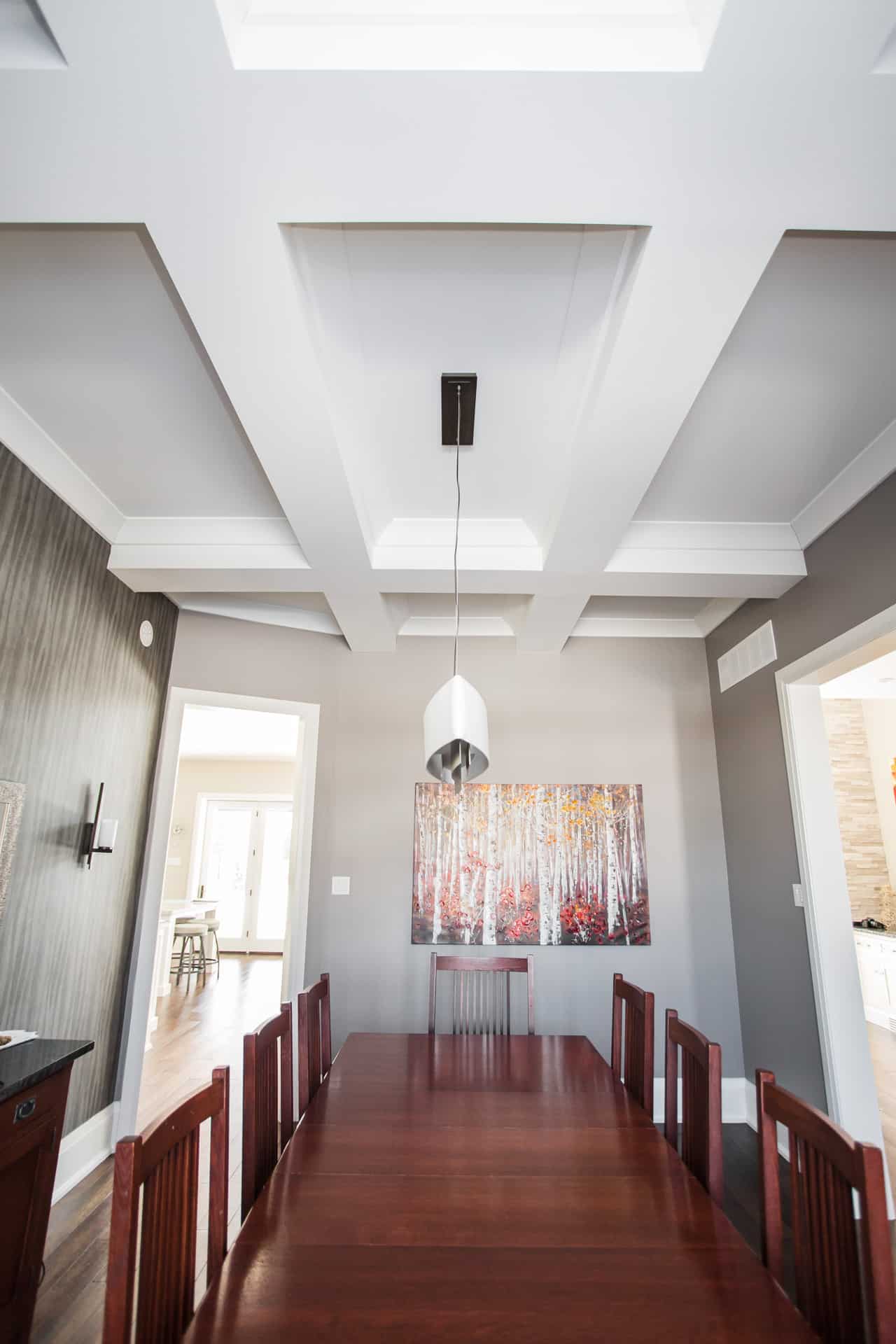 This dining room design in the picture below has a similar design when compared to the images above. These homeowners chose dark furniture and dark walls with a bright coffered ceiling. The coffered ceiling in this dining room helps brighten up the room and make it appear larger.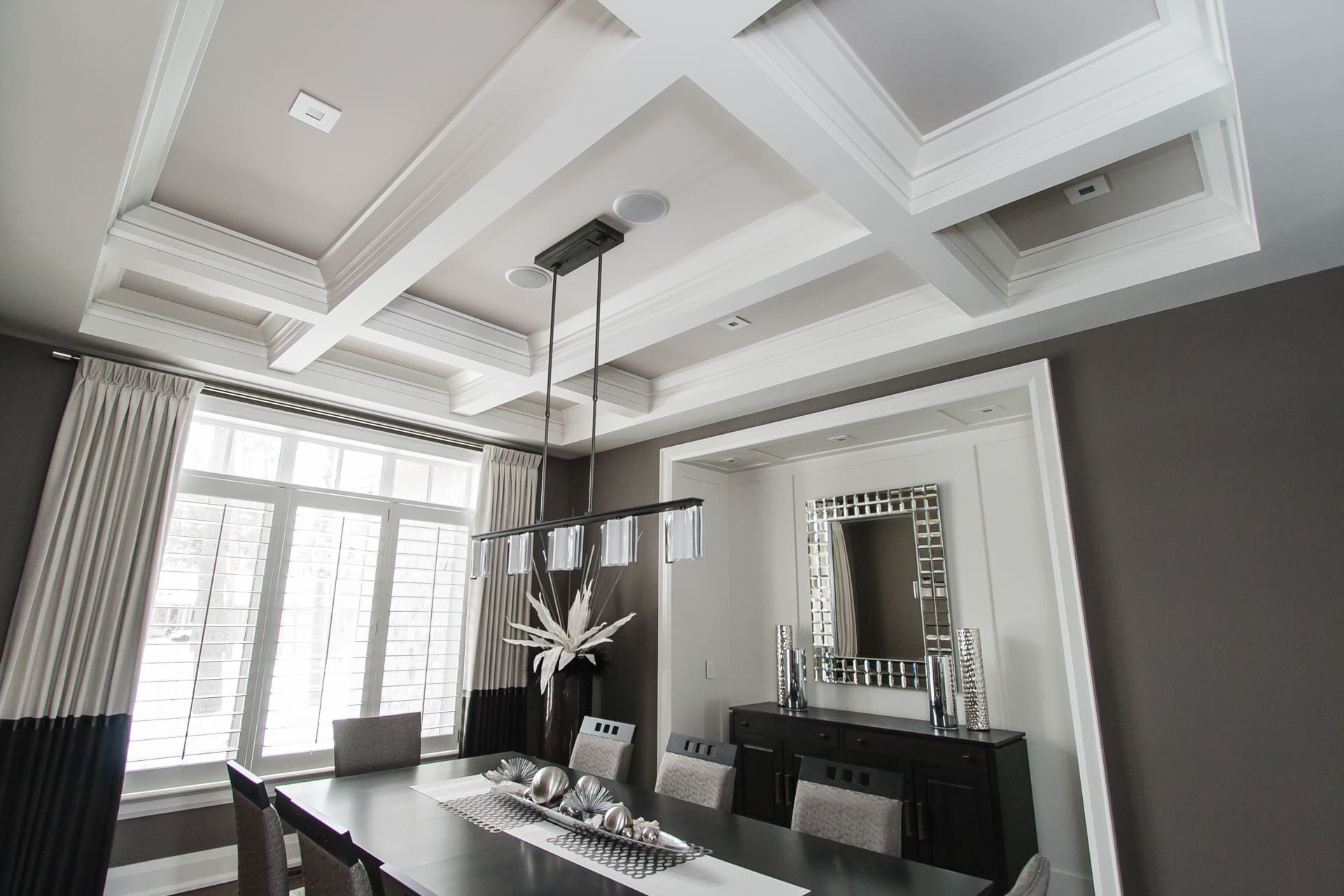 Trim
While trim is almost always throughout your entire home or building, there are ways to enhance the features of trim in your dining room.
With most of the above dining room designs having a more traditional style, below is a more modern minimalistic dining room design. Clean, white walls with very simple crown moulding and tall baseboards.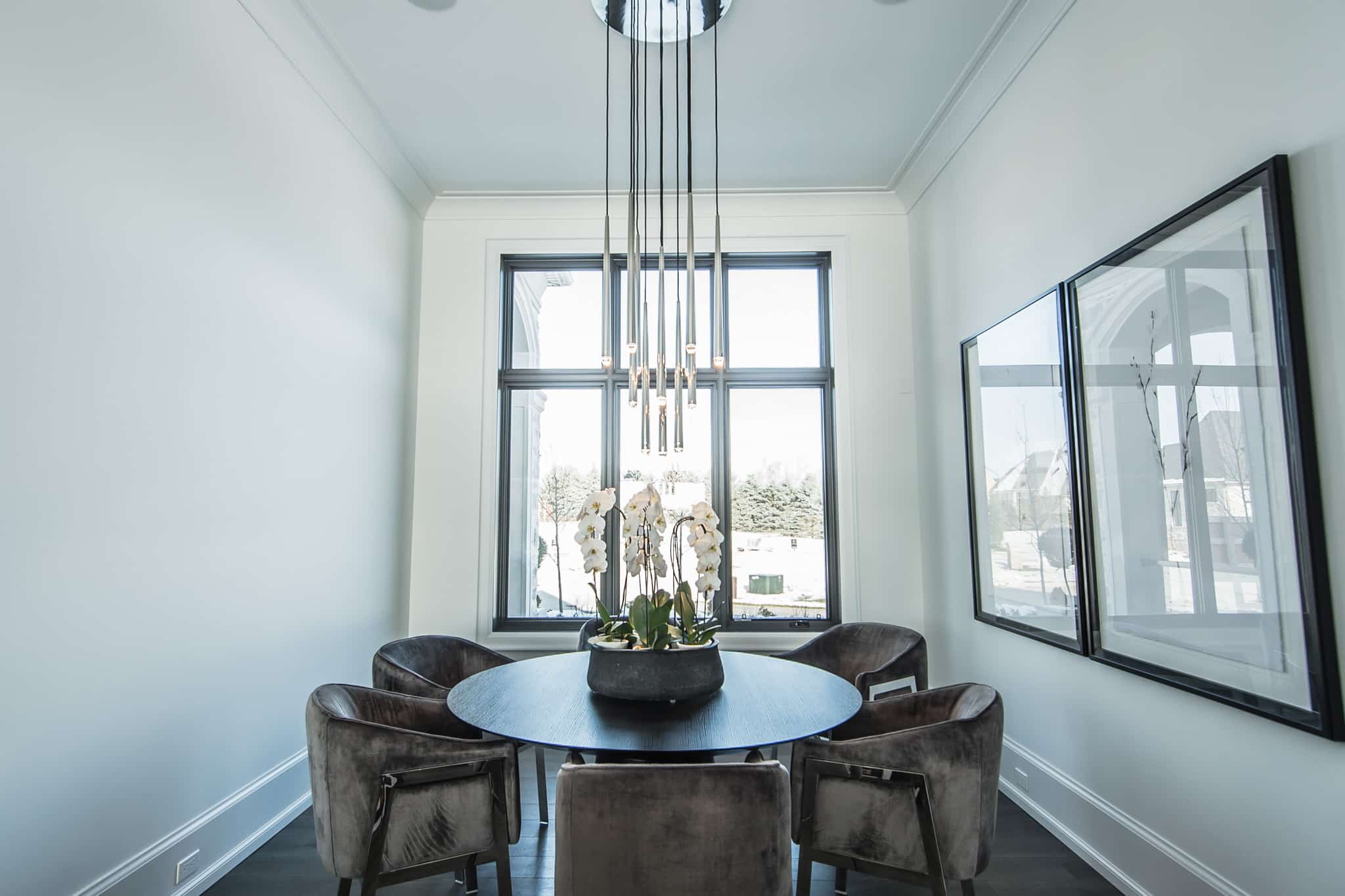 When you are deciding on what kind of dining room design you want, or choosing a dining room wall décor option, contact us so we can help you create the dining room of your dreams.
‍