Have you ever put much thought into your ceilings? Ceilings are often overlooked and underappreciated. For some people it is a major factor on the appearance of the ceiling, some people don't consider it a make or break deal when in a home, building, or wherever you are. There are many ways to transform an unsightly ceiling. Whether the ceiling you are looking at is genuinely ugly or you simply think its boring. It's time to stop ignoring your ceiling and use that space to create something beautiful. Think of it as an empty canvas, now let's get creative with all of the ways you can use millwork to enhance your ceiling design! Throughout this blog you will be able to view many different ceiling design images to inspire you!
Coffered Ceiling
You may be wondering, what is a coffered ceiling? A coffered ceiling is a series of indentations on the surface of the ceiling, they are often in the shape of a square or rectangle. This is an effective way to decoratively hide any imperfections in a ceiling or enhance the appearance. It creates the illusion of a higher ceiling and a larger space. Coffered ceilings draw the eye upward, allowing you and your guests to admire the details. Coffered ceilings can be created in a basic style or they can contain a lot of detail in the millwork.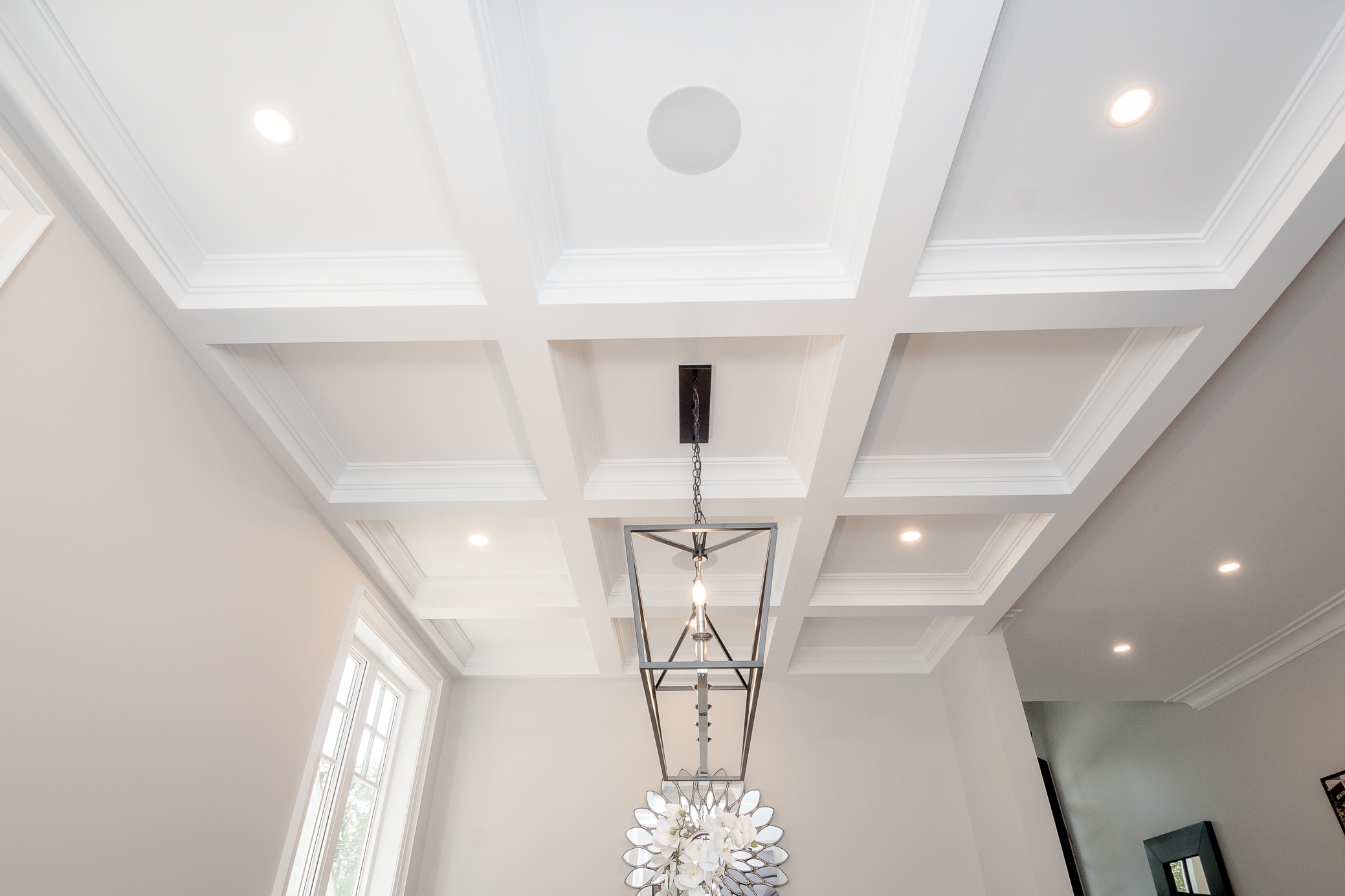 Here is an image of a coffered ceiling. As you can see the detail in the millwork on each edge of the poplar gives this dining room a more elegant feel.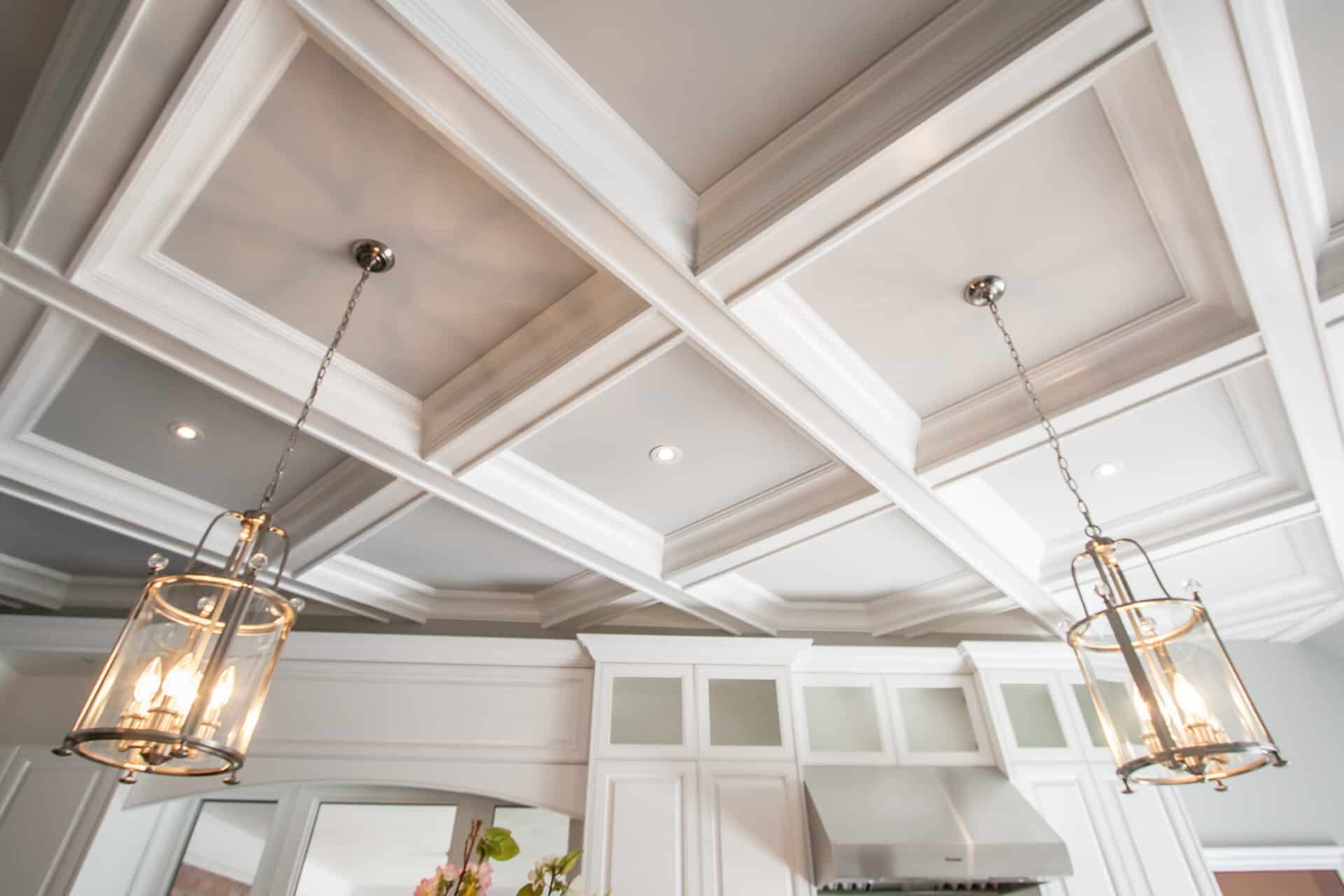 In this image above, the coffered ceiling helps this kitchen pop. It draws your eyes upward, so you and your guests have just one more aspect of the kitchen to admire.
Adding a coffered ceiling in any room can be an added expense. What if you don't have many walls on the level of your home and you feel like you can't have a coffered ceiling only in one part of the ceiling. Well luckily you are wrong! You can have a coffered ceiling anywhere in your home, a ceiling can also be used to separate rooms in an open concept home.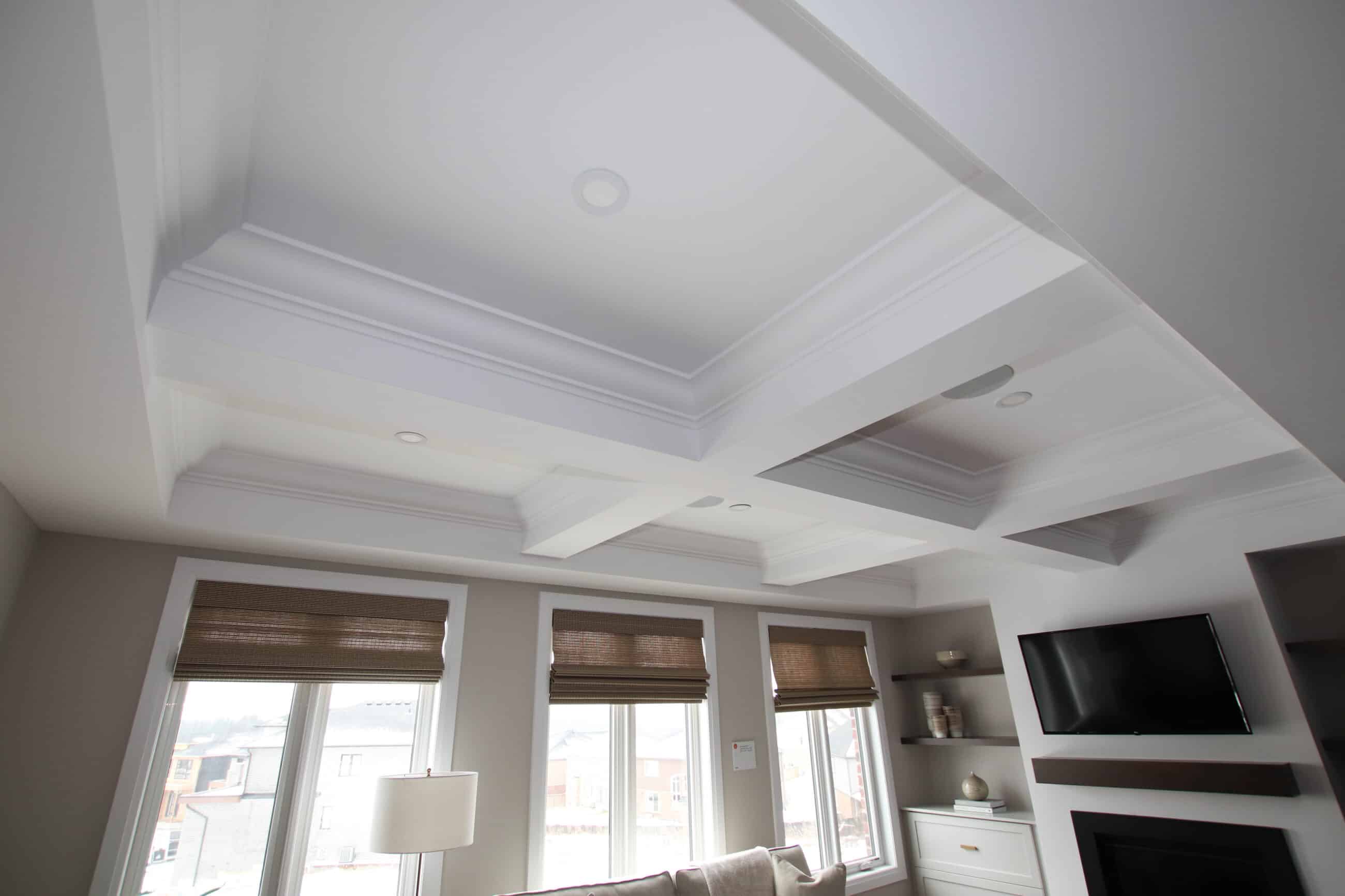 In the image above you will be able to visualize a coffered ceiling that doesn't cover the entire platform. Anything is possible and Riverside's job is to help make sure we can help you create the dream for your home!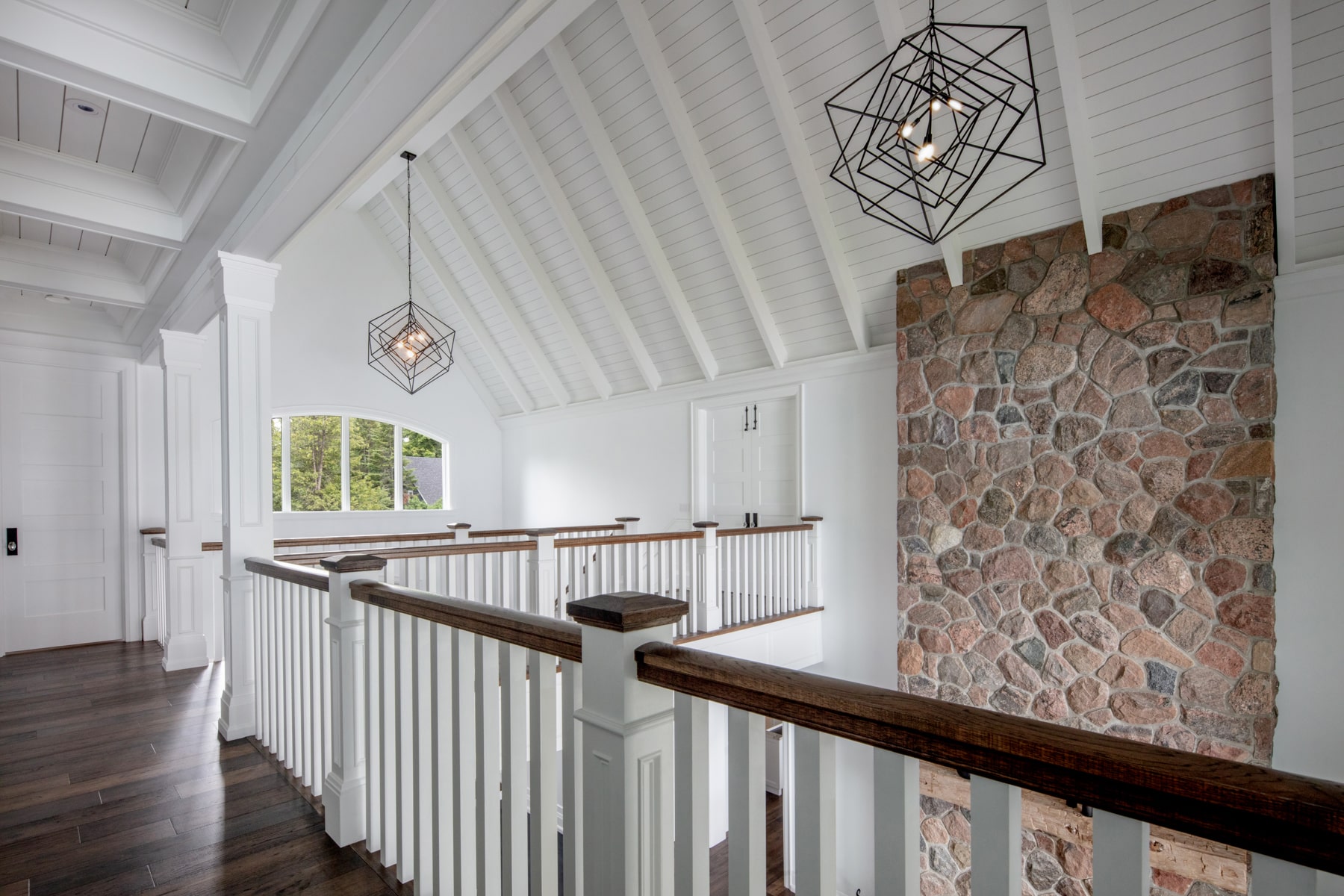 In this image you can see one the left, a more advanced version of a coffered ceiling. Within each element of the coffered ceiling it is covered by poplar tongue and groove. Although not needed, tongue and groove creates a more extravagant look. The tongue and groove was incorporated in the coffered ceiling so it would compliment the ceiling on the right with the poplar beams and tongue and groove. When including any millwork in your home you should consider an easy transition from room to room, or in this case, ceiling to ceiling.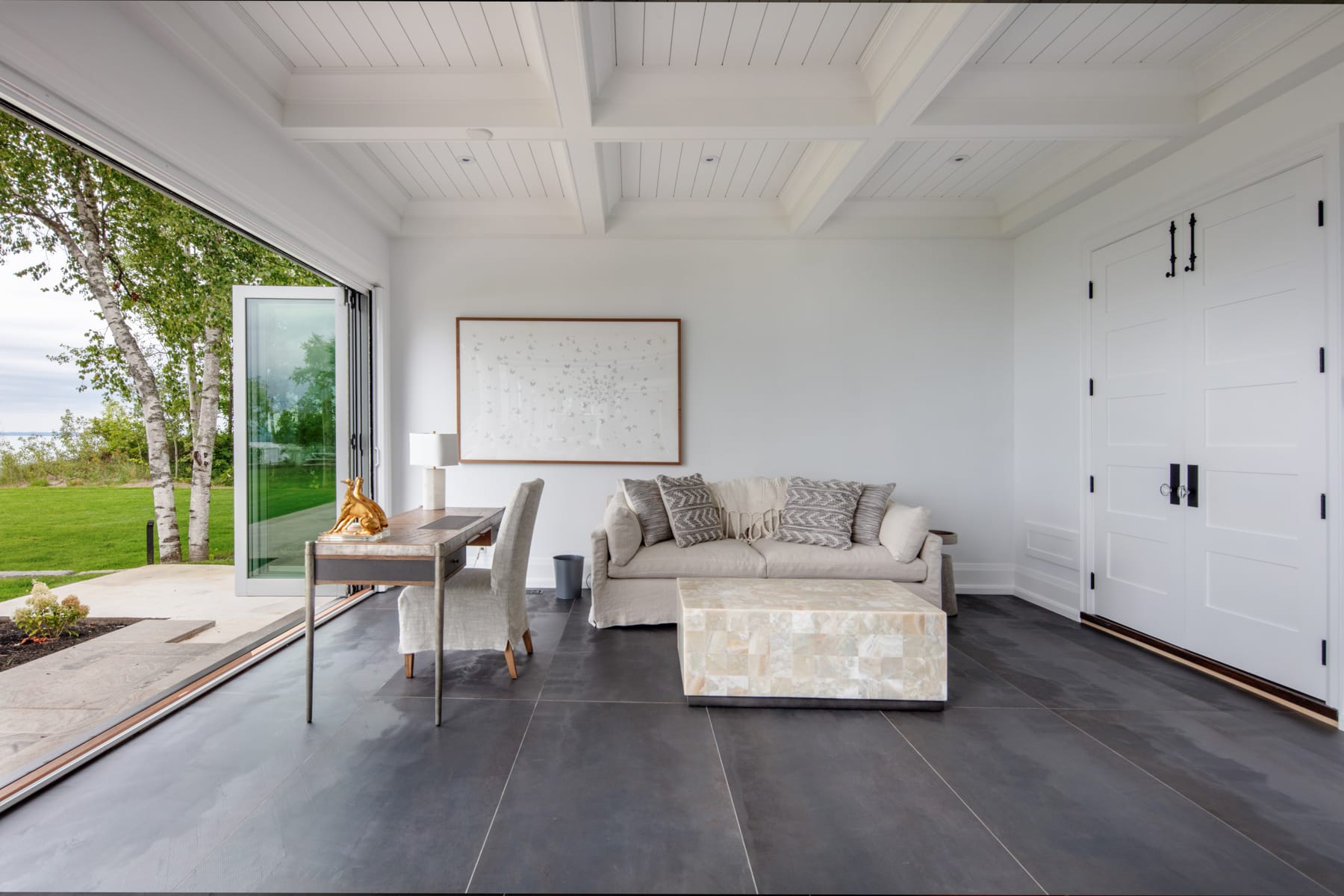 Here is another image from the same home where the poplar tongue and groove is installed with the coffered ceiling.
Faux Beam Ceiling
Exposed ceiling beams are very popular and have been for decades! Faux beams allow a space to have a higher ceiling or adds a decorative element creating a sense of charm in your home or building. You may be wondering why faux beams? Why not real beams. Some homeowners or building owners do not like the idea of faux anything. However authentic, real salvaged wood beams are extremely heavy and are often compromised by warping or insect damage. If you simply want the aesthetics of exposed beams on your ceiling and do not require the support, a great option for you is to install faux beams. Faux beams can be seen in different finishes, stained or painted.
‍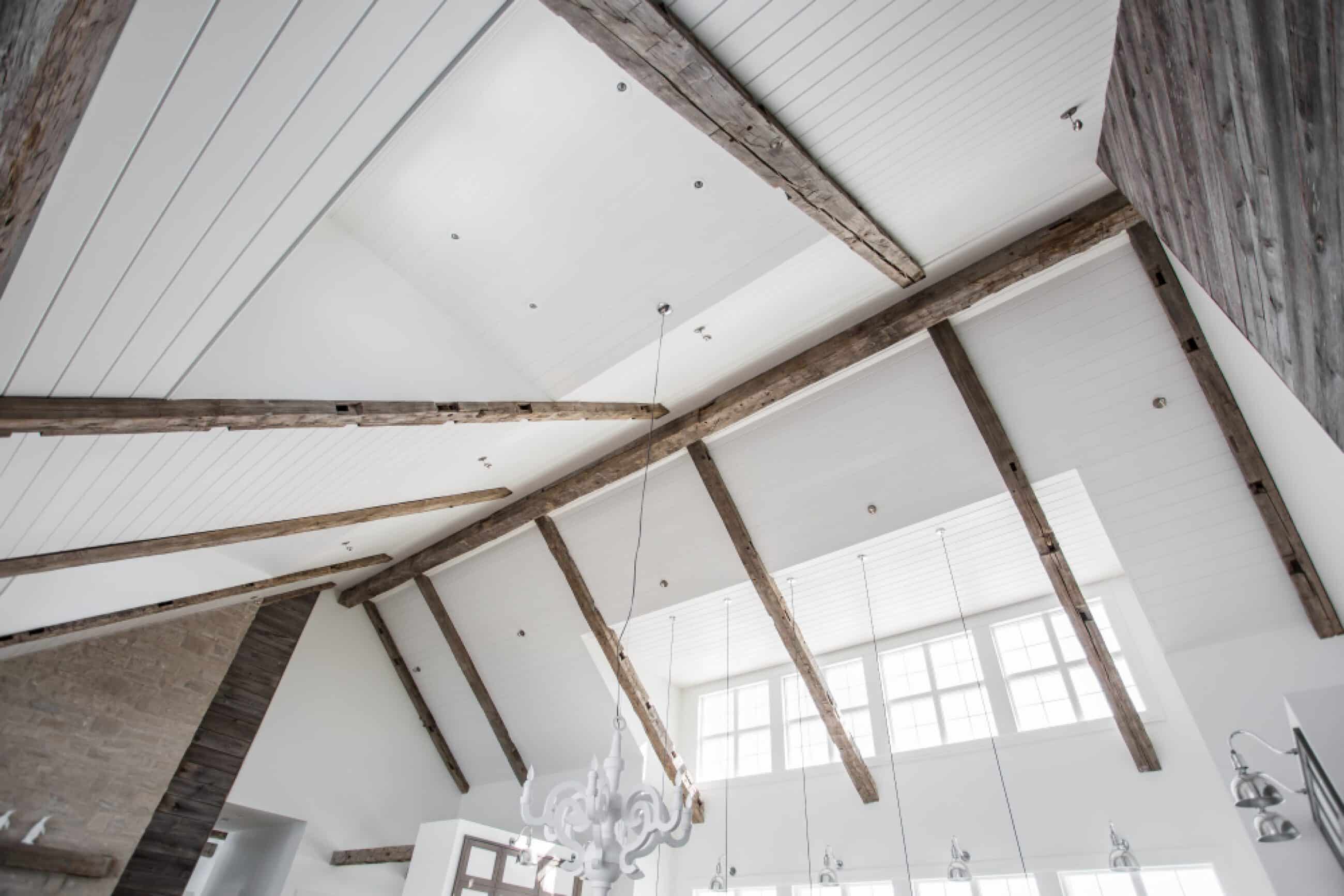 In the image above you are viewing faux wooden beams that have been stained. For an outsider looking in, you would have no idea that these are faux beams, they look completely authentic and are doing their purpose, which is to enhance the ceiling of your space. Beams look stunning on a blank ceiling, although adding tongue and groove or shiplap to the ceiling between the beams creates a linear feature giving the illusion of a larger, longer space.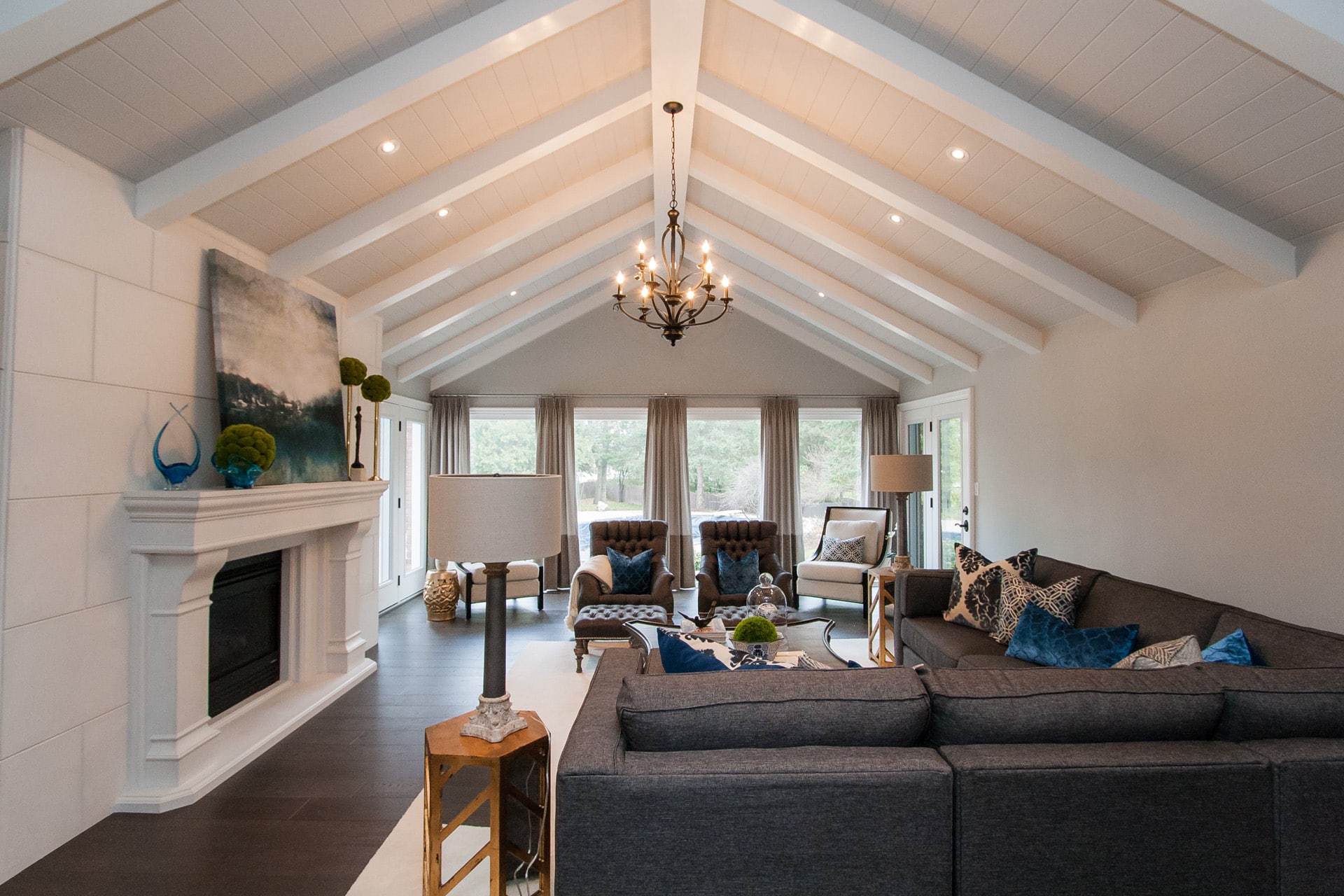 Here you can see faux beams painted white, overlaying a shiplap ceiling. The shiplap ceiling panels are installed the opposite directly of the beams to create a perpendicular linear ceiling. This shiplap ceiling with beams gives depth to this space creating a large room with high ceilings.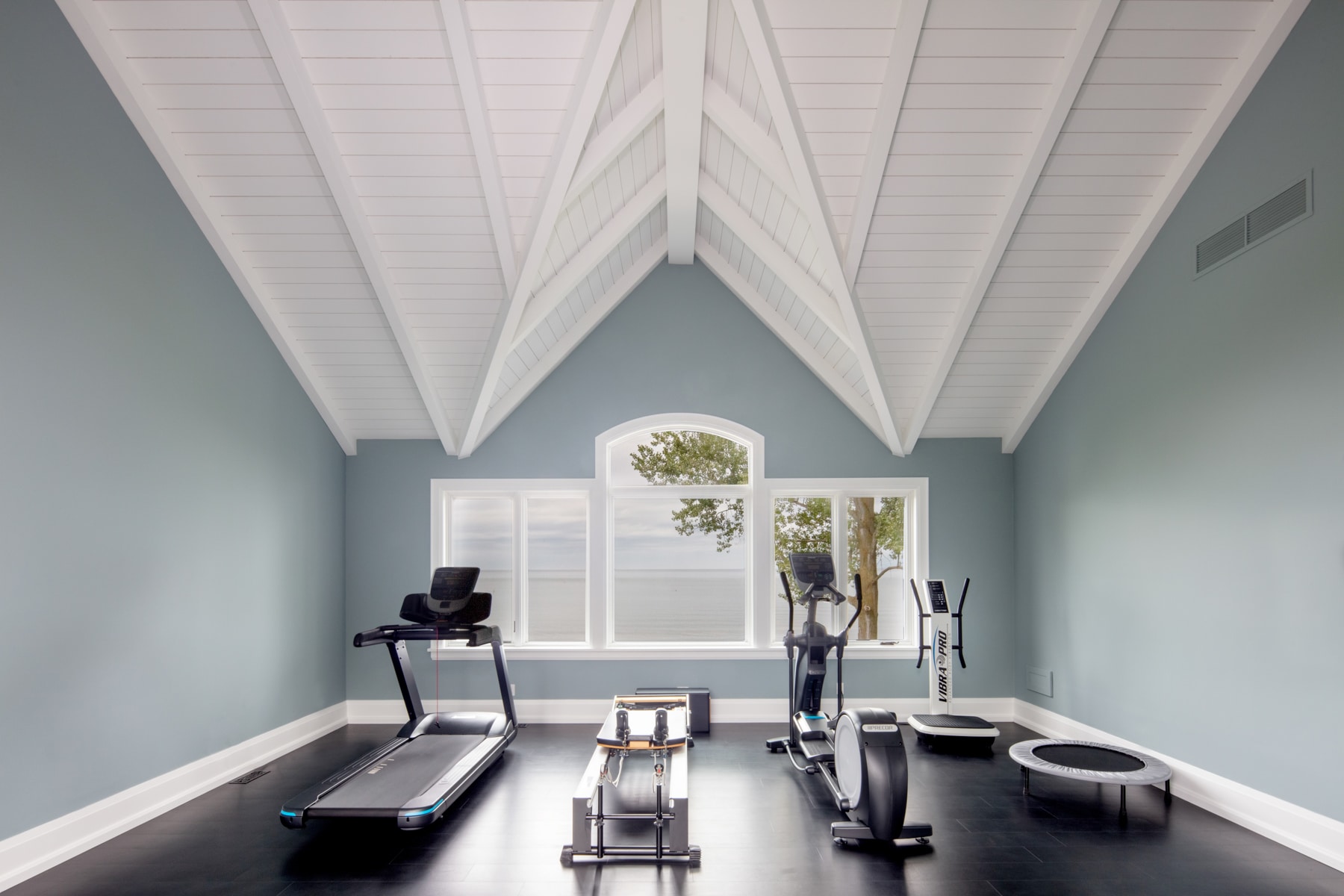 A shiplap ceiling with beams can be installed in any room of your home.. yes even your home gym! Why not add some depth to your home gym with a white shiplap ceiling with faux beams! These faux beams are not all parallel which gives off a unique design element you don't see in many houses let alone many ceilings. Where each faux beam meets another tells the eye that the ceiling is getting higher and higher.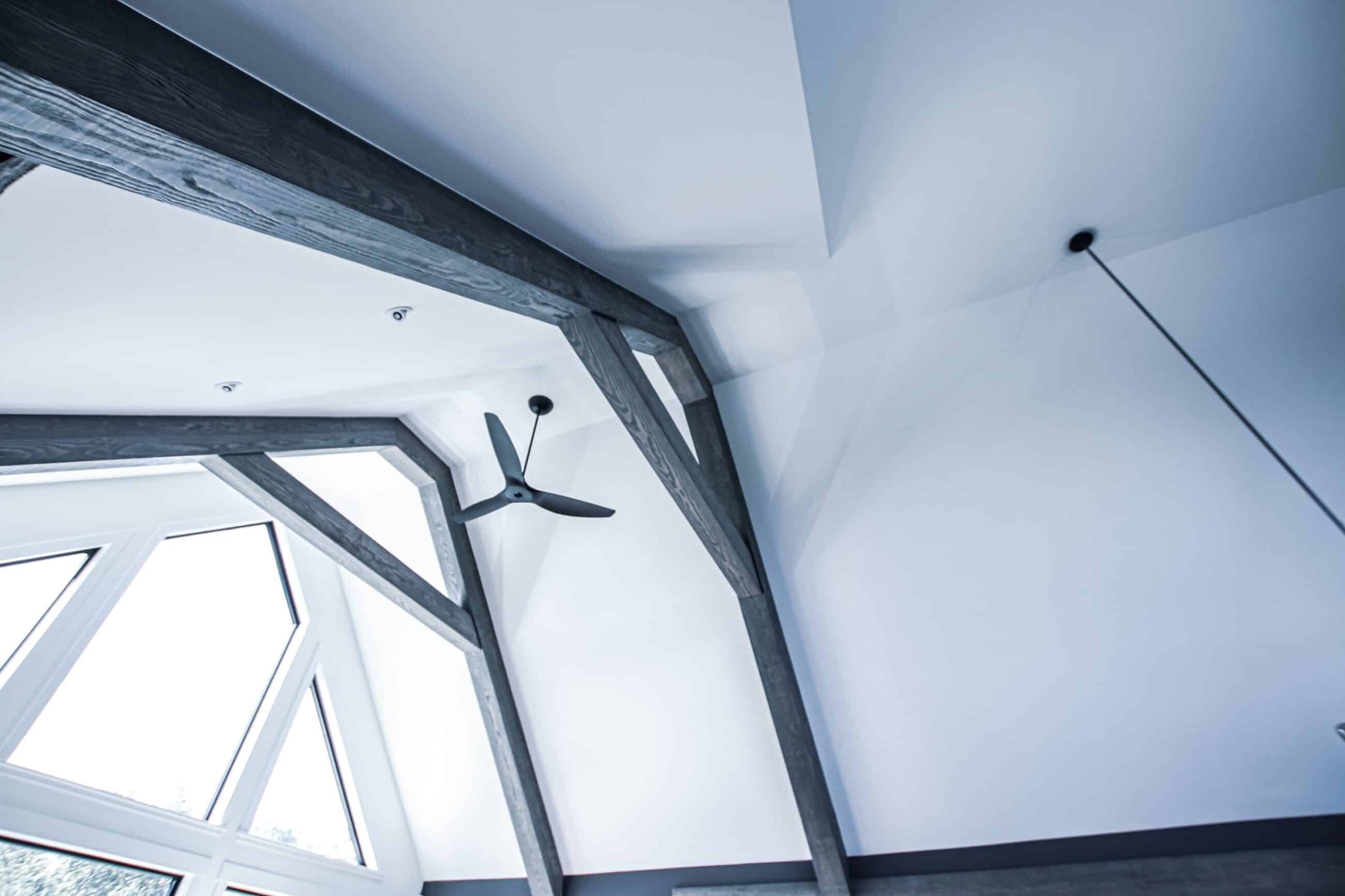 After viewing all of the shiplap ceilings with beams we don't want you thinking it's mandatory to have shiplap or tongue and groove in your ceiling. It is not. Check out the image above where these massive faux beams stained to perfection add just the right amount of design element to the ceiling without looking like it's missing anything. As you can see this ceiling already has a lot of depth, but the stained faux beams highlight the ceiling so guests can view and admire it more, and the contrast against the white ceiling really helps the beams stand out.
Shiplap Ceiling
By now, you should have a good understanding of what shiplap looks like in a ceiling based on the images above. Simply put, shiplap is a series of wooden planks nailed to a surface that have a light gap in between each plank. Shiplap is a current trend for finishing a wall or ceiling, that is very similar to the wall paneling we saw in the 70'sand 80's. Shiplap is characterized by long planks, either horizontal or vertical placed and typically painted white for a more modern look compared to the wood paneling that was popular just a few decades ago. It is commonly used for a ceiling to add more depth and draw the eye upward to at all ceiling.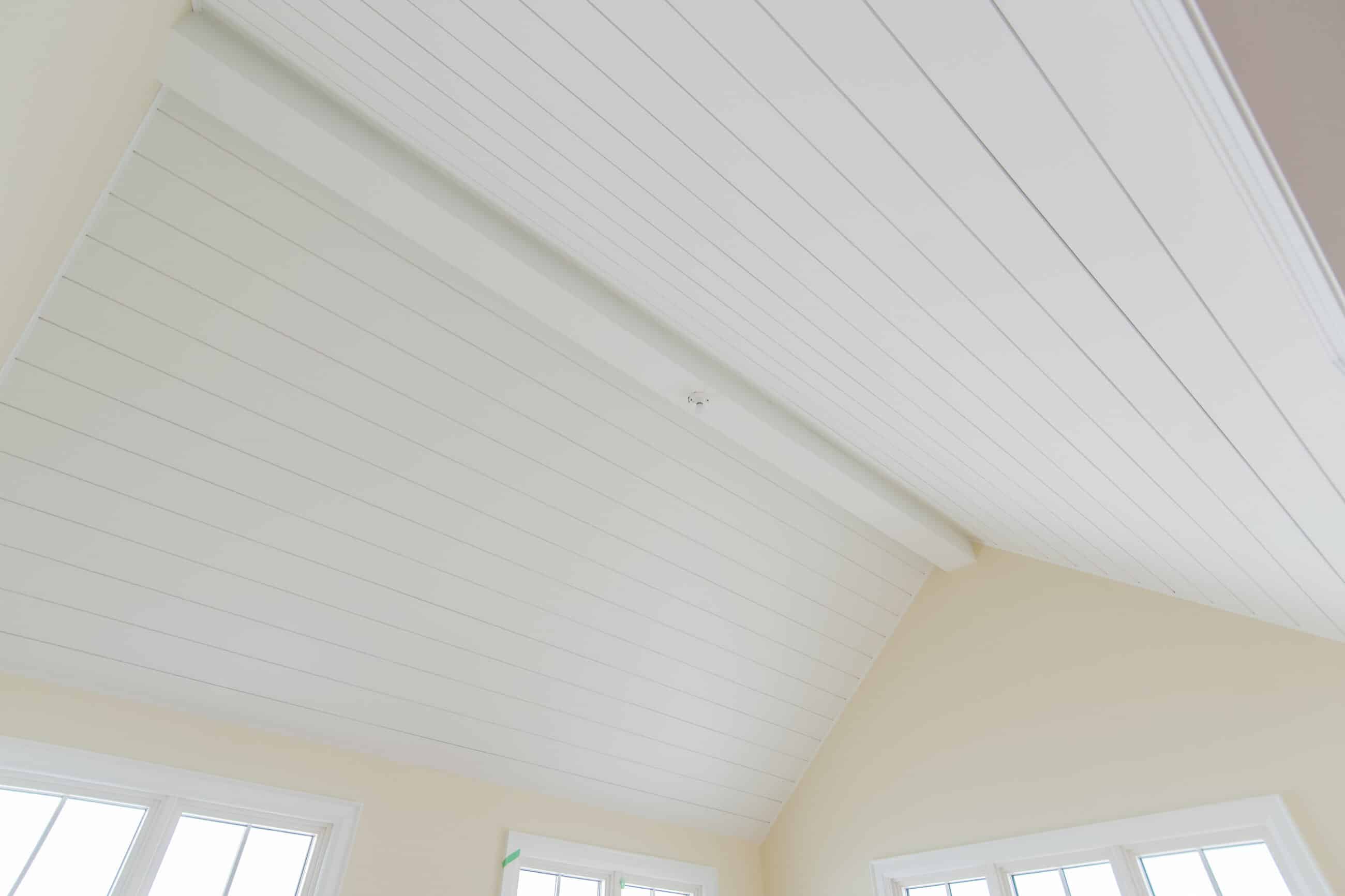 Simple projects can create a significant difference in a space. This white shiplap ceiling in this room has an added faux beam to finish off the centre of the ceiling. A shiplap ceiling can turn a ceiling you ignore into the crowning jewel of a room, adding the faux beam in the centre is like adding the icing on the cake.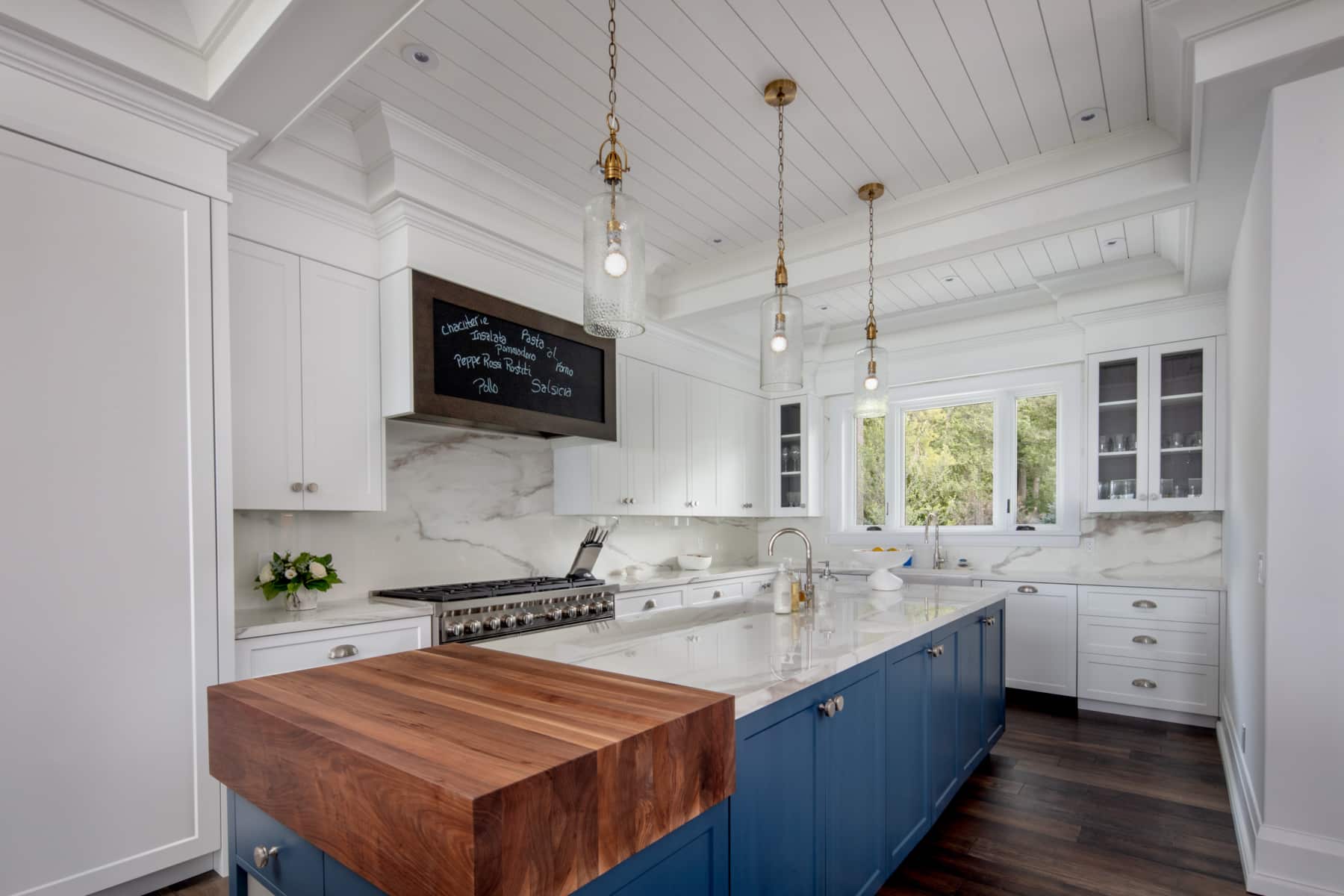 Shiplap ceiling in a kitchen is very impressive to all of your guests entering any event you host. This shiplap ceiling with beams surrounded by crown moulding turns any kitchen or any space in a building or home much more desirable.
Double Tray Ceiling
Tray ceilings are a beautiful architectural feature in any interior space, a double tray ceiling is constructed with an inset area, or tray. You often see crown moulding installed where the vertical wall meets the horizontal ceiling. With a double tray ceiling since there are two insets there are typically two sets of crown moulding. Double crown moulding!? Who doesn't want that! This specific ceiling allows you to get creative with ceiling paint designs.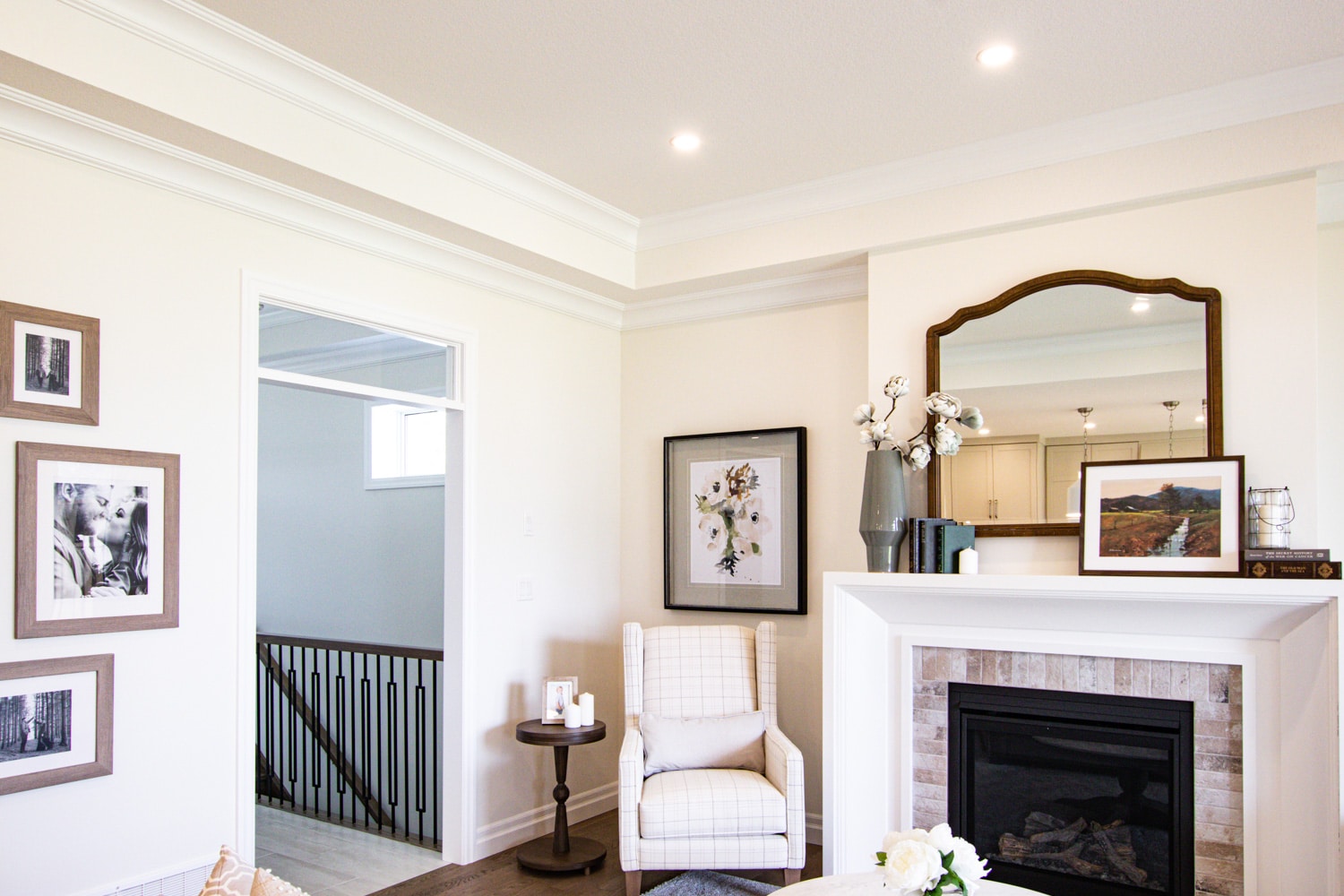 Here is a more basic double tray ceiling design. Where both levels are painted the same colour with a classic traditional crown moulding on each level. This double tray ceiling gives that wow factor to this living room. With the double tray ceiling and the glass transom on the doorway this homeowner utilized multiple ways to use architectural home features to incorporate height into this room.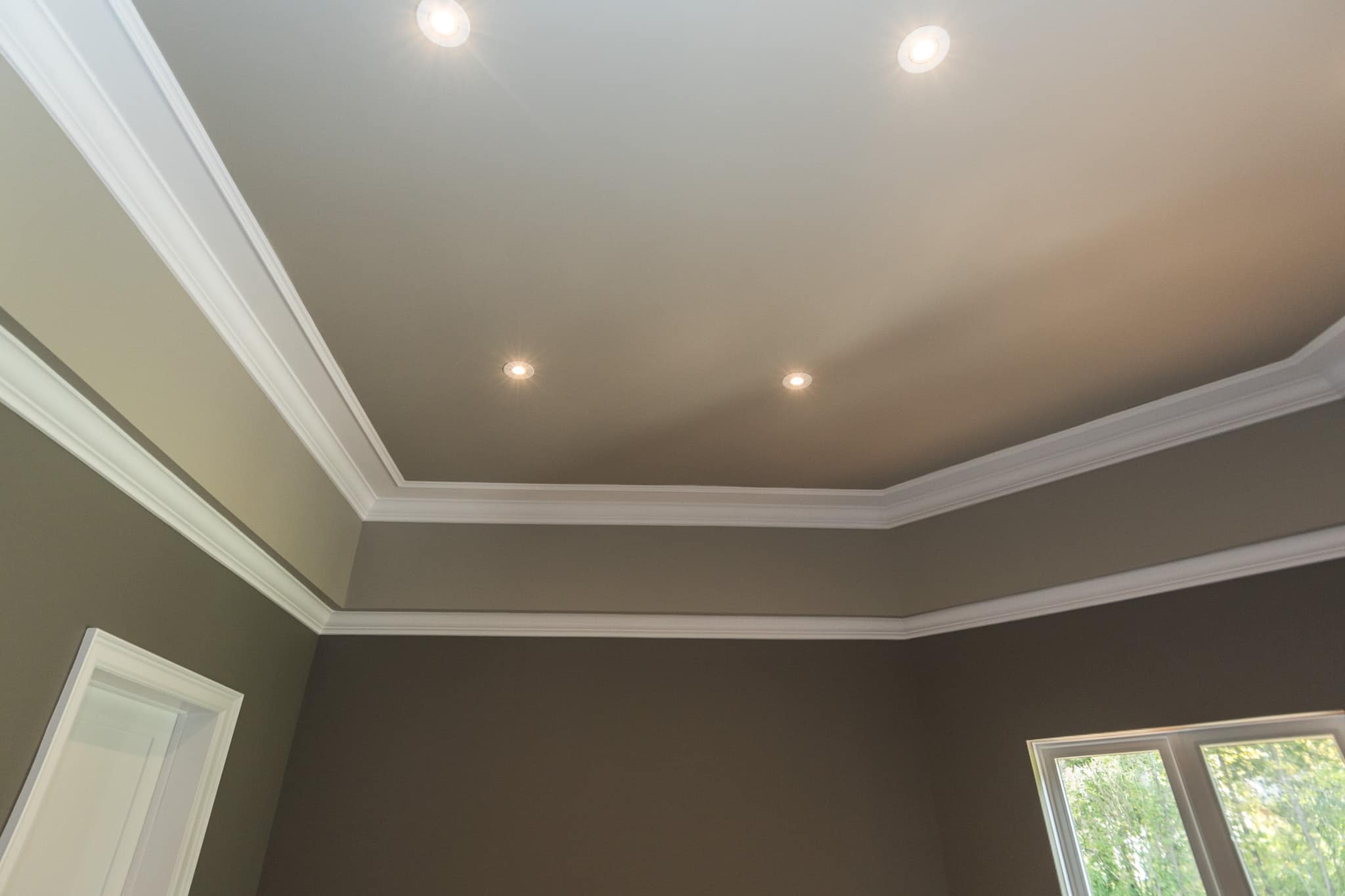 This double tray ceiling design is a little more advanced than the previous image. There are multiple different tones creating a visual height enhancement. The crown moulding is wider and has more detail throughout. A double tray ceiling design allows for the use of colours painted on each level, allowing the home owner or builder to use multiples colours or tones.
Now you should have a better idea of ceiling design options you can take to enhance the ceiling in your home or project. But if you're still looking for some advice, contact us today to get the ideas started!
‍