The first home to display crown moulding dates back to the 14th Century in France and some claim off the record it was used in ancient Egypt. While it has been used for centuries, it certainly has changed and evolved with the homes we build in the materials used and the designs incorporated.
When you are renovating or building a home these days, a careful consideration of trim and other crown moulding can take a home from builder grade to custom. This guide is meant to help you understand what options exist for trim, and what you should consider before selecting your trim style.
‍
What is Crown Moulding?
Crown moulding is what we describe as the trim used where the wall meets the ceiling or a cabinet meets the ceiling in a kitchen or walk-in closet. Not every home has crown moulding but often when you are looking to make more of a design impact, crown moulding can add a great design touch to any home. While it may not be a fit for every style of home, especially those that are modern or contemporary in their style, crown moulding is still considered to be timeless to the majority of designers and will continue to stick around for centuries to come.
‍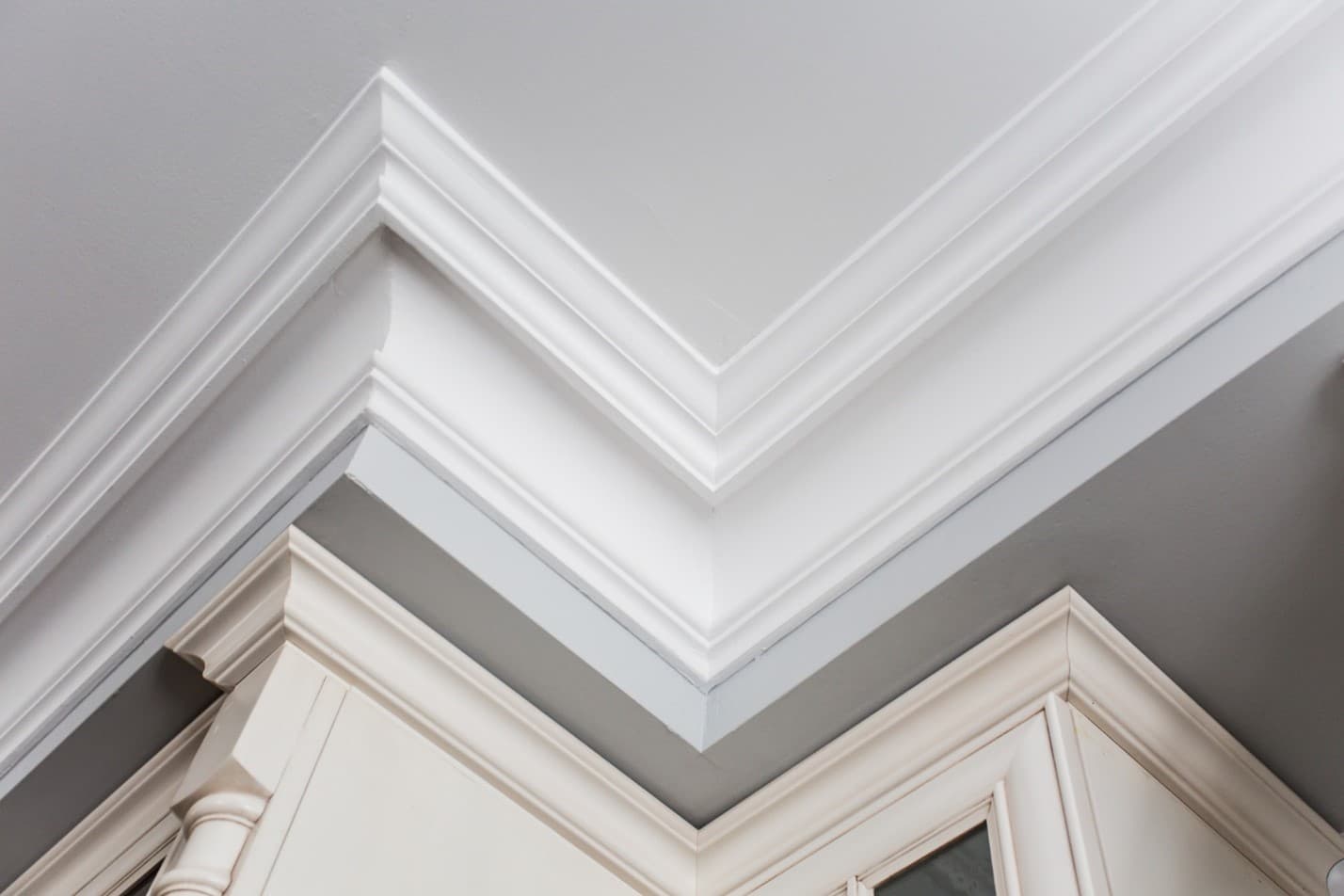 When it comes to incorporating crown moulding into your design plans, it is important to consider that selecting the right crown moulding for the project can help with making the ceilings appear taller than they did without the crown moulding. Crown moulding can also be used as a focal point in a room.
‍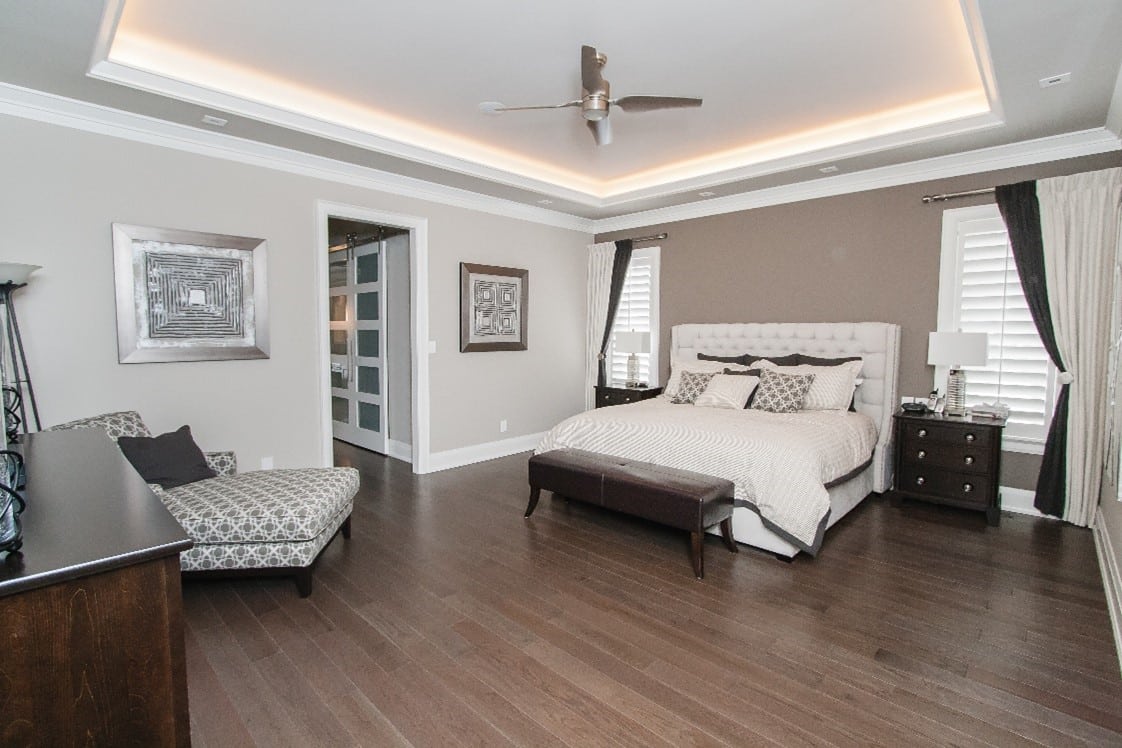 In this room we can see with the right crown moulding design and light being used, the ceiling goes from being easy to ignore to a clear focal point in this dreamy bedroom suite.
When selecting a style of crown moulding you can see that Riverside Millwork carries a range from modern to more traditional to help you with your projects.
‍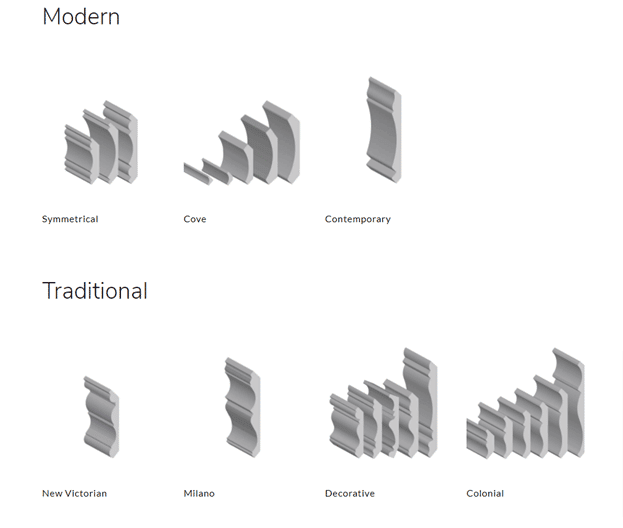 So when you're designing your next project, take a look at our gallery or go to Pinterest to get ideas of what could be done. If you have your own inspiration, make sure to save it to show our team. The possibilities are endless as we can provide custom manufactured trim for any home!
‍
What is Casing?
Working our way down the wall, we have casing as another variation of trim. Casing is used typically to trim the perimeter of windows and doors. It is typical to select a casing that is going to compliment the baseboards you will select and the crown moulding that you have chosen to support a cohesive design. In addition to the other trim in the home, it is important to consider the style of the interior doors. The casing should complement the interior door. For dimensions of casing, typically the casing for a door or window will be less wide than the baseboard or crown moulding.
‍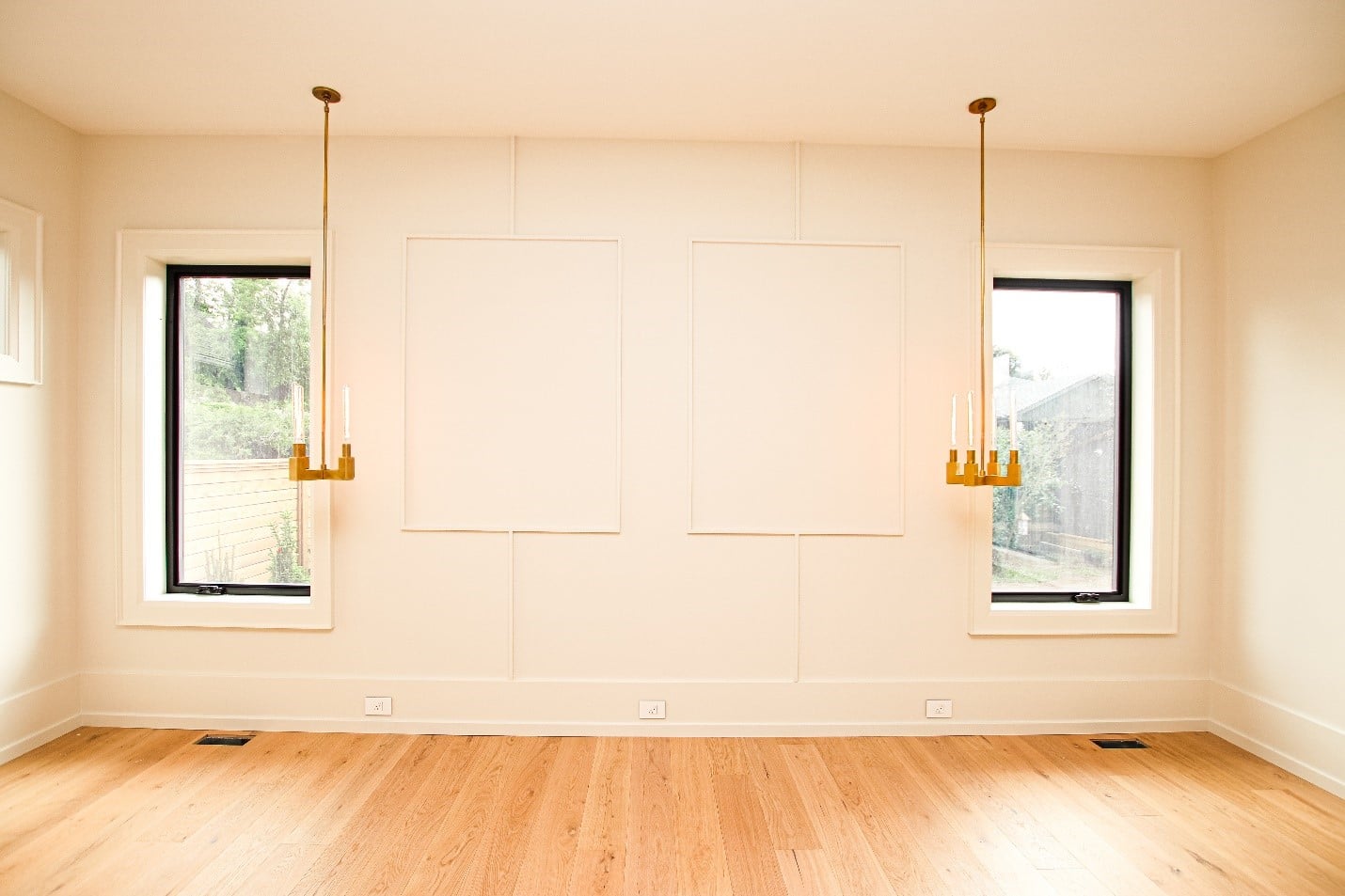 In this room we can see the modern baseboard is much taller than the casing outlining the window. We also note that the casing chosen for this room compliments the same modern style of the baseboard to ensure there is a consistent style choice in the room.
Styles of casing range much like the baseboard selection with a variety of styles that fall under the modern style and many that fall under the more traditional style.
‍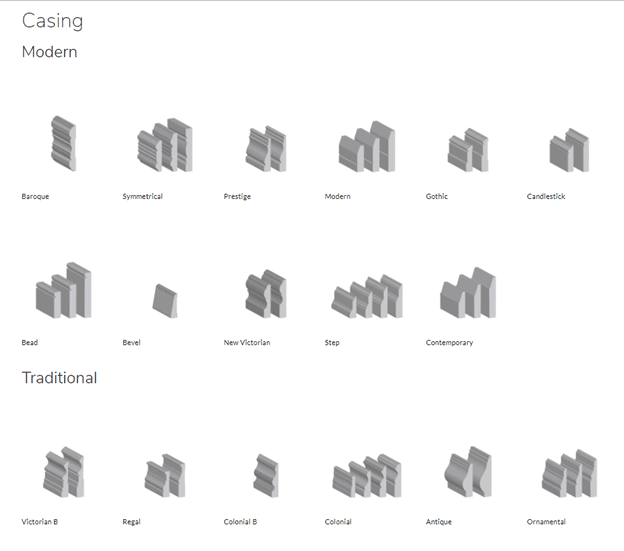 Casing should be carefully considered when selecting baseboards as well as when selecting interior doors to achieve a cohesive design throughout a entire home or room.
‍
What are Baseboards?
Baseboards are typically the first thing that pops into your head when you hear the word 'trim'. Baseboards refer to the trim that covers the area where the wall meets the floor and is typically replaced when changing the flooring of a space or looking for a refresh after many years of wear and tear. ­
‍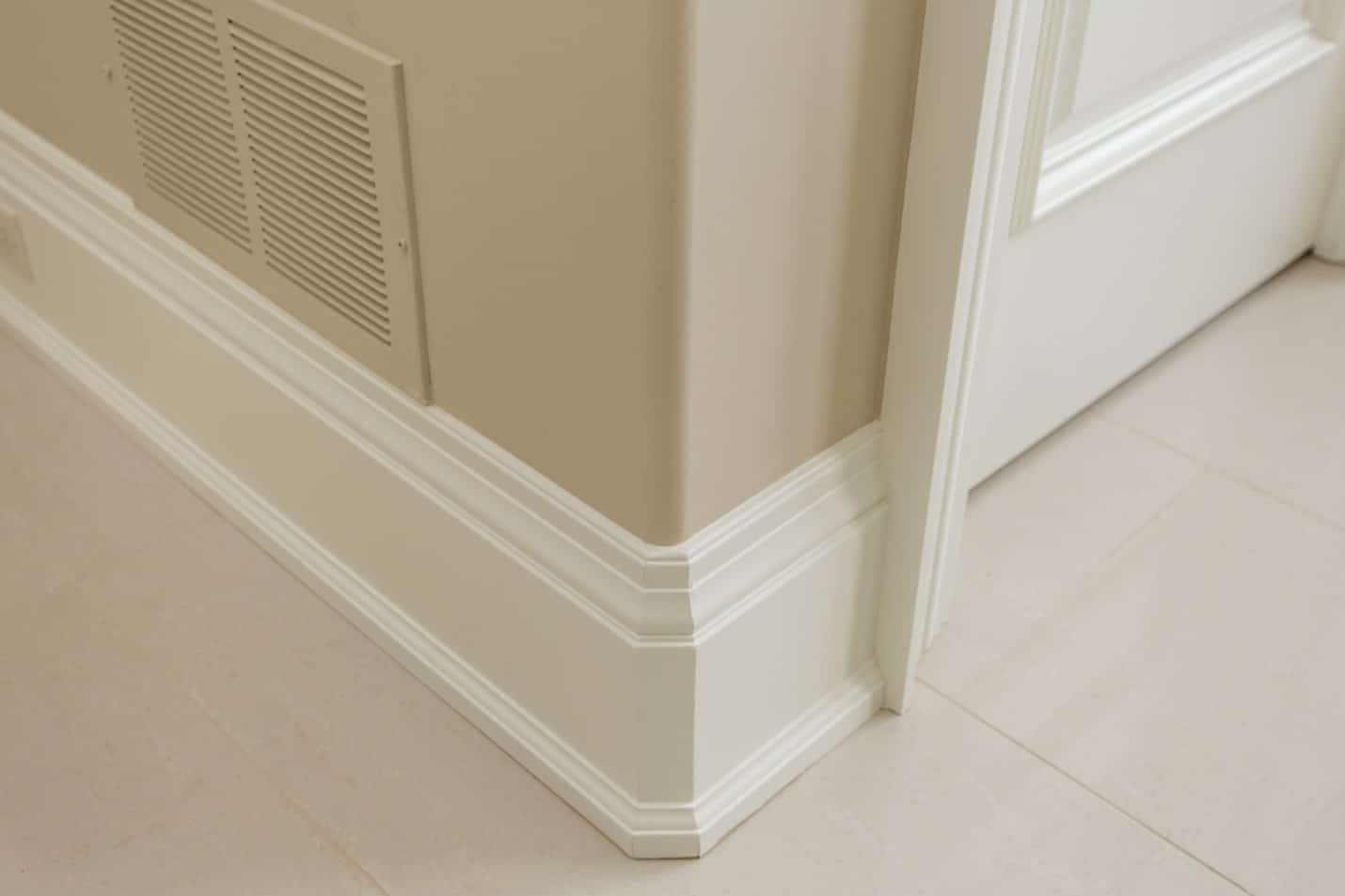 The style of a baseboard is typically chosen based on the age and style of the home it is going into. If a home is older and is comprised of a more traditional style of décor, it would be a complimenting feature to have more traditional baseboard like the one shown above.
In the last decade, baseboards have come to the forefront when designing homes as it is a detail that takes a house from looking like just another to one in a million. These small details are the ones that give a finish to a home that is most synonymous with a custom home or custom design. Again, the styles of baseboards vary greatly and can be made in a variety of wood, however MDF and Poplar are the most popular choices that Riverside Millwork Group offers.
‍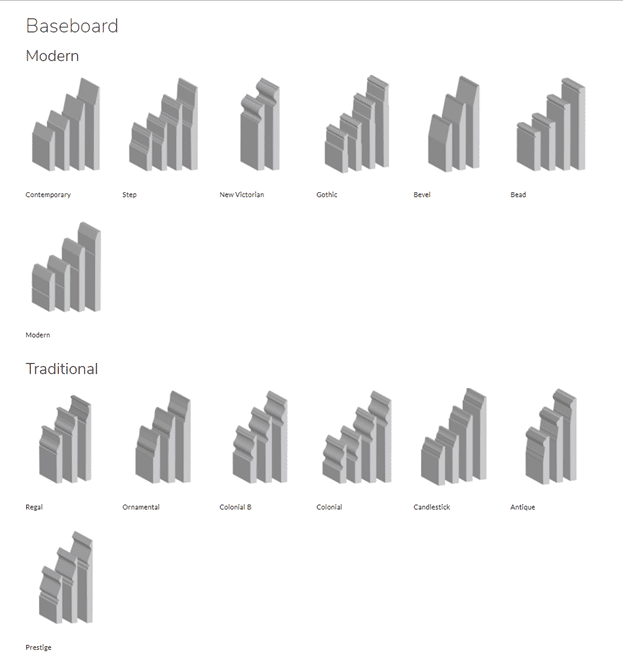 ‍
What is Architrave?
The term architrave was originally intended for the traditional support of timber, stone, or concrete across two vertical pillars and dates back centuries much like crown moulding. These days we use it in design to elevate the casing that is around windows or doors. Architrave has limited options when compared to other products in the trim category, but this is because it is typically complimenting the Crown Moulding and Casing being selected for the home.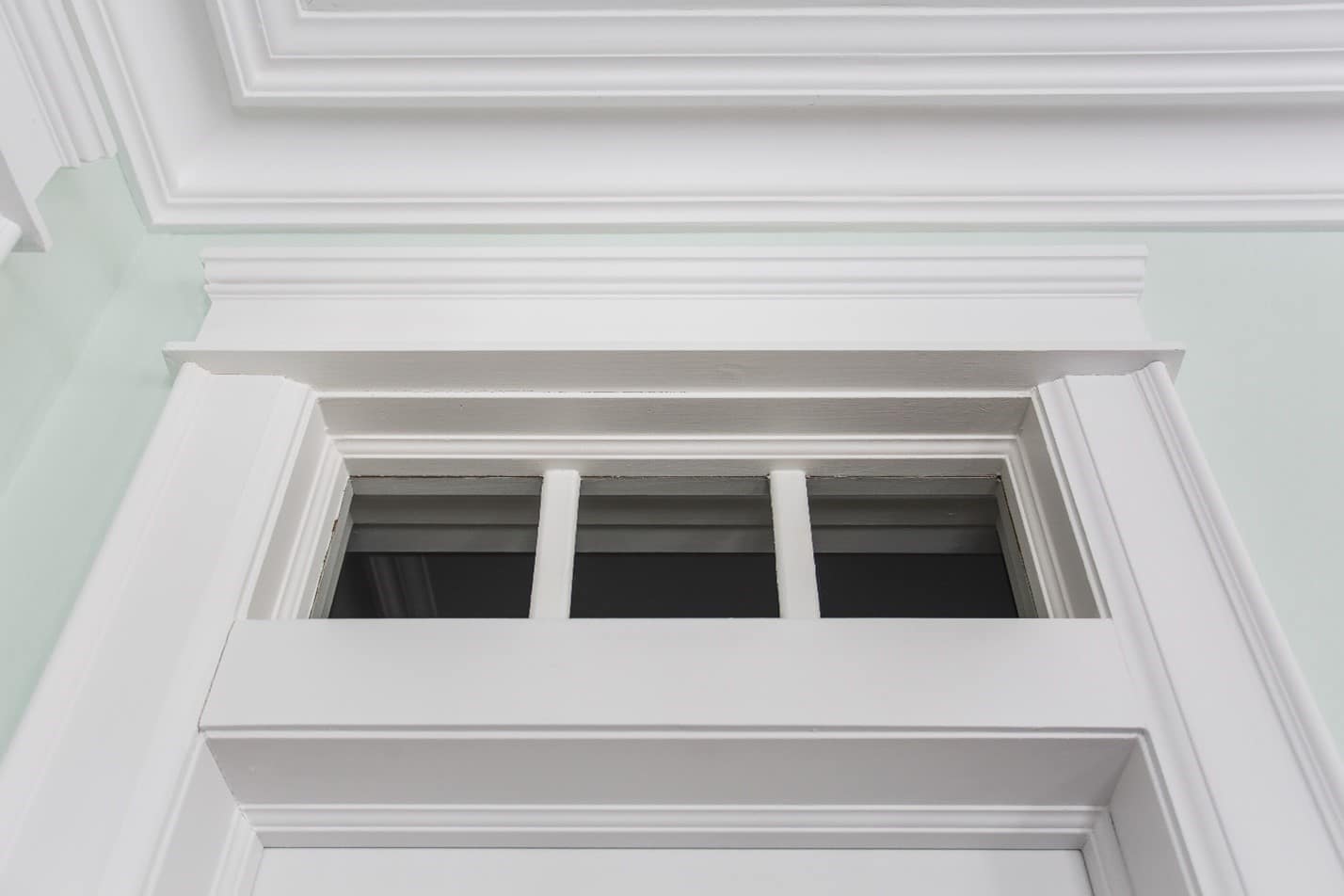 We can see above this door way is a glass transom which allows more natural light to seep into connected hallways and rooms. Above the glass is a traditional architrave that makes the doorway appear larger than it actually is. While this option won't be possible for all existing homes, it typically is for older homes that were designed with a lot of space around windows and doors and can make a big design impact in a room.
‍
‍
Where to Start
Whether you are a designer, renovator, builder, or homeowner, our team at Riverside Millwork Group can be a great resource to help you with you project. If you want to place an order here are some of the questions you can ask yourself in preparation:
What type of trim do you require;
Baseboard, Crown Moulding, Architrave, and/or Casing
What is the style of trim you would like?
Varying styles for each type of trim.
When do you need it by?
We typically have colonial, step, and contemporary in stock while all other styles will have a longer turn overtime.
What is the size you require?
Visit our Website to view size options.
Do you need mdf or poplar?
MDF is more cost effective, while poplar tends to be more durable and flexible in design.
Do you need it primed?
Only MDF will come primed, but poplar is known to be great for painting and the nail holes are easily fillable.
‍
‍
‍