So – you've been contemplating a new interior door for a while now. Or, the idea just sprung itself upon you and you're ready to make that change. Either way, good for you! Installing a new interior door can be an exciting process – but it can also be a challenging decision.
Selecting a style of interior door for the first time can be the first challenge you encounter. Whether you're starting your search on Pinterest, Google, or our website, we know the design styles can be overwhelming to choose from. The purpose of this blog is to help you understand the difference between a traditional and more contemporary interior door style so you can select the style of interior door that is best for your home. Before deciding on the colour of your door, or the style of handle, you should decide whether a traditional or a contemporary style interior door will be the best choice for your home.
Your Home Décor Style Currently
A home or room will typically reflect either a traditional or a modern design style, or a blend of both often referred to as transitional design. While it's not written in stone that a style skewing more one way should absolutely incorporate the appropriate door style to match, it generally does work out better when the styles agree.
A Traditional Décor Style
If you find your furniture and wall colours represent trends from a few decades ago, you likely have a more traditional décor style. Some examples of traditional décor styles would be this living room featuring a classic chandelier, a highly detailed fireplace and frames on the wall with very traditional intricate details.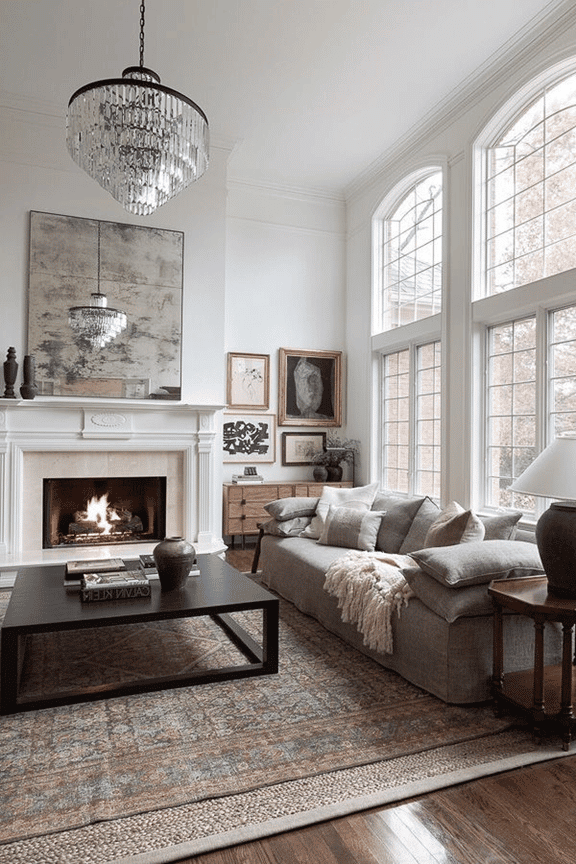 ‍
Another example of a more traditional décor style is this project we supplied doors and trim to which was a over 100-year-old farmhouse being remodeled.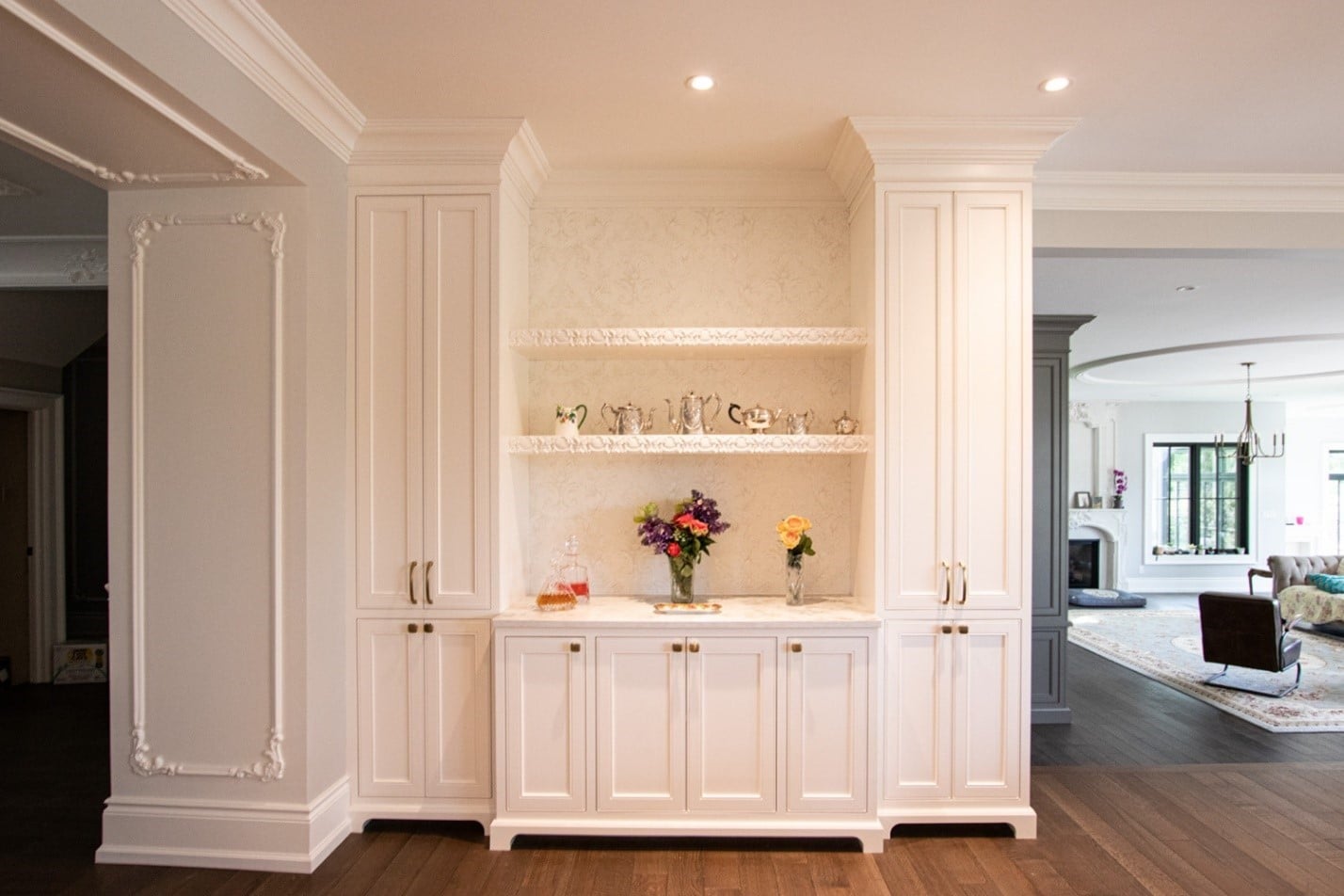 ‍
Between the incredible moulding details and the crown moulding featured in nearly every room the traditional design elements are evident. When this client was getting an addition built onto the home, it was key that they kept many traditional décor elements in the home including their existing furniture.
So whether you have a home built 25 or 100 years ago, your décor style can still be more traditional. If this is the case, you may choose to align your door design with that more traditional décor and keep the traditional design fluid throughout the home.
A Contemporary Décor Style
A more contemporary décor style is one that is typically subtle and relies on clean lines and open spaces to define itself. We see a variety of contemporary décor styles in present day as nearly 2 or 3 niche design trends emerge each year in the interior design market. Here we will break down some of the common contemporary design styles, but realize just as in the traditional décor style section, we're only grazing the surface of what is available.
Most often we run into the midcentury modern inspired contemporary design featuring furniture styles originated in the 70's and 80's,muted tones combined with bold colours and integrating outdoor motifs such as stone and wood throughout the home.
Our client Millstone Homes does a great job of designing their homes with a very contemporary yet still warm and inviting design as seen in the image below.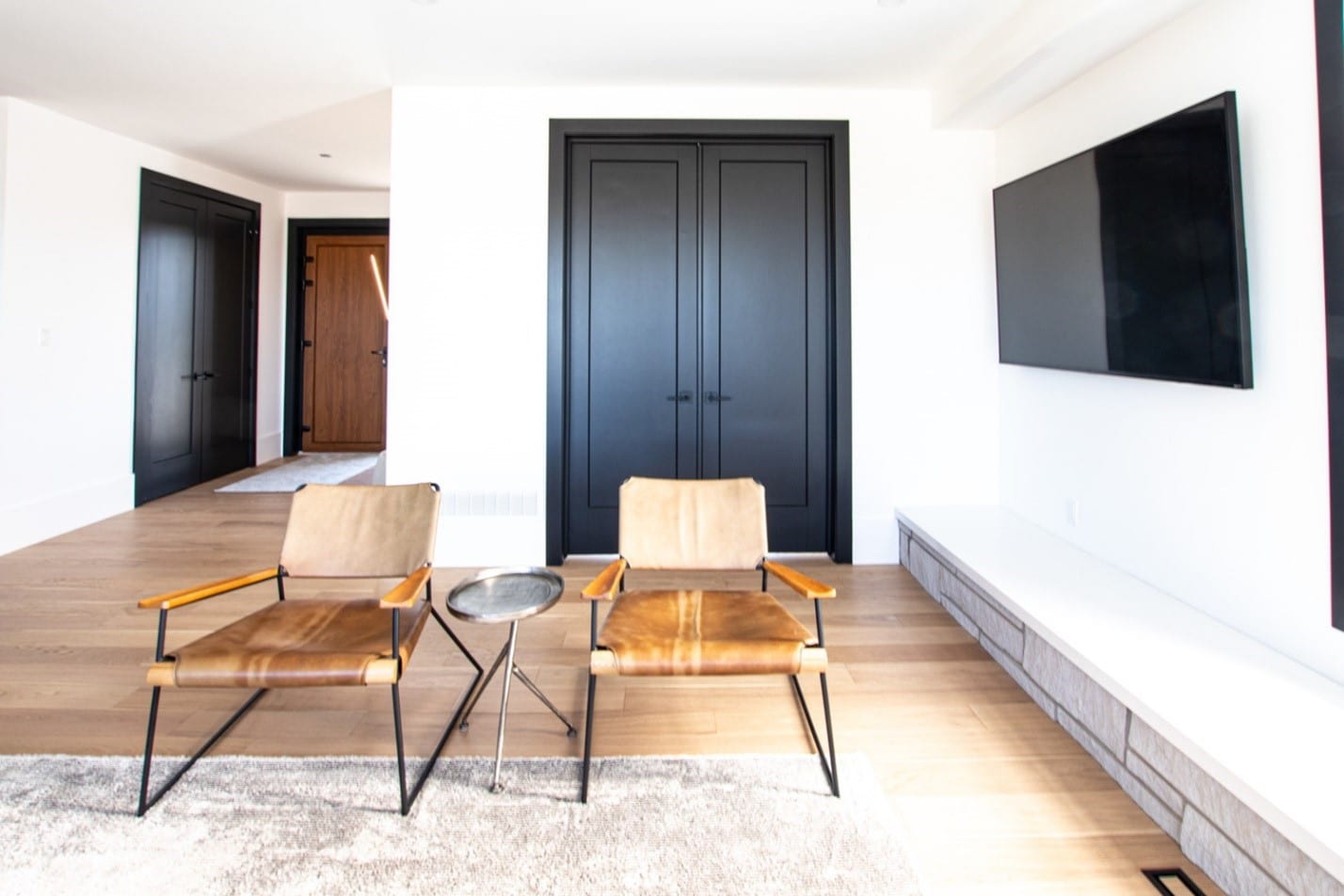 Another great example of a more contemporary décor style is the newly renovated Beach Motel which features a lot of natural wood tones, bright white walls and graphic shaped in furniture. All elements of a contemporary modern décor style.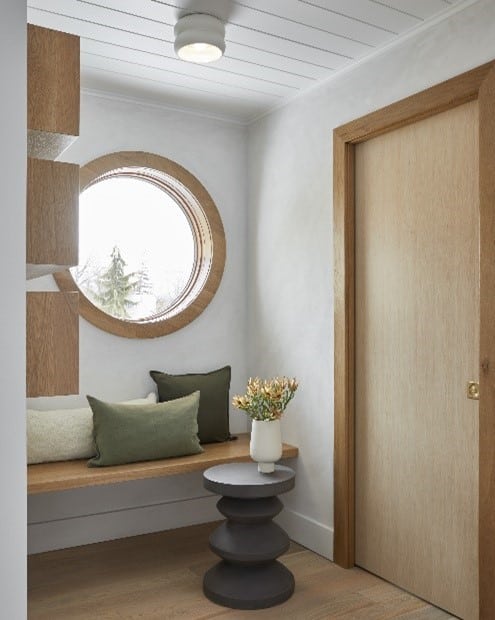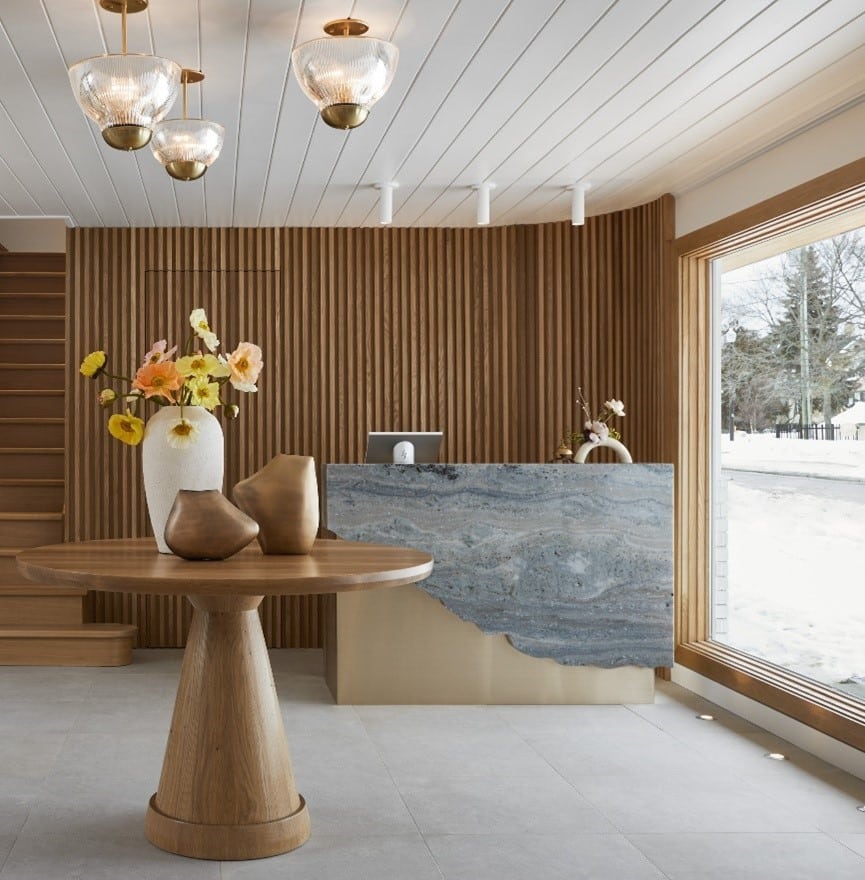 Traditional and Contemporary Décor Style
It is worth noting as we talk about interior design styles that it is not an all of nothing topic. Some folks will intentionally or subconsciously incorporate both traditional and contemporary elements into their home décor when designing their home or selecting their furniture. While this may make for more of a challenge in selecting which interior door style to go with, it could also provide more opportunity to select any door you like because it will go with your current home décor.
Some examples of a blend of modern and traditional style would be transitional design/ décor including traditional elements such as stone fireplaces and coffered ceiling being matched with more contemporary design elements such as shiplap, white walls, and clean lines in the furniture.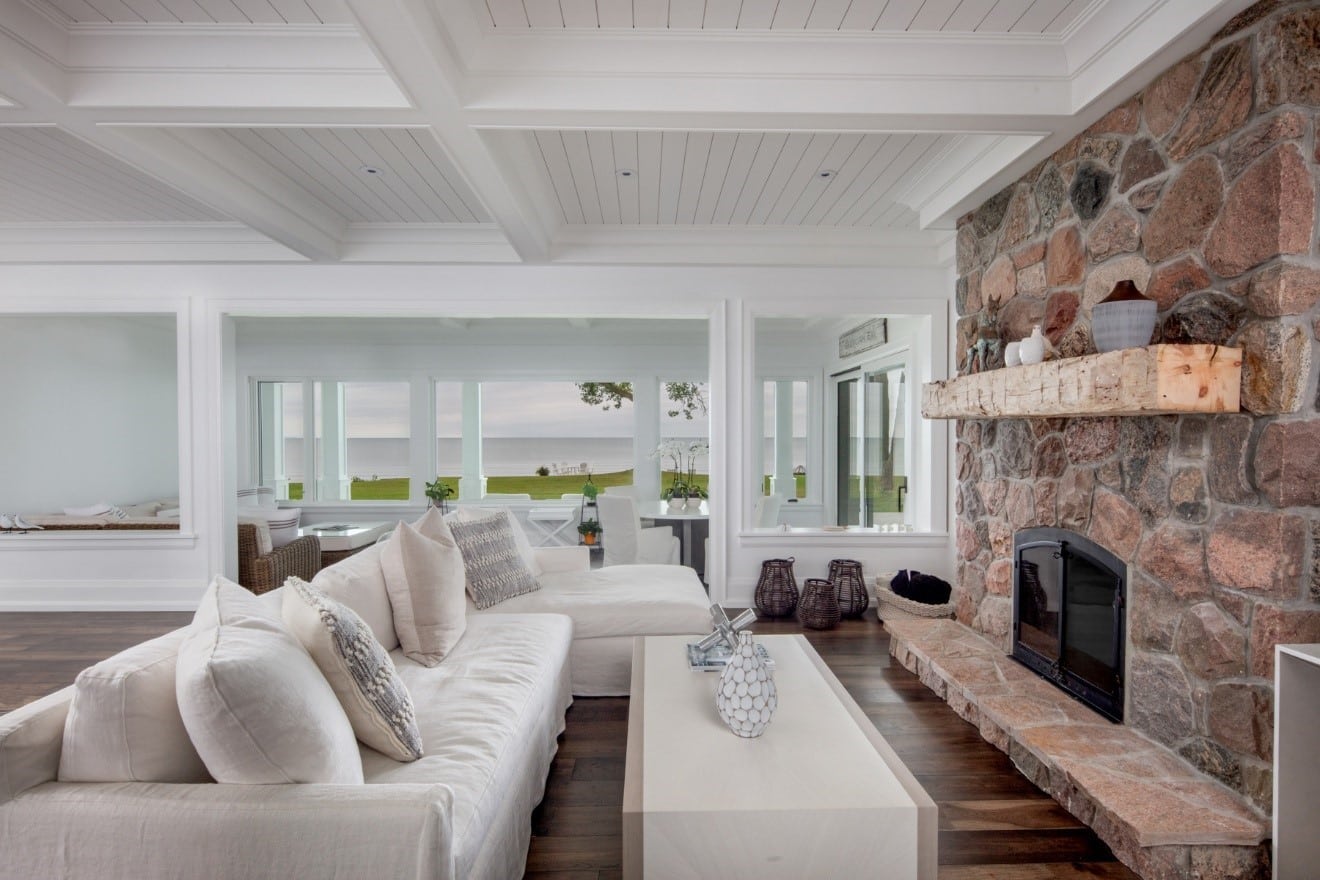 This project where we supplied the millwork from the ceiling to the baseboard, features many elements of both traditional and contemporary design.
So now that we have covered off the differences between a Contemporary and Traditional Interior Décor style, let's see which doors align best with each style.
Traditional Interior Door Styles
More traditional interior door styles typically feature 2+ panels on the door, a variety of edge work design, and most people will opt for a more detailed handle or knob to align with the traditional door style.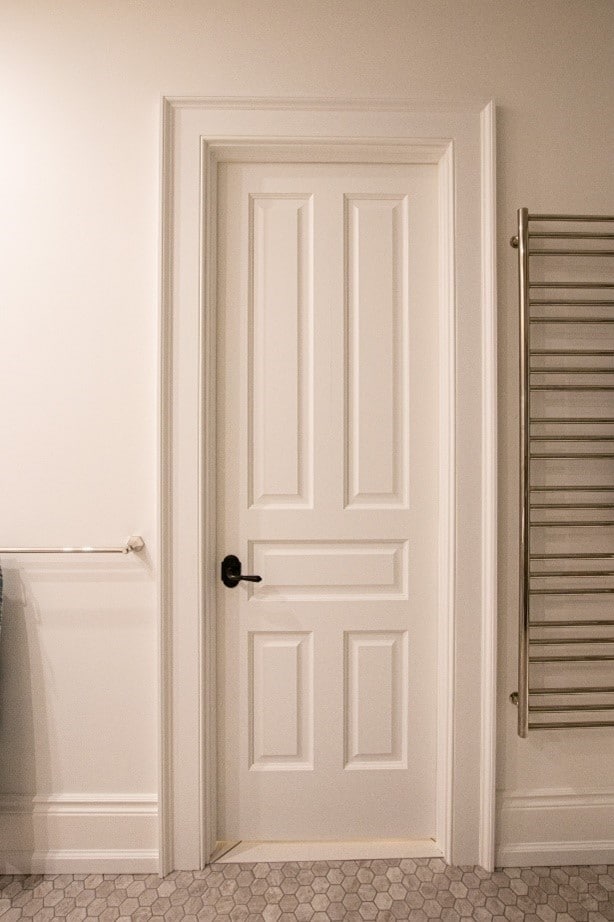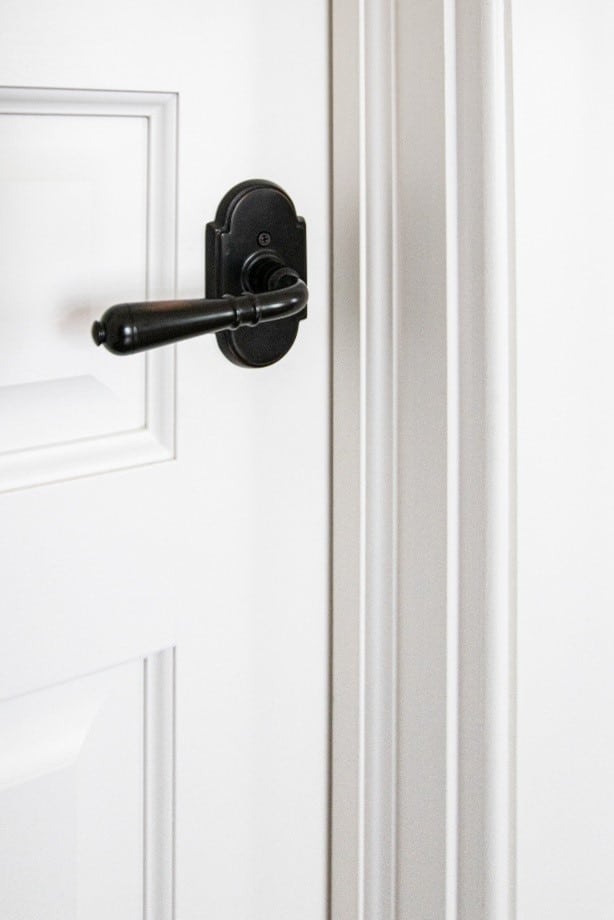 This example still features clean lines using square panels while still providing many grooves and ridges in the panels of the door creating a more traditional door design.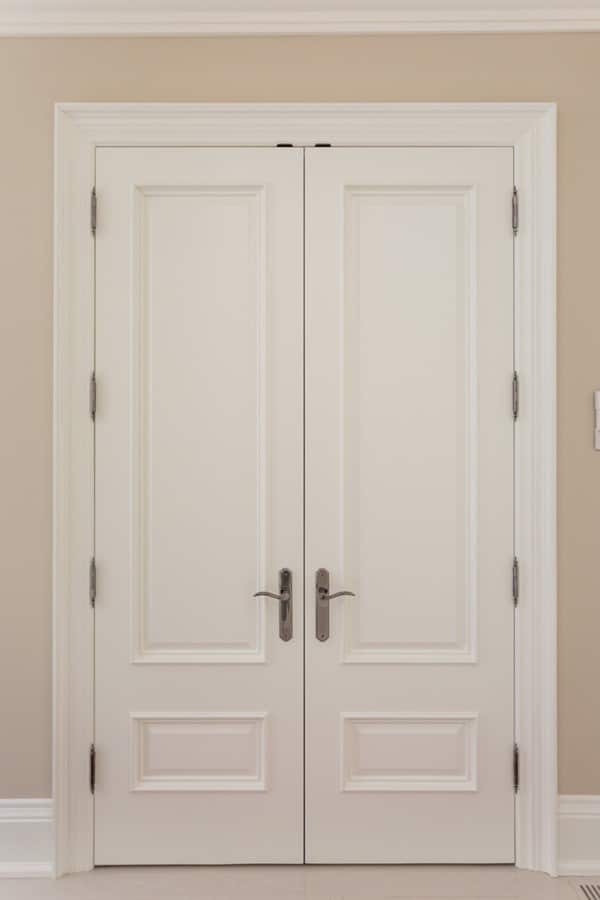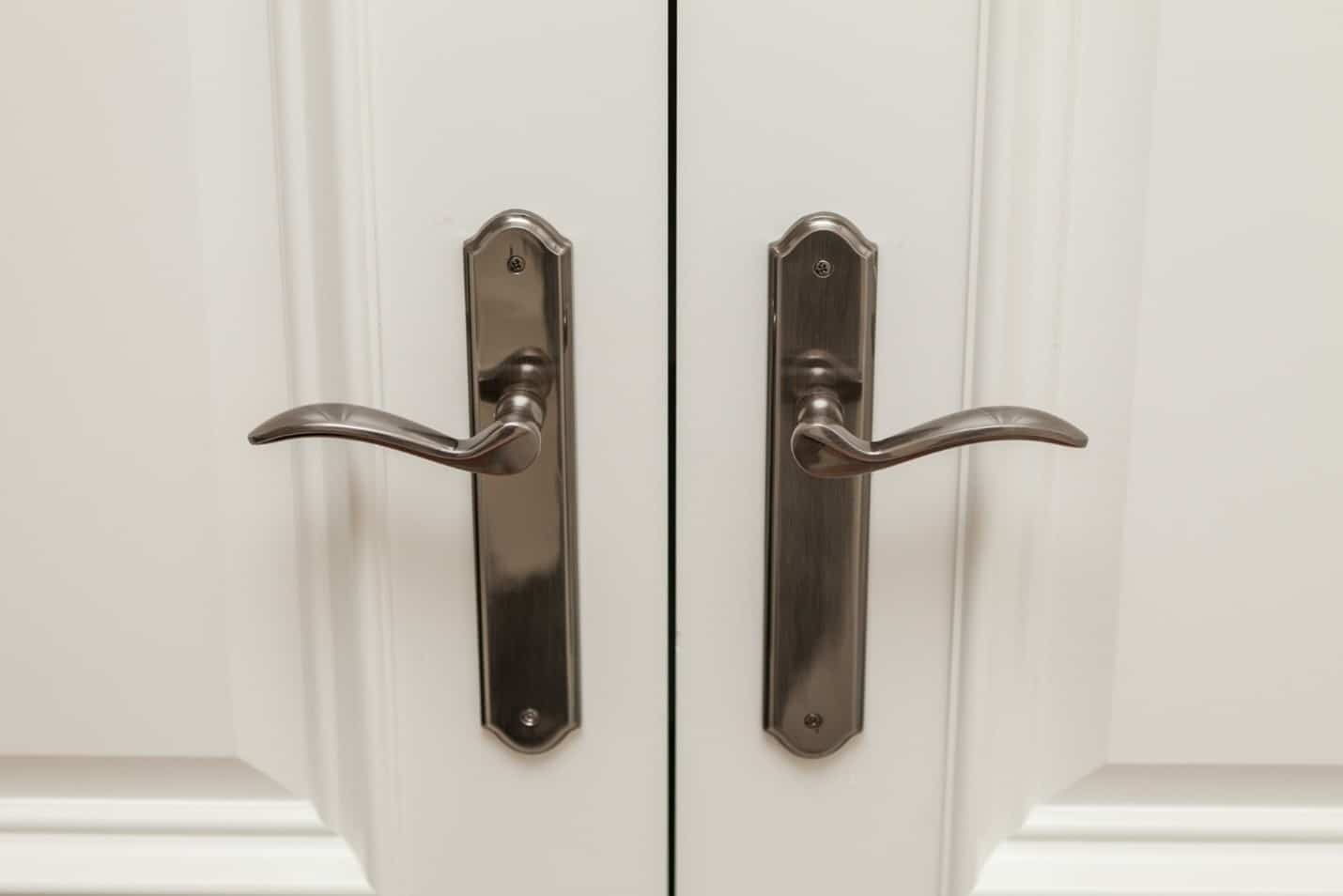 Again, this door shows us many grooves and ridges, paired with a more traditional handle as well.
Now if you've looked at these doors and thought there is no way they will go with the décor in your home, let's see some more contemporary interior door styles that way better suit your project.
Contemporary Interior Door Styles
The most sought after contemporary interior door style is the Shaker door. The shaker door most used in cabinetry, can have everything from 1 to 5+ panels but will only have a straight edge between the stile and rail.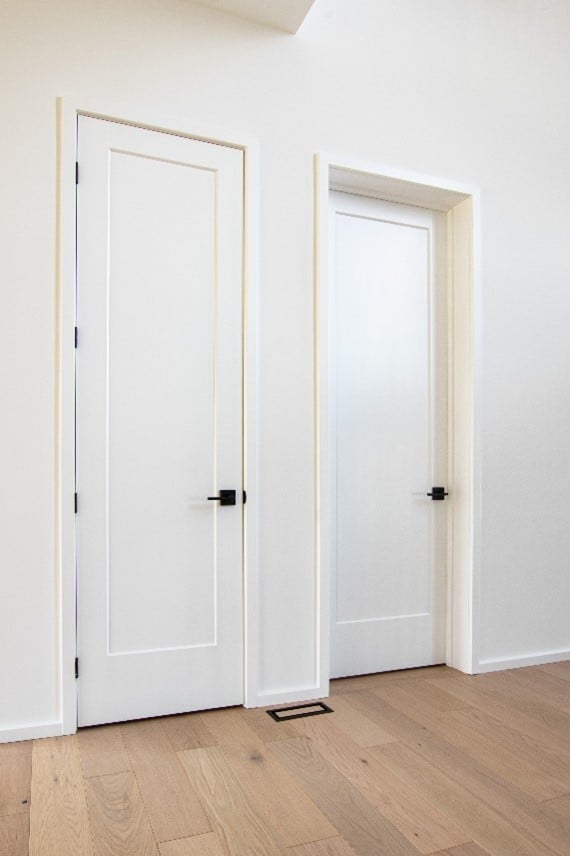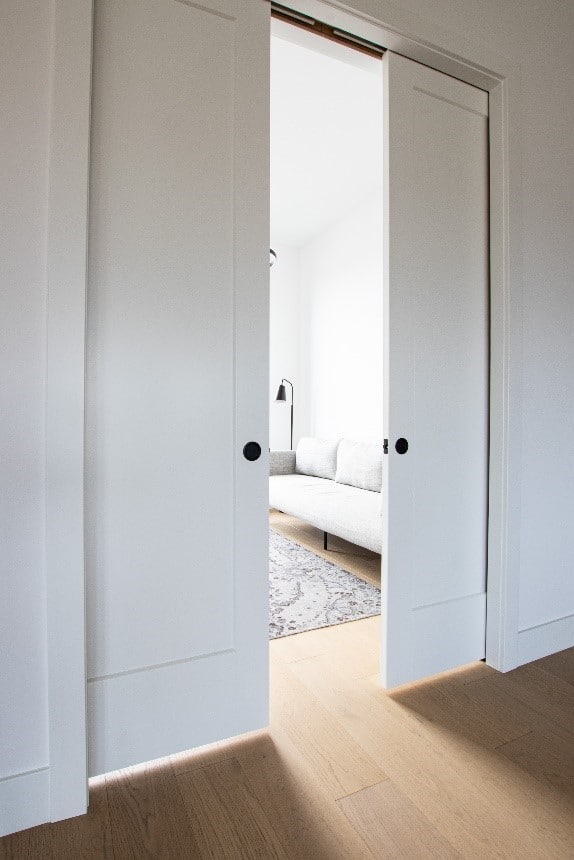 These doors can be used in traditional swing doors, pocket doors, and even barn door formats. In addition to the modern shaker door, some homeowners will opt for a little more detail added to their modern door design and do patterns such as chevron as seen in the barn door below.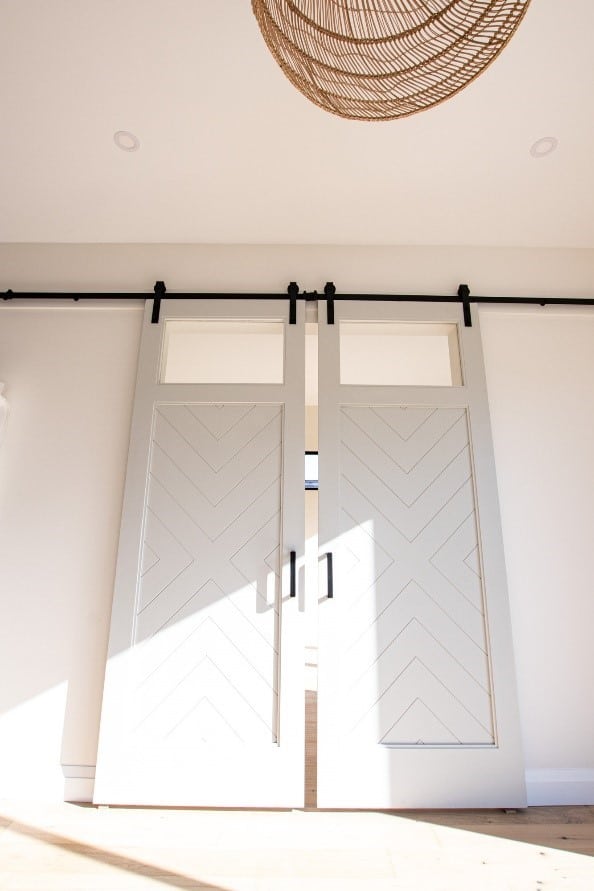 While the Contemporary and Traditional Interior Doors vary greatly, it should be said that there isn't any rule that says you have to choose a traditional door style for your traditional décor or contemporary door style for your more modern decor. There are traditional doors with certain features that can complement a modern interior setting, as well as contemporary doors that feature embellishments or aspects of traditional design for a seamless integration. So if you're confident in your design skills and think you can pull together a mix-and-match approach, go for it!
Just be sure you have a good understanding of how it will look before purchasing. So, if you're interested in creating a free mockup of what door options will work for your space, visit our blog to learn How to Make Interior Design Choice Using a Free Easy to Use Online App.
If you still need some design assistance, our Sales Representative Door Experts are happy to help you, and can provide design recommendations as needed. "Doors" is essentially our second language – and it's better to be safe than sorry!
Come visit us today at our Waterloo, London, or Stoney Creek location… we'd love to see you!
‍
‍