For the past few years, the "Barn Door" has been what everyone is talking about, what everyone wants in their home or building, and what solves many people's problems when it comes to limited space. One of the main reasons people purchase a barn door is their ability to fit into small spaces. As time went on people noticed the opportunity to transform this functional peace into a design element in your home, office, or building. The Barn Door has become so popular some people purchase it more for the purpose of an accent to a room, closet, or entryway, than its main functional purpose to save space.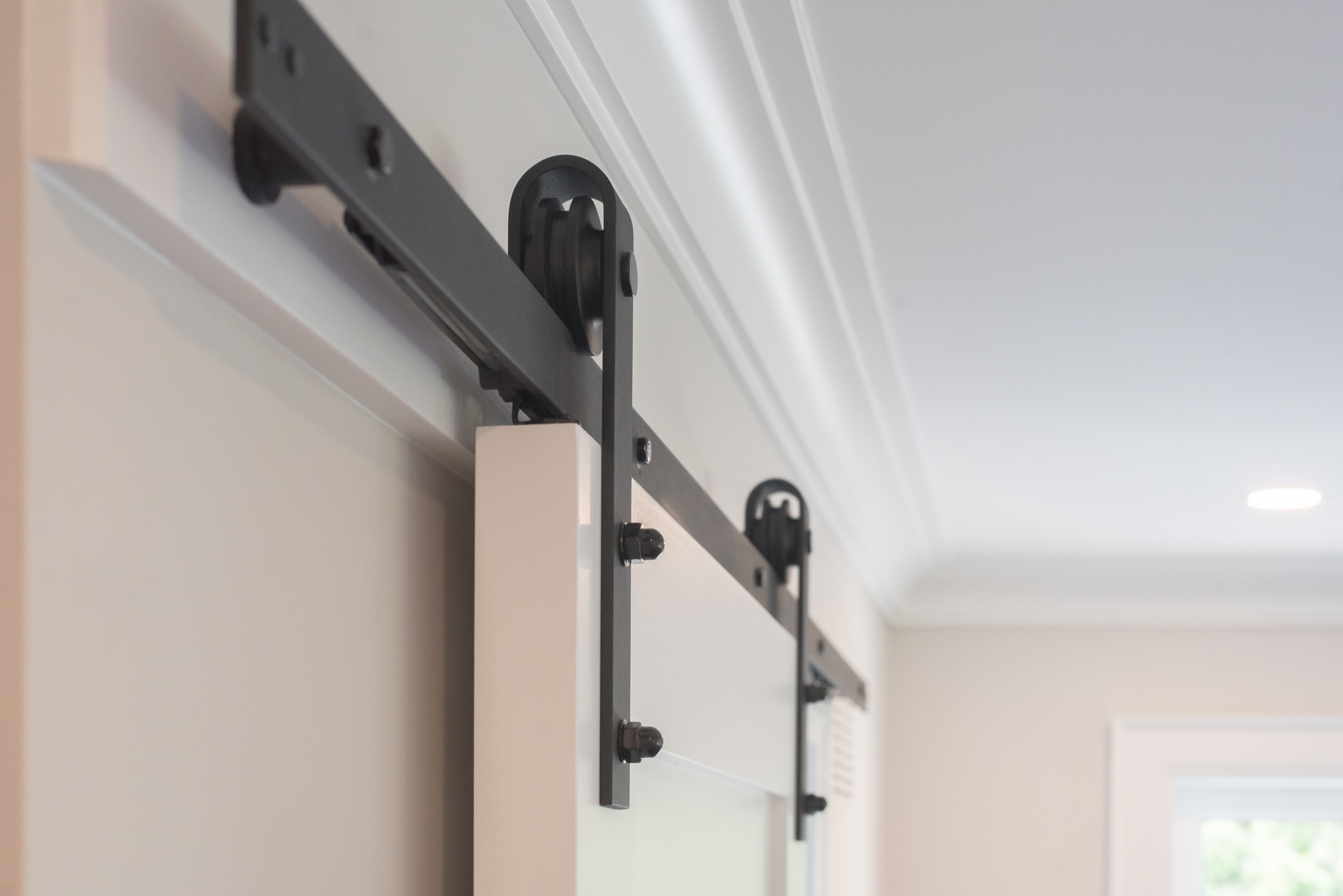 Pros to a Barn Door
Design and Style
There are many Pros to a barn door. To start, they are visually appealing to most interior designers, home owners, and anyone who admires unique home elements. Barn doors also provide a ton of customization as they can be built using a classic white painted door, a custom wood, or any colour you can buy paint for! The endless set of options allow you to design a door fit for the room you have designed or design the whole room around the door you have designed. A barn door can take on a rustic feel in a rustic farmhouse style home as it originally started out, or as it has morphed into a very modern look with black or gold hardware and playing up clean lines in the door itself. The interior styling options of a barn door have far exceeded the original design so don't let the name fool you, these doors can be made to work with any interior design style.
Function
Now while they provide an element of customizable design, why else do people consider barn doors? Sometimes, depending on the build of the home, there is not room for a traditional swinging door so a pocket door or barn door is the only option. The barn door has a big benefit of being installed on top of the wall and not inside of the wall. Making it possible to add a barn door to any existing opening.
Barn Door vs. Pocket Door
A Barn Door and a Pocket Door are both meant to save space in a home. The pocket door slides into the wall where as the barn door slides on a track outside of the wall. As you can see in this image below, this pocket door slides inside the wall rather than being outside on the exterior part of the wall. A pocket door can be completely hidden when it is open, whereas the barn door will always be seen whether it is open, against the wall, or closed covering the opening to a closet or room.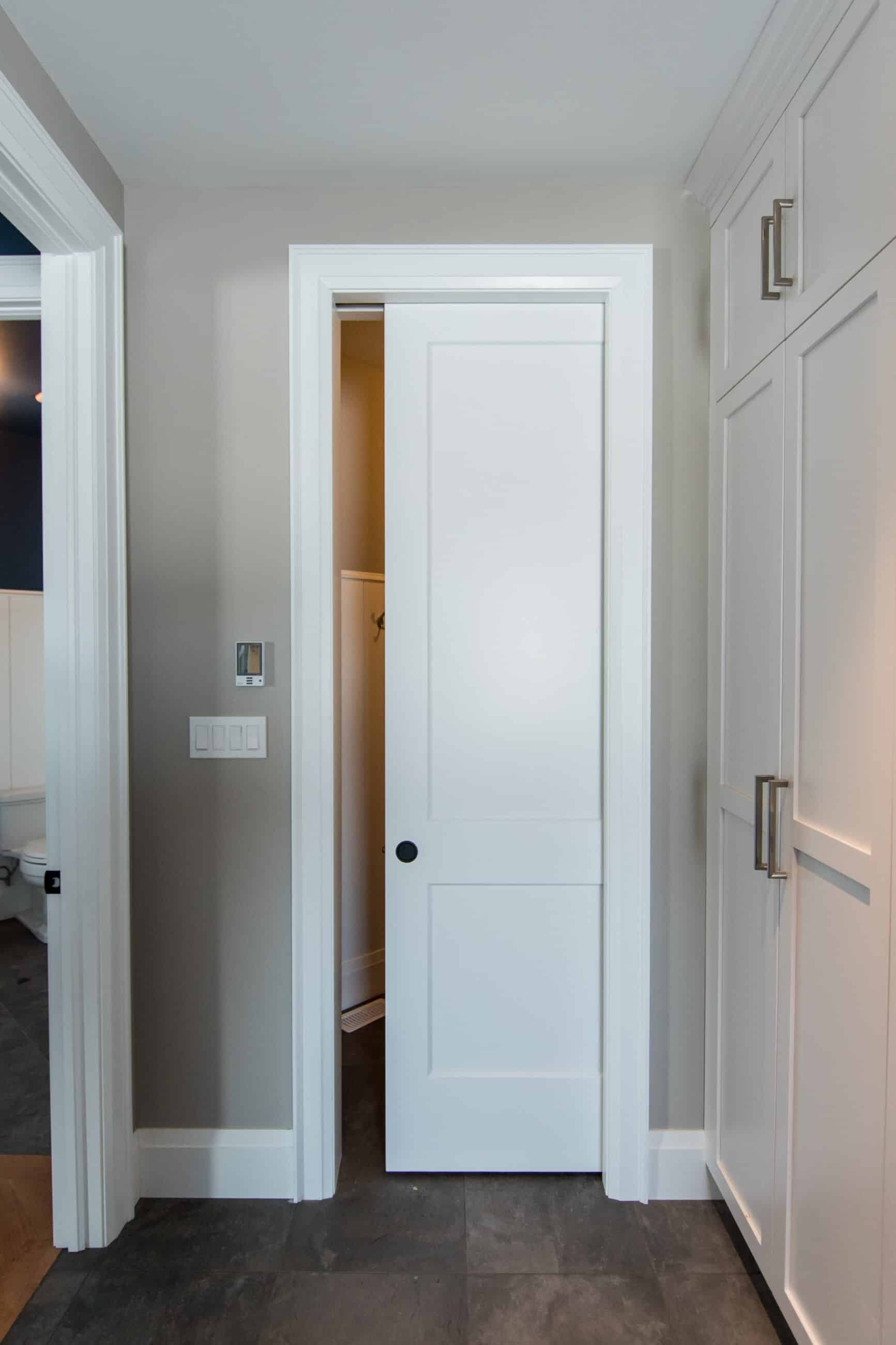 If you were to want a pocket door, you would need to reconstruct the wall that would act as the pocket where the door would go. A barn door does not require any walls to be reconstructed which is another bonus!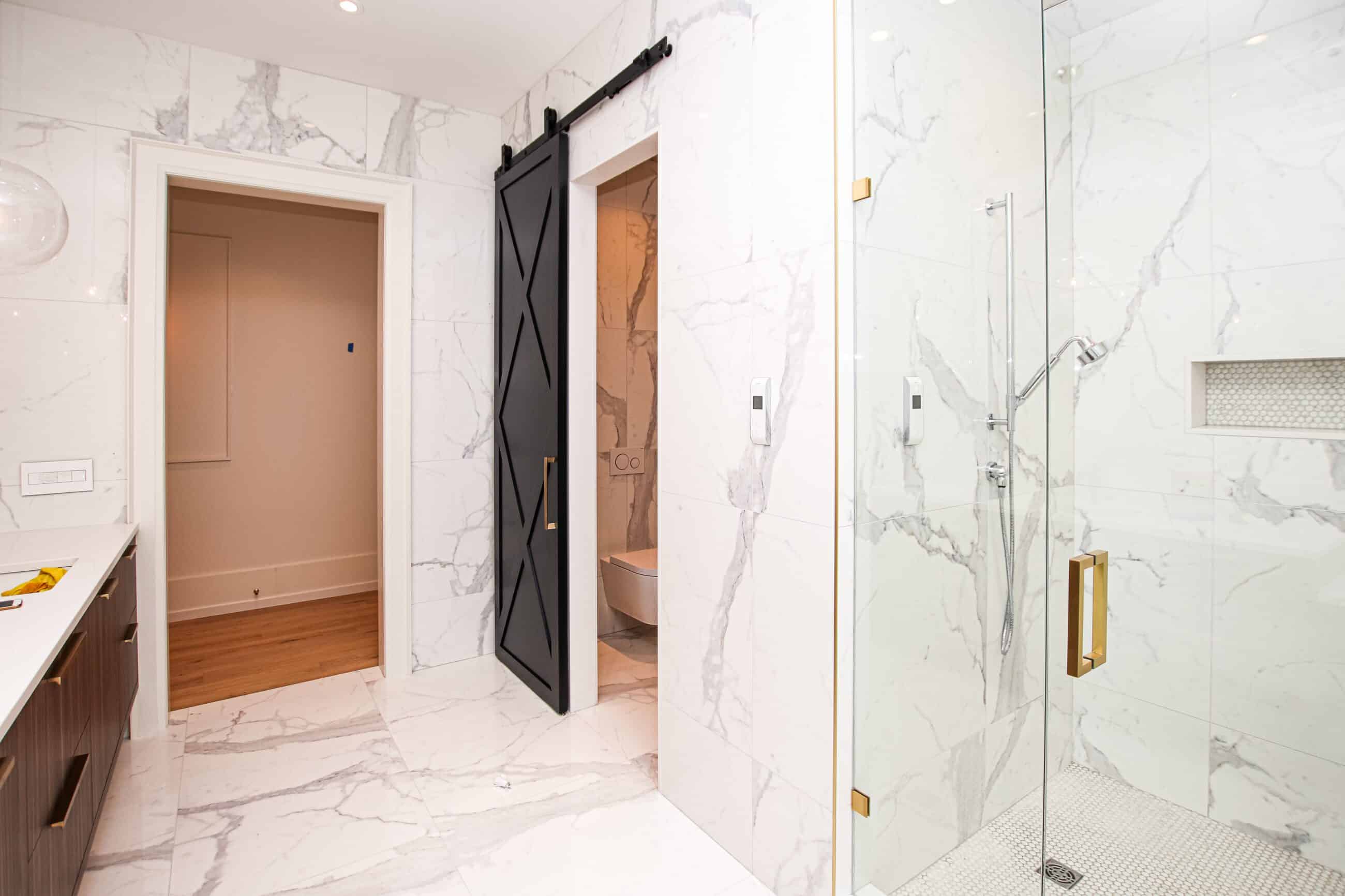 In this master bathroom suite they have a water closet in the washroom that uses a matte black crossed barn door with gold hardware, in this case the door is an accent to the bathroom, and does not require any marble to be interrupted outside of the track being installed overtop of the marble. This bathroom is very modern with all white marble on the floor and wall, the black barn door is the perfect feature. While including the gold hardware on the barn door strategically aligns with the rest of the bathrooms gold hardware.
Cons to a Barn Door
Yes, as with anything else in the world, there are always some things you should consider before designing and adding a barn door into your space. Here is what to consider:
Wall Space
You need to make sure you have wall space to accommodate a barn door. The most ideal wall space is a completely blank wall with no outlets or switches. Most people design the door to be open along the wall more than it is closed. If you're looking to have a door to a room that is often left open, this is a great option while still providing the versatility of having the door closed when in use. If you're looking for a door to a basement or a space that requires to be separated all the time, a swing door is likely a better option.
Installation
Something else you should consider is how you will be installing this door. if you are a DIYer or not, you should keep in mind that barn doors do come with more labour and can be slightly more difficult to install when compared to the classic swinging door. While it does offer the convenience of being installed over the existing wall opening, the track needs to be perfectly straight for the door to hang straight and slide easily along the track.
Investment
For some people, the most important thing to consider in the decision is the price tag. The barn door can be used as both functional and a design feature but with that comes a higher price tag than a typical swing door does. To get an accurate price for the bar door that is your best option, talk to one of our expert sales representatives.
Picking the Door
So have you decided a barn door is the perfect solution for your project? Well here comes some exciting news! Any standard door could be transformed into a barn door, so your options are pretty endless! It is simply the sliding tracks that truly make a door considered a barn door.
Classic Barn Door
The first option is the "standard barn door" which is what most people picture when they think of a barn door. There is the Z frame or the K frame style in the traditional examples. If you decide that you want to go with the traditional barn door style then you would need to decide which frame you prefer. Below you can seethe difference in the two styles.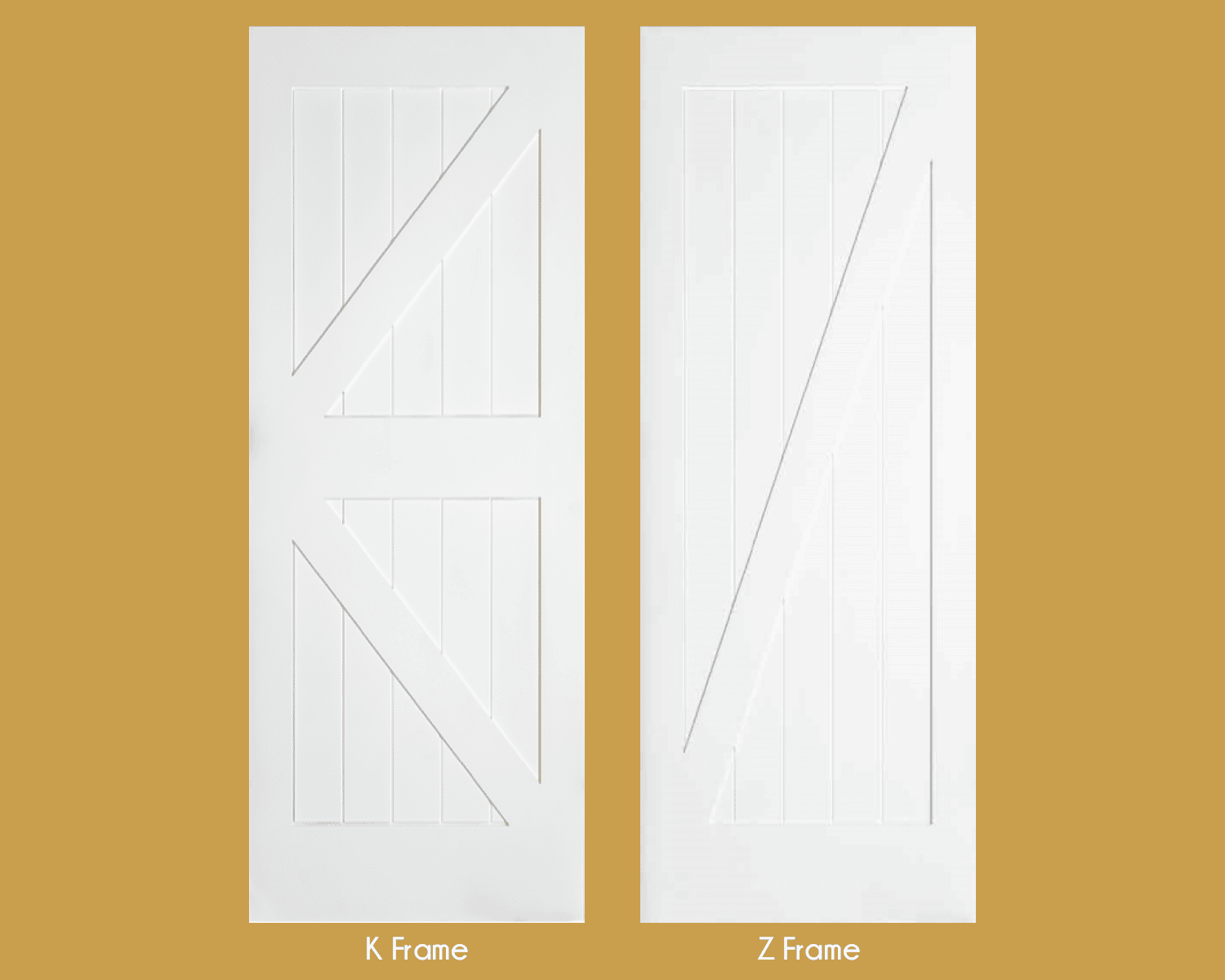 Alternative Barn Doors
If you are going for a more contemporary look for your project, you may have something else in mind. This is where you can pick from any door style, a moulded panel door, a stile and rail door, or even a French door and turn it into a barn door for your space. See our blog to better understand the options that exist. Or visit our Pinterest page for more Barn Door Inspiration.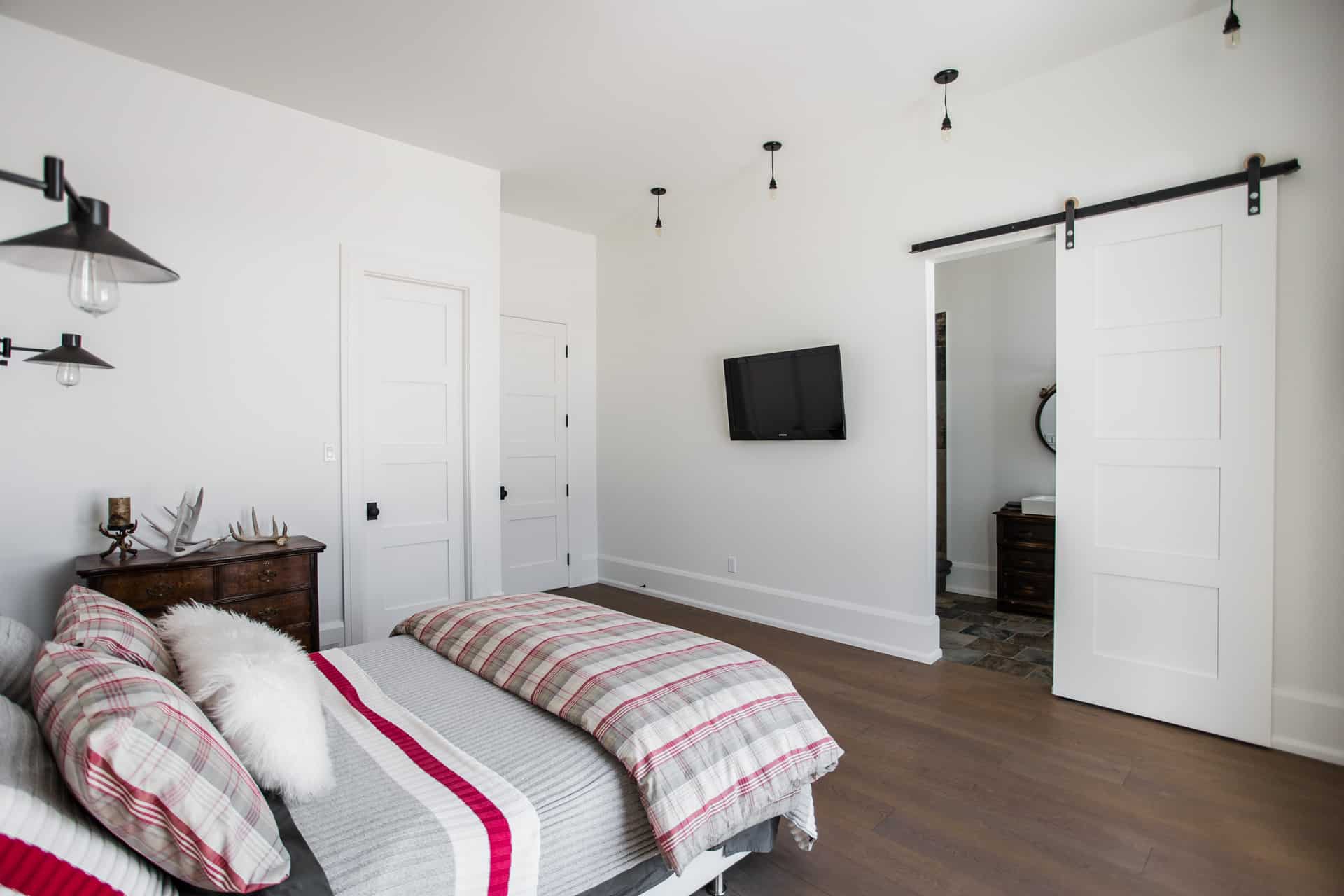 Here you can see in the image above, the barn door is the exact same style as the other doors in the room, they are all four panel Stile and Rail doors with black hardware. The designer of this room wanted the barn door to be a feature of the room but also be incorporated in the room with the matching door and colour of the hardware. Now, the barn door perfectly accents the room.
Below are some common questions people have when it comes to Barn Doors
Where do I start when I want a barn door?
You need to determine if the area you want the barn door fits the criteria, is there a blank wall with no outlets or switches? If so, you now need to choose the door, do you want; a moulded panel door, stile and rail or traditional K frame or Z frame door? Do you want glass inserts? These are all things you should consider before purchasing a barn door.
Do we sell the track/the hardware for the barn door? if so are they available in different styles/finishes?
There are a few styles available for the hardware hangers and the track. You can visit one of our showrooms to view some options;
563 Barton Street, Stoney Creek
Can a barn door be any size?
The width usually depends on the opening that the door has to cover. The height is usually 84" but the door could be up to 80", 84" or 96".
What is the turn around time for a barn door?
This depends on the actual door you choose, if it is custom it can be up to six weeks, if it is not custom it could be 4-6weeks. Once you determine what style of door you want our sales representative will be able to give you a more definite answer on when the door would be in.
‍