There are many rooms in a home, some more important than others and some used most often. A living room, similar to a kitchen in a home, is likely the most popular room in your home. A living room design can be important for those who use this room the most. Living room design ideas can be overwhelming as there are so many features you can use, modern, traditional, living room designs for small spaces, condos, large spaces and much more.
One feature that many people overlook when redesigning their living room is Millwork. Millwork can be simple or extensive, it is completely up to you, your preference, and your space limitation, if you have any. If you are struggling with figuring out how to design your living room layout you could start with determining some millwork features, you want to include in your living room design, and build the remainder of the room around those millwork features.
Here are 6 timeless millwork features you need for your living room design to help spruce it up and make you want to host all the gatherings, time and time again.
Shiplap or Tongue and Groove
Shiplap or Tongue and Groove can be applied anywhere in a home, including becoming a design addition to your living room. Shiplap is a wooden board that is installed directly on a wall or ceiling, horizontally or vertically. Traditional shiplap has a rabbet cut into the top and bottom allowing the pieces to fit together forming a tight seal. Tongue and groove paneling, although can look remarkably similar to shiplap, has a different process of being installed. Tongue and groove paneling joins together like a puzzle, on each side of the paneling there is a protrusion (the tongue) and an indentation (the groove). Since the appearance of the two paneling techniques is similar we are confident you cannot go wrong. Incorporating shiplap or tongue and groove into your living room design to create your dream living room.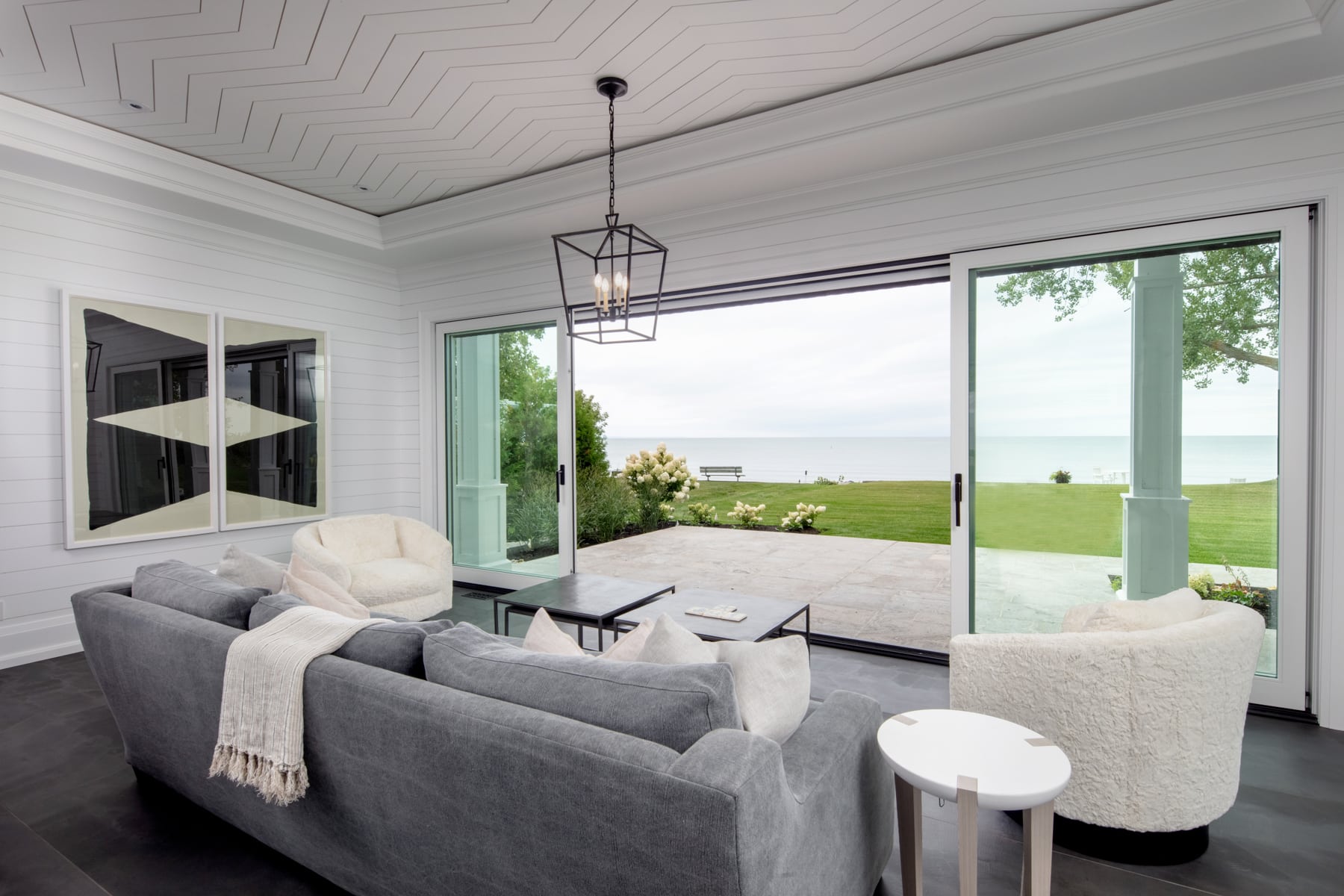 In this image above, you can see tongue and groove covering the walls and the ceiling in this modern living room. This is a simple living room design that makes a big difference, sometimes all you need is simple linear millwork in your living room or any room in your house to spruce it up and give it a more elegant feeling.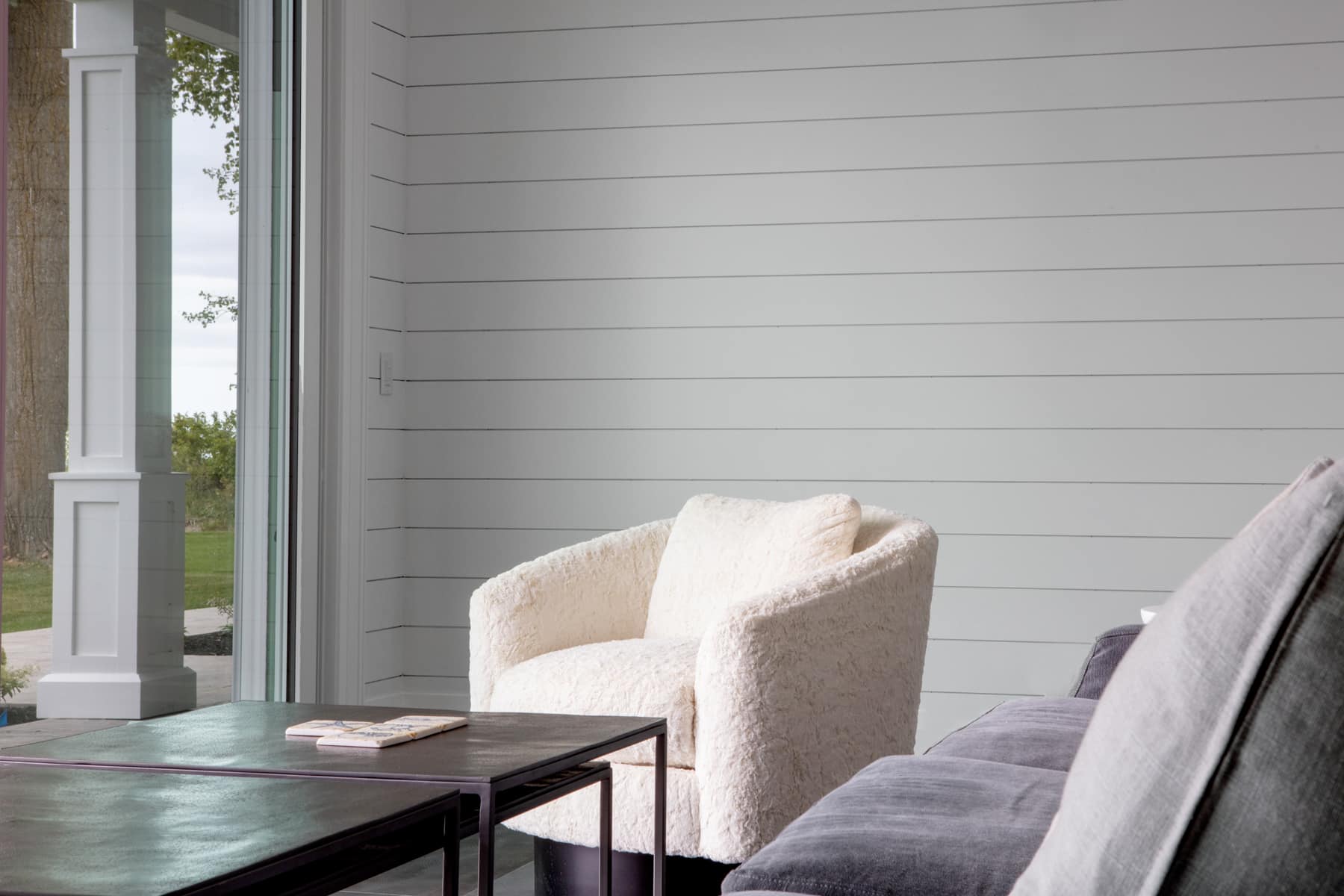 Here is another image from the same home where tongue and groove covers the entire wall, installed horizontally in this living room. This living room design is very simple and this homeowner wanted to keep the millwork classy but simple so they chose to have their shiplap painted a classic white.
Ceiling Beams
If you are lucky enough to have a high ceilings in your living room, then you have to take advantage and purchase those beams as soon as possible! When it comes to ceiling beams you could keep the original wood, and have it stained, or you could paint each beam to match the décor and colour scheme of your living room décor.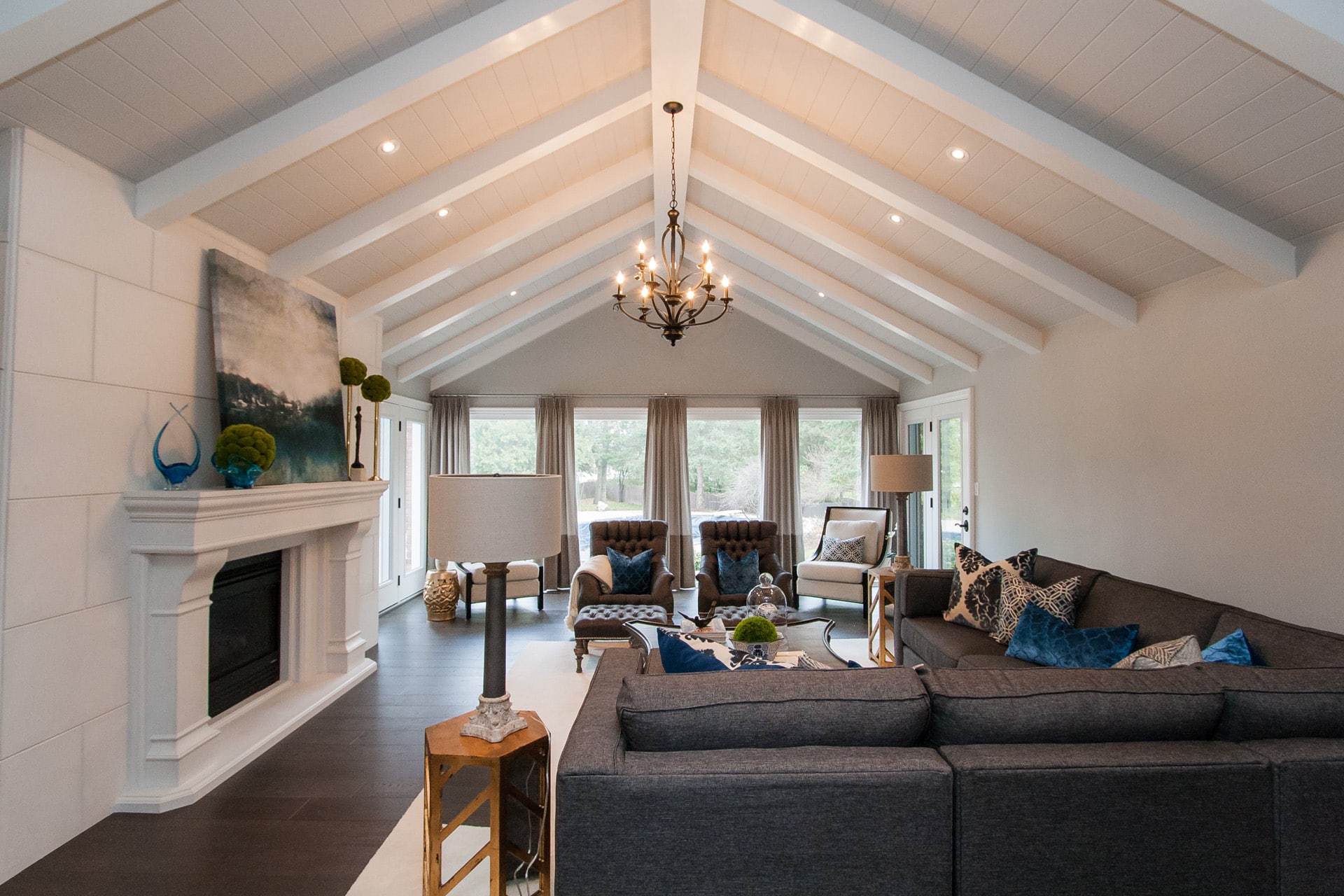 This spacious living room includes a beautiful ceiling that contains shiplap as well as white painted beams. This living room design with a sectional compliment each accent in the home giving off a lot of contrast in colours and in textures. You see white walls and ceiling with a dark sectional and dark furniture accents in this living room.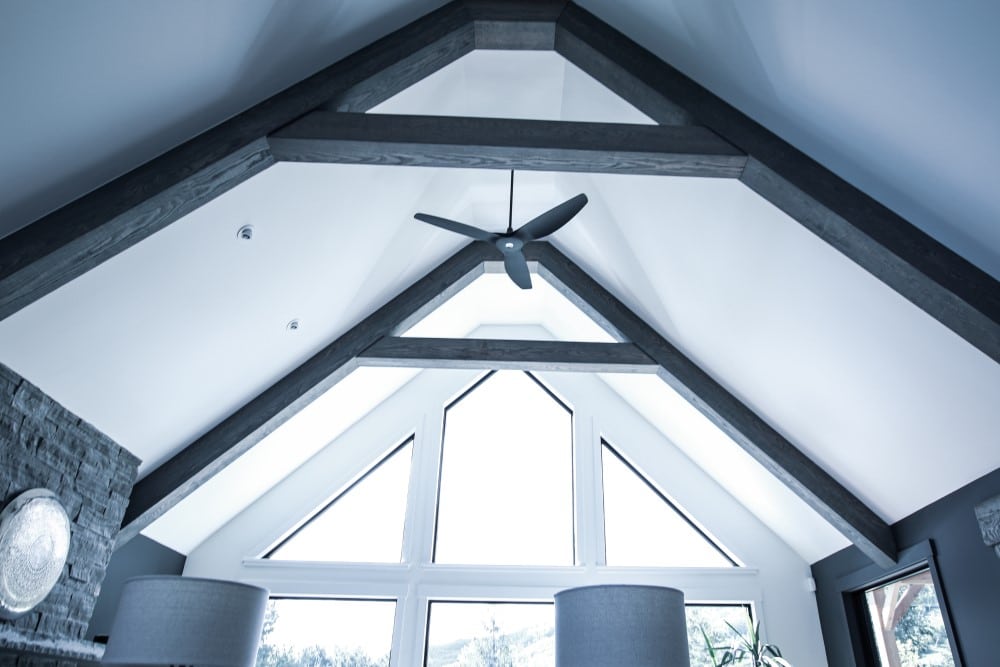 This living room contains very high ceilings and large windows. These faux beams have not been painted, instead they have been stained to stand out against the bright white ceiling colour. They do a great job of drawing the eye upwards to focus on the height and the light that the great windows bring in.
‍
Coffered Ceiling
Coffered ceiling is the appearance of framework being exposed through the use of installing beams both horizontally and vertically, most typically creating the shape of many square on a ceiling. A coffered ceiling allows the room to feel as though the ceilings are much higher, giving off a larger room feel. A coffered ceiling has options in beam choices, size of the square created and even what is on the ceiling around the beams. If you want large indentations or small, you can make that decision and Riverside can help turn your dream living room into a reality.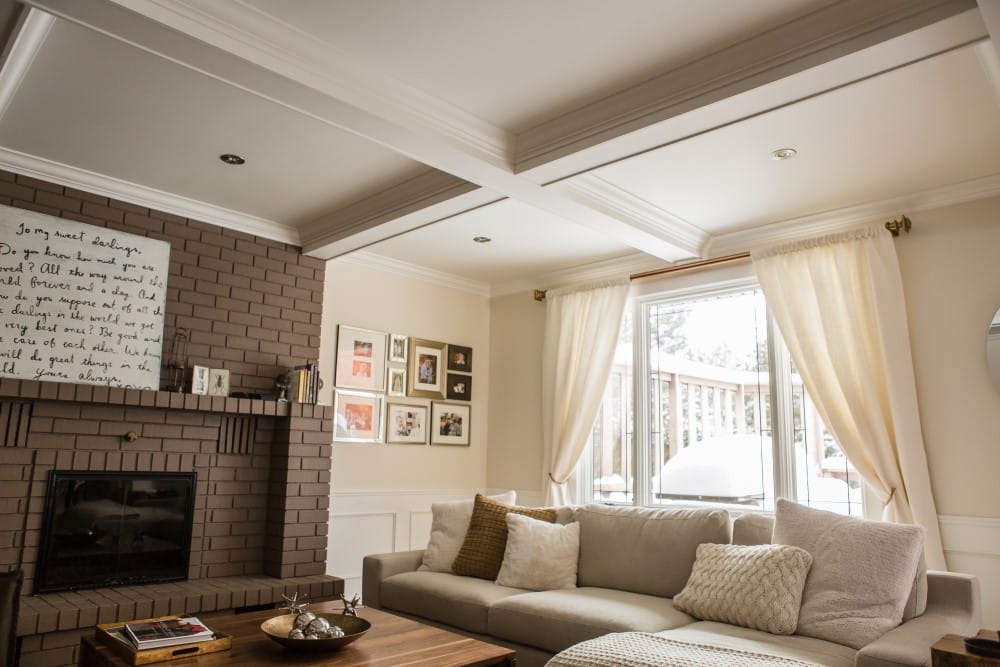 In this image about you can see this living room has a simple but stunning coffered ceiling with large indentations. A coffered ceiling in a living room design does not have to be over the top extravagant, it can be a simple design, while it can at the same time, increase the aesthetics of your living room design, and help you feel more at home in a heavy traffic area of your house.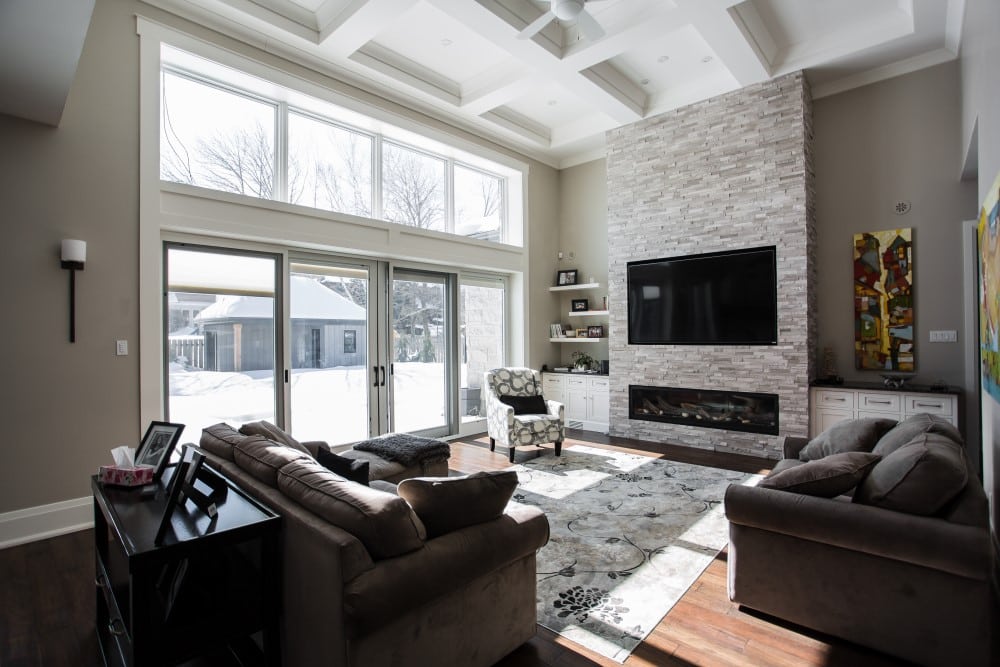 You can see in this image, compared to the previous one, the indentations are much smaller. Giving off a different layout and design with the sizing of the coffered ceiling indentations, both help create the illusion of height.
Accent Wall
Accent walls have been trending for over a decade but the idea of a feature wall using millwork has been beating out the accent wall feature of using a different paint colour or wallpaper in the last 3-4 years. Having an accent wall incorporated in your living room design specifically can turn a room into a piece of art!. Accent walls have become a more modern feature in living rooms now a days and can be customized to your home design tastes.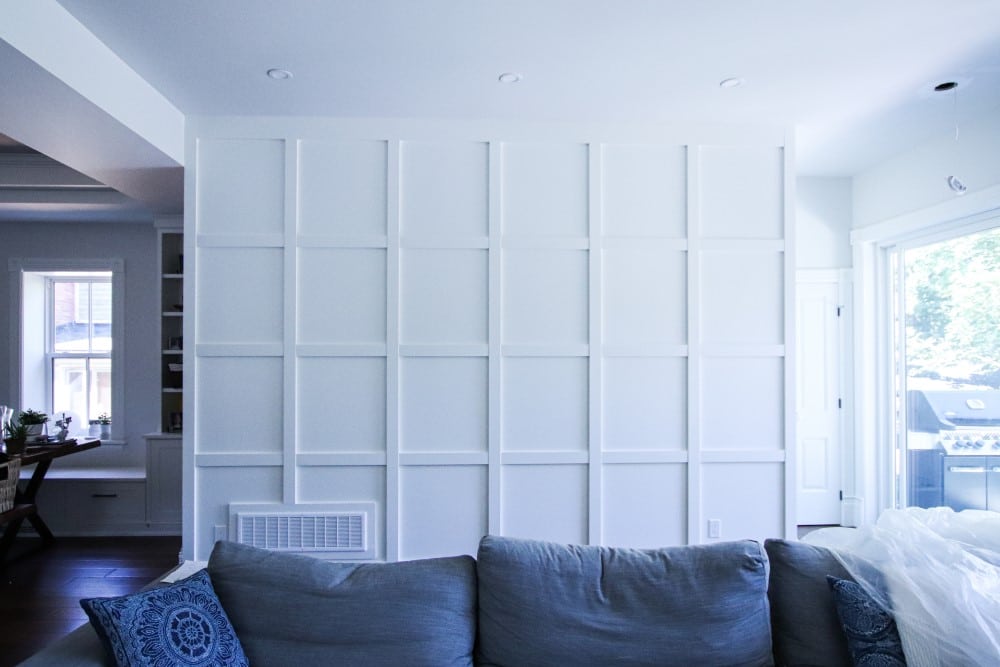 If you are looking for a living room design that is simple but still makes an impact on the design of the room you could opt for a panel wall painted white or painted the same colour as the surrounding walls. This accent wall is right off the kitchen and behind the comfy sectional couch which faces the tv. A white panel accent wall is extremely popular in many rooms of a home including the living room. It can give off a minimalist design element to the room, without having to work a new pattern or colour into the design elements of the entire space.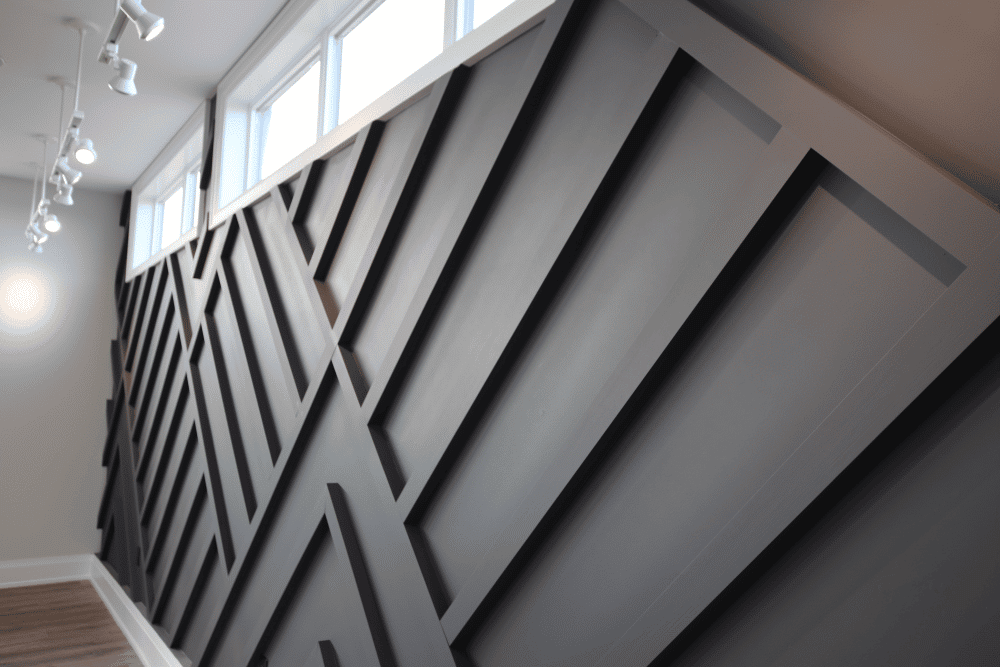 If you are looking for something to make more of a statement in your living room design ideas, you could opt for a dark accent wall with paneling. This dark accent wall with poplar wall panels has a unique asymmetrical design to it. A design like this takes a lot of time to layout and install. It can be slightly more difficult for those DIYers, although once the finished product is complete in your living room it would all be worth it.
Mantel
Nothing screams cozy and comforting like a mantel fireplace included in your living room design. A fireplace mantel can help make the room feel more at home, cozy and a room that you want to simply lay on the couch and relax after a hard day at work. A living room design with a fireplace mantel speaks volumes, especially when what is under the mantel is providing the ultimate level of comfort on a winter's day.
Here is a classic mantel in this small living room. Livingroom designs for small spaces are possible, you simply need to utilize your space wisely with features that accent each other perfectly, like this stunning mantel that compliments the double tray ceiling with crown moulding.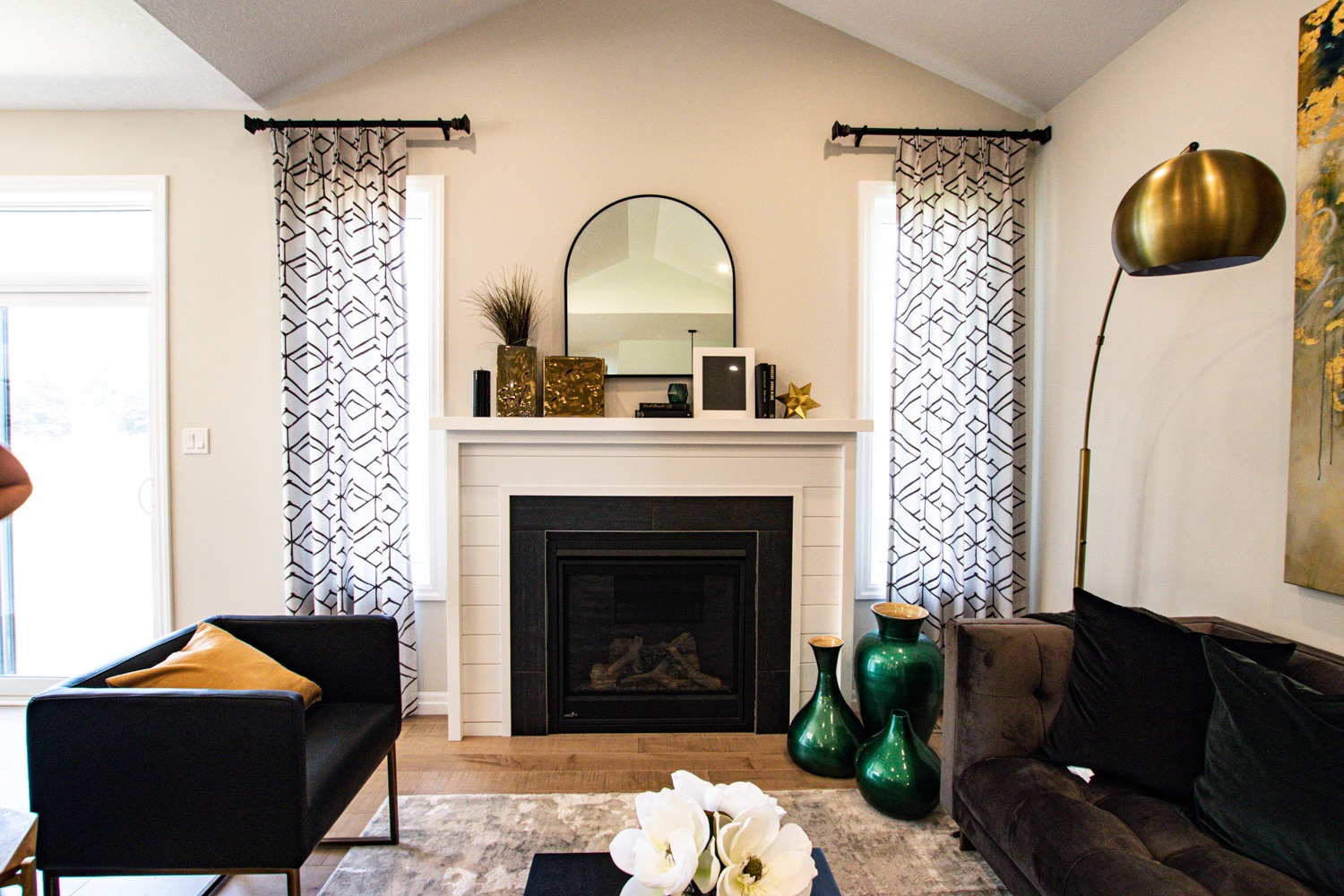 This mantel is incorporating shiplap below it to make a statement. The horizontal shiplap surrounding the dark fireplace goes well with the dark furniture in this living room design. You can see the décor is used to compliment the fireplace with the small dark accents like the furniture, the décor placed on top of the mantel and the curtain rods and curtains. When designing and purchasing décor for any room something to think about is the small accents and features in the room.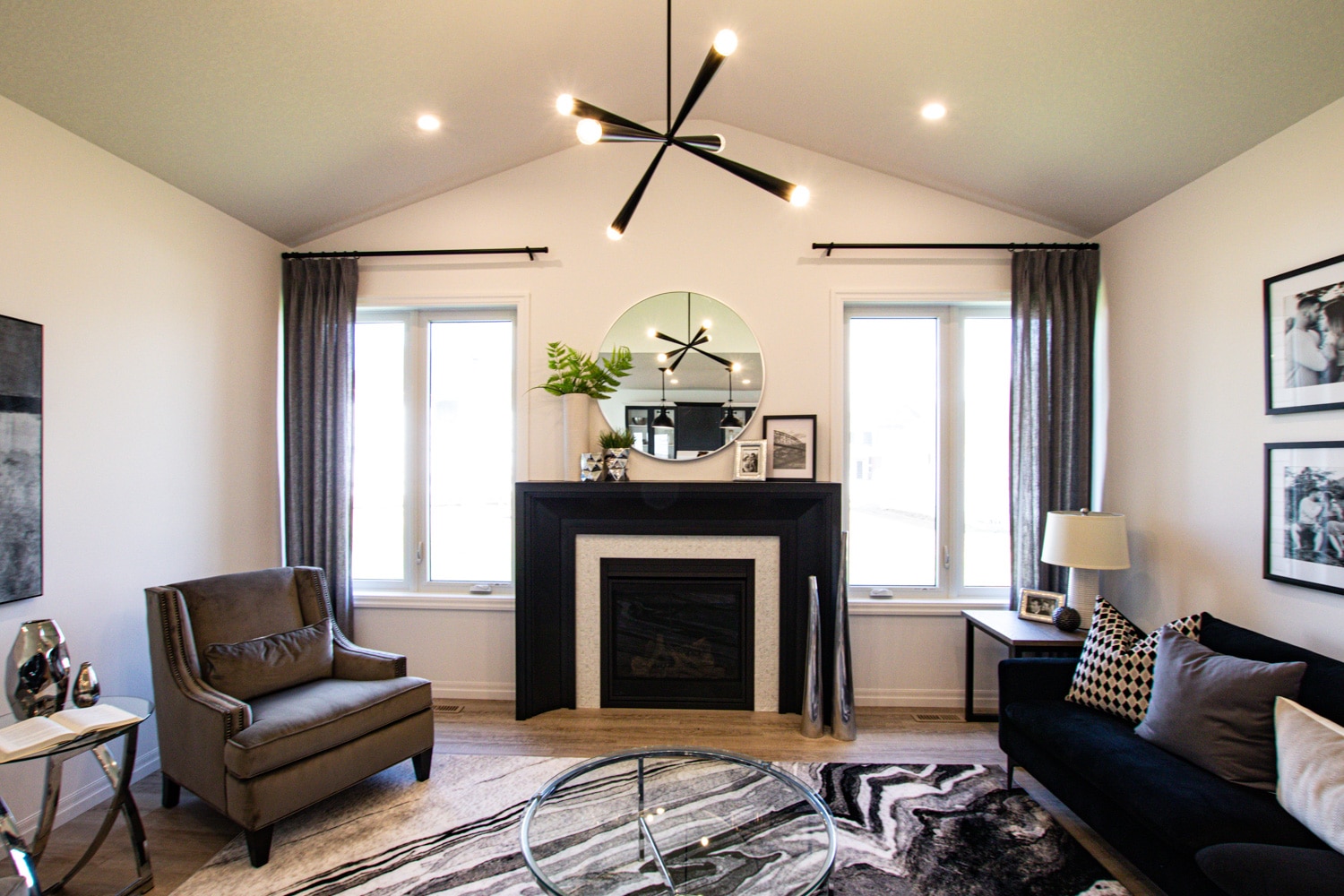 Similar to the last image, this image above uses accents throughout the room to emphasize certain parts of the living room. This bold black mantel looks absolutely stunning against the bright white walls and dark furniture. It is not only a décor item in your home but is a conversation piece that your guests can gush over.
Wainscoting
Wainscoting is a decorative wall accent that typically ends or starts at the chair rail level. In the past wainscoting had a purpose to protect the walls from chairs in a dining room, although these days it is used as a design feature and is visually appealing in any room of your home. Often seen in dining rooms or bathrooms, wainscoting has started to be seen as a living room feature. Just like all other millwork elements, wainscoting can be installed as a simple design or a more intense, detailed version.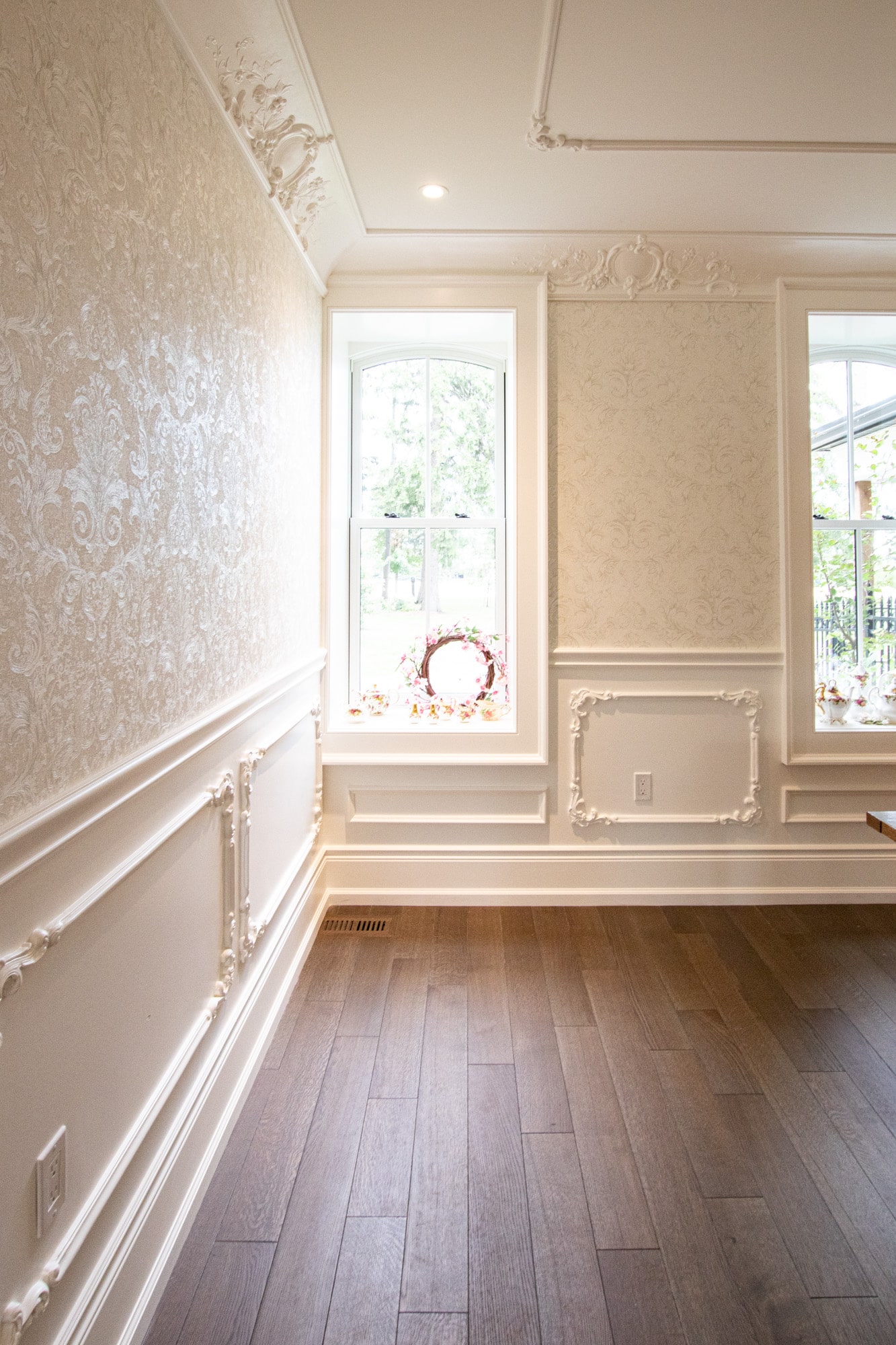 This wainscoting, seen in the image above, is a completely custom design inspired by an old farmhouse that contained this design throughout the home. Riverside is able to create any type of custom trim, we start by using a sample from the old home or an image. Using the sample, a steel plate is machined to create the profile knife. The knife is inserted into a head that is placed into a machine called a moulder, and is now ready for production.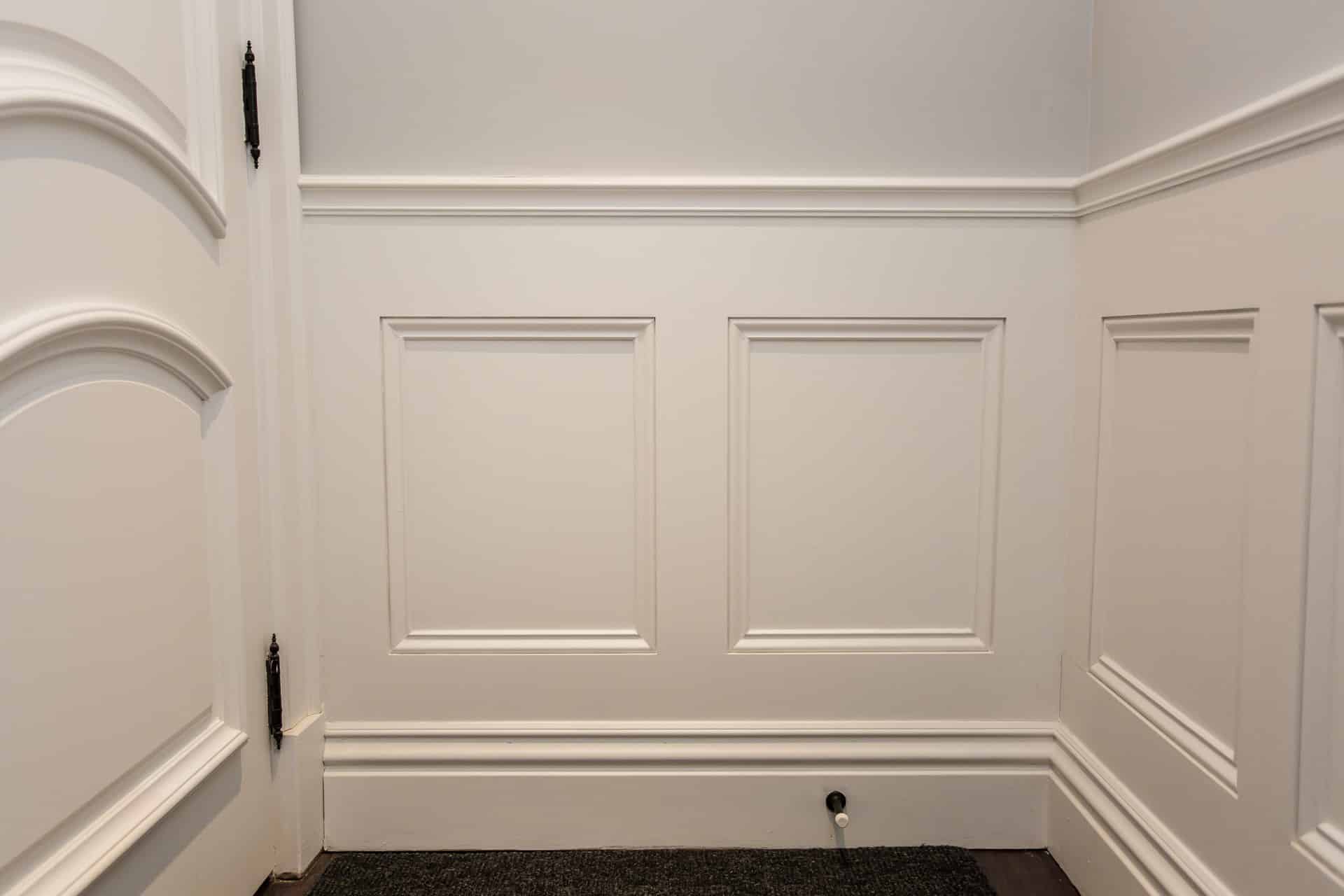 Looking at this image you wouldn't say it is a simple design, although comparing it to the previous image of the custom wainscoting it seems pretty simple. Wainscoting is a feature in your home that can add character and spunk to your home. You can have your wall colour the same as the paneling, or you can have the wainscoting a different colour, whatever you can imagine in your living room design it is possible and Riverside is here to help you.
‍