Estimated Reading Time: 7 minutes
A home trend that keeps on growing is including black accents throughout your home. Involving dark colours creates an anchor to a room, home or building. It draws the eye towards specific features in the space which is necessary when putting together a well-designed space. In this blog we will go over ways to use black to accent your house while using functional pieces rather than purchasing black features such as lights fixtures, furniture and décor. The best place to add accents in your space is on items that already have a function such as trim, doors, walls, windows and more. Continue reading to learn more and see inspiration for black interior doors, black accent walls, black hardware, and black trim.
Black Trim
The most common colours of trim for years has been a stained wood and bright, clean white. Although black trim has become more common throughout the years and is becoming a must have for anyone, especially those who have an eye for design and a passion for design trends. Using a black or a dark colour for your trim is a great look to produce clean lines and a sharp appearance. Having dark coloured frames adds a good contrast against doors, walkways and even windows. This also helped to create more dimension in spaces where the walls are painted white.
In this picture below you can see the jet black baseboard on a light pink wall, the black assists the pink to stand out and make a statement.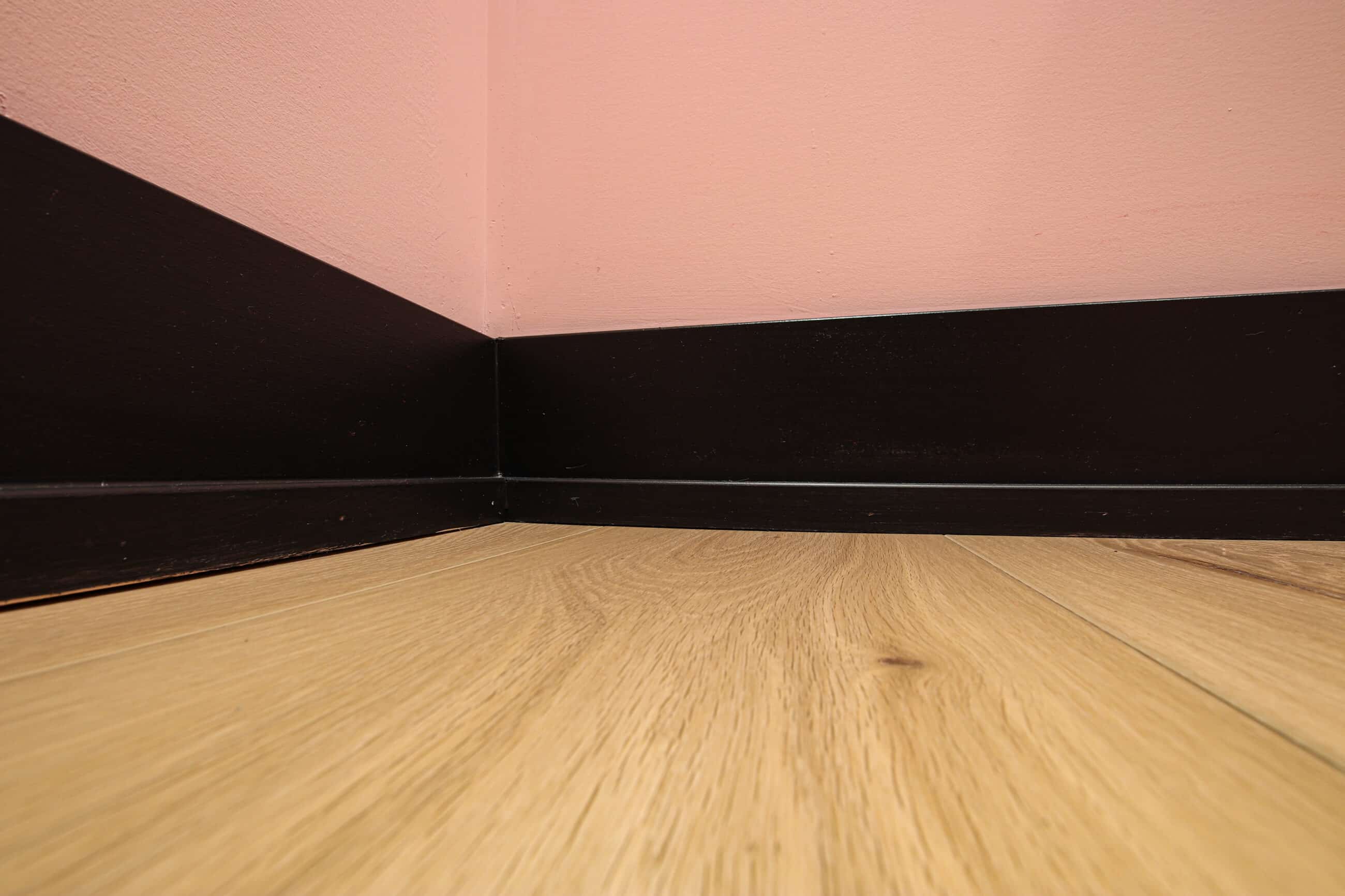 Take a look below, at the combination with the black baseboard, black casing with the jet black interior door. The contrast of the black and the pink is unique and a colour combo you won't forget.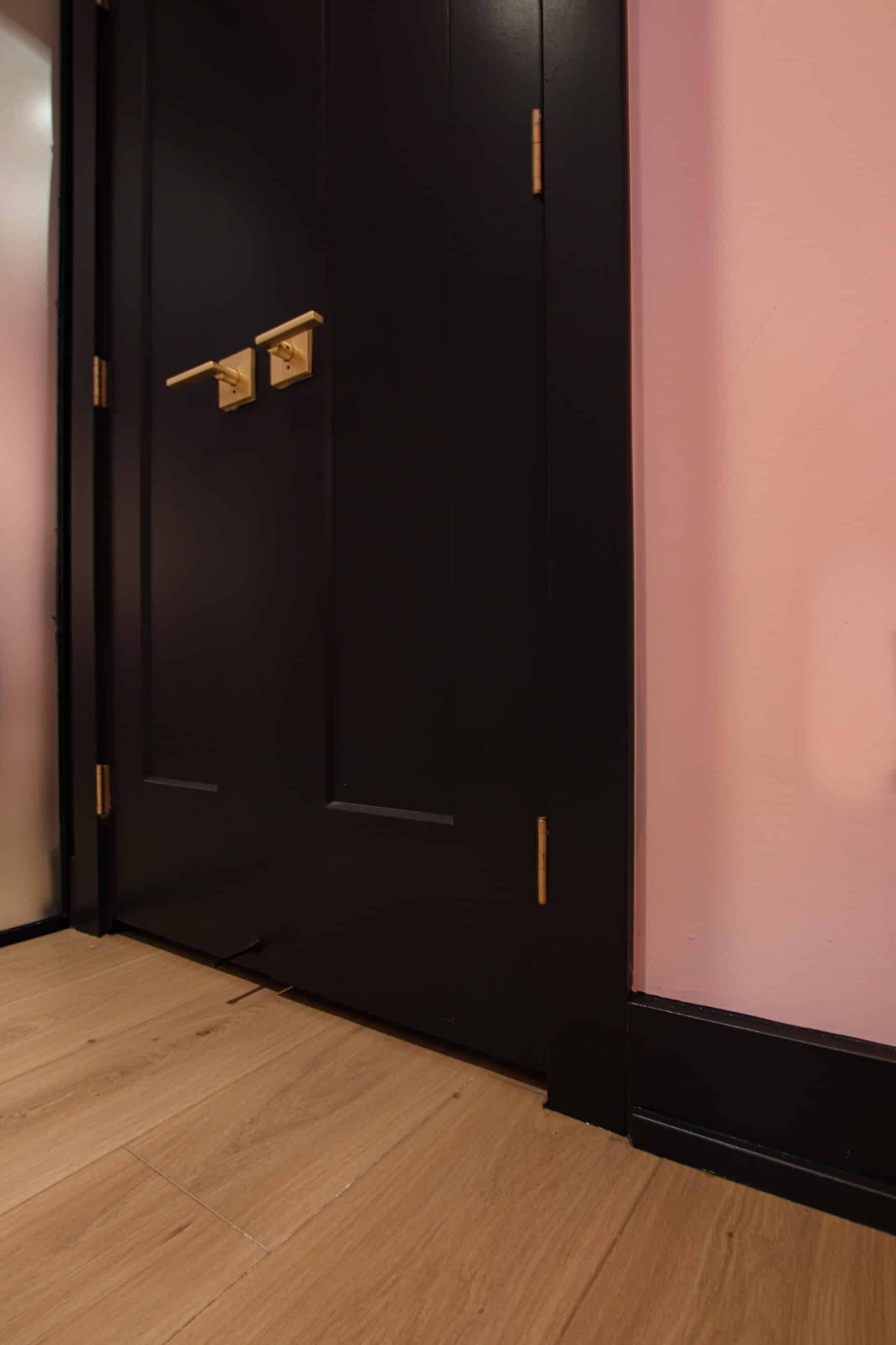 Now you might be thinking you like the black but you also like the traditional white trim. Why not have both? Just because you want the trendy black trim doesn't mean you have to have all of your trim black. Take a look at the image below where you can see there is a matte black interior door with matching black casing, but the Eased Edge baseboard is white. By combining both colours allows the dark door with black hardware stand out against the crisp white walls and baseboard.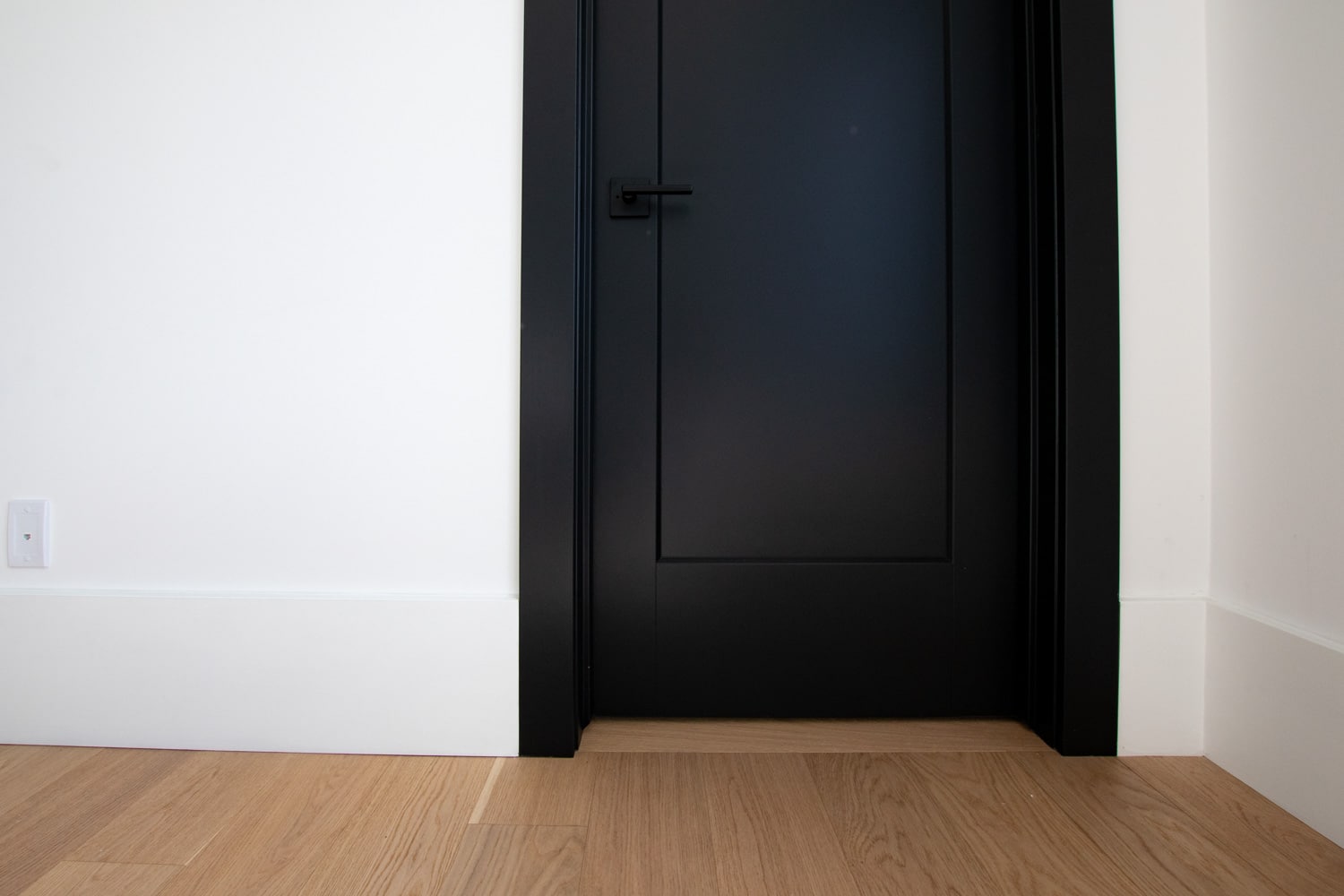 ‍
Black Interior Doors
With black trim comes black interior doors, for the most part when you see black trim you will see a black interior door accompanied with it. Interior Doors can ultimately be any colour you desire. The most popular colour within the past couple of decades has been all white, just like trim. Before that you would see a lot of stained doors with natural wood grooves. Recently, we are starting to see many doors painted a more unique colour, some grey, some dark grey and many are black. Black interior doors are very trendy and bold, they are often paired with gold or matte black hardware. Not only are black doors aesthetically pleasing they are an easy DIY, most people can pick up a paint brush and use black paint to modernize their interior doors.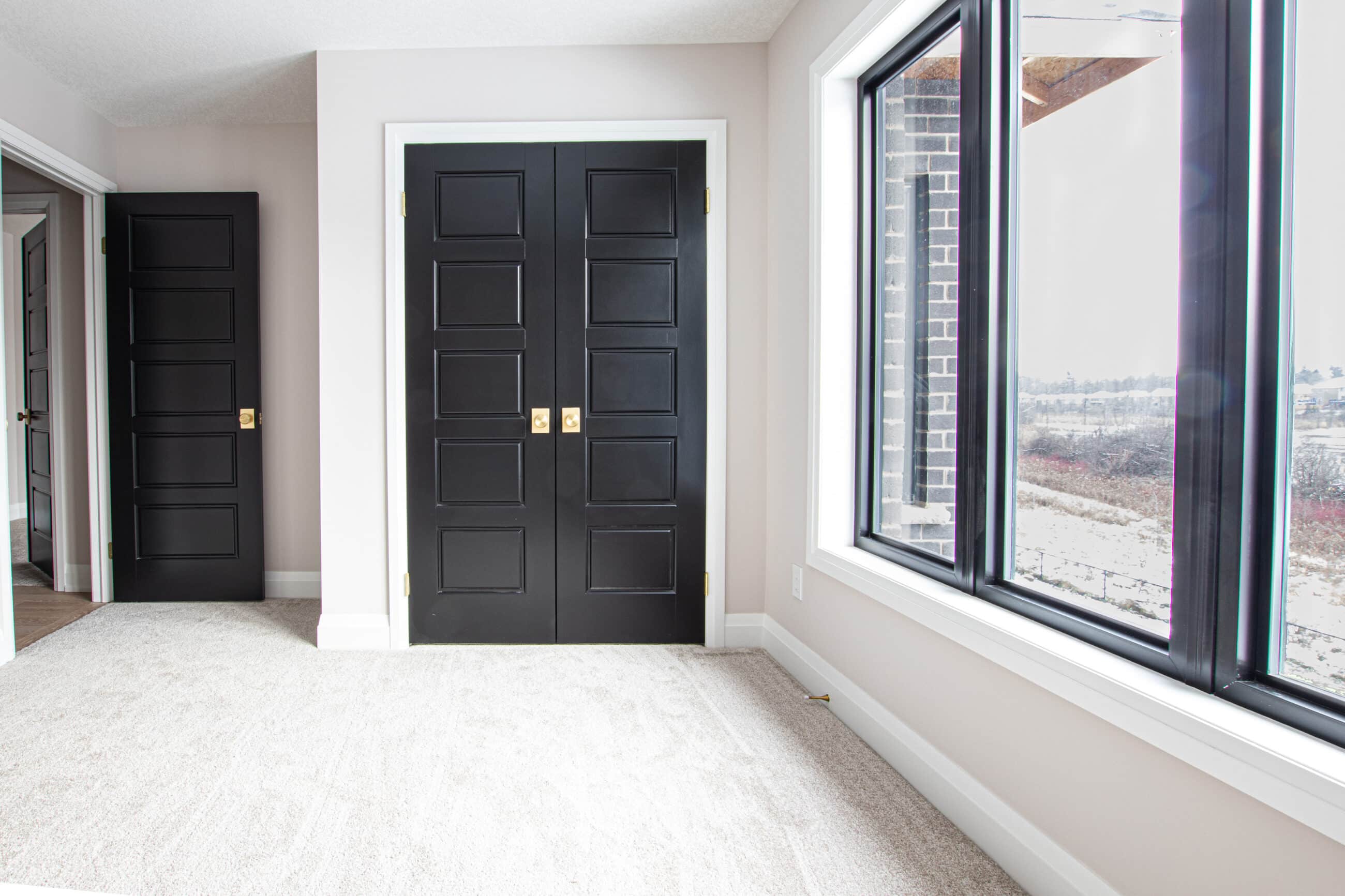 Here we have a black interior door with white trim accented with gold knobs. The black five panel door fits nicely in this room especially with the black window with white trim.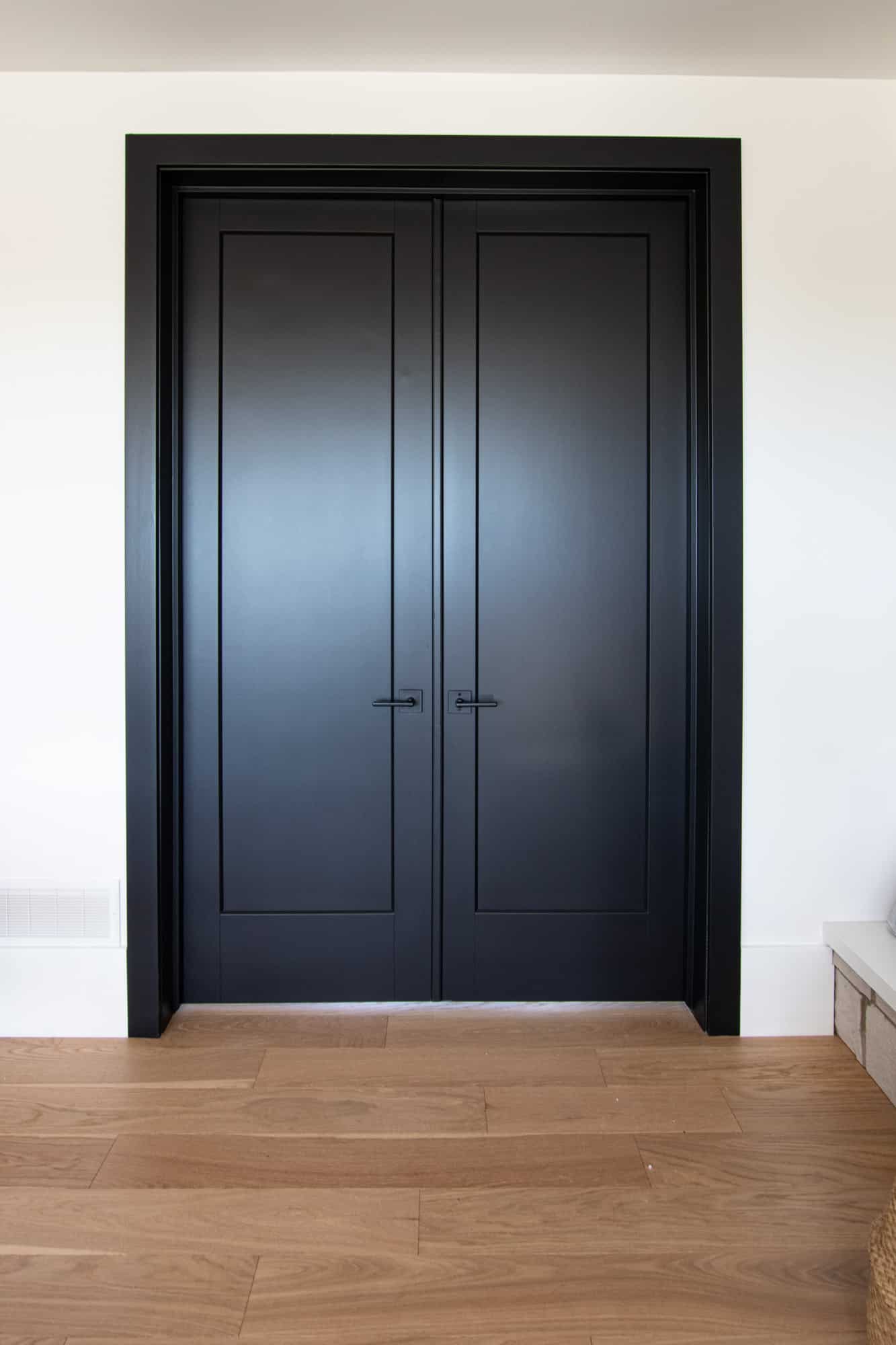 This black one panel double door with matching matte black hardware looks stunning beside the white walls and white baseboard. Having a black interior door with black trim keeps the room simple with not too many colours.
At Riverside we can create any door you desire, if you found one on your favourite HGTV show or on your Pinterest board, bring the photo to us and we can help turn your dream into a reality. All of the black doors featured in this blog were made by us and then painted after being installed to have the result you see in the images.
Take a look at this unique black barn door with a gold handle. The diagonal lines give the door a sense of direction for your eyes, leading you to admire the beautiful gold hardware. Also complimenting well with the intricate design on the floor tiles on the other side of the barn door.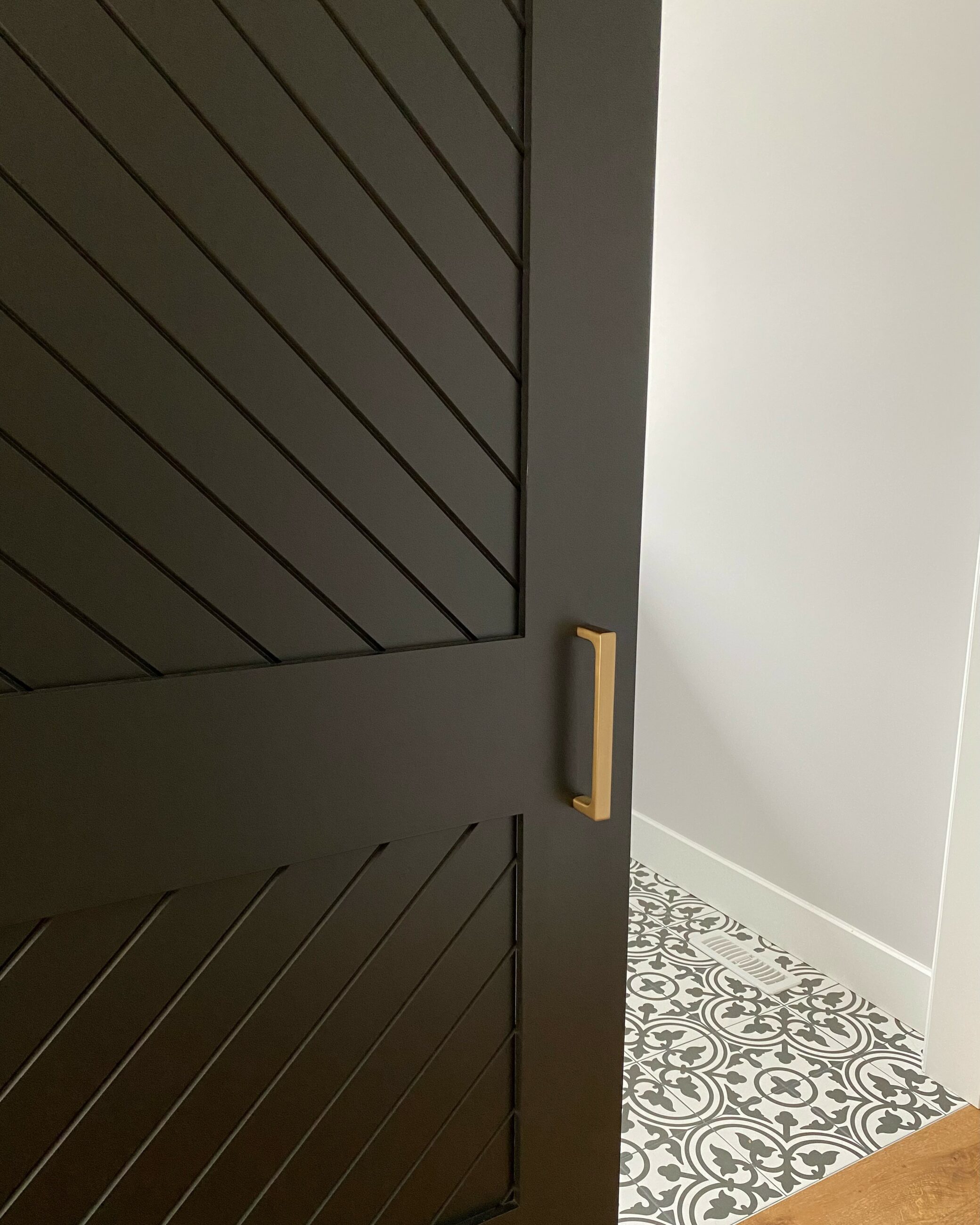 Black interior doors, like any interior door at Riverside, can be transformed into any style of door you desire. The image below shows an interior door turned into a barn door using the sliding tracks above the door.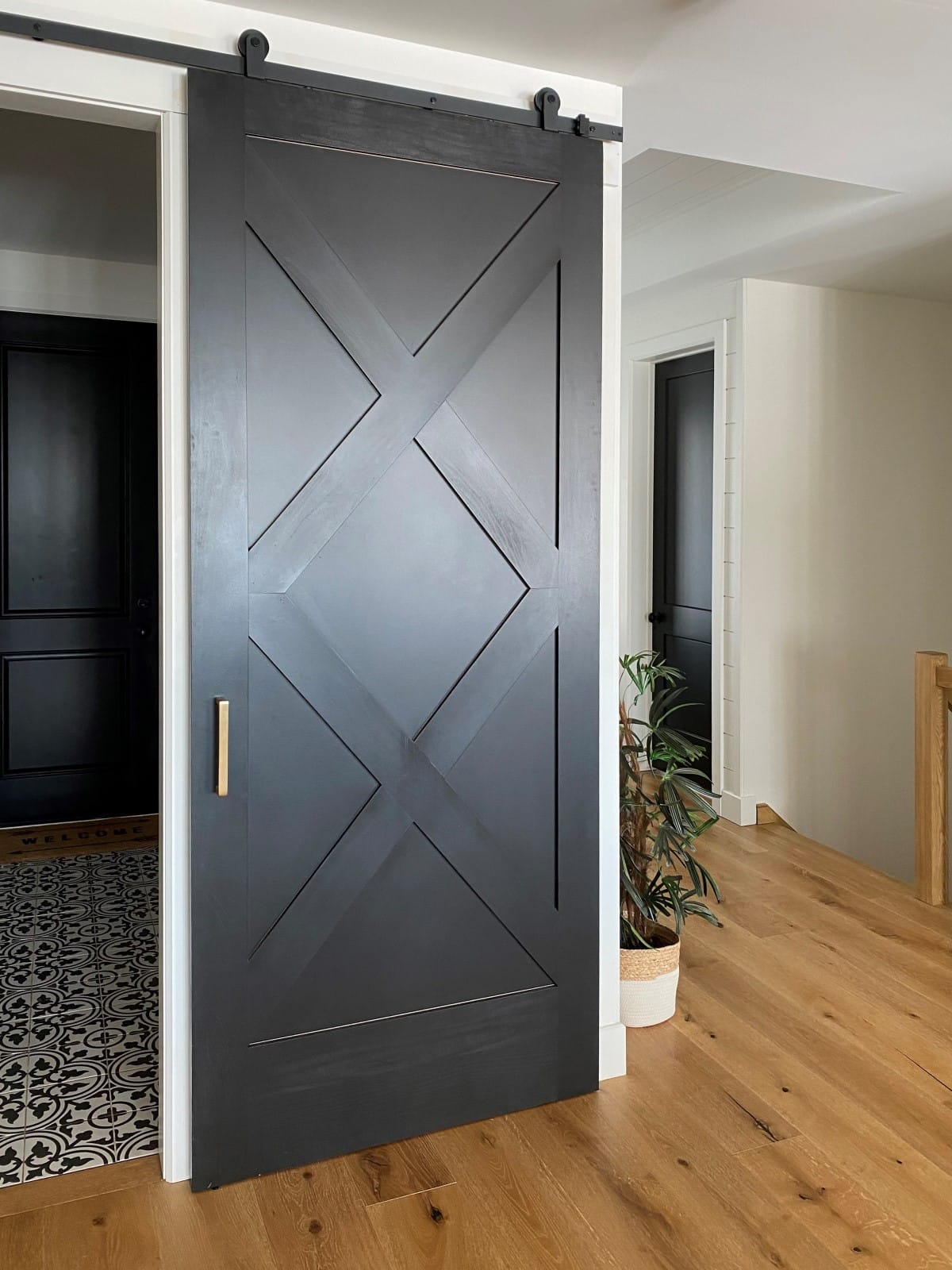 Black interior French doors have been something that is slowly creeping in on the black colour trend. This simple black interior French door has a large window taking up over half of the door with all black hardware. We'd have to say, this black French door opening up to this modern office space is the perfect setup.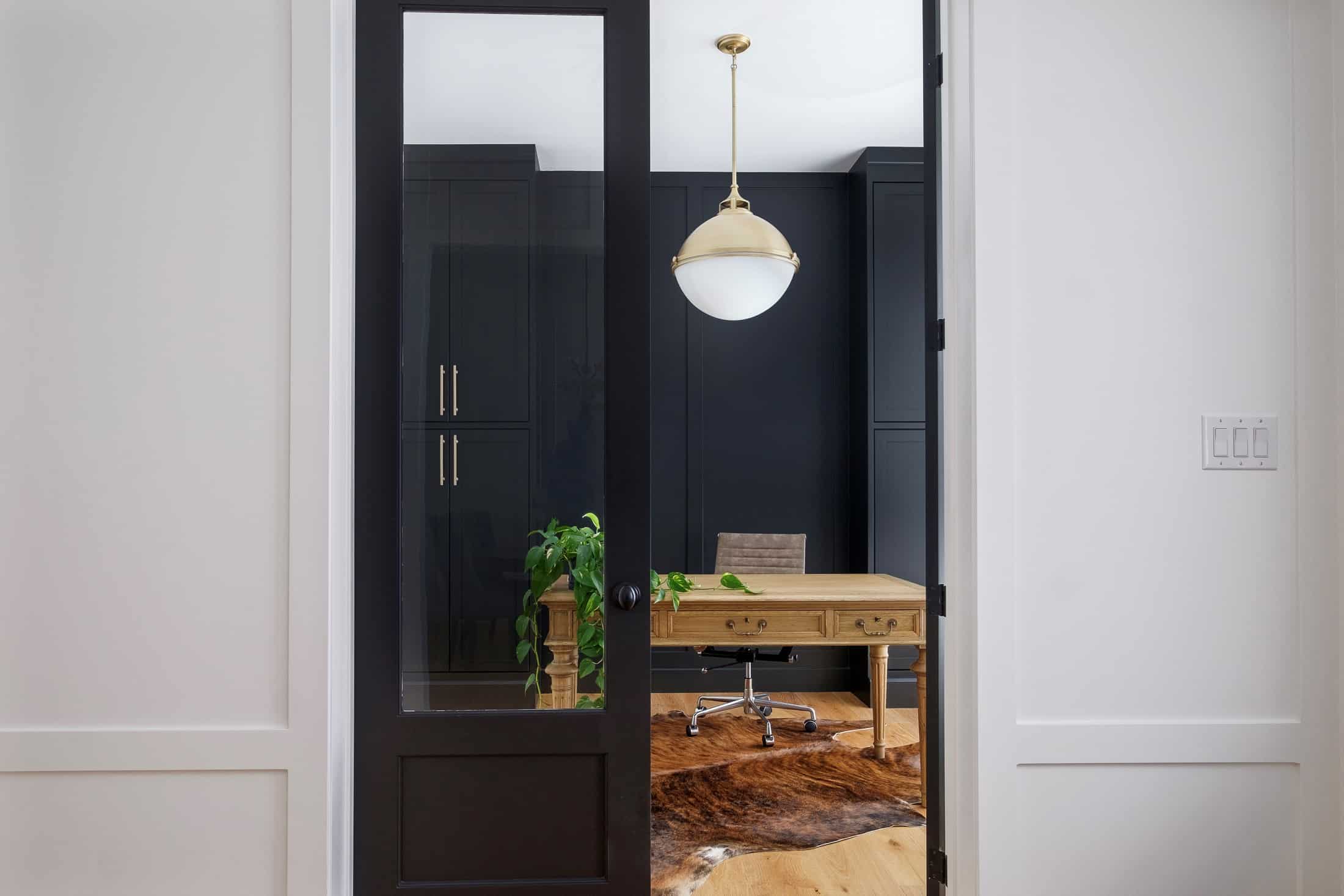 Windows
It has become quite popular in the past five years that the window frame is black rather than white. White used to be the go to for windows, you most likely never thought of a different colour for your window until this trend started a few years ago. Many new build homes and buildings have opted for a black window with either white or black window trim.
Below is an image that showcases the black window with white casing framing it. A black window is a great way to make a home look more dramatic, in most cases including a black window or a black accent to your home is an eye-catching contrast to the rest of your home.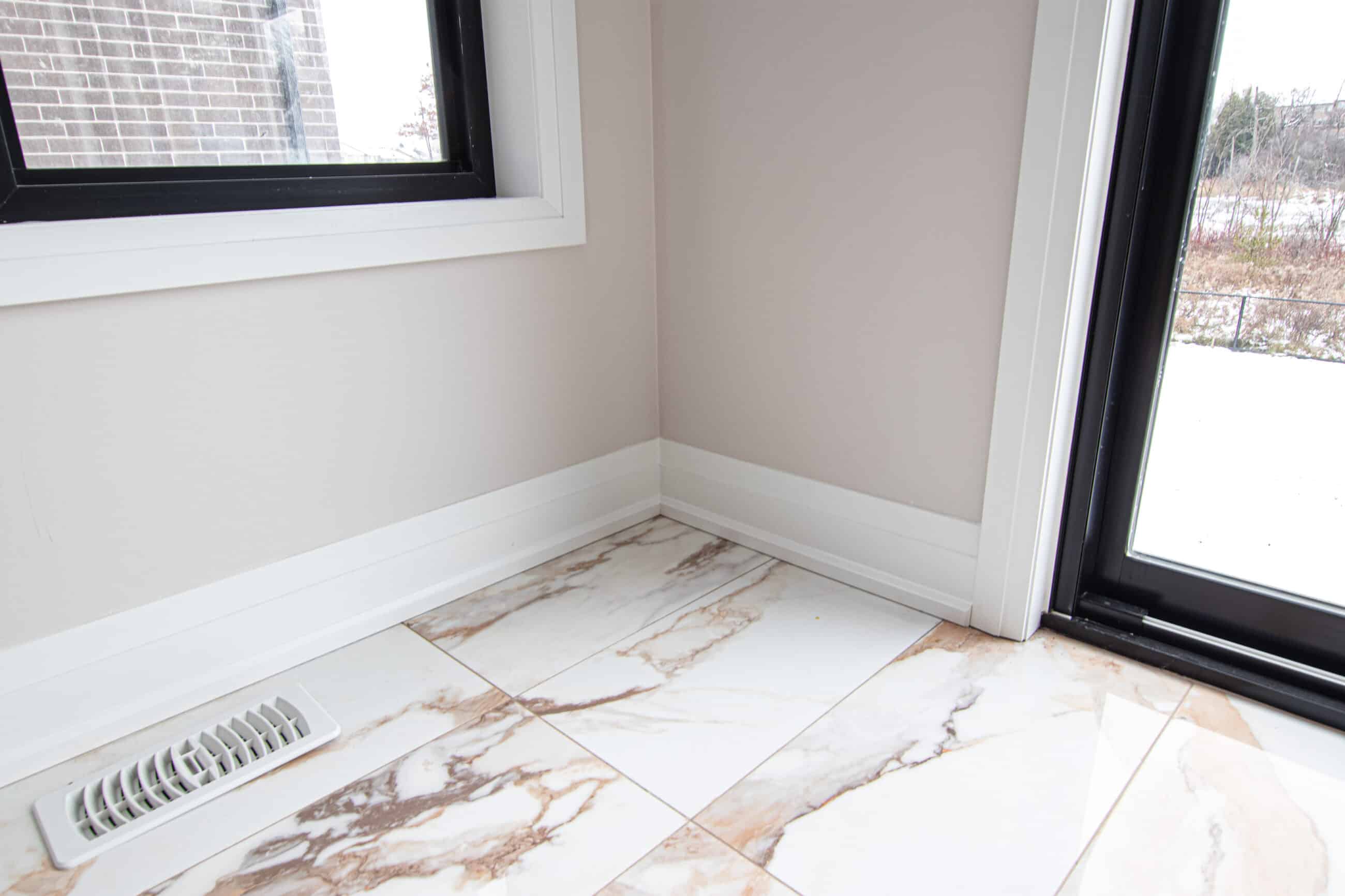 The living room below has more windows than wall space, the black window and white casing is the perfect way to frame such a great view. It draws more attention to your outside landscape so you and your guests can admire the scenery. This homeowner also chose to stick with white casing around the windows as this is an addition on a historic home and the white window casing is a better alignment with the design of the original parts of the home.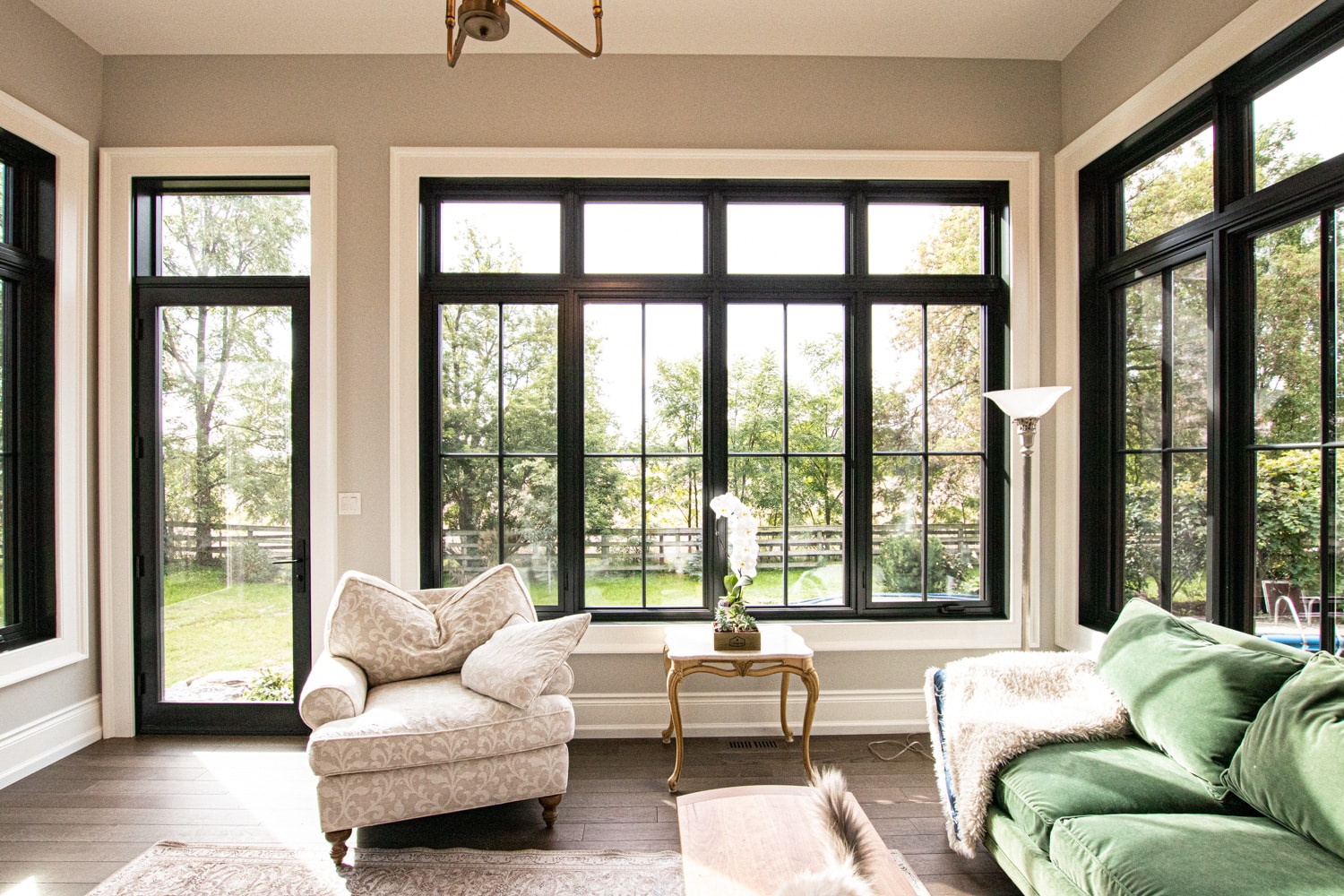 This breakfast nook in the image below has a great combination of white features and black features. Incorporating black accents in your home is something that you may be nervous about, but once you see the final product or an inspiration photo you will likely soon become a fan.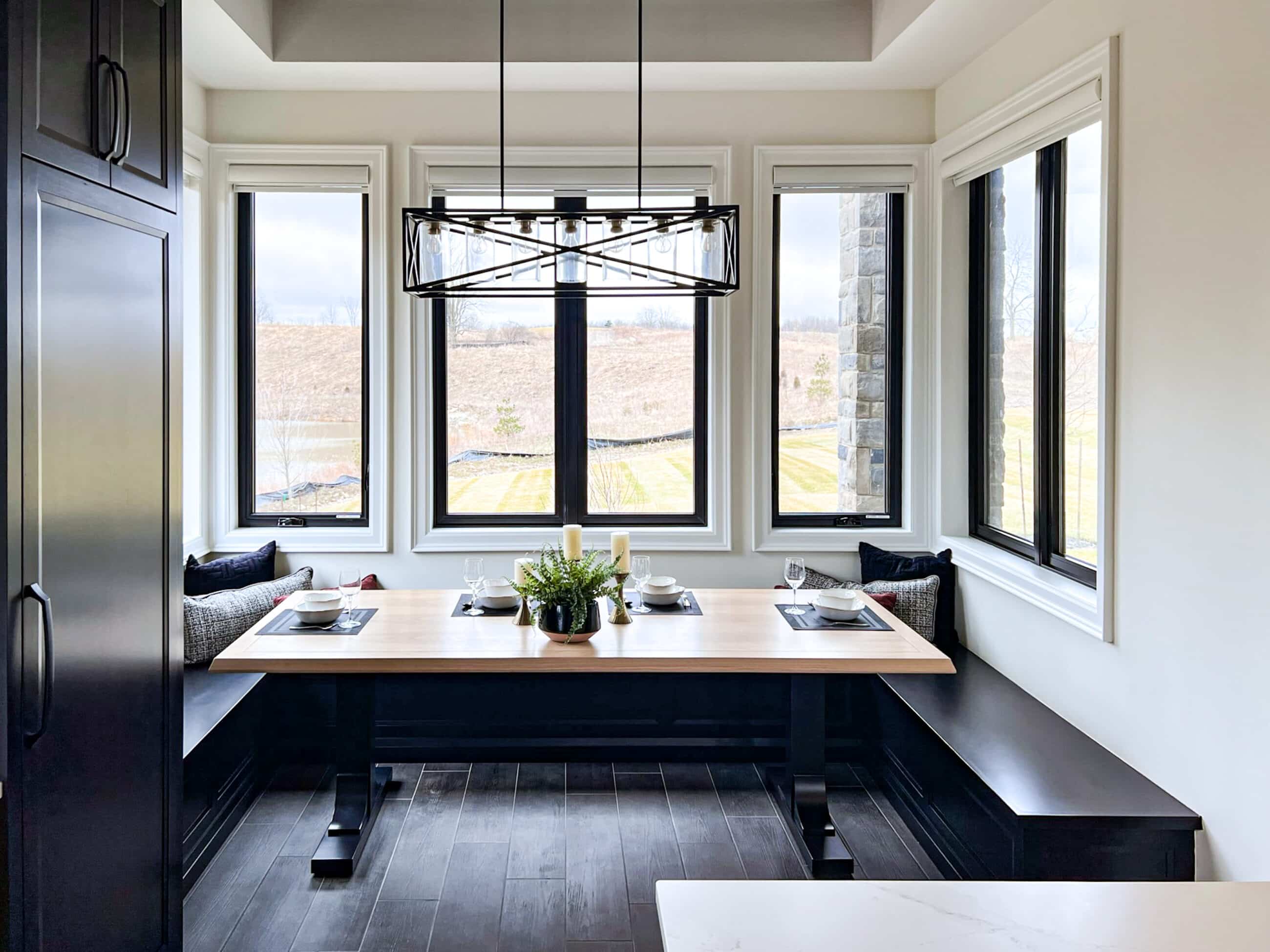 Walls
A room, a building or a home will always have many walls. Walls can be used as features with millwork while using wainscoting or panel moulding. Although feature walls can also be created with a simple paint job. We have seen one wall painted a different colour to help with adding a design element in a space, but we have also been starting to see more bold colours. A black accent wall is becoming very common in home designs and creating an anchor to a room. Painting a portion or strip of the wall in all black, draws your eye to one direction in the room, it adds a unique feature that is becoming the new "must have" in many homes.
The home office below went with white walls and white curtains with black cabinets and a black accent wall. By using gold handles helps with an easy transition since the flooring and the desk are a more neutral tone. If this home office was painted all white it would still look good, although adding the black accent wall and black cabinets help elevate this room to look absolutely stunning.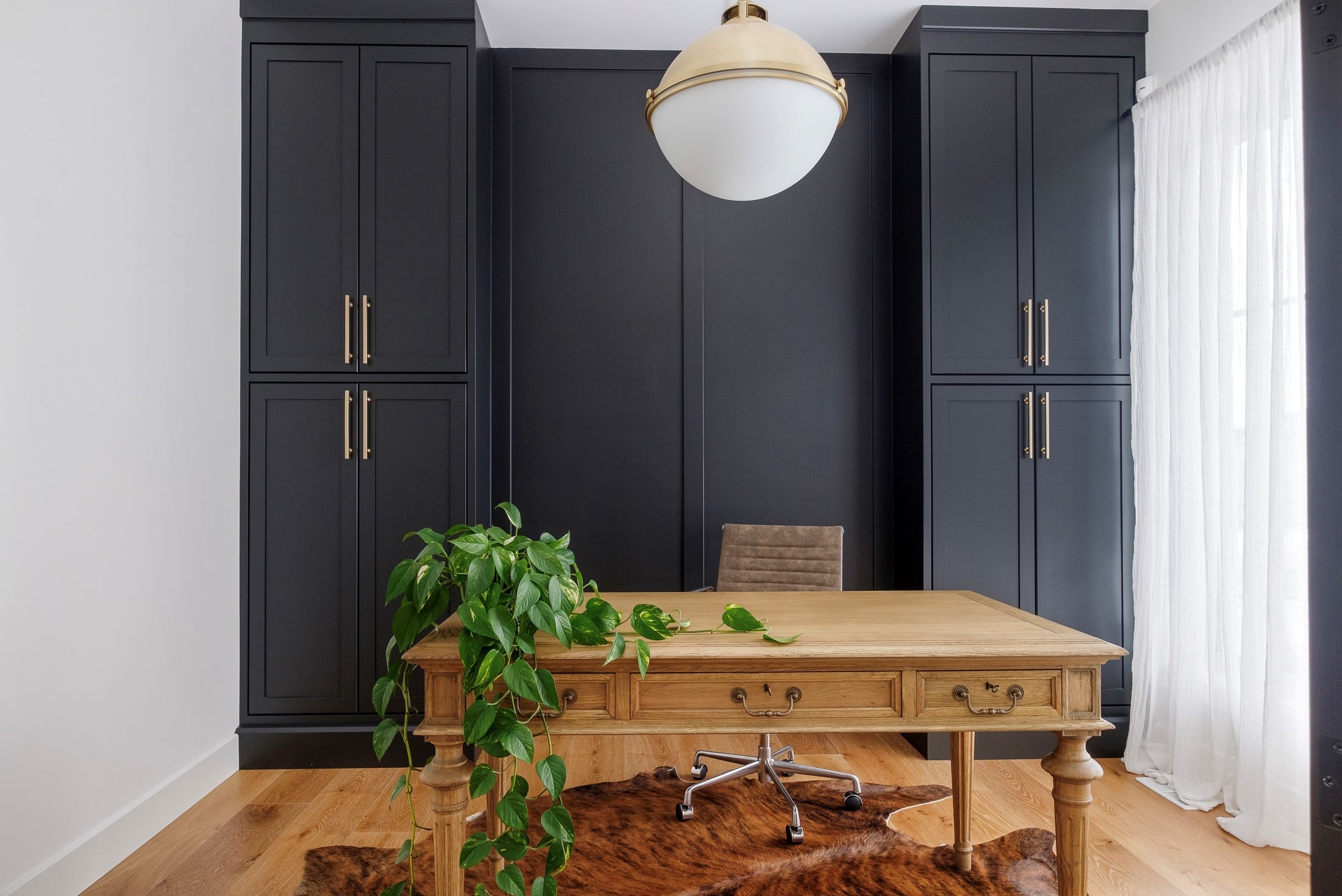 If you are hesitant to paint an entire wall black you could opt for painting a strip or a section of the wall, like in the image below. Check out this black accent wall in this living room.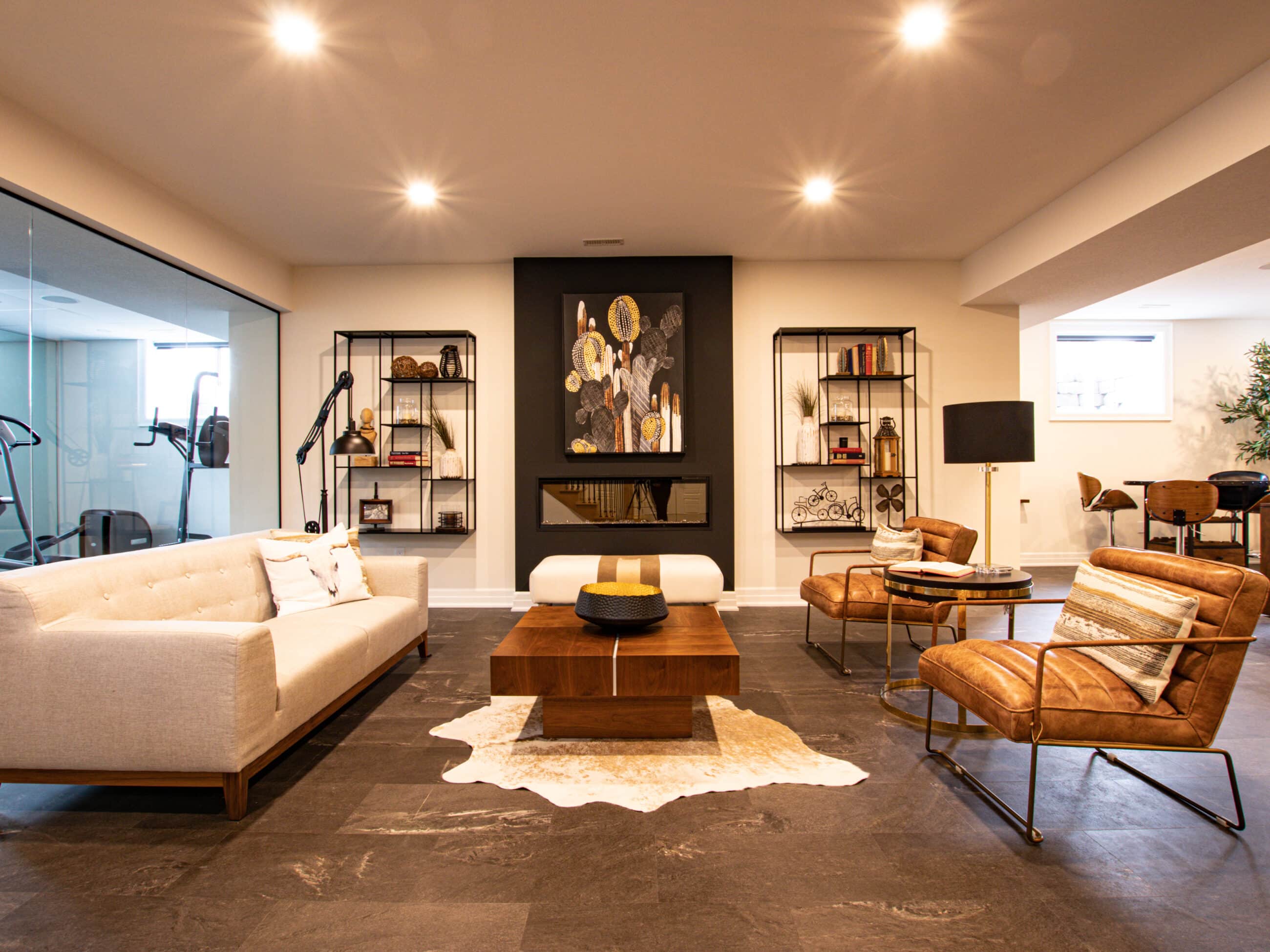 This basement sitting area has small black accents brought in through décor pieces and black furniture. Although that wasn't enough, adding a strip of black to better outline and emphasis the fireplace was the perfect touch to this room.
If you are looking for ways to spruce up your home, use the functional aspects of your home like your trim, your walls and your doors. They can all be used for more things than functional. Take advantage of what you already have in your home!
‍