Over the past decade, interior doors have been transforming, from another functional component of the home, to a key feature in the interior design of a space. Right now we have everything from door type, to colour, to style of hardware. Here we are breaking down some trends that you should consider when shopping for new interior doors, or working with your existing ones.
Door Types
When it comes to popular door types at the moment, we see the standard Stile and Rail Door on hinges, the barn door, and the custom wood door topping the list of current trends. Clean lines on stile and rail door like this one are sure to provide a sustainable style and look. One where you can outfit an entire home on time and on budget as they are easier to obtain and can likely fit into your existing openings without too much adjustment. If you're making other bold design choices in a space, this clean and sophisticated style may be the best option for you.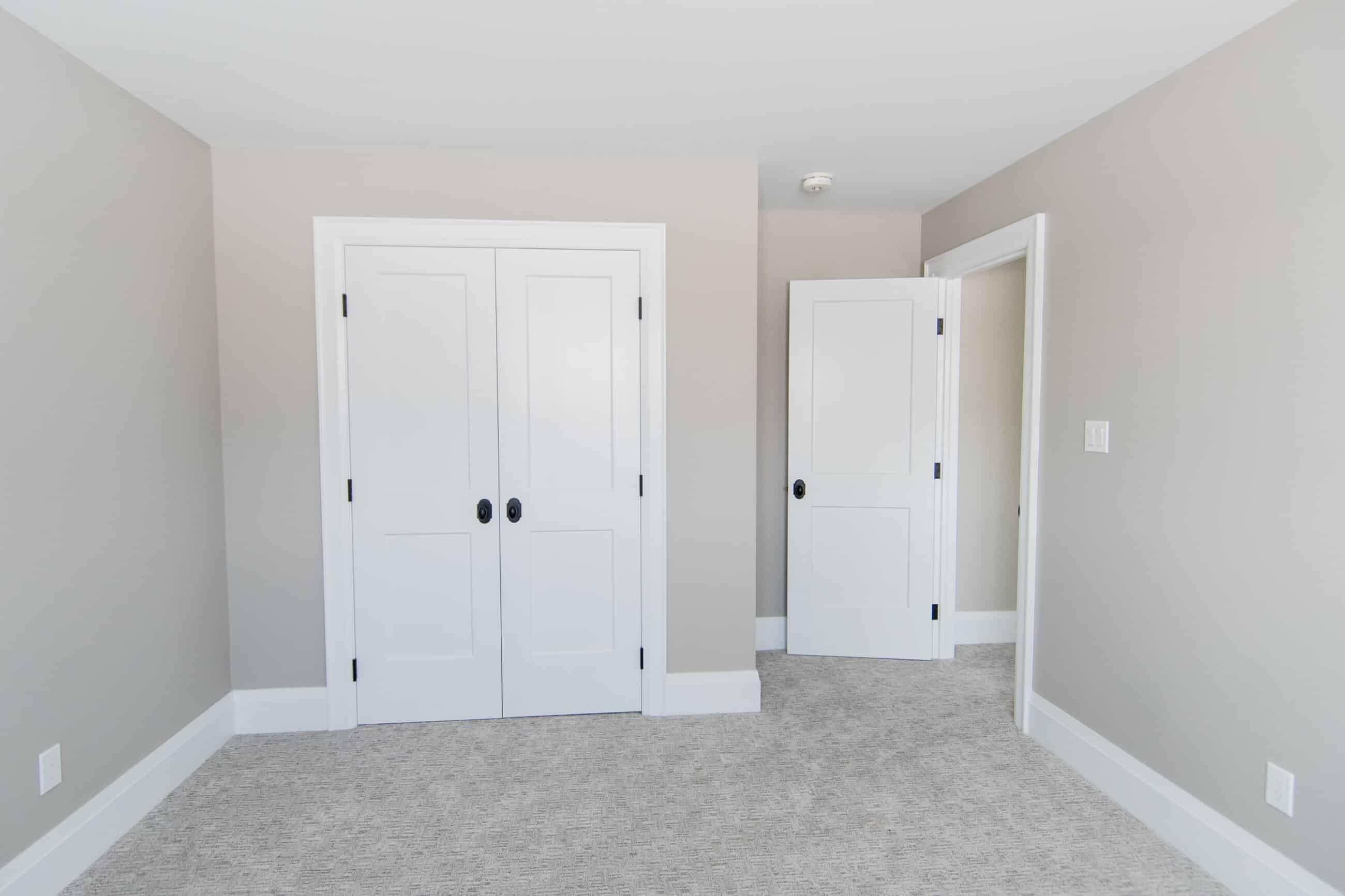 Barn doors are another popular trend that has been around for a while and really doesn't appear to be planning an exit any time soon. Now most people don't know this but you can turn any standard door into a barn door, it truly is the track on top that will be the difference between the two, plus people often like this design for an interesting feature in the room and for the functionality it can bring to save space from the traditional door swing. Here we can see a barn door used in a mudroom alongside a Riverside Mudroom Storage Solution made it possible to build out more shelves and a bench that ran almost entirely to the wall all because the door leading out of the mudroom only needs a few inches out from the wall. This allowed the homeowner to separate their storage area from their entertainment area, while not wasting precious organization space in the mudroom. Doesn't hurt that the barn door is great to look at either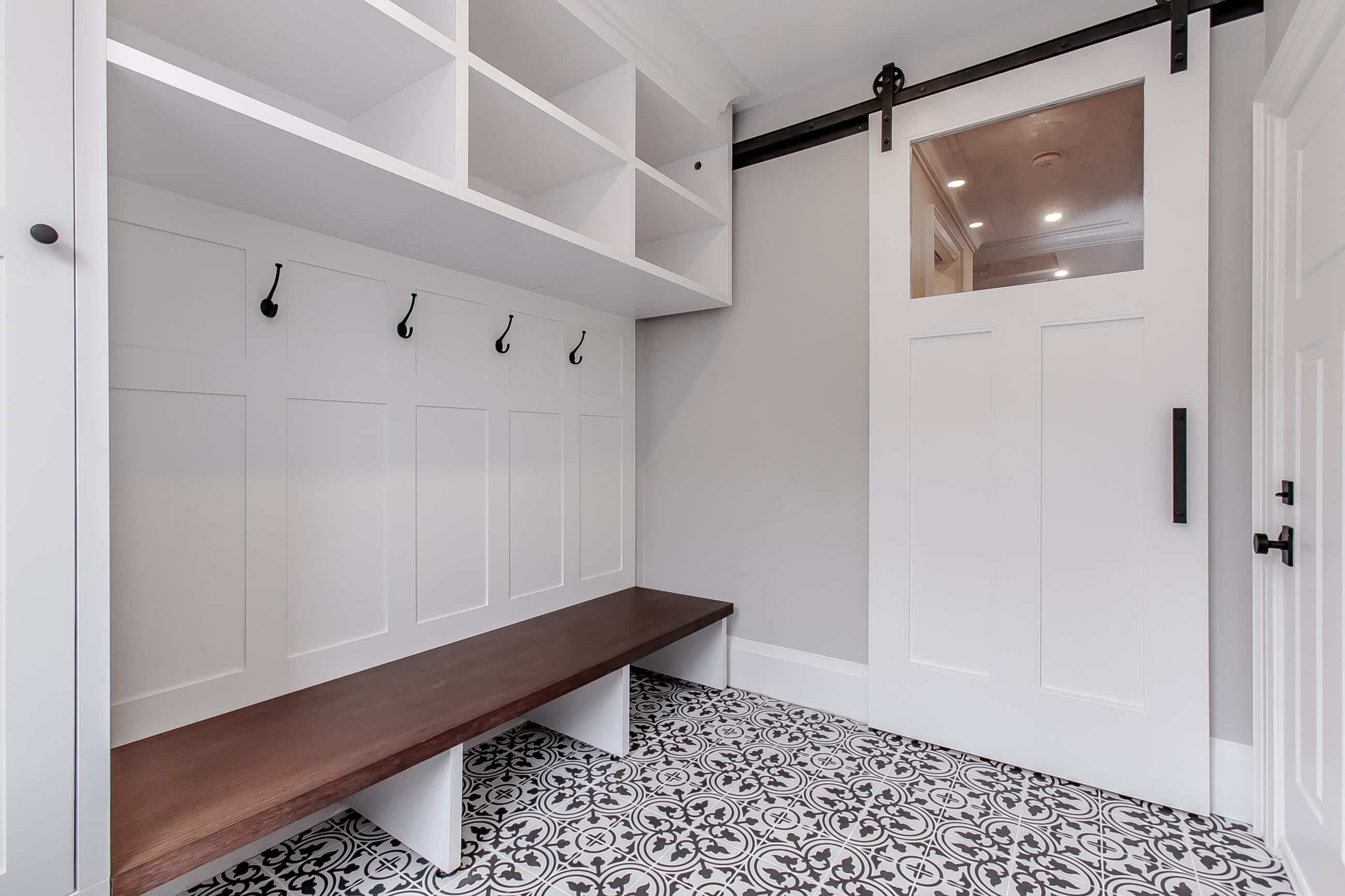 Lastly, custom wood doors have been a design choice high up on the list of custom builders, high end renovators, and interior designers for years. We can see that homeowners are starting to take notice as they flood their Pinterest feeds and HGTV showcases. While a custom interior door is not affordable for everyone, for those who do have the budget for it, custom wood interior doors can be easily rolled into any design plan and they end up with a classic look that will last for decades.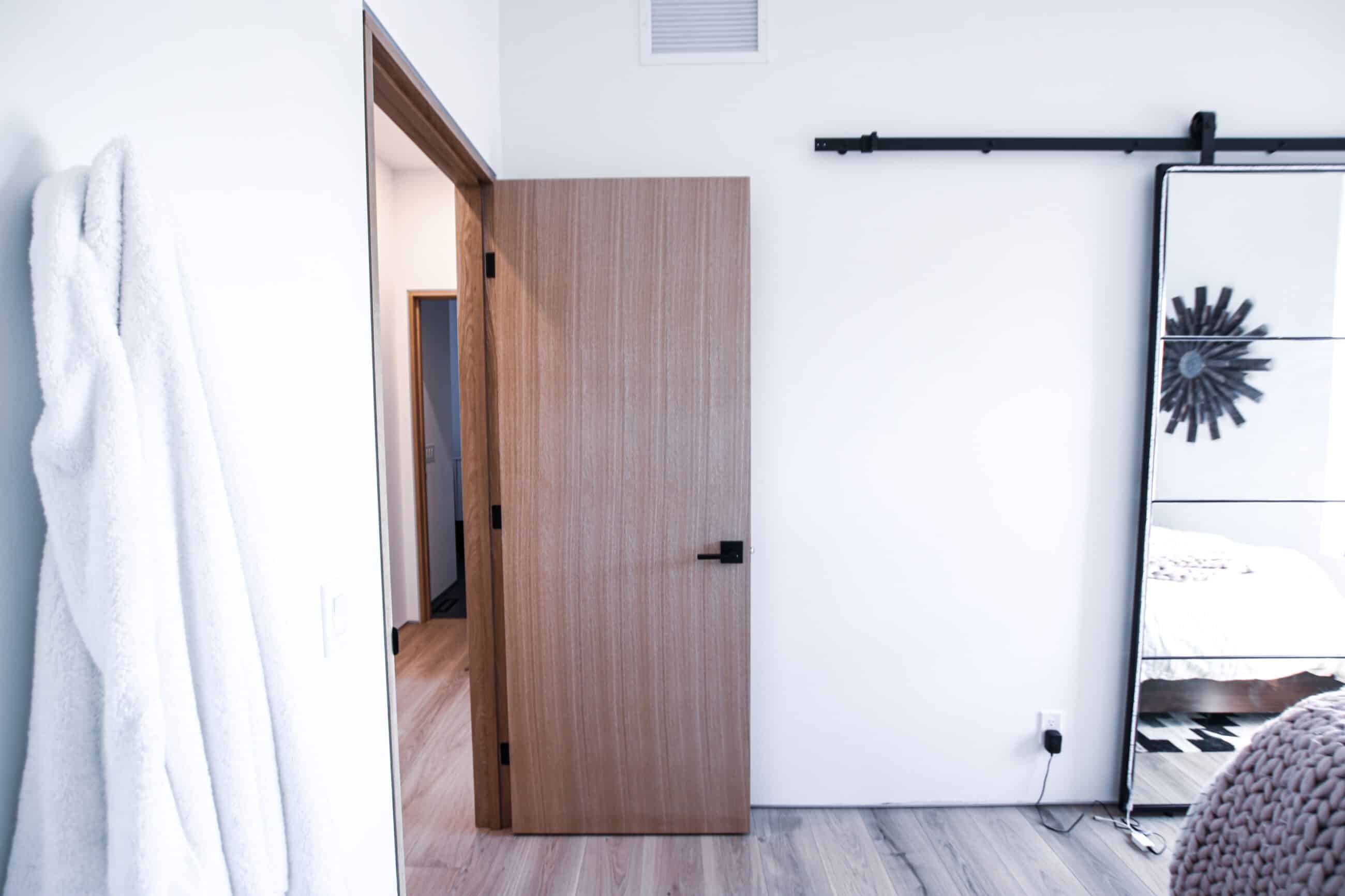 In this home they used warm doors and casing to contrast the stark white walls and cool gray floor. This is a look that is warming up the space and making it far more inviting than had they gone with a stock door solution for the space.
Door Colours
If you have been on Tik Tok or on Pinterest a lot in the last 12 months you have likely come across a variety of interior door colours that designers and DIYers alike are trying out. As some have said, painting doors is the new accent wall. While we would argue the accent walls won't be going anywhere anytime soon, the coloured doors are also here to stay and here are somethings you should consider when it comes to a coloured door.
1.  It does not need to be on both sides of the door
We have seen many people use their front door specifically as the inspiration and focal point and it really brings a front entrance to life. In this front entrance we can see Cindy Clark Interiors use the other black accents in the front entrance as the inspiration for the inside of this front door.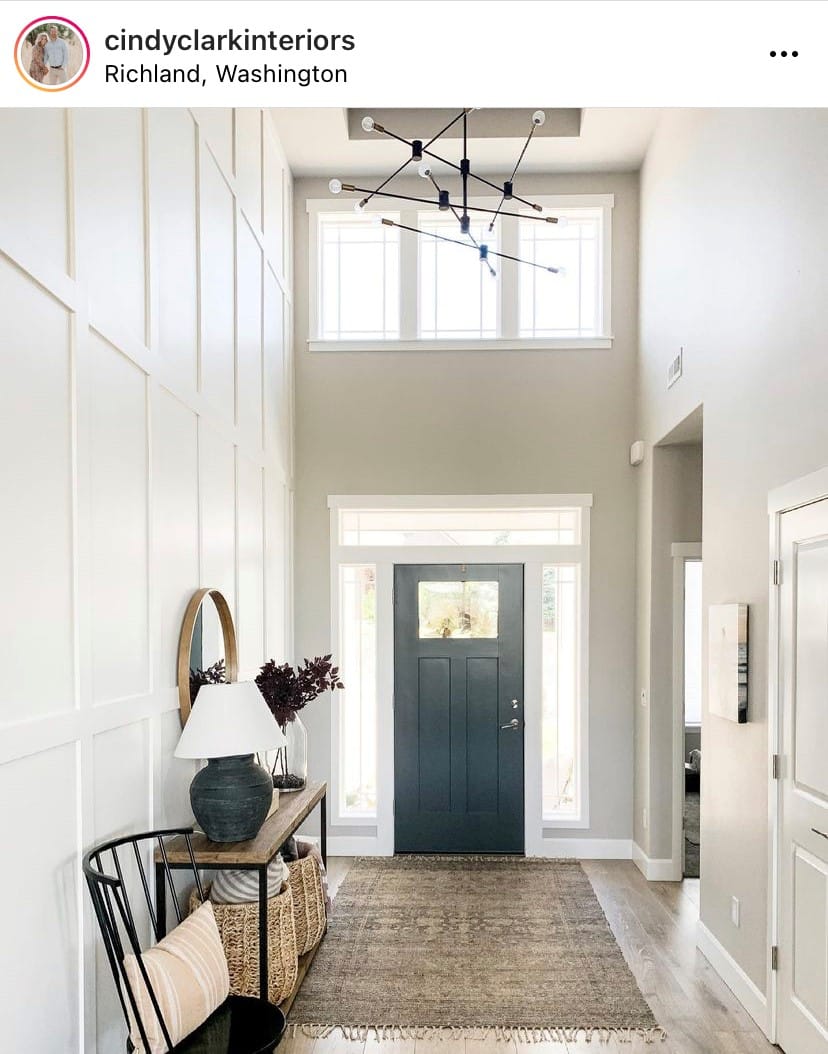 2. While black is a go-to safe choice fitting for many homes, you can choose the colour you want now because if it goes out of style, you can always repaint it at a later date without replacing the door.
In this home we can see Alison Kandler Interior Designs used her signature pop of colour on the pocket door with a bright orange. While this is not the standard for everyone's designs, she really shows us that all options under the sun exist!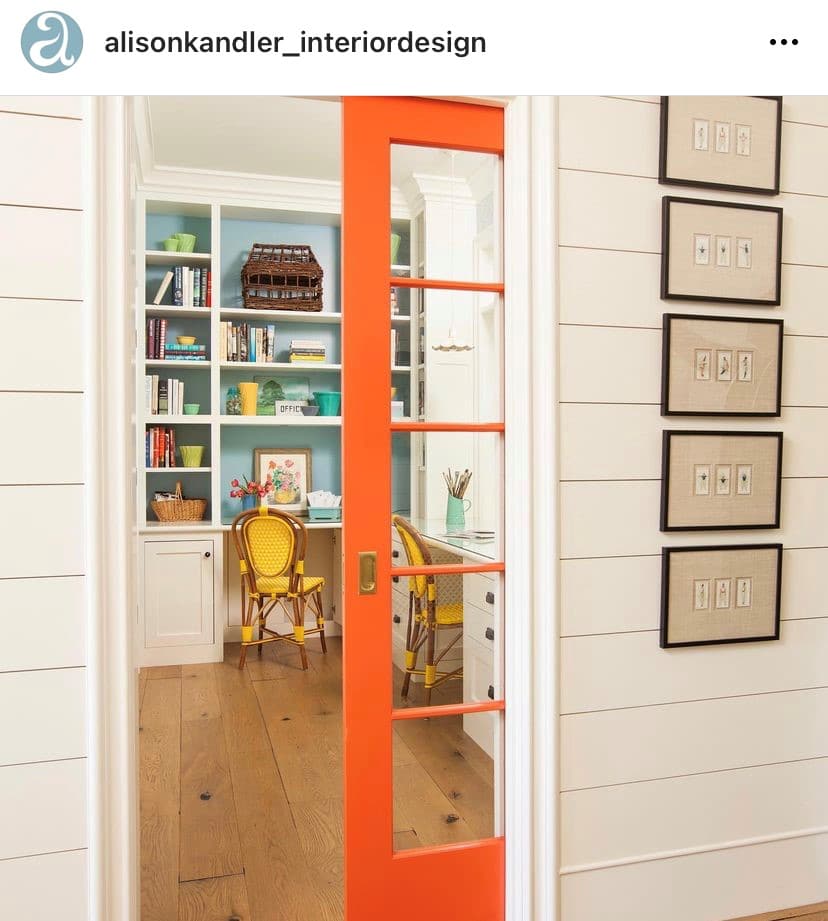 ‍
Hardware
The one thing people probably notice first when a door is out of style, happens to be the hardware. Sometimes it isn't even outdated but the choice feels less intentional than the rest of the interior design in the home.
Right now, having the right hardware on a door can have a big impact on whether or not that door is in or out of trend. Take this house for example. The doors were made custom and have a wonderful design, but it is the black hardware that ties the carefully curated custom doors into the remaining design of the home.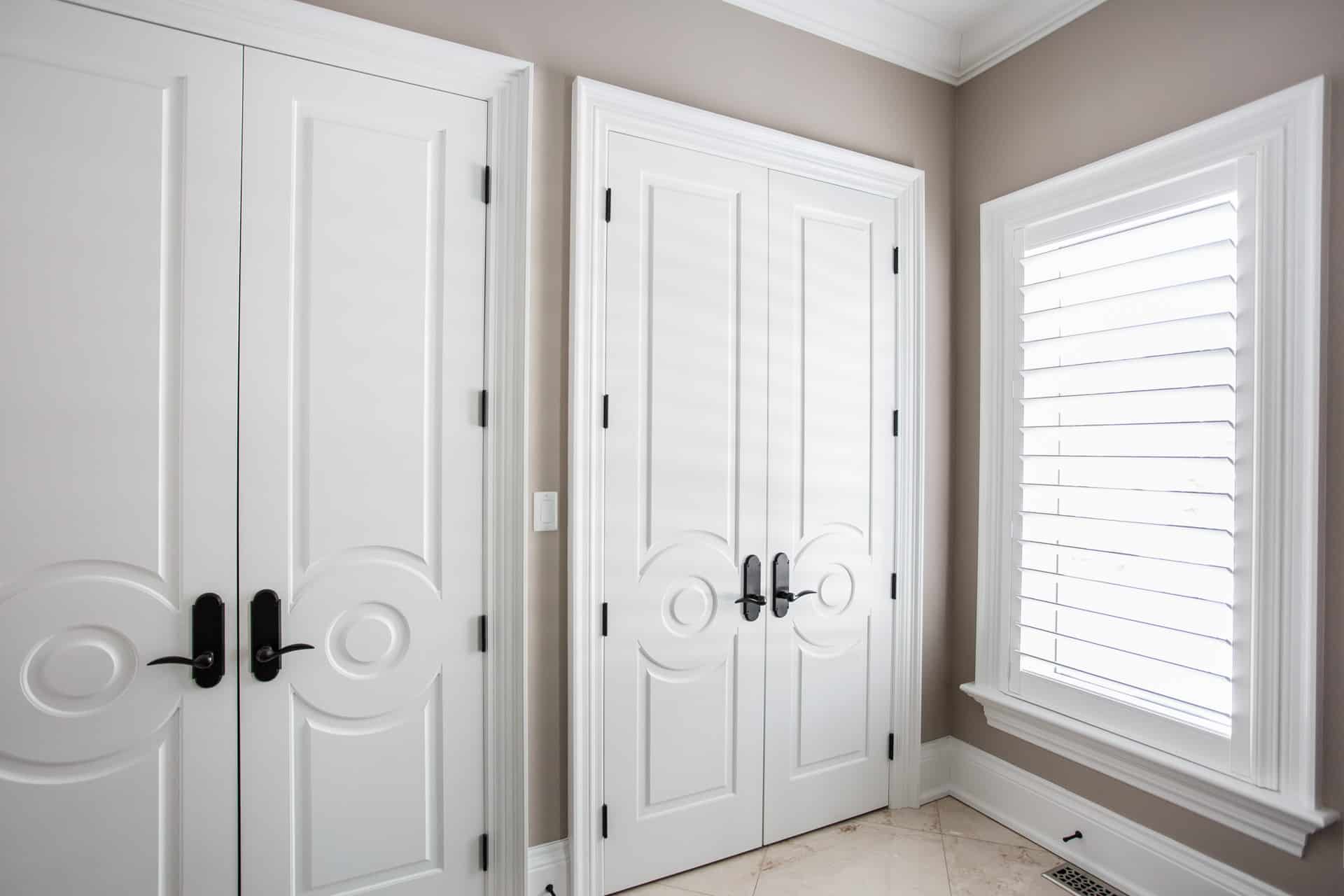 Now it isn't just black hardware on white doors that is getting all the attention…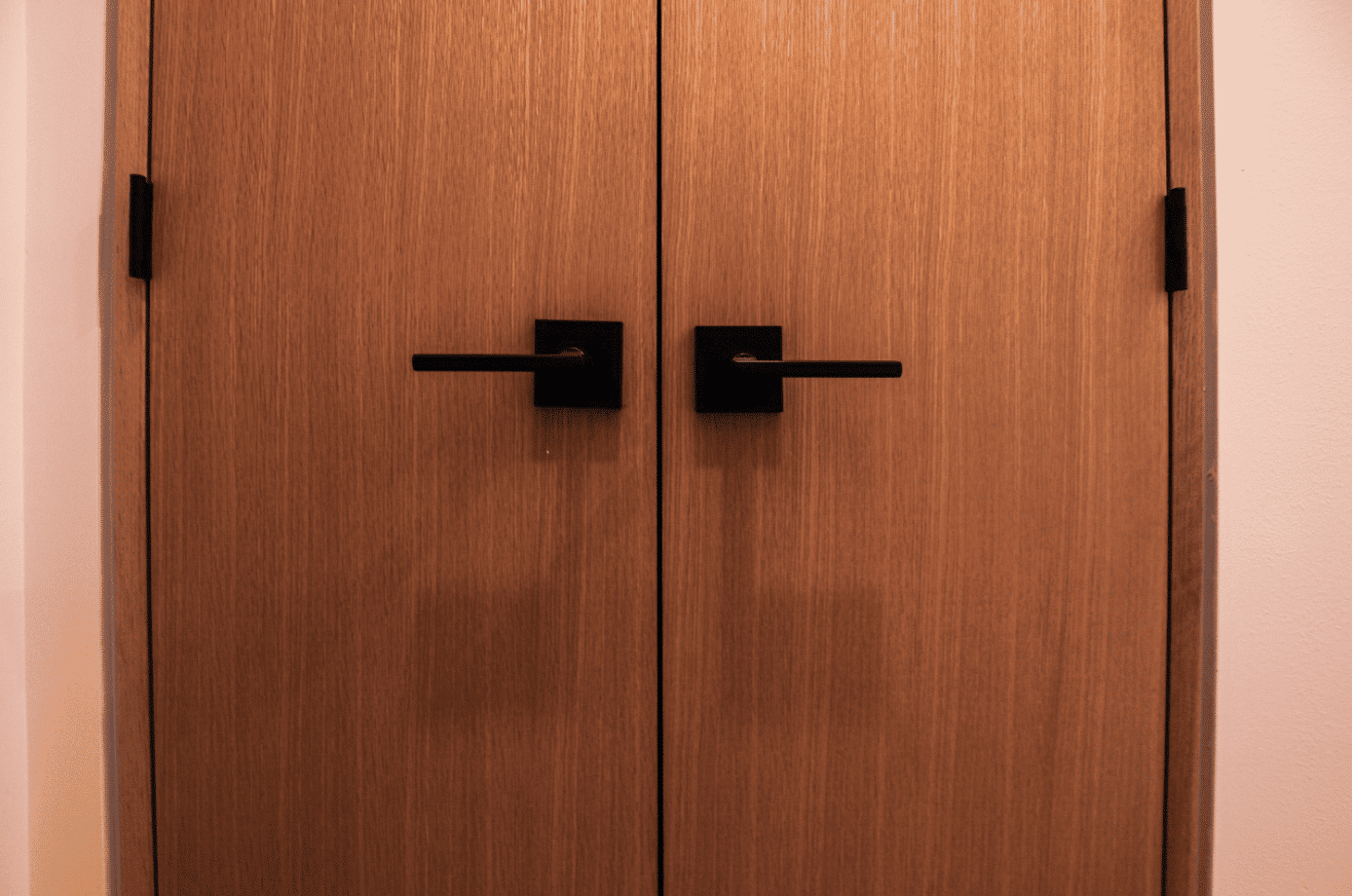 We love to see a natural wood door featuring black handles provides a perfect amount of contrast that a satin nickel or brushed gold handle could not create. We are often recommending black handles as they go with other metal features in a home, but also because many interior designers believe that the black accents are going to have a longer presence in design than other metal choices.
If you're looking for a lighter option that isn't satin nickel and can bring in a lovely design touch, look no further than brushed gold.  We can see in this home the brushed gold knobs fit with matching hinges keeps a continuous trend of warm and light tones in this room. The knobs and hardware act as their own design feature in a room of simplicity. Which if partnered with the right décor could tie in nicely!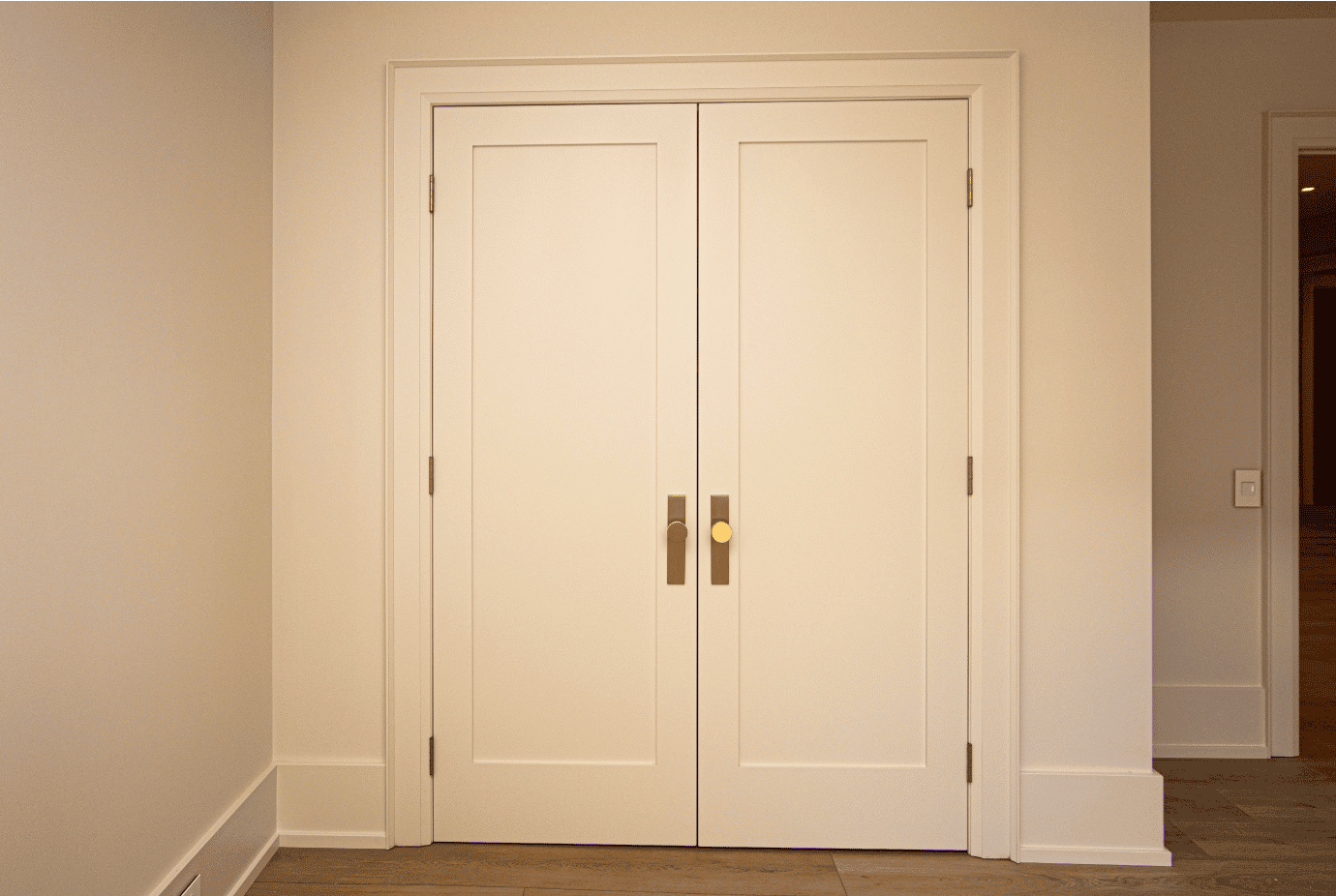 Picking the Door Trends for You
If you want to go with something that is both trending right now and not going to be in need of replacing in the next decade, a white or wood door, traditional or barn style, featuring black hinges is going to be the way you want to go.
If you are looking for something that is going to be statement and bring more contrast to the space you have designed, you may be best served to look at painting the door and using a pop of metallic with brushed gold hardware.
If you are looking for more inspiration in your design choice, check out our Pinterest page for more ideas!
‍